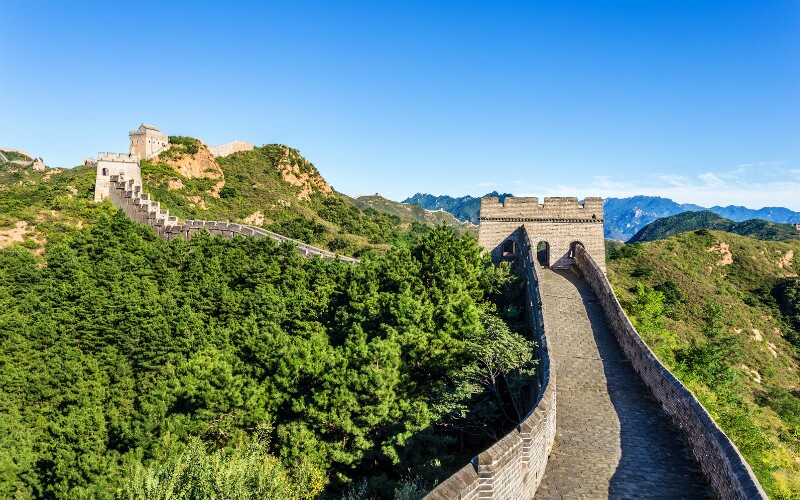 The Great Wall of China
The Great Wall at Mutianyu — Fully-Restored, Family-Friendly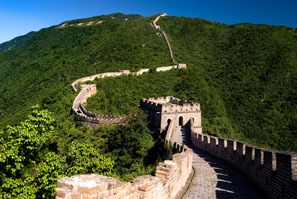 Mutianyu Great Wall
The Mutianyu section of the Great Wall is a masterpiece of restoration, with 23 original-style watchtowers. Mutianyu is the longest fully-restored Great Wall section open to tourists.
Most Important Facts You Should Know
Chinese: 慕田峪 /moo-tyen-yoo/ 'Admire Fields Valley'
Distance from Beijing: 73 kilometers (45 miles), 1½ hours drive.
Restoration: Completely rebuilt to its original glory for your safety and enjoyment.
Open: All the year round, 7:30am–5:30pm
Facilities: Cable cars up/down and roller coaster carts down
Eating: Xinshuangquan Restuarant
Hotels: Brickyard Eco Retreat, Home of the Great Wall.
Activities: Sightseeing, hiking
Where is the Mutianyu Great Wall Section?
Mutianyu Great Wall is in Huairou Country, 73 km (45 miles) north of central Beijing, about 1½–2 hours' drive.
This section of wall connects the Jiankou Great Wall section in the east and the Baima Pass section in the west.
Who Built It and When? — Mutianyu's History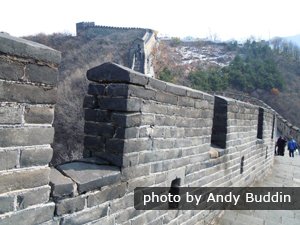 This section of wall was first built over 1,400 years ago
The Mutianyu Great Wall was first built by the Northern Qi Dynasty in (550–577) over 1,400 years ago.
It was rebuilt and strengthened under the supervision of famous General Xu Da during the Ming Dynasty on the foundation of the Northern Qi wall around 700 years ago. Mutianyu Pass was fortified in 1404 (the 2nd year of Emperor Yongle's reign) with a rare triangular formation of three interlinked watchtowers.
A 2½-kilometer section was fully restored in 1986. Today's wall is a replica of the fortifications of 1568 in the Ming Dynasty.  
Features of the Mutianyu Great Wall Section
Dimensions: 2½ km (1½ miles) long, 7 or 8 meters high and 4 or 5 meters wide
Densely spaced watchtowers: 23 watchtowers, about one every hundred meters on an ascending mountain ridge.
Rebuilt according to the Ming design with slabs of granite
Both sides of the wall have a crenellated parapet so that soldiers could fire arrows at enemy at both sides. This is very rare on other sections of wall.
 Under the westernmost towers, on the side of a grassy ridge, is the 200-meter-long phrase 忠于毛主席 — 'loyalty to Chairman Mao' (zhōng yú Máo Zhǔxí /jong yoo maoww joo-sshee/). Chairman Mao once wrote: 'If you don't get to the Great Wall you're not a good man.' (不到长城非好汉) So touring the Great Wall could be said to be showing loyalty to Chairman Mao.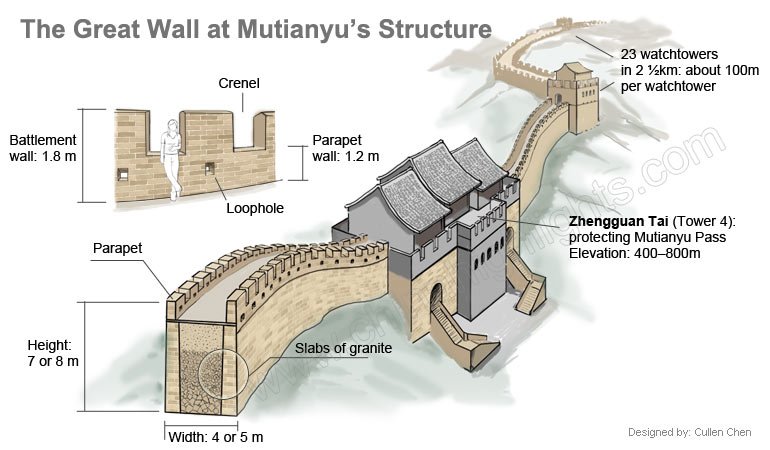 Tourist Features: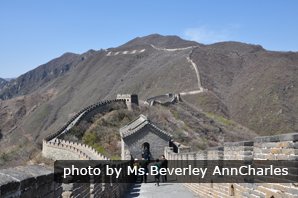 The Mutianyu section sees less crowds than the Badaling
It is the longest and best fully-restored Great Wall section open to tourists.
The Great Wall at Mutianyu is less crowded and has better architecture than at Badaling, with more watchtowers.
There are cable cars up and down, making it very easy to visit.
With the greens of pines and cypresses covering ninety percent of the surrounding area, the scenery there is beautiful all the year round.
The Best Time to Visit
The best time to visit Mutianyu's Great Wall is in spring and autumn. In winter, it is chilly in the wind, and could be quite slippery on the wall when it snows. In summer, it is hot and there is full exposure to the sun on the wall.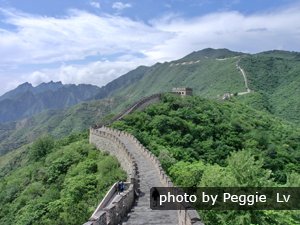 The Great Wall at Mutianyu in June
We advise our customers to try to avoid China's major holidays when the wall is packed with Chinese tourists:
National Day Holiday (October 1–7)
Labor Day Holiday (May 1–3)
Click here for what you can expect on the Great Wall in different seasons.
Getting to Mutianyu: Independent, Group, or Private Tour?
Mutianyu is about 1½ to 2 hours' drive from central Beijing. There is no convenient public transportation from Beijing to this part of the Great Wall.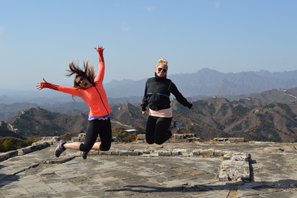 Going Independently — public transport is full of hassles, be patient!
Traveling on your own you may meet a lot of hassles and trouble such as the language barrier, lining up for tickets, and figuring out the best travel routes.
China's public buses (that go out to the countryside) are always packed, so if you do plan to take a public bus, be prepared for trouble getting a seat. No English is spoken.
First go to Dongzhimen (东直门) by bus 24, 106, 107, 123, 132, 206, etc.; or subway line 2, 13, or the Airport Express Line.
Bus 867 runs from Dongzhimen (东直门长途旅游汽车站) to Mutianyu at 7:00am and 8:30am (on weekends and public holidays, not available at workdays), and returns at 2:00pm and 4:00pm. It is a 2½-hour journey. The bus only operates from March 15 to November 15, with no service in winter. The limited service means severe competition for a seat on the bus.
Bus 916 from Dongzhimen to Huairou Town plus local minibus to Mutianyu is the fastest public transportation option: about 2 hours. Bus 916 runs frequently — about every 20 minutes.
Group Tour — cheaper, but less flexibility
Many companies provide one-day group tours to Mutianyu, though there are fewer group tours to Mutianyu than Badaling. These tours usually include a visit to the Ming Tombs afterwards, in the afternoon. There are souvenir factory visits during the tour for commissions.
A group tour will get you there in a coach full of Chinese tourists. You may have to go to a designated hotel to catch the coach, and then walk at the slow pace of a noisy crowd on the wall.
Private Tour — free of hassles, more flexibility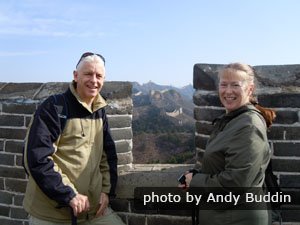 China Highlights' customers on the Mutianyu Section of wall
The most pleasant way is, of course, to take a private tour. Our guide and driver will wait for you at your hotel lobby and transfer you to the wall by air-conditioned car.
A private tour means more flexibility, and you will be taken care of by your private guide and driver. Though better than Badaling, the wall is crowded in some places some of the time, and traffic jams can happen on the way. But our guide knows how to escape the crowds and the traffic jams!
Your guide will arrange your entry tickets (in advance), saving you a lot of time and trouble lining up.
The wall is crowded in the morning so our one-day Mutianyu Great Wall tours go in the afternoon to avoid the crowds and traffic jams.
Our experienced guide will help you discover more of the history and culture of the Great Wall, making the most of your visit. See our One Day VIP Beijing Essential Tour with Great Wall Hiking at Mutianyu.
Ascent and Descent of the Great Wall at Mutianyu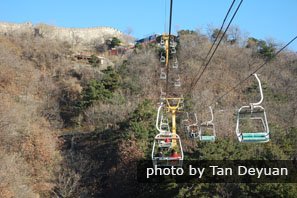 Mutianyu Great Wall chairlift
There are three options:
Hike up: Allow around one hour to climb the 4,000+ steps.
Chairlift / cable car: There are two-rider chairlifts and four-rider cable cars for travelers to choose from to ascend or descend.
Toboggan: For those who really want to trek miles more for the experience, single-rider toboggans descend (at a safe speed) from the east end of the wall to the valley.
We suggest our customers take a cable car or chairlift up and down, because the cable car station is in the middle of the wall close to tower 14. Walking west from tower 14 to tower 23, you will see the most beautiful scenery. The path up goes to tower 8 or 10, which means you will need to walk an extra kilometer (half mile) on wall with comparatively plain scenery to get to the best part.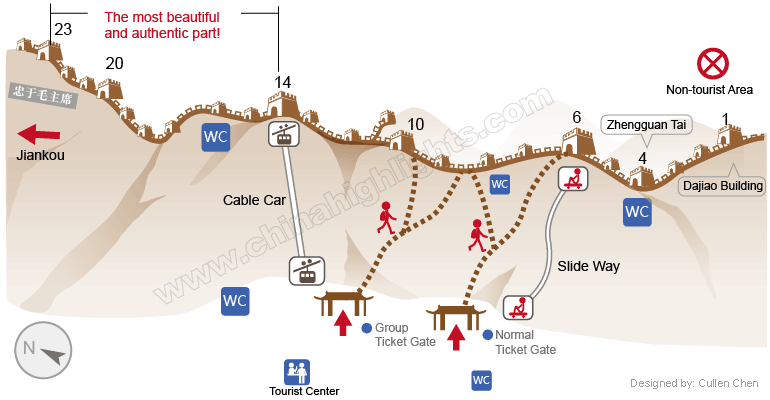 Wheelchair Access
Rickshaw
Mutianyu is a "wheelchair-friendly" section of the Great Wall. Your wheelchair can travel unimpeded to the cable car station by a smooth uphill path. Or you can hire a rickshaw at Mutianyu to help you get to the cable car station.
After the cable car journey, you will reach to a platform below the 14th watchtower. You can appreciate the beautiful scenery of the Great Wall from there. You can also ascend another path with barrier-free access to touch the Great Wall at the watchtower.
Mutianyu Great Wall Hiking: Mutianyu–Jiankou or Jiankou–Mutianyu?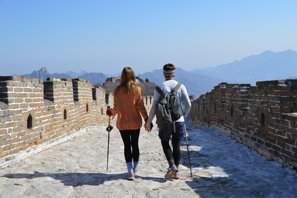 The Jiankou to Mutianyu Great Wall hike may be the best Great Wall hiking route for you for several reasons. Our hikes go from Jiankou to Mutianyu. You may ask, "Why not Mutianyu to Jiankou?" Read on for the answer…
The Jiankou–Mutianyu Great Wall Hike
Easy walking: one hour up to Jiankou, and then 4 hours down to Mutianyu (instead of 4 hours up and 1 down!).
Walk from the wild, rugged wall to the restored wall; beginning with the difficult part when you are energetic and fresh, and finishing with the easy part. The Great Wall at Jiankou is in ruins with steep slopes and uneven underfoot, while the Mutianyu section is rebuilt with proper steps, and quite smooth underfoot.
From quiet to more-visited, you can enjoy the best natural conditions while you are fresh. The Jiankou Great Wall section sees far fewer travelers than the Mutianyu part. By arriving at Mutianyu in the afternoon, you'll also find most of the morning tour groups have gone.
Interested?... See the Jiankou to Mutianyu Great Wall Hiking Tour page.
Best Places to Eat and Stay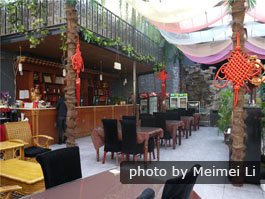 Xinshuangquan Restaurant
There are many restaurants around the parking lot where you can try local dishes. Food quality and atmosphere may not meet the standards of those in downtown Beijing, but our guide will try to arrange the best available for you. Tell your China Highlights travel advisor and guide your food preferences. Below is one of the best ones for you to consider:
Xinshuangquan Restaurant
At the foot of the Great Wall, Xinshuangquan (/sshin-shwung-chwen/) is a garden-style restaurant serving "Westernized" Chinese food. Recommended dishes are sweet and sour pork, brocoli with garlic, and BBQ Fish.
Mutianyu Hotels
There are many local guesthouses and mid-level hotels concentrated in and around Mutianyu Village at the foot the Great Wall. Mutianyu Great Wall Villa and The Brickyard at Mutianyu Great Wall are good hotels to choose.
Getting Ready…
What to Wear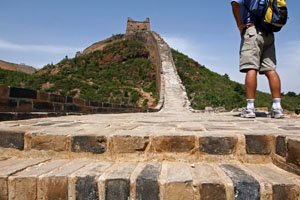 Dress for hiking and dress for the weather. Choose comfortable footwear with good grip and support for the feet. Layers of clothes that can be taken on and off allow for greater comfort and temperature control.
Wear/bring sun protection in the summer and dress for sub-zero temperatures in the winter. It can feel much colder on the wall than down in the valleys because of altitude and exposure.
What to Bring
Bring breathable waterproofs for protection from rain and wind. Umbrellas may be used at Mutianyu, as the ascents and descents are not difficult, but may be inconvenient in strong winds. Bring a camera and money for souvenirs and refreshments.
Bring snacks and water if you want to walk a long portion of the wall. You could have lunch in a local restaurant at Mutianyu or prepare a packed lunch before departure from Beijing.
Walking Conditions
The paths, wall top, and steps of the Great Wall at Mutianyu are well-paved with granite slabs, and walking conditions pose no significant risks. There is the option to use a cable car to avoid the trek up to the wall.
Choose the Great Wall at Mutianyu If Going with Kids
Mutianyu is the favorite section for exploring with (young) kids. We recommend taking the cable car up to Tower 14, walking down to Tower 6, and then taking the toboggan down. That's something to look forward to! The kids will love it.
The Great Wall is less-crowded, but with good, safe access at Mutianyu. It's easy going, educational, and fun, so parents love it too. Continues to read: Visitng the Great Wall with Kids - What Should you Do
The Most Popular Mutianyu Great Wall Tours
If you want to walk on the Great Wall to admire its majestic winding length, please see our recommended Great Wall Hiking Tours below for inspiration:
Not interested in the above tours? Check out more Great Wall hiking options, or just tell us your interests and requirements, and China Highlights will help you create your own Great Wall tour.
Related Articles

The Great Wall of China
Best Times to Visit the Great Wall

travel guide
The Top 10 China Travel Destinations in 2021