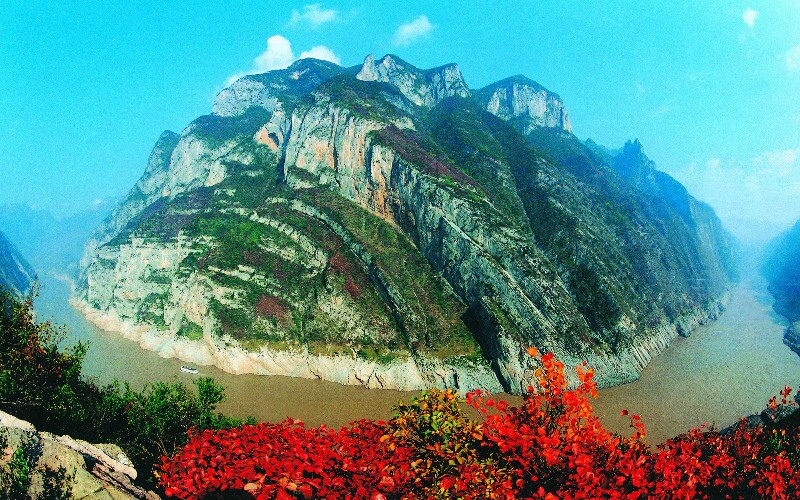 yangtzecruise
Yangtze Cruise Travel Tips
Before Boarding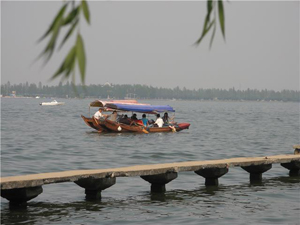 East Lake
Passengers who board at Yichang or Jingzhou need to travel there via Wuhan, the capital city of Hubei Province. If you are interested in Chinese history and culture and your schedule permits (more than half a day), you can visit Hubei Provincial Museum (358 Wuluo Road, Wuchang District, Wuhan). It is one of the best-known museums in China, with a large amount of state-level historic and cultural relics. The music show with an ancient set of bronze bells (Bianzhong) is very impressive and should not be missed (twice a day, respectively at 11am and 4pm, 15 yuan per person). It is next to Hubei Art Museum, which is also free for visiting and not far from the west shore of Wuhan's East Lake.
In all the years that we have been organizing Yangtze Cruise for our customers, we have had only one case of motion sickness reported to us. Usually when the weather is pleasant, there is hardly any wind or waves. If you suspect that you may suffer from motion sickness, please be sure to bring the correct medication and follow a few simple guidelines. 1) Avoid heavy, greasy, and acidic foods in the hours before you travel. These types of foods – such as coffee, bacon, sausage – are slow to digest, and in the case of coffee, can speed up dehydration. Better choices include breads, cereals, grains, milk, water, apples, or bananas. Do not skip eating but also do not overeat. 2) Position yourself where the least motion is felt, usually in the center of the deck, and avoid going below deck. Take deep breaths and stare out into the distance. Focus on the horizon, not on waves or moving objects. 3) Drink small quantities of water often.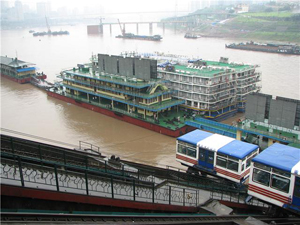 board in Chongqing
Hubei Provincial Museum in Wuhan is close to Fujiapo Long Distance Coach Station, about twenty minutes by public bus. Coaches to Yichang and Jingzhou are available at the station. Read More about Yangtze River Cruise Transportation.
If your boarding time is in the afternoon or evening, be aware most cruise ships do not include dinner on the first night of a cruise. Have a dinner before your board is recommended.
You may want to buy snacks and water before boarding at a supermarket, as these are very expensive on the ship and the types of snack are very limited. If your time is tight, there is a small canteen selling snacks at New Century Pier. Though the price is higher than that of a supermarket, it is much lower than that of the ship.
You can store your luggage at Pier No. 3, Chaotianmen Dock, if you arrive in Chongqing early and want to store your luggage for sightseeing in the city for 4-5 hours. The fee is around 10 yuan per piece of luggage.
On Board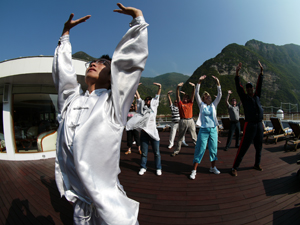 taiji class on the cruise ship
Food might vary between different cruises. Generally meals are served buffet style both for Chinese and western style for breakfast. Featured Chinese table service is served at dinner. If you have any special dietary requirements, such as vegetarian or Muslim, please contact us in advance.
Visit shore excursions along Yangtze have a local tour guide service. Be care of attention the visit time and return destination which the local guide had introduced. Please contact with cruise guide and travel advisor if you have any questions during your visiting.
Tipping is a matter of individual preference. Additional tips for any staff member who has provided some special service are at your discretion. Tips to shore excursion guides are also at passenger's discretion. The ship will have a box at the front office where tips can be given. There's may a suggestion of $5-$10 per person per day but of course this is entirely at your discretion.
About Trips
There are some attractions on the way to Yichang's New Century Pier, including Xiling Gorge Scenic Area and Sanyou Cave (a famous attraction of scenic beauty and historical significance). Sanyou Cave is just a 10-minute walk from New Century Pier. The time needed for a visit is about 1.5 hours and the entry fee is about 48 Yuan. 
Chongqing is a Chinese metropolis. Ciqikou Old Town is lively old area has been partly restored, and remains an authentic and busy community. The old wooden houses and narrow streets furthest from the river are mostly unimproved, closer to the river there are craft and souvenir shops, teahouses and music, and lots of local food and snacks. The locals certainly love their food – this is a good chance to try some.
Chongqing Zoo is the second best place to see giant pandas next to Chengdu Giant Panda Breeding and Research Base.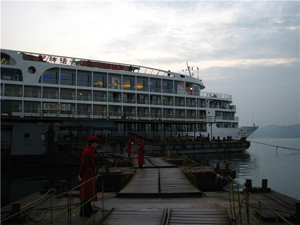 Century Paragon
If you have a one-day stay in Chongqing, you may be interested to see the Dazu Rock Carvings which are at one of China's recommended World Heritage Sites. "They [the Dazu Rock Carvings] are remarkable for their aesthetic quality, their rich diversity of subject matter, both secular and religious, and the light that they shed on everyday life in China during this period [from 650 AD]. They provide outstanding evidence of the harmonious synthesis of Buddhism, Taoism and Confucianism." was the official 1999 UNESCO statement when the Dazu Grottoes were listed as a World Heritage Site. It just takes two and a half hours from the pier to the Dazu Rock Carvings. Design your Own Chongqing One-day Tour with China Highlights.
Note:
1.The cruise itinerary provided on the website is for reference only. The Itinerary might be changed due to uncontrollable conditions (e.g. bad weather and water level). The final itinerary is subject to the cruise company's arrangement, which China Highlights is not able to control.
2.During the National Day Holiday (Oct. 1-7), all the cruises will be in great demand because many Chinese tourists travel during this period. It is advisable to place bookings and make payments well in advance to ensure you are not disappointed. Please note that cruises will be very crowded and noisy and food may even be on short supply. China Highlights does have control over such situations. We advise taking the Yangtze River cruise at a time which avoids the holiday period.
Yangtze Cruise Best Sellers
Recommended Yangtze River Tours
Related Articles

yangtzecruise
How to Plan a Yangtze River Cruise

travel guide
The Top 10 China Travel Destinations in 2021

tour planing
How China Highlights Selects Your Hotels