Tailor Make Your Tour:
Your Schedule
Your Interests
Your Hotel Tastes
From
US$3,439 p/p
Based on 2 persons & 4-star hotels
This 13-day suggested itinerary covers different elements of China: the history, heritage sites, landscape, culture, and adorable giant pandas. It makes an ideal tour for first-time visitors who are panda fans or with children.
Enjoy all the classic wonders in Beijing, Xi'an, and Shanghai; relax on board of the Yangtze River cruise; treat yourself to the highlight of the tour — the one-day Panda Keeper Program at Dujiangyan Panda Base in Chengdu. Have a close encounter with the rare species rather than just taking a glance in a zoo.
Highlights
(

Exclusive Experience)
Our one-day Panda Keeper Program at Dujiangyan Panda Base in Chengdu offers a sweet memory of a lifetime
Relax on the luxury Yangtze River cruise and see different scenery every day
Be amazed at a less-crowded part of the Great Wall by combining effort-saving cable car rides with moderate hiking
Discover more than the axis of the Forbidden City with your expert guide
Meet the Terracotta Warriors and learn how to make clay warriors from local craftsmen in their traditional cave dwellings
Explore the elegance of the Bund by entering old buildings that celebrities stayed in, e.g. Einstein.
Suggested Itinerary
Expand All
Day 1
First Impressions of China: Beijing
Day 2
Beijing: The Three Great Sights of Beijing
Day 3
Beijing: The Great Wall and the Temple of Heaven
Day 4
Discover More Beijing Highlights and Flight to Xi'an
Day 5
Admire the Terracotta Warriors and Visit Local Cave Dwelling
Day 6
More Xi'an Highlights and Flight to Chengdu
Day 7
Chengdu Highlight: One-Day Panda Keeper Program
Day 8
Experience Other Highlights of Chengdu and HSR to Chongqing
Day 9
Yangtze River Cruise: Shibaozhai
Day 10
Yangtze River: Gorges and Shennong Stream
Day 11
The Three Gorges Dam and Flight to Shanghai
Day 12
Shanghai Highlights
Our Service Includes:
Our 1-to-1 expert China consultancy with unlimited itinerary changes
Booking of China internal flights, trains, and cruises, per your preferences
Your own China-Highlights-trained, versatile and knowledgeable tour guide (per city)
Your own chauffeured and comfortable vehicle, chosen for ample space
Hand-picking of hotels for your requirements
Hotel breakfasts arranged, and local restaurant lunches ordered, to suit you
Entry to all attractions on your itinerary, with queues avoided wherever possible
Our 24-7 helpline for while you are travelling
Trip Notes
Extensions based on the tour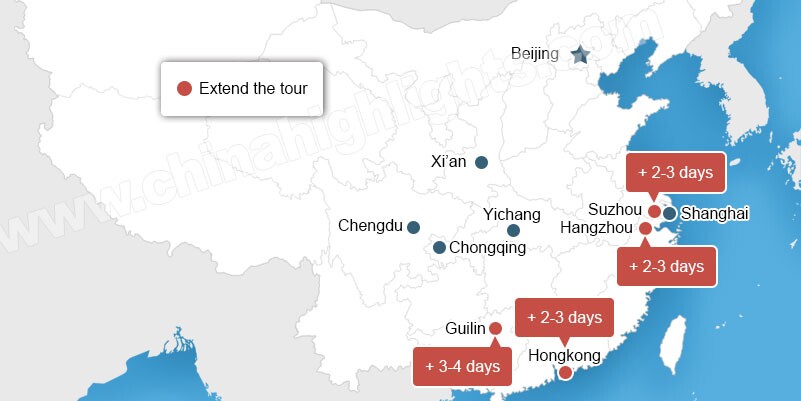 Extend the tour:
Guilin and Yangshuo: add 3–4 days to enjoy the Li River cruise, karst landforms, and countryside scenery
Suzhou and Hangzhou: add 2–3 days to visit scenic gardens, West Lake, and the water towns
Hong Kong: add 2–3 days to visit Victoria Peak, Disneyland, and a day tour at Macau
Optional Activities
Extras such as those below are not included in the itinerary or tour price, so you will need to pay separately. Ticket prices often depend on the seating arrangements. Ask your guide to book tickets if you want to see any of the following:
Beijing — Legend of Kungfu Show
Xi'an — Tang Dynasty Cultural Show, with or without the Dumpling Banquet
Chengdu — Sichuan Opera including face-changing, taking photos with a panda at Dujiangyan Panda Base
Yangtze Cruise — Excursion to Fengdu Ghost City and White Emperor City
Shanghai — Chinese Acrobats Show
About the Panda Keeper Program
As the first tour company in China to operate the program, China Highlights has developed stable relationships with the Dujiangyan Panda Base. Sometimes the program is subject to change due to circumstances beyond our control. Usually we are able to get first-hand information that is very helpful for your tour arrangement. Your early booking (at least two weeks before departure) helps us to guarantee the availability of the program. Sometimes the activities listed in the description will be adjusted according to the health conditions of the pandas. Your kind understanding and cooperation is greatly appreciated.
Cuddle a Panda and Take Photos
A donation program that allows you to take pictures with a panda next to you for about a minute is not included in the Panda Keeper Program. It is only available in the Dujiangyan Panda Base and the donation expected is around 1,800 yuan per person (as of July 2015). Only 30 tourists are allowed to take close-up photos with the pandas each day.
Please take enough CNY cash with you, as payment by a non-Chinese credit card is not accepted there.
Trivia About Pandas
A panda defecates 40 times a day.
Pandas walk slowly but they can climb trees that are over 20 meters high. Their running speed is faster than Liu Xiang, the Chinese 110-meter hurdler.
The biting force of pandas is next only to that of the polar bear.
It costs as much as 100,000 yuan (US$16,260) per month to raise one panda.
More Trip Information
Want to learn more about this trip? Please click here to see details about traveling in China, booking, payment and responsible travel.