Dufu's Thatched Cottage
Dufu's Thatched Cottage is a museum and memorial for Dufu (712-770 AD). He is one of China's most famous poets, and he lived during the Tang Dynasty. The memorial is located in a 24 acre (97,000 square meter) park by the side of a stream called the Huanhua in Chengdu's western suburb. Dufu resided in a thatched cottage at the site where he took refuge in Chengdu during a war. The memorial originated as a temple dedicated to Dufu that was built about a thousand years ago during the Song Dynasty. The park contains a recreation of his cottage, what is suspected to be the remains of the original cottage, and ancient temples and structures. A large beautiful garden surrounds the structures. It is located by the side of the Huanhua Stream in Chengdu's western suburb. Visitors to the park learn about Dufu's life, his poetry, and his times, and enjoy the large contemplative park.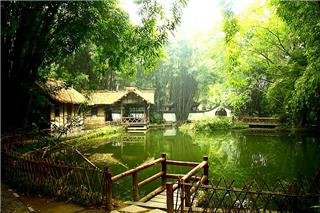 Du Fu left home at the tender age of 20, and years later he became a court official at the Tang Dynasty capital of Chang'an (near Xi'an). Du Fu's civil service duties did not last long however, and he was captured by rebels and forced to flee the city and take refuge in Chengdu. It was in Chengdu, in his small and simple hut, where Du Fu was inspired to write more than 200 poems which are regarded today as masterpieces of realist poetry.
The 24 acre park includes the Gate, the Screen Wall, the Lobby, the Hall of Verse History, and the Gong Bu Temple. These structures are aligned along the central lane, and these buildings are flanked by corridors, cloisters and other auxiliary buildings. A broad-minded bronze statue of Dufu stands in the Hall of Verse History. The Gong Bu Temple has a life-like clay sculpture of Dufu. Trees and bamboo groves, winding brooks and small bridges surround these structures and lie between them.
All these things give the place an atmosphere of solemnity, and a sense of beauty and grace. Around the recreated cottage are bamboo fences, and inside the fences are vegetable and herb plots that remind people of the scenes described in Dufu's poems. While taking a quiet walk in this environment, visitors may feel that they are walking in that ancient era.
Questions and Answers About Dufu's Thatched Cottage
April Offer $25 Coupon
Send your inquiry before Apr. 30, 2014, and we will email you a $25 coupon.
The coupon is valid till Dec. 31, 2014, for paying tour packages worth $250 or up.
The coupon cannot be used for paying flight tickets, train tickets, hotel rooms and day trips.
Travel Advice or Question? Ask us here

China Highlights
Chengdu Travel Guide