Nanjing Transportation
The city is on the Yangtze River about 300 kilometers (about 200 miles) west of both the sea and Shanghai. Nanjing is served by a bullet train system between Nanjing and Shanghai. Because of the convenience, speed and cheaper ticket prices, the bullet trains may be the best way to travel to Nanjing. Otherwise, there are regular trains, long-distance buses and an airport.
Air
How to Get the Airport

Airport Shuttle Bus: It takes about 1 hour driving from the Nanjing urban area to the airport. Passengers can take an airport shuttle bus to there, and the ticket fare is 25 yuan. The shuttle bus is available from 06:00 to 19:00 with the departure interval is 30 munities, starting at Xinghan Mansion (星汉大厦, which is located in 180 Hanzhong Road).
Taxi: Taking a taxi from Nanjing urban area to the airport costs about 100 yuan, including 20 yuan toll.
Coach/Bus
Nanjing is well connected to cities inside Jiangsu Province and around it. There are also long-distance buses to Beijing (about 12 hours) and Guangzhou (maybe 24 hours). The overnight buses to cities far away are usually "bed buses" where people lie in berths instead of sitting in chairs. Tourists might find this either delightfully comfortable, or terrible. The berths are generally short. Western-style long-distance buses with chairs are becoming more common, but "bed buses" are the regular way to travel. Most bed-buses don't have bathrooms, and there are generally few rest stops.
Zhongyangmen bus station is the busiest station and is a large modern terminal. It is next to the North Train Station. The Zhonghuamen Station next to Nanjing South Train Station has service to Anhui Province.
Coach/Bus to nearby Cities
Passengers can catch a bus in Zhongyangmen Long-Distance Bus Station (中央门长途汽车站) to nearby cities. The following information is the ticket price and the time needed to several nearby cities respectively: from Nanjing to Shanghai (about 85 yuan, 4 hours), Hefei (about 46 yuan, 2.5 hours), Huangshan (76 yuan, 4 hours), Hangzhou (100 yuan, 4 hours) and Suzhou (about 65 yuan, 2.5 hours). Buses to Zhenjiang (about 20 yuan, 1.5 hours), Wuxi (about 19 yuan, 1.5 hours), and Yangzhou (27 yuan, 2 hours) are caught in Nanjing East Long-Distance Bus Station (南京长途汽车东站).
Address for Zhongyangmen Long-Distance Bus Station: 7 Jianning Road (建宁路7号)
Address for Nanjing East Long-Distance Bus Station: 17 Huayuan Road (花园路17号)
Waterway
If you have the time and want to rest and enjoy the scenery, a 4 or 5 star cruise might be a relaxing way to travel. The scenery is better past Wuhan, and you can travel all the way from Chongqing and see the Three Gorges Dam that is the biggest dam in the world with locks and its super-large artificial lake behind it. There are less expensive cruise ships and passenger boats, but the lack of accommodations and good food may make the trip uncomfortable and tiresome. You can go from Shanghai to Chongqing and see intermediate points in between such as Wuhan. The port is on the western side of Zhongshan North Road (中山北路). It is two kilometers south from the Yangtze Bridge on the eastern side of the river going south. Passengers can take bus No.4 or No.10 to go there.
Railway
Bullet Train
The bullet train line between Nanjing and Shanghai stops at Suzhou, Wuxi, and Changzhou. It is one of the busiest high-speed rail sections in China. It takes about 2 hours and 20 minutes to travel from Shanghai to Nanjing. Some of the trains go on to Hangzhou.
The station is set up like a subway station. You can buy your tickets at the station and wait in the waiting room for your train. The gate to the train opens about 10 or 15 minutes before the train leaves. Follow the crowd to the train and show your ticket to an attendant to make sure you are getting on the right train. Then find your seat. The seat number is printed on the ticket. Attendants come by offering drinks or snacks. If you miss your train, you can exchange your ticket for another ticket. There may be a charge for the change of tickets.
During the busy time of the day, there are trains leaving every few minutes, but in the late evening, there are only 1 or 2 trains per hour. The first train leaves about 6 am and the last train leaves about 9 pm. From Shanghai, you can get on other bullet train lines that go to other cities. Ticket prices are quite low for a trip between Shanghai and Nanjing. There are two classes of tickets.
A new bullet train line is being built between Nanjing and Shanghai. It scheduled to open in July of 2010. It will be faster and is expected to cut the travel time between the two cities to 75 minutes. It will travel more than 300 kilometers per hour. It is said to cost almost 6 billion USD to build.
A 250 kilometer-long bullet train system is being built between Nanjing and Hangzhou. It is expected to cut travel time between the two cities to 50 minutes. The present slower bullet train goes by way of Shanghai, so travel time is much longer. It is set to open in 2012.
A third very fast train line is under construction between Beijing and Nanjing. It is expected to cut travel time between the two cities to four hours.
Regular Train
Nanjing has three train stations called Nanjing North Railway Station, Nanjing West Railway Station and Nanjing South Railway Station. Nanjing South Railway Station is being expanded, and it is said it will the largest in Asia when construction is finished. Nanjing North is presently the main train station. The smaller Nanjing presently has southbound trains. Regular trains are a good alternative for long-distance travel.
The regular trains are slower, but they are useful because ticket prices are cheaper. They are good for overnight trips because there are first and second class bed tickets. First class tickets are for beds in a closed compartment with 4 berths. Second class tickets are for open compartments with 6 berths in a three-layer bunk bed. You can ask the ticket agent for the particular berth level you'd like. Some people may find it difficult climbing up and down the ladder to the top berth. There are also third-class hard seat tickets, but ticket window clerks often try to steer foreigners away from them.
The main railway station, Nanjing North Railway Station, is located on the northern shore of Xuanwu Lake, and it is also very close to Zhongyangmen Long-distance Bus Station. The station has a modern appearance like an airport with landscaping. Be sure to allow yourself plenty of time to find your waiting room and get on the right train. Chinese train stations are confusing because of the paucity of English signs and people speaking English. Crowds may also make the security checking and ticket checking processes take a while. The ticket office, pedestrian entrance and the local-bus station is on the first floor.
The Nanjing South Railway Station is next to the Zhonghuamen subway station and bus stations.
In addition to the option of purchasing train tickets at the railway station itself, the visitor can purchase train tickets at alternative Nanjing train ticket offices located in other parts of the city.
City Transportation
Taxi
Taxi fare starts a 9 RMB (about 1.30 USD) and you can get around in the city for about 20 RMB. Make sure that the driver uses the meter or you may get overcharged. The receipt describes the distance traveled. Unless you are going outside the city, the fare shouldn't be more than 15 or 20 RMB. If it is, you can ask for a printed receipt and also write down the driver's ID number. If you want your money back, a local may help you call the taxi telephone hotline.
Bus
Big Chinese cities always have extensive bus networks. During rush hours, there may be standing room only. There are tourist bus routes that are marked with the Chinese symbol for the word travel that go mainly to the tourist spots. Fare is only about 2 RMB (about .29 USD). For buses without air-conditioning, the fare is usually about 1 RMB.
Nanjing's Lukou International Airport (airport code: NKG) is about 35 kilometers from the city center. It is basically a domestic airport, but you can get flights to Japan, Korea, Thailand, Malaysia, Singapore, Hong Kong, Macau and Germany. However, there aren't flights to Shanghai because there is a convenient bullet train.
Travel Tips
Some of the taxi drivers and people trying to sell you tickets at the bus stations (called touts) or metro stations may try to take advantage of tourists by giving counterfeit money in change. So it is suggested that you carry small bills for taxis, and don't let a driver or tout switch your real money for fake money. It is also recommended that you don't buy tickets from touts because they may either overcharge or they may give you a ride on a bus that doesn't actually enter the airport area but stops outside somewhere
Questions and Answers About Nanjing Transportation
LOO SUAN PANG
2014-03-05
Show Answer
How to travel from Nanjing Railway station to Zhonghua Road?
Hi LOO, you can take Metro Line 1 from Nanjing Railway station, get off at Sanshan Street Station, Exit 3, then walk to Zhonghua Road. Whitney Liao replied on 2014-03-06
bob low
2014-02-18
Show Answer
what is the quickest way to travel from nanjing south railway station to Nanjing airport?
Hi Bob, there are direct airport shuttle buses from Nanjing south railway station to Nanjing airport. Whitney Liao replied on 2014-02-19
Elizabeth
2014-01-04
Show Answer
Hi, I''m new in nanjing. I just wanted to know what bus number should i take going to nanjing train station from daguang lu or around baixia district. thanks
Dear Elizabeth, You could take No. 128 bus from Daguang Road stop(大光路) to Zhangfuyuan stop(张府园),then take Line 1 subway to Nanjing train station. Lussie Lu replied on 2014-01-06
Katrina
2013-03-06
Show Answer
Hi,Can anyone tell me which bus I get to Huangshan mountain area from Nanjing. Is it from Nanjing east coach station and is there a timetable?Thank you
Hi Katrina, the bus is available from Nanjing Central Bus Station. The timetable is 7:30, 13:20, 14:00.
Whitney Liao replied on 2013-03-08
nana ama appiah
2013-02-27
Show Answer
hi please i want to go nanjing east bus station from nanjing aiport,which is the best way to go and how much is it?(taxi)
Hi nana ama appiah,
Thanks for your inquiry!
It is about 50 kilometers from Nanjing airport to Nanjing East Bus Station, by taking a taxi, it is about CNY150 for the ride. There are usually a lot of buses waiting in line for passengers. You will get one easily. Have a nice trip!
Candy Wei replied on 2013-02-28
April Offer $25 Coupon
Send your inquiry before Apr. 30, 2014, and we will email you a $25 coupon.
The coupon is valid till Dec. 31, 2014, for paying tour packages worth $250 or up.
The coupon cannot be used for paying flight tickets, train tickets, hotel rooms and day trips.
Travel Advice or Question? Ask us here
You might like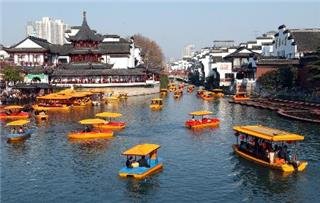 Free Things to Do in Nanjing

China Highlights
Nanjing Travel Guide