Chinese Festivals and Events
The Hong Kong Winter Festival 2020/2021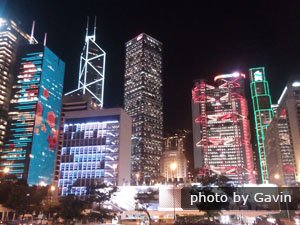 Hong Kong's Symphony of Lights
The Hong Kong Winter Festival of 2020/2021 has old world traditions, shopping bargains, and carols. Plan your visit with these top event details.
2020 Winter Festival season: 29 November 2020 to 28 February 2021
WinterFest is coordinated by the Hong Kong Tourism Board to attract overseas visitors and locals alike each Christmas and New Year. The American CNN television network named the Hong Kong WinterFest as one of the Top 10 places to spend Christmas in the whole world.
In 2020/2021, colorful lights decorate the streets and buildings, and Christmas displays are displayed in many places in December. In January 2020, the big Chinese New Year celebrations will probably be canceled.
Hong Kong Travel Alert for WinterFest 2020/2021
Summary: While HK remains a great travel destination this winter, and it's now enticingly affordable, you may want to avoid the risks of inconvenience, disappointment, and physical harm, though this risk is slight if you stay away from any protest demonstration.
The Risks
Travel in Hong Kong isn't as safe and convenient as in the past. For the last half-year, there have been massive demonstrations involving millions in the whole region.
The violence and vandalism, including scattered arson, has been increasing, and tourism is way down, sometimes perhaps 60% less than previously. Groups of armed thugs have attacked protesters, passengers, and bystanders in train stations and in the streets, so now, most people try to stay off the streets after dark. Streets and shopping areas may be closed, transport has sometimes been stopped, and tear gas is often used to disperse crowds. Protestors, bystanders, and journalists have been forcefully engaged by the police.
Many of the traditional annual WinterFest events have been canceled. The events described here are the regularly scheduled events. In attempts to stop the protests, the government will probably cancel big public events.
The Opportunities
Great bargains: This winter season may be the best time in decades for touring and shopping inexpensively and without the crowds of tourists! You can find great bargains on everything: hotel rooms (up to 70% off in Tsim Sha Tsui), discounted flights, fine dining at lower prices, to discounted shopping.
December 2020 and January 2021 is a particularly good time to go for low prices and to enjoy shopping for bargains as the stores try to sell their stocks of products. You can enjoy the region's world-class facilities and service at much lower prices than for decades.
2020 WinterFest Highlights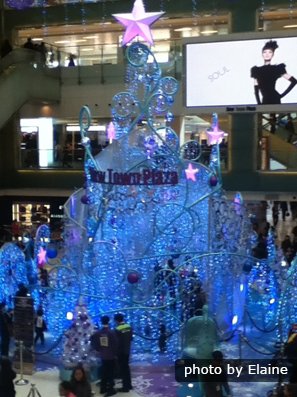 A Christmas display at New Town Plaza Mall in Sha Tin
The Hong Kong Ballet – the Nutcracker is a delight for those who enjoy fine opera and ballet (note the change of hours).
The Hong Kong Philharmonic – selections of classic Christmas pieces (canceled).
For the Hong Kong Symphony of Lights – the buildings will feature Christmas light decorations.
The International Light Art Display on the Central Harbour is a light art exhibit free for the public
Major displays will be in the big malls and the important city squares.
Churches and Christians take Christmas seriously with big religious events, carol singing, and special performances. See the Top 5 English Speaking Churches.
Gourmet Christmas dinners will be hosted by posh hotels and top gourmet restaurants.
Christmas in Hong Kong - What To Do and Where in 2020
Details of the Major Christmas Events in 2020
2020 Official Public Holidays for Christmas: December 25th (Wednesday) and 26th (Thursday)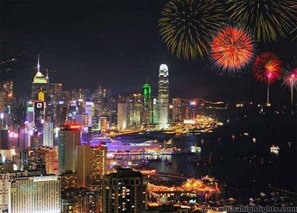 Victoria Harbour fireworks
Victoria Harbour is a dazzling sight when the fireworks burst in the light show on New Year's Eve. You can see the Christmas lights on dozens of buildings along Victoria Harbour choreographed in a light show with Christmas and New Year's decorations. This year, it is probably canceled.
During WinterFest, most of the city is aglow with festive lighting and laser and graphics imagery.
The Nutcracker - Hong Kong Ballet 2020
The Nutcracker is a world-renowned operatic ballet and a special Yuletide tradition enjoyed by audiences of all ages. Live accompaniment is by the Hong Kong Sinfonietta.
Place: Grand Theatre in the Hong Kong Cultural Centre next to the Star Ferry Terminal in Tsim Sha Tsui in Kowloon.
Times: December 21, 22, 25, 26 and 28 at 6:30 pm. December 19, 23, 27 at 7:30 pm. December 21, 22, 25, 26, 28 and 29 at 2:30 pm.
Holidays, Hong Kong Philharmonic (December 2020)
The Hong Kong Philharmonic presented a special A Harry Little Christmas with Harry Wong annually, but this December it has been canceled. The Hong Kong Philharmonic orchestra is a professional orchestra sponsored by the HK government.
Times: were December 23 at 3 pm and 8 pm in 2018.
Tickets: HKD $480, $380, $280, $180.
Hong Kong Pulse 3D Light Show 2020
As part of the WinterFest, this high tech laser audiovisual display dazzles the crowds annually in and around the plaza of the clock tower near the Star Ferry in Tsim Sha Tsui. In Winterfest 2020, there will probably be no light shows.
Address: Open Piazza, Hong Kong Cultural Center, 10 Salisbury Road, Tsim Sha Tsui, Kowloon.
Christmas Symphony of Lights (Every Night at 8 pm)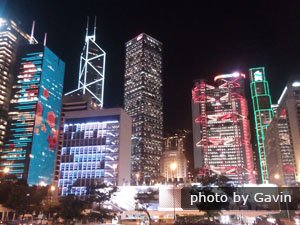 Hong Kong Symphony of Lights
Every night during the season, you can head to Victoria Harbour and watch the free holiday light show of the Symphony of Lights. For Christmas 2020, the entire show has been revamped and modernized. Many more lasers and LED screens make a bigger spectacle than ever before.
The best view is from the pedestrian area called Avenue of Stars where you can see the 3-D Pulse show too and hear the narrative and music from the Hong Kong Philharmonic.
Special added Christmas fireworks and pyrotechnic effects: were displayed November 29 and December 1, 8, 12, 15, 22 and 29 in 2018
Pulse Light Festival
This is a new feature of WinterFest. It is a government-sponsored luminescent art exhibit of lighted artworks of artists from many countries. It is on the Central Harbourfront and free to see. In winter 2020/2021, there will probably be no Pulse festival.
Dates: in 2019/2020, the event was held from November 29, 2019 to February 28, 2020
Illumination hours: were 5pm to 11pm (7:45pm on November 29, 2020)
Major Christmas Displays and Decorations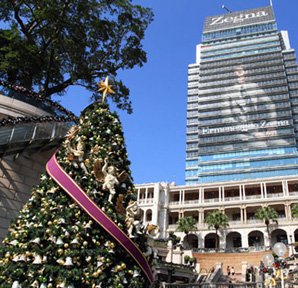 Big displays and graphics at the 1881 Heritage.
Every shopping mall dons Christmas decorations, and the ritziest malls put up spectacular and expensive displays.
1881 Heritage Royal Ice Palace: the ritzy hotel on Victoria Harbour builds grand themed decorations in its front plaza each year.
Statue Square Christmas display: Every year, the best display is hosted at Statue Square on Hong Kong Island by the Hong Kong Tourism Board.
Dates (2019/2020): were November 29, 2019 to January 1, 2020
Lighted hours: 5pm to 11pm (7:45 pm on November 29, 2020)
Transport: MTR Central Station Exit K opens next to it.
Local Christmas Carolers
In the days before Christmas and on Christmas Eve, groups of carolers from churches and schools go around and sing in the parks and malls. You might spot groups of children, teenagers, and adults walking in Central, Kowloon Park or elsewhere, joyously singing! Music groups and orchestras also put on free concerts.
Excellent Christmas Season Dining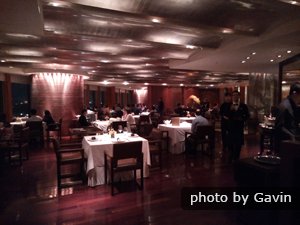 The IFC's 2019 3 MICHELIN STAR Lung King Heen is the best for Cantonese cuisine in Hong Kong.
Hong Kong has about 63 Michelin-starred restaurants in 2019. Some have Christmas dinners, and many are quite affordable for the average tourist although they might not feature special Christmas food. Check our list of recommended restaurants on our restaurant guide updated for 2019.
The IFC is notable in 2019 as probably the most Michelin-starred place in the world with Caprice for French and Lung King Heen for Cantonese receiving 3 Michelin Stars each and Sushi Saito for Japanese receiving 2 Michelin Stars.
New Year 2020 Firework Display
Hong Kongers like to celebrate both the Western New Year and the Chinese New Year in a big way. But this year the turn of the decade display is canceled.
It was scheduled for midnight on Tuesday, December 31, 2020.
In the 2019/2020 show, a 2 million USD pyrotechnic show was featured. On December 31, 2017, about 36,000 people lined both sides of the harbor.
December 31, 2019 show times were: Shooting stars: 11:00pm, 11:15pm, 11:30pm and 11:45pm. Main show: 12:00.
Chinese New Year 2020
Hong Kong Chinese New Year flower market
2020 Hong Kong Official Public Holidays for Chinese New Year: January 25th (Saturday) Chinese New Year Day, January 26th (Sunday) Day 2, January 27th (Monday) Day 3, and January 28th (Tuesday) Day 4 (special compensated holiday since Day 2 falls on Sunday.)
2020 Lantern Festival Public Holiday: Yuen Siu, February 8 (Saturday).
Chinese New Year events in Hong Kong in 2020 will probably be canceled. It is the turn of the decade, and there is a special, extended 4-day public holiday because Chinese New Year falls on Saturday. So instead of the usual 3-day public holidays for Chinese New Year, it is extended one day, making it even grander!
There will probably be no Night Parade in Tsim Sha Tsui on New Years Day nor a Spring Festival Fireworks over Victoria Harbour on Day 2. But there will probably be special events such as Horse Races on Day 3 and Day 4. Tourists love visiting the special Flower Markets for food, gifts, and flowers!
Major Attractions during the Hong Kong Winter Festival
The major venues for Hong Kong Winter Festival in 2020 include Hong Kong Disneyland, Hong Kong Ocean Park, Madame Tussauds Wax Figure Gallery, Hong Kong Wetland Park, Ngong Ping 360, and the Sky 100 Hong Kong Observation Deck.
Hong Kong Disneyland's "A Disney Christmas" (November 14, 2019 – January 1, 2020)
Hong Kong Disneyland
Disneyland presents amusement and entertainment starting from November to New Year's Day.
In 2018, they featured holiday events for children such as "A Magical Twilight Snowfall" and the signature "Holiday Wish-Come-True" Tree Lighting Ceremony. New in the park was a kiddies market called "Fantasy Gardens Wintertime Market" for buying gifts and treats.
Ocean Park Christmas Sensation (December 7, 2019 – January 1, 2020)
On December 7, 2019, Ocean Park starts the Ocean Park Christmas Sensation. The entire park was decked out with festive decorations such as a giant Christmas tree, artificial snow, and Santa's Cottage.
In the 2017 season, the park featured Hong Kong's only virtual reality (VR) roller coaster. The Christmas Market transformed Waterfront Plaza into a Christmas village for food and gifts.
Christmas/Winter Fest Sales and Markets 2020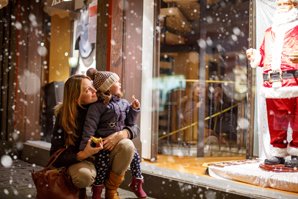 Christmas shopping in Hong Kong has everything but the snow.
Because the stores have large stocks of unsold merchandise, you can expect large discounts for Christmas shopping and low season discounts. So this winter of 2020/2021 is unusual. Usually, there aren't pre-Christmas sales with lower prices to attract shoppers. Instead, during the Christmas to Chinese New Year winter shopping season, prices went up. However, the malls try to attract customers through special Christmas displays and entertainment.
Christmas gifts of electronics, clothing, and other common items might be bought at the street markets such as Ladies Market in Mongkok (clothing, electronics, souvenirs, pets, jewelry, etc.) at large savings compared to normal.
Temple Street near the harbor is where you'll find a variety of products for tourists plus many open-air restaurants for Chinese food. See Christmas Shopping in Hong Kong in 2020.
Hong Kong Tours for Christmas / WinterFest / Chinese New Year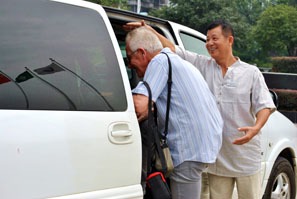 Touring Hong Kong with China Highlights
We can arrange a fine Hong Kong winter tour for you. Our tour experts can help you find the best discounts on hotels, flights, and shopping, and we can help you avoid the inconveniences.
This year, there won't be big crowds of Chinese tourists coming for Chinese New Year of 2021. So foreigners who visit during their Christmas, New Year, and Chinese New Year holidays can enjoy the Christmas/WinterFest festivals and events with fewer crowds, far lower prices, and the generally mild, dry and sunny weather in December. It is good for those wishing to avoid freezing weather elsewhere.
We can help you tour the Mainland as well.
Recommended Customizable Tour Ideas:
Or we can create a personalized Hong Kong tour.
Related Articles

Chinese Festivals and Events
China Festivals in March

Chinese Festivals and Events
Chinese New Year Clothes

travel guide
The Top 13 Most Beautiful Places in China

kungfu
Chinese Kung Fu