China's Top 5 Beautiful Waterfalls
Besides some famous rivers, lakes, mountains, China also owns a large number of heavenly beautiful waterfalls interspersing among the picture of nature. These waterfalls attract thousands of visitors every year. Our China Highlights has listed five beautiful waterfalls in China. Moreover, you can also see our natural scenery tours or contact us to book a customised tour to China.
1.

Hukou Waterfall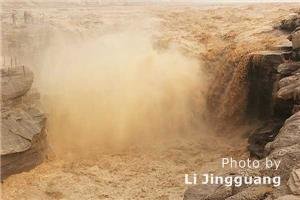 Hukou Waterfall is the second largest waterfall in China after Huangguoshu Waterfall. It is located on the Yellow River at the intersection of Shanxi Province and Shaanxi Province.
The name "Hukou" means "Teapot Mouth" as the yellow waters pour down like tea from a giant teapot. Hukou Waterfall is famous as a spectacular waterfall, and the only famous yellow waterfall in the world.
2.

Huangguoshu Waterfall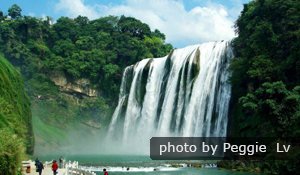 Huangguoshu Waterfall is the largest waterfall in China, located on the Baishui River (白水河). It is one of the most typical and spectacular Karst waterfalls in the world.

It is 67 meters high and 83.3 meters wide pouring down over a sheer cliff into the Rhinoceros Pool. There is a naturally formed cave located in the cliff behind the waterfall, which is named Shuilian Dong (Water Curtain Cave).
3.

Detian Waterfalls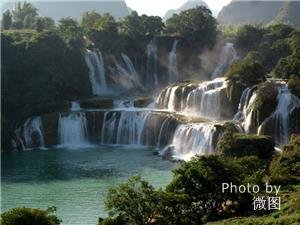 Detian Waterfall is a transnational waterfall, located on the Guichun River, straddling the Sino-Vietnamese border. The water flows into Vietnam and then flows back into Guangxi.
It is the largest transnational waterfall in Asia and the fourth in the world. The spectacular Detian Waterfall is a national super attraction, pouring down in three layers, and turning between towering old trees.
4.

Jiuzhaigou Nuorilang Waterfall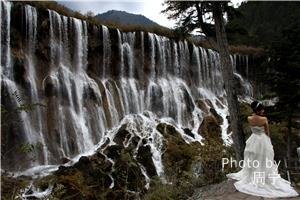 Nuorilang Waterfall is located in Jiuzhaigou, the nature reserve and national park of Sichuan Province. It is one of the large travertine waterfalls and drops down 20 meters. It is 270 meters wide, the widest waterfall in China.
Nuorilang is a transliteration of the Tibetan. It means "god", as a symbol of height and majesty.
5.

Luoping Jiulong Waterfall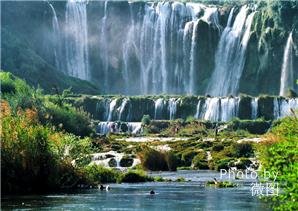 Jiulong Waterfall is located on Jiulong River in Luoping County, Yunnan Province. Jiulong Waterfall is divided into ten layers, and each layer is different: some are turbulent, some are beautiful, some are open, some are hidden. They are in various shapes and totally different characters. The scenery changes with the seasons and the currents.
Further Reading

China Highlights
Questions and Answers About China's Top 5 Beautiful Waterfalls
April Offer $25 Coupon
Send your inquiry before Apr. 30, 2014, and we will email you a $25 coupon.
The coupon is valid till Dec. 31, 2014, for paying tour packages worth $250 or up.
The coupon cannot be used for paying flight tickets, train tickets, hotel rooms and day trips.
Travel Advice or Question? Ask us here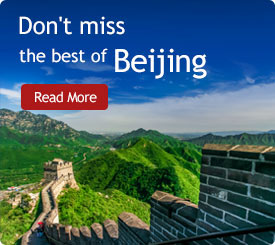 The Most Popular Articles
The Latest Travel Articles