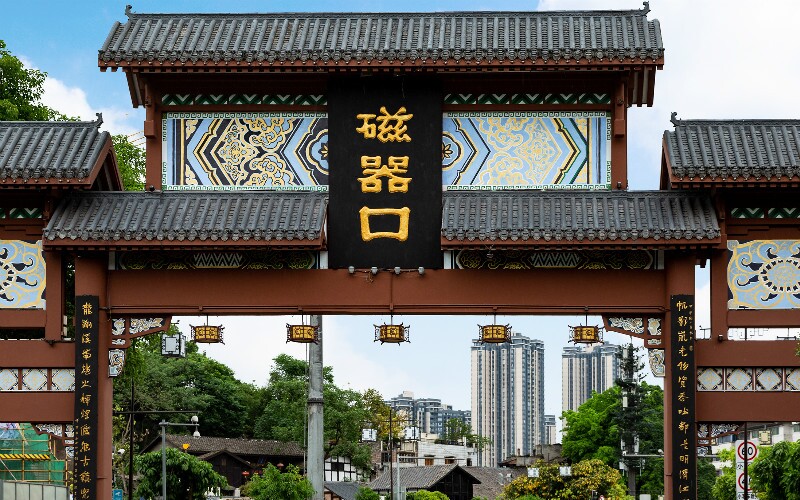 chongqing
Ciqikou Old Town
Overview
Ciqikou is on a hill above the Jialing River in the western part of Chongqing city. It is a small section of city with about two city streets and back allies that are set aside as a pedestrian shopping and dining area. The government wants to promote tourist business in the area. People go to shop and eat snacks and gourmet food. It is now a part of the city of Chongqing, but it was once was a prominent market and trade town next to Chongqing. In the Ming Dynasty, it was a river port and market town. Goods were transported over land and water. Some buildings have been renovated and preserved. Along the streets are shops for porcelain and other items and many restaurants and snack shops. So while you are shopping, you can eat and drink beverages at the same time. Some of the tea houses have performances of traditional Chinese music. It is a place to see more of how Chongqing used to be, eat and shop.
Detailed Description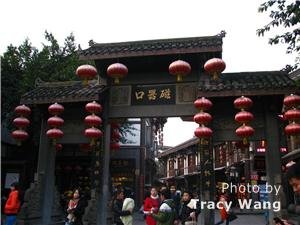 Ciqikou Old Town
This area is now a part of the Shapingba District of Chongqing in the western part of the urban area. There was a town there a thousand years ago. It was a busy commercial dock in the Ming (1368-1644) and Qing (1644-1912) Dynasties. It is sometimes called Small Chongqing or Porcelain Town because the place hasn't been as modernized as the rest of Chongqing. It is also called Porcelain Town because town people manufactured and traded porcelain. Porcelain is still sold in the shops. There is a restaurant boat to eat in and a hostel to stay in.
One of the major things tourists do is eat in the restaurants and shops. There are candied sweets, pastries, the Zhangfei Beef Shop where the owner dresses up in a strange custom, a restaurant for Indian food, and different kinds of stir-fried dishes with lots of hot chili pepper. Some dishes have so much chili pepper they look like they are mostly fried red chili pepper. There are noodles and fried donuts. There are all kinds of restaurants from snack shops to gourmet restaurants. One of the teahouses has a Sichuan Opera Face Changing Performance. This is fun to watch.
One of the things that might interest you is to see the classroom where physics Nobel Prize winner Samuel CC Ting studied when he was a child. Its original look was recreated with a picture of Sun Yat-Sen on the wall. A large and very expensive scientific satellite that he has been building is scheduled to be launched on the Space Shuttle this year. His name may be in the news in 2010.
Location: On the Jialing River near where it merges with the Yangtze River. It is about three or four kilometers from the main business and shopping area of the Shapingba District in the western part of urban Chongqing. It is about an hour's drive from the city center.
Features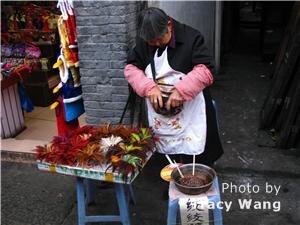 Many restaurants and small shops lots of different kinds of snacks and gourmet food.
Tourist shops.
Restaurant boat.
A place to see how things looked 60 years ago.
A preserved classroom where Samuel CC Ting studied.
Hostel.
"Face Changing" Sichuan Opera performance at a teahouse.
Various flavors of fried red chili peppers.
Touring Activities
Eating.
Shopping.
Photography.
Seeing old houses and streets.
See the classroom where Samuel CC Ting studied.
Traveling Information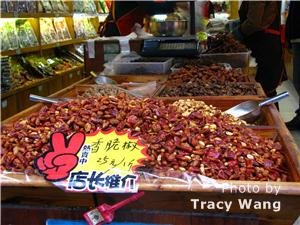 Local products sold at the ancient town
Transportation: Ciqikou Old Town is about 3 or 4 kilometers away from the main Shapingba retail and business center, so you can take buses or taxis.
The area is a pedestrian area.
There are more rustic buildings and older looking streets away from the entrance. You can walk south along the main street away from the entrance and leave behind the crowds of tourists.
Nearby Attractions:
Other attractions in the urban area include the Three Gorges Museum and the Great Hall of the People. They are next to each other. The Chongqing Zoo is a popular highlight in the southern part of the city. Chongqing University is about three kilometers away along the river.
Related Articles

travel guide
The Top 10 China Travel Destinations in 2021