Time Travel in Two Ancient Chinese Capitals
6 Days Beijing and Xian Tour
Imagine ancient imperial Beijing and discover Xi'an's 2,000-year-old secrets in 6 days. Enrich your trip with our handpicked experiences at the Forbidden City and the Terracotta Warriors. Discover more with top-class guides at all sites and ride the Chinese high-speed train between cities.
Tour Highlights
Discover a "living" Forbidden City by admiring the architectural splendors and listening to the stories of 8 famous figures.
Enjoy a home-visit to a traditional hutong courtyard house and learn Chinese calligraphy.
Walk on the famous section of the Great Wall at Mutianyu.
Immerse yourself in the mystery of the Terracotta Warriors of Xi'an.
Learn how to make a terracotta warrior at a local cave dwelling.
Rocky, our tour guide was awesome! He was fun to talk to and learn the history of Xi'an. The Terra Cotta Warriors were the most amazing thing we've ever seen. Couldn't stop taking pictures and learning about why it existed. - Kristine Rayne, from US Read more
- Kristine Rayne, from US
Suggested Itinerary
Day 1
Arrival in Beijing
Your private guide will be ready to meet and greet you at the arrivals hall. A comfortable private car (no-smoking) with an experienced driver will transfer you directly to your hotel, where your guide will help you to check-in.
Hotel options:
Novotel Peace Beijing (good location)
Crowne Plaza Hotel Chaoyang U-Town (Surrounded by touring conveniences)
Day 2
The Forbidden City and Hutong Discovery Tour
Breakfast and lunch
After breakfast, your guide will be waiting for you in the lobby of your hotel. A comfortable private car will transfer you and your guide to Tian'anmen Square.
Your guide will provide you with commentary about the history and architecture, as well as anecdotes about the square, and you will have some time there for taking photos. Then start to enjoy the main highlight of the day - the Forbidden City, home to 24 emperors during the Ming and Qing dynasties (1420–1911).
You'll be amazed by the gorgeous ancient Chinese architecture. Travel back in time to immerse yourself in the interesting lives and history of the royal families. Your guide will help you explore 12 carefully-selected places in the Forbidden City, while many other group tours only visit 6 spots briefly.
In addition to giving a background introduction on architecture, history, and art of the city, your guide will explain to you stories of 8 famous figures in the 2 dynasties and help you to trace elements of their lives here.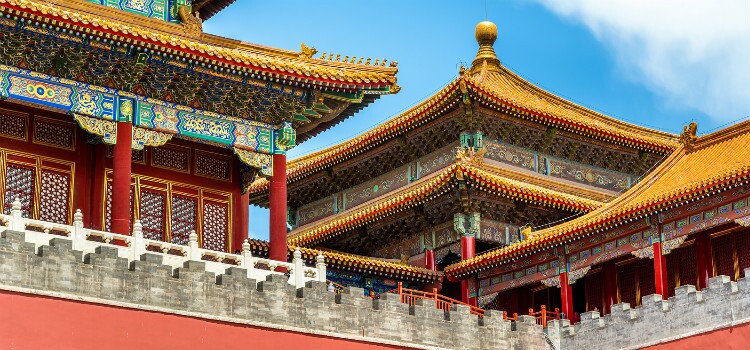 The Forbidden City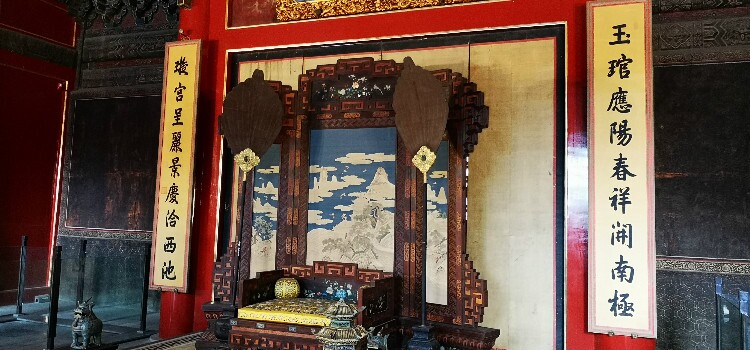 Eplore a hidden palace
Have a rest and enjoy some delicious Chinese food for lunch at one of our selected local restaurants. After lunch, ride to the old hutong area with your guide and take a rickshaw through the 300-year-old hutongs.
A rickshaw is the best way to explore the hutongs as it will help keep you from being squeezed by the crowds of tourists. A visit to a local family, whose ancestors have lived in the hutongs for generations, offers a local perspective on history and is a highlight for most visitors.
Good to Know
An experience of traditional Chinese culture:We're happy to offer you "one out of three" free experiences in the hutongs (for about 40 minutes) if you are interested: either learn to apply facial makeup for Peking Opera; or learn Chinese calligraphy; or learn Chinese paper cutting.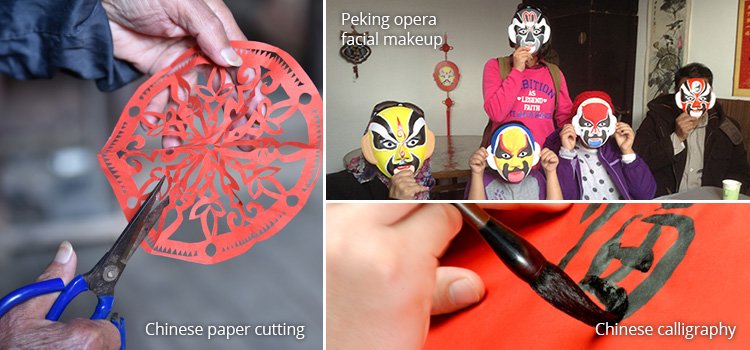 The culture experiences
Day 3
Visit the Temple of Heaven and Walk on the Great Wall at Mutianyu
breakfast and lunch
In the morning, your guide and driver will take you to the Temple of Heaven – a place where emperors used to pray for a good harvest.
We recommend that you spend some time joining in with local people's morning exercises, if you are at all interested. The park of the Temple of Heaven is full of life. In the morning lots of local elderly people meet there to sing, dance, play Chinese chess, and do traditional Chinese tai chi.
Immerse yourself in the lives of local people – now and centuries ago – through joining in their morning activities.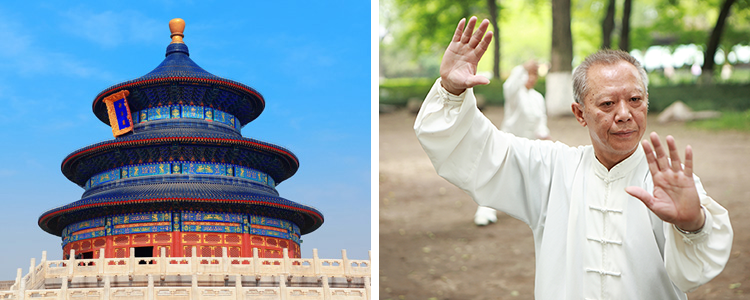 The Temple of Heaven
After visiting the Temple of Heaven, you'll travel 1½ hours from downtown Beijing to the Great Wall at Mutianyu. We'll have a rest and enjoy delicious local Beijing food for lunch at our well-selected local restaurant – Xinshuangquan.
In the afternoon, you'll hike the Great Wall at Mutianyu. This section is ranked top on TripAdvisor among all sections of the Great Wall for its picturesque scenery, and beautifully restored architecture.
In order to save time, we will arrange round-trip cable car rides to ascend and descend the Wall, instead of spending about 40 minutes climbing steps. On the Wall, you will have free time to walk around, after your guide does some introductions.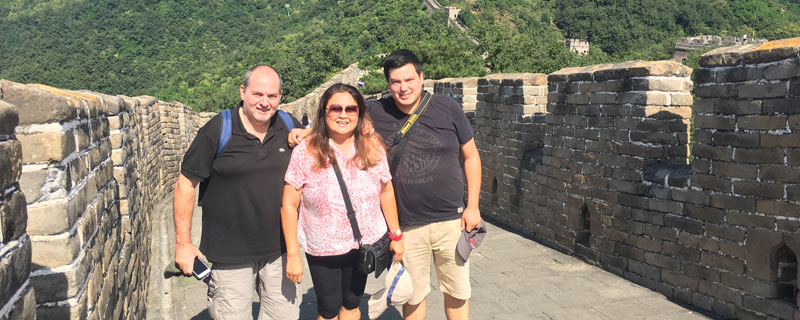 Walking on the Mutianyu Great Wall
Day 4
The Summer Palace and High-Speed Train to Xi'an
breakfast and lunch
In the morning, your guide and driver will transfer you to the world-famous imperial garden called the Summer Palace. The Palace is where the emperors used to retreat from the summer heat.
Your guide will show you the palace area and the lake area. The Garden of Virtue and Harmony is a site that we include specially for you to imagine the "vacations" of the royal family.
The best way to do sightseeing at the Palace is by taking a dragon boat on the lake (the boat trip is not available in winter as the lake will be frozen). On the way, you will have a chance to view all the beautiful palaces around the lake.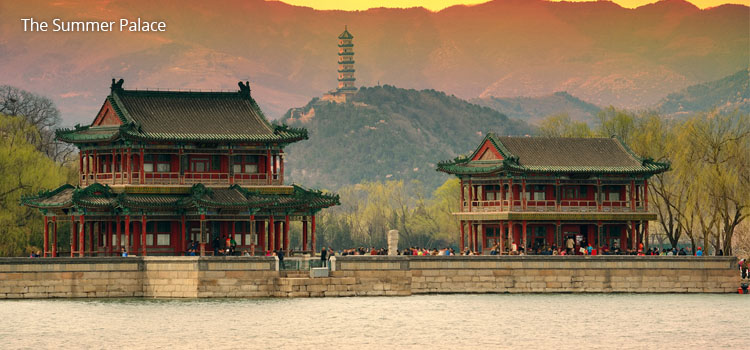 he Summer Palace
After visiting the Summer Palace, enjoy lunch at an attractive traditional restaurant.
After lunch, your guide will handle your luggage transfer, and accompany you to the railway station to ride the high-speed train to Xi'an (about 6 hours). You will have a first-class seat. It will of course be a different experience from taking a flight.
Meet your Xi'an private guide at the exit of the train station. You will be transferred to the hotel by private car.
Hotel options:
Grand Noble Hotel (Very central location)
Wyndham Grand Xian South (Attentive service and great breakfasts)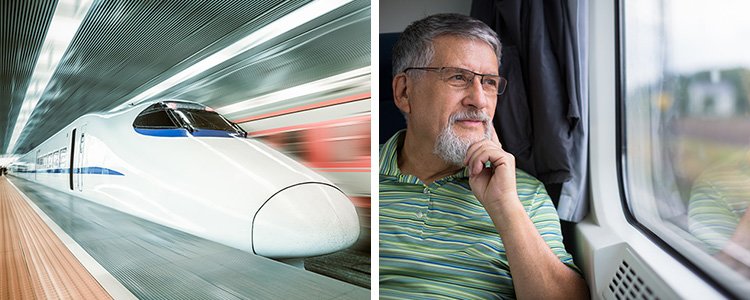 the bullet train
Day 5
Explore the Mysterious Terracotta Warriors and the Ancient City Wall
breakfast and lunch
The Terracotta Army, 1½ hours' drive from Xi'an, was discovered accidentally in 1974. This incredible army of over 7,000 soldiers, archers, horses, and chariots, in full battle array, has guarded Emperor Qin's tomb since 210 BC.
Our recommended visiting sequence is Pit 1 – Pit 2 – Pit 3 – Bronze Chariot Pit – the Mausoleum of Qin Shi Huang. Travel back in time and put yourself in the Emperor's shoes. What was he thinking? Your guide will help you find your favorite terracotta warrior using a unique process designed by China Highlights.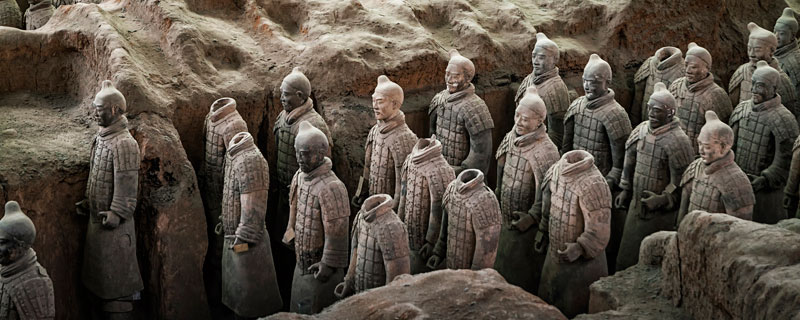 The Terra-Cotta Amy
After visiting the museum, you will have an opportunity to visit a typical Shaanxi cave house and to learn how to make warriors in the cave dwelling. Get to know traditional techniques used 2,000 years ago and try your hand at molding, carving, and painting.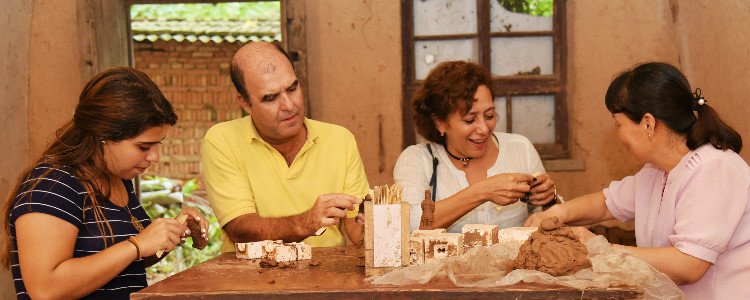 Making a Terra-Cotta warrior
In the afternoon, cycle or walk on the City Wall to hear the echo of history and take a bird's-eye view of the city.
Day 6
The Wild Goose Pagoda, Shaanxi History Museum and Departure from Xi'an
breakfast and lunch
After breakfast, check out from your hotel. Visit one of the best museums in China – the Shaanxi History Museum – which gives a perfect overview of Chinese history and is not to be missed. It houses over 370,000 items, including murals, paintings, pottery, coins, and bronze, gold, and silver objects.
After the museum, see the Chinese-style architecture combined with dozens of historic Buddhist statues and murals at the Big Wild Goose Pagoda, which is another landmark of Xi'an.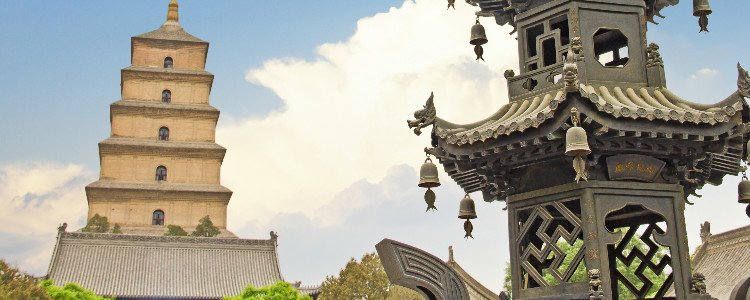 the Big Goose Pagoda
Lunch will be served at a local restaurant. You will have a chance to taste all kind of dumplings made with different ingredients and cooked in different ways.
After lunch, your guide will handle your luggage transfer, and accompany you to the train station or to the correct check-in desk at the airport, for your departure
Trip Notes
1. Free-Time Suggestions
In Beijing: The Legend of Kung Fu Show is a mix of traditional martial arts and modern theatre. Presenting stunning Kung Fu skills, exquisite ballet and music, this beautiful story has undoubtedly become the most popular Kung Fu show in China.
The performance takes place in the Red Theater. There are English subtitles above the stage to keep you up with the story-line. Just ask your guide, and he/she will help you obtain tickets.
In Xi'an: Watch a Tang dynasty (618–907 AD) performance – a song and dance show that recreates the prime time of the Tang dynasty, one of China's most prosperous eras.
2. Customizing the Tour - According to Your Needs
This tour is very flexible. You can alter the itinerary, extending or shortening it to suit your budget, interests, and schedule.
You can extend it by a few days, visiting more areas and attractions, such as Pingyao, Luoyang with Shaolin Temple, Chengdu with pandas or Guilin with the Li River. If your time is limited, shortening the tour by a day in Beijing or Xi'an can also be arranged.
Why Go with Us
1. Time-Saving: Skip the ticket lines at the Forbidden City in Beijing and at the Terracotta Warriors in Xi'an. Usually, people have to stand in a queue to buy their tickets and that takes at least half an hour. In order to save time, your tour guide will buy the tickets online in advance, so you don't need to stand in a long boring queue.
2. Handpicked Experience: We go beyond ordinary touring in order to give you interesting, authentic and profound experiences at the sites.
3. Flexible Timing and Meals:
A. You can decide to start the tour earlier or later during your stay in Beijing & Xi'an depending on your arrival or departure flight; and you can decide to spend more time at the attractions you specially like and less time at others, and do the trip without rushing.
B. You can order the dishes you like in our selected local restaurants, as all the included meals are à la carte, while group tours often only offer set menus without any choice. We can provide various options, such as vegetarian, Muslim, Chinese or Indian food.
Price Includes
The price is US$1,079 p/p based on 2 persons, including:
1-1 consultancy from an experienced travel expert
Private air-conditioned business car with big windows and ample space
English speaking local guide
Activities, hotels, and meals listed in the itinerary
24/7 helpline for while you are traveling