Chengdu and Its UNESCO Neighbors
5 Days Chengdu, Leshan and Mount. Emei Tour
Tailor Make Your Tour:
Your Schedule
Your Interests
Your Hotel Tastes
From
US$759 p/p
Based on 2 persons & 4-star hotel
This tour covers the most popular attractions in Chengdu and nearby cities. You will see the cute pandas, the romantic lanes in Chengdu, and most of all two UNESCO World Heritage Sites-the Giant Buddha cut during the Tang Dynasty, and Mount Emei.
Highlights
Meet the lovely pandas in the Panda Breeding and Research Center
Relax when walking on Mount Emei, one of China's most famous Buddhist mountains
Stroll along Kuan-Zhai Lane to see the well-preserved historic architectures
Suggested Itinerary
Your private driver and guide will be ready for you when you arrive in Chengdu. Sit back in a comfortable, non-smoking car, leave the hassles to your guide, and enjoy a trouble-free transfer to your hotel.
Accommodation
Tibet Hotel Chengdu (4-star)
Sofitel Chengdu Taihe (5-star)
Day 2
The Panda Breeding and Research Center and Kuan-Zhai Alley Tour
In the morning you will first visit the Panda Breeding and Research Center, about 10 kilometers (six miles) north from central Chengdu. You will visit the nursery to see the highly successful breeding program, stroll among the bamboo groves and shady walkways, and view the pandas at rest or play. It is best to go early in the morning to see the pandas feeding at around 9:30am, when they are most active during the day.
Lunch is at a Chinese restaurant where you can learn about the Sichuan-style dishes.
After lunch you will go to Chengdu People's Park to have a deep breath of fresh air. Verdant trees and various flowers make the traditional pavilions and buildings much more graceful. You can join the local people to experience the bustle and chatter of a local teahouse in this area.
Kuan-Zhai Lane (or Wide and Narrow Alley) is the day's last destination; an ancient street with hundreds of years' history combined with modern elements. There you can imagine the old Chengdu by walking past the Qing Dynasty (1636–1912) style buildings.
GOOD TO KNOW
March to May is the "falling in love period" for pandas. If you visit the Panda Breeding and Research Center between late August and December, you will have a greater chance of seeing tiny newborns in the Sunshine Nursery House.
Accommodation
Tibet Hotel Chengdu (4-star)
Sofitel Chengdu Taihe (5-star)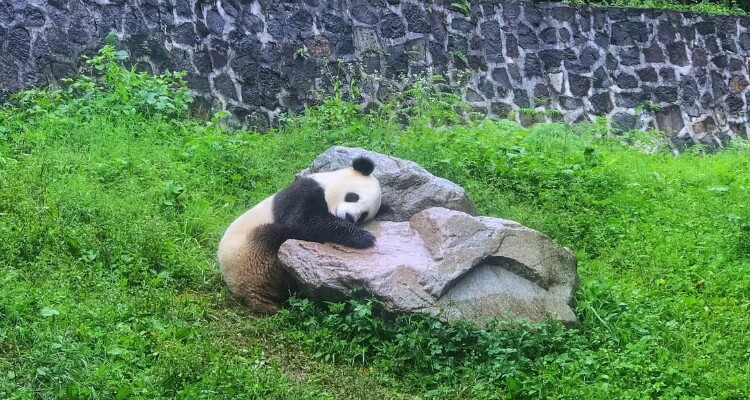 Giant Panda
Day 3
The Giant Buddha Tour
You will be driven to Leshan City this morning, which takes about two hours. After a short break and lunch, you will begin your journey to the Giant Buddha, which takes about 10 minutes.
Listed as one of the UNESCO World Heritage sites in 1992, The Giant Buddha (cut in the Tang Dynasty, which took 90 years to complete) in Leshan is located to the east of Leshan City, and is on Lingyun Mountain where Min River, Qingyi River, and Dadu River meet. The sitting Buddha statue is 71 meters high and has the largest existing inscription on a precipice in the world. Besides climbing to get a Lilliputian view of the Giant Buddha, you will also go on a cruise to take a look at the huge inscription.
After the tour, you will be escorted to a hotel near Mount Emei, which is about 31 kilometers (19 miles) from Leshan City.
GOOD TO KNOW
Due to the limited hotel options and the humid weather on Mount Emei, the condition and services of the hotels are quite basic, but China Highlights has carefully selected the best hotel available based on criteria like hotel environment, location, service, and previous customer feedback. Your guide will accompany you to check the room. If you are dissatisfied with the room and there are other rooms available, your guide will be happy to assist you with changing it.
Accommodation Hongzhushan Hotel in Emeishan City.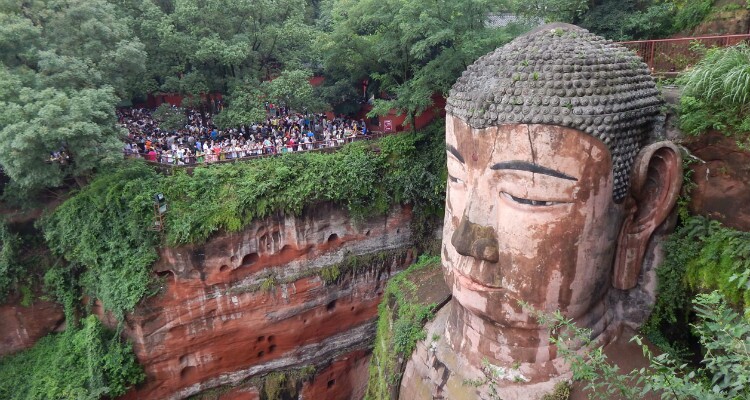 Leshan Giant Buddha
You will spend a full day visiting Mount Emei, which is another UNESCO World Heritage site and one of the four famous Buddhist mountains in China. You will take a relaxing walking trip from the Monastery of Ten Thousand Years to the Monkey Eco-Area. By first taking a public sightseeing bus at the entrance, you will arrive at the parking lot of the Monastery of Ten Thousand Years in 30 minutes. Jump on a cable car to go up to the monastery in a relaxed style in just 10 minutes without wasting any time.
The Monastery of Ten Thousand Years is the largest and oldest monastery on Mount Emei. Then, walk a few steps to Qingyin Pavilion to enjoy the natural beauty of the sub-tropical forest and waterfall. Walking forward, through a valley called Yixiantian (A Glimmer of Sky), you will arrive at the Monkey Eco-Area where you can see some piquant monkeys, but do not get too close to them for safety reasons. Then you can walk to Wuxiangang parking lot in 30 minutes and take a public bus back to the entrance. The whole journey takes about 3 to 3½ hours. Your guide and driver will escort you back to the hotel in Chengdu after the tour.
GOOD TO KNOW
1. Not a fan of hiking: If you don't feel like walking too much, your guide can adjust the itinerary flexibly to shorten the hiking route according to your needs. We can also arrange a round-trip cable car going up and down to save time and energy for you.
2. Visiting the Gold Summit: Gold Summit is only recommended on sunny days. Due to the humid weather on Mount Emei, Gold Summit is covered in mist most of the time (over 200 days in a year) and fog will envelope the nice views from Gold Summit. December to February is recommended to those who love snowy mountain views. There is also a small skiing resort on the way to the summit to enrich the tour.
3. To get to the Gold Summit: First take a public bus for two hours to get to the Leidongping Bus Station. Then climb the stairs for 30 minutes to reach the telpher, which lasts for only one minute. Walk for a further 20 minutes to get to the summit.
Accommodation
Tibet Hotel Chengdu (superior class)
Sofitel Chengdu Taihe (deluxe class)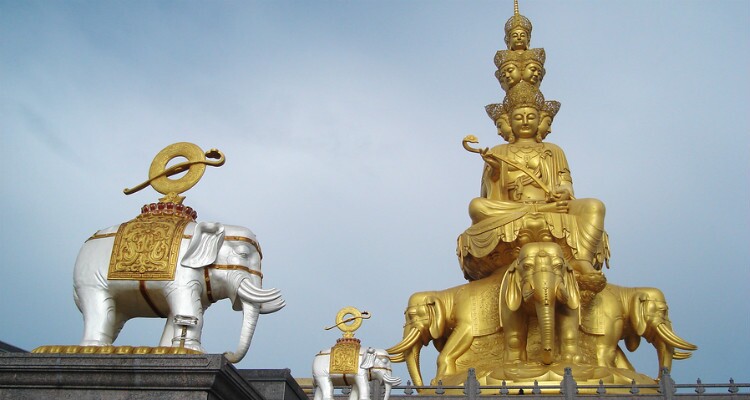 The Gold Summit of Mt.Emei
Our Service Includes:
One-to-one consultancy with our travel expert
Versatile and knowledgeable local guides
Your own chauffeur and comfortable vehicle
Hand-picked hotels to suit your preferences
Hotel buffet breakfasts and local restaurant lunches
The booking of internal transportation per your preferences
A 24/7 helpline while you are traveling
Trip Notes
1. Tailoring Your Tour
This tour is very flexible. You can alter the itinerary, extend or shorten it to suit your price, interest, and schedule. If you would like to book the hotels on your own, we can remove the hotel cost from quotation. Please inform your travel advisor about your preference.
2. Get close to pandas
In order to protect the giant pandas from canine distemper infection, The Panda Breeding and Research Center has stopped all the panda interconnect activities since January, 2015.
If you want to get close to the pandas and do something for them, you can visit the Wolong Panda Research Center and Dujiangyan Panda Base. The program can last for one to three days and the activities may include feeding the pandas, making panda cakes and cleaning the panda enclosures.
Feel free to tell us your requirements and interests, and we will be happy to help you arrange a trip using our professional knowledge and experience.