Sichuan is a province with fabulous flavors, renowned for its bold tastes and distinctive styles. As a UNESCO-listed City of Gastronomy, Chengdu is one of the best places in Sichuan for experiencing local snacks, hot pot, fried dishes and culinary culture.
Just tasting is not enough? On this tour you will be able to learn how to cook like the professionals. Sign up for a "hot" adventure with China Highlights.
Highlights
Stroll along Jinlin Old Street and sample various local snacks
Take up the challenge of the famous hot pot
Meet the lovely pandas in the Panda Breeding and Research Center
Visit Sichuan Cuisine Museum and learn to cook typical Sichuan dishes
Our service includes:
Our 1-to-1 expert China consultancy with unlimited itinerary changes
Booking of China internal flights, trains, and cruises, per your preferences
Your own China-Highlights-trained, versatile and knowledgeable tour guide
Your own chauffeured and comfortable vehicle, chosen for ample space
Hand-picking of hotels for your requirements
Hotel breakfasts arranged, and local restaurant lunches ordered, to suit you
Entry to all attractions on your itinerary, with queues avoided wherever possible
Our 24-7 helpline for while you are travelling
Note:
1. The price for children is about 70–80% of the adult price, depending on the number of people in the group and the room arrangements.
2. The price is not appliable during National Holidays.
Suggested Itinerary
Recommended Hotel in Chengdu: Sofitel Chengdu Taihe (5-star)/Tibet Hotel Chengdu (4-star)
Your private driver and guide will be ready and waiting when you arrive in Chengdu. Sit back and enjoy a trouble-free transfer to the city center.
Then let's start the gourmet adventure at Jinli Old Street, a cluster of constructions with architectural styles traditional in western Sichuan. Along the narrow alleys, pavilions, courtyards and stone bridges, you can sample the authentic taste of various local snacks, which are well-known and unique in China. For lunch, try out (for example) some bean jelly in chili sauce, sweet potato noodles, baked egg pancakes or Sichuan-style won ton.
Spend a relaxing afternoon at a local tea house then head to a famous local restaurant for a special hot pot dinner. It's rich, delicious, exciting and fun, and your guide will lead you through this gastronomic adventure. If you are not a fan of spicy food, your guide can help you order the alternative flavors of your choice.
Well-satisfied, you will be escorted back to your hotel for a good rest.

Day 2
The Panda Breeding and Research Center and Sichuan Cuisine Museum Tour
Meals: breakfast, lunch & dinner
Rise and shine. Prepare for an eventful day. Your guide and driver will pick you up from the hotel at 8am.
First stop is the Panda Breeding and Research Center, home to nearly 50 giant pandas and red pandas. It is best to go early, to see the pandas feeding at around 9:30am, the time of day when they are most active.
Enjoy lunch at a popular local restaurant. Have a short rest during the private 1-hour drive to the Sichuan Cuisine Museum.

When you arrive at the museum, its bilingual guide will take you to the tourist center. You will start your Sichuan culinary journey by tasting a renowned Sichuan snack and by viewing a series of museum attractions.

Your guide, a professional chef, will teach you how to cook three typical Sichuan dishes, so that you will gain firsthand experience of Sichuan cuisine cutting skills, heat control, and cooking processes, along with some private tips on food presentation. The chef will evaluate your dishes and show you the correct way to eat authentic Sichuan food.
Recommended menu: panda steamed dumplings, kung pao chicken, mapo tofu
For dinner, eat the dishes you have prepared. Then you will receive the "Rookie Master Chef" certificate signed by the chef, and take home with you the "secret" recipes of the dishes you have cooked. After waving your museum guide goodbye, your tour guide and driver will escort you back to your hotel in Chengdu city.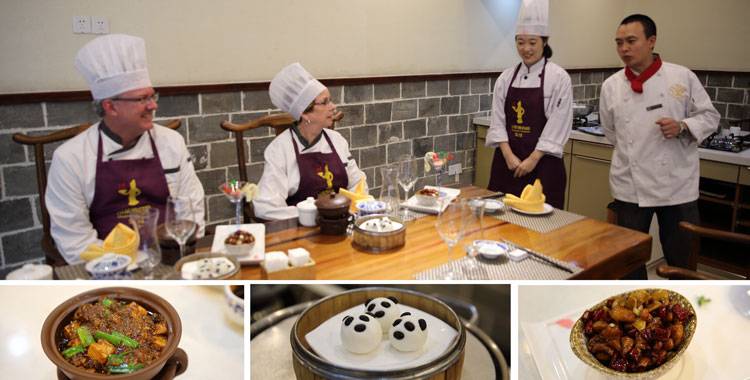 Meals: breakfast
After breakfast, your private guide and driver will be waiting for you in your hotel lobby. They will accompany you to the station or airport and help you check-in for your next destination.
Trip Notes
1. Dietary Requirements
Chili, garlic and peppercorns are frequently used in Sichuan dishes. If you have any allergies or special dietary requirements, please advise us at the time of booking. If you don't like spicy taste, your private guide can help you order less-spicy dishes or ask for no spices at all, according to your preference.
2. Optional Activity
With a history of over 100 years, Shufengyayun Tea House is an ideal place for enjoying local arts. The variety performance there includes traditional Sichuan spectacles such as face changing, spitting fire, hand shadows, a puppet show and acrobatics. Have a cup of tea with some local snacks, and enjoy a musical, colorful and magical night. It's recommended to book with your guide a day before, or for extra flexibility on the day.
Time: 8-9pm
3. 72-Hour Visa-Free Transit Policy for Chengdu
Since 1 September, 2013, Chengdu has offered a 72-hour visa-free transit policy for foreign visitors. With a confirmed airline ticket to a third country or region, any holder of a passport issued by any of the 51 qualifying countries can stay in the city for 72 hours without a visa to China, assuming direct transit via the Chengdu Shuangliu International Airport.