Dujiangyan Panda Keeper Program Tour
Dujiangyan Panda Base is the most easily accessable base in China to join the Panda Keeper Program and to take photos next to a panda. This unique one day tour will utilize your time to get close to lovely pandas and offer a chance for you to hold one in your arms.
Note: There is a daily quota of 60 volunteers for the Panda Keeper Program. The quota for taking photos next to a panda is 20 per day. Please inquire and book soon to secure.
Note: The Panda Keeper Program is getting more and more popular. The following dates have already been fully booked. To maximize your opportunity to get close to pandas, please inquire soon to check the availability on the rest of the dates. First Come First Served!
September: 25th, 27th, 28th
October: 1st, 2nd, 5th, 6th, 7th, 18th
November: 30th
Highlights
Tour around the brand new Dujiangyan Panda Base without disturbing of noisy tourists
Feed a panda with your own hands at a very close distance
Clean the enclosure for pandas
Watch a special documentary movie about panda's life cycle
Make panda cakes in different shapes
Receive a unique certificate proving your love to panda
Schedule for Reference
Price Per Person in US Dollars
| Price Details | Adult (65>age>12) | Child (11≥age>0) |
| --- | --- | --- |
| 1 Person | $419 | $309 |
| 2 People | $299 | $229 |
| 3 People | $269 | $199 |
| 4 People | $249 | $189 |
| 5+ People | $229 | $179 |
Note:
1. Age limit: The age restriction of volunteer is between 12 to 65 years old. Even though the pandas look harmless, they are carnivores. Parents must ensure that they prevent their children from coming into direct contact with the pandas. The cost for children of 12 years old and above is the same as the cost for adults.
If your children are between 0–11 years old, you can still take them with you during the program. The children can not enter the room where the panda cage is, but they can wait at the gate of the room to watch you feeding a panda and cleaning the cage, which takes around 30 minutes. Your guide will help to take care of them.
2. Hotel: The price is based on your hotel located in Chengdu city center. The price may vary according to the location of your hotel.
3. Price will slightly increase during National Holiday (Jan. 27 - Feb.3, Oct. 1 - Oct. 7).
What's Included
Entrance to scenic spots listed in the itinerary
Panda Keeper Program fee at Dujiangyan Panda Base
Guiding by experienced English-speaking tour guide throughout the tour
Private transfers between the hotel in Chengdu and attractions
Golf cart ride inside the base
Simple lunch
Detailed Itinerary
Dujiangyan Panda Base, short for the China Conservation and Research Center for the Giant Panda (CCRCGP) Dujiangyan Base, is located 60 kilometers, or 1½ hours by car, from Chengdu City. By taking part in the volunteer program, you will learn more about this endangered species and help to take care of them with guidance from the staff. Please check the general itinerary of the whole day. Your guide may adjust the itinerary based on the weather, transportation, and your requirements.
7:00am
In the morning, your guide will pick you up from your hotel in Chengdu. Your guide will call you at the hotel one day in advance or leave a message to double check the collection time with you.
8:30am
Arrive at the Dujiangyan Panda Base and sign up with the assistance of your guide. Get a uniform, gloves, and a volunteer's card. Your guide will introduce you to the professional panda keepers. The panda keepers can speak simple English but your guide will be there for you at all times, helping to translate and taking memorable photos of you with the lovable pandas.

9:00am–10:00am
Clean the panda enclosures. Panda keepers need to supply fresh bamboo to these national treasures three times a day. The pandas usually eat only 30% of the bamboo, wasting 70% of it. You will need to sweep out the leftovers and replace it with fresh bamboo, as well as clean out the feces.

10:00am–11:00am
Take a break and tour around the panda base. There are about 10 pandas in the base and some of them were born abroad, including the most popular Tai Shan, who arrived from the U.S. in 2010. Have a relaxing walk in the well-paved base and listen to the legendary stories of these pandas. You will also have a chance to meet four naughty red pandas.

11:00am–11:30am
Feed a panda! Pandas are supplied with panda cakes, apples, and carrots four times a day. The panda keepers will show you how to feed a panda with your own hands at close proximity.

11:30am–1:00pm
Have lunch and a rest. A simple Chinese lunch is included in the panda keepers' canteen. Usually there are two meat dishes and one vegetable dish. Rice and porridge are also provided. It is highly recommended for you to prepare some snacks in case you do not like the food there. After lunch, you can walk around to continue exploring or have a rest in the volunteer office or the resting room, where benches are provided.

1:00pm–2:00pm
Watch a panda movie that lasts for about 40 minutes. You will see a special documentary about how the shy pandas mate, give birth, grow up, and are returned to the wild.

2:00pm–3:00pm
More cleaning and feeding. The bamboo you supplied in the morning will have become dry by the afternoon. Remove it and replace it with fresh bamboo. Then feed the pandas with some more panda cakes and apples.
3:00pm–3:30pm
Make panda cakes. Having fed the pandas with panda cakes, aren't you curious as to how they are made? It is time to make some panda cakes with your own hands. The ingredients will be prepared in advance. Get creative about the shapes of the cakes.

3:30pm–4:00pm
Get a certificate. The volunteer work ends here and you will receive a certificate for this unforgettable day. Say goodbye to the pandas you take care of. Your guide and driver will escort you back to your hotel in Chengdu and you will arrive at around 5:30pm.

Trip Notes
1. Panda Keeper Program
As the first tour company in China to operate the program, China Highlights has developed stable relationship with the Dujiangyan Panda Base. Sometimes the program is subject to change due to force majeure. Usually we are able to get the first-hand information that is very helpful for your tour arrangement. Your early booking is also useful to guarantee the availability of the program. Sometimes the activities listed in the description will be adjusted according to health condition of the pandas. Hope customers can understand this.
If your time is limited, you can only join the activities in the morning. The price is the same.
2. Taking Photos with Panda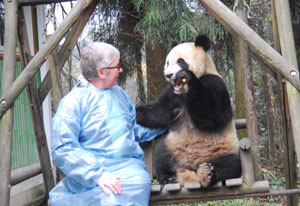 Photo with Panda
A donation program that allows you to take pictures with a panda next to you for about 20 seconds is not included in the Panda Keeper Program. the donation amount is CNY1,800 per person [August. 2017].
Only 20 tourists are allowed to take close-up photos with pandas each day. If you would like to take part in this donation program, please tell your travel advisor in advance because we have to book it at least one week in advance. This program is subject to the availability of pandas on that day. Please take enough CNY cash, as payment by a non-Chinese credit card is not accepted there.
Please note the photo program is totally depends on the availability of the pandas on that day. We will double check on the booking one day in advance and inform you as soon as there is any unexpected change.
3. Dress Code
To protect yourself when carrying bamboo, please do not wear short pants or slippery footwear.
Also, pandas have a very keen sense of smell. As you will get very close to them during the tour, please do not wear perfume or nail polish. Our sincere thanks for your extra care and respect towards the pandas.
4. Transportation Suggestions
If you need to catch a flight or train after the program, flights departing after 8 pm or trains departing after 7 pm are recommended. For international flights, flights after 9 pm are suggested. If your flight or train leaves earlier than the recommended times above, you may need to skip some arrangements in the afternoon and head earlier to the airport or train station.
5. Recommended Option
If you would like to extend the tour to a whole day tour, Dujiangyan Irrigation Project, which is 30 minutes away by car from the Panda Base, is recommended to enrich your day with some cultural elements. As a UNESCO World Heritage site, it has been irrigating the whole of Chengdu Basin for well over 2,000 years.
Itinerary:
8:30am: Collection from your hotel in Chengdu.
10:00am: Arrive at the Panda Base in Dujiangyan and tour around it.
11:00am: Hold a panda for some photos. CNY1,800 is required. Please take enough Chinese cash.
11:30am: Lunch at a local restaurant.
1:30pm: Arrive at Dujiangyan Irrigation Project and start the tour there.
4:00pm: Finish the tour and transfer back to Chengdu.
5:30pm: Arrive at your hotel in Chengdu.
Per Person Prices:
1 person: $309
2–5 people: $189
6–9 people: $119
Please note that the donation fee of CNY1,800 is not included in the quotation and you must take enough Chinese cash with you.
Please prepare camera. Your guide or the staff at the base will help take photos for you.
Feel free to tell us your requirements and interests, and we will be happy to help you arrange a trip using our professional knowledge and experience.
6. Booking Procedure:
Step 1: Submit your name, email address, traveling dates and hotel address for the tour. The price may vary according to the location of your hotel.
Step 2: The Volunteer Program and option to hold a panda for some photos have a limited daily quota. You can choose to make payment via PayPal and your request will be listed as our top priority. We guarantee a 100% refund if you are not satisfied.
Step 3: Receive a reply within 24 hours. The tour will be tailor-made to meet your requirements and the booking confirmed.
Step 4: Your guide will call you at the hotel one day before departure or leave a message to double check the collection time with you.
Step 5: Enjoy the tour with panda!
7. Payment Methods:
We now offer three payment methods: PayPal and wire transfer. PayPal is recommended for its safety and efficiency. You can pay with USA dollars, Australian dollars, European dollars, and British pounds directly with your credit card or debit card if you do not have a PayPal account.
8. Cancellation Policy:
In the event of cancellation, we will refund any payment made to China Highlights (unless any cancellation fee is applicable) within 14 days of our receipt of your written cancellation request. The cancellation fee will be calculated as follows:
Cancellation received up to 14 days before departure: 100% refund of all monies paid.
Cancellation received from 4 to 13 days before departure: 50% of the tour price.
Cancellation received from 3 to 0 days before departure: 100% of the tour price.