Chongqing is called "Mountain City", as houses and buildings are built on the mountain slopes, and there are hilly roads. Chongqing is a fascinating destination, famous as the beginning of the Yangtze River cruise. The local culture, including the hotpot and ancient towns, is the highlight of Chongqing.
Highlights
Visit Ancient Ciqikou Town.
Learn the history and culture of the Yangtze and Chongqing in Three Gorges Museum.
Have a taste of Chongqing hotpot.
What's Included
Expert service from an experienced English-speaking tour guide
Entrance to scenic spots listed in the itinerary
Lunch mentioned in the itinerary
Private transfers between attractions and hotel
Hotel accommodation with breakfast
Suggested Itinerary
Your private guide will be ready to greet you and pick you up, and your driver will drive you to your hotel.
Good to Know
Chongqing has unique "mountainous" city geography, so walking in Chongqing difficulties more tiring, especially for seniors. The subways are however convenient and recommended.
See the end of Day 2 for free time ideas.
Accommodation
Kempinski Hotel Chongqing (5-star)/ Lafei Royal Hotel (4-star)
Day 2
The Three Gorges Museum, Ciqikou Ancient Town, Goose Neck Park
After breakfast at your hotel, your guide and driver will meet you at the lobby. They will prepare drinks, snacks, and maps to make your day enjoyable and comfortable.
At the Three Gorges Museum, have an overview of the history of the Yangtze River, the Three Gorges Dam, and Chongqing. It also houses some excellent stone and terracotta sculptures, art and interesting artifacts, items from the war years, and temporary exhibitions.
Ciqikou has been partly restored, and remains an authentic and busy community. The old wooden houses and narrow streets furthest from the river are mostly unimproved, closer to the river there are craft and souvenir shops, teahouses and music, and lots of local food and snacks.
Goose Neck Park is very popular with the locals who come here to enjoy the gardens, play Mahjong, make music or just relax. With nice views over the river and Chongqing, there are also a number of interesting buildings and former Embassies in the grounds, plus an enormous long painting of the Yangtze.
China Highlights can help you arrange private car to drive you to the pier of your Yangtze cruise, railway station, and airport. Feel free to contact us.
Free Time Ideas
Have a try of Chongqing hotpot (a must try food in Chongqing) in the evening.
Most food in Chongqing is very spicy. If you don't like spicy food, you can find some good Western restaurants in Chongqing, especially near shopping streets.
Shopping at Jiefangbei Pedestrian Street
Visit Hongya Cave (#3 for Chongqing on TA) — it's good for views, shopping, food, and nightlife.
Impression Wulong: Enjoy the fantastic night show in Wulong Natural Scenic Area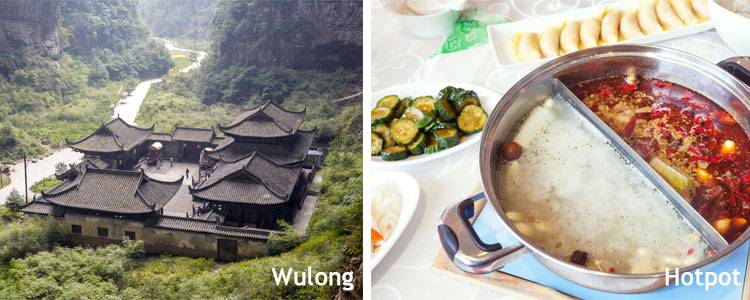 Trip Notes
1. Recommended Extensions
Yangtze River Cruise: Add 4 or 9 days (to Yichang or Shanghai).
Dazu Grottoes: Add 1 day to see the amazing Buddhist grottoes. Two hours' drive by car from Chongqing city center.
Wulong: Add 1 day to visit this limestone scenic area where Transformers 4 was shot, with gorges, wildlife, and caves. Three hours' drive by car from Chongqing city center.
Chengdu: Add 1–2 days to go to the hometown and wonderland of giant pandas. You can take the Panda Keeper Program in Dujiangyan Panda Valley. Two hours' high-spped train from Chongqing North Railway Station.
2. More Trip Information
Want to learn more about this trip? Please click here to see details about traveling in China, booking, payment and responsible travel.