See the three major tourist cities of China with their highlights and no rush thanks to our 8-day, time-smart itinerary.
This is a private tour, optimized for you to enjoy every stop on your trip.
Enter the Forbidden City, where emperors ruled ancient China. Not only visit, but hike to explore, a world wonder — the Great Wall. Explore the majestic Temple of Heaven, where harmony becomes architecture. Discover the unbelievable buried Terracotta Warriors of Xi'an. Finish in Shanghai, where impressive modern skylines meet with old Fengshui Traditional Gardens.
You can travel the same destinations in three different styles. Which travel style meet your needs?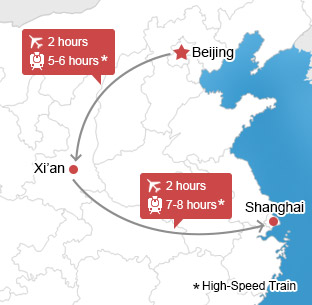 Comfort Trip
Discovery Trip
Essential Trip
Highlights for Comfort Style
Warm up with our exclusive, in-depth Forbidden City journey with our expert in history and architecture.
Admire a less-crowded part of the Great Wall by combining effort-saving cable car rides and moderate hiking.
Taste crispy, succulent roast duck at the most famous Peking duck restaurant — Quanjude.
Gaze amazed, confronted by the Terracotta Warriors.
Learn how to make Chinese dumplings at a hospitable local lady's home in Xi'an.
Savor the modern and traditional cityscapes of Shanghai
Full Itinerary
Hotel: Crowne Plaza Hotel Beijing Chaoyang U-Town (Superior Room)(TripAdvisor Certificate of Excellence 2015)
With a sunny smile, your private guide will be on time and waiting for you at the arrival hall. A comfortable private car (non-smoking) & experienced driver are ready and will transfer you to the hotel. Get the first impression of China.
Free-time Ideas: A Nightcap in your hotel or stroll around. You can easily find supermarket, local food restaurants near your central-located hotel.
Day 2
Take an In-depth View of the Forbidden City with a Local Expert
Hotel: Crowne Plaza Hotel Beijing Chaoyang U-Town (Superior Room)
Breakfast & Lunch
A buffet breakfast & real fresh coffee will kick start your day. The expert escort you 5 hour in the emperors' house and show you some interesting places you would never find by yourself in the Forbidden City and guide you away from the noisy parts and crush of other tour groups. What you can see no longer only empty rooms in the Forbidden City but also pictures of emperors, concubines and eunuchs in the expert's ipad, stories brings it to life.
In the afternoon, the expert accompany you to visit the Tian'anmen Square that is very close to the Forbidden City and have a easy climbing to the Jinshan Hill in Jinshan Park to take a birds' eye view of the golden roofs, see it from a new angle.
Good to know
To ensure good timing, the local expert does the day tour once a day. So on this day, you have a small group tour with maximum of eight people. Interaction with the expert and group members add more fun. According to previous customers' feedback, people who love history and family with kids who are over 7 years old are like the tour.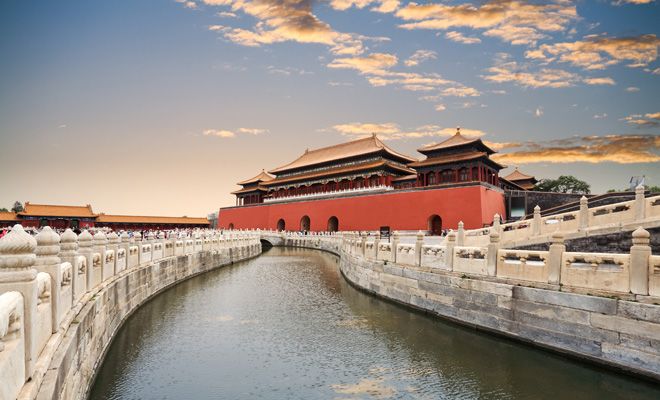 The Forbidden City
Day 3
Mutianyu Great Wall and the Temple of Heaven
Hotel: Crowne Plaza Hotel Beijing Chaoyang U-Town (Superior Room)
Breakfast & Lunch
An early start and chance to exercise or stroll with locals among the 60,000 ancient trees in the Temple of Heaven's Grounds. Watch locals exercise, practice martial arts, play traditional instruments, and other activities that you may never see in your country.
The Temple of Heaven provided a place for emperors to pray to'the most high God in heaven' for a good harvest. The Round Altar, Echo Wall and Imperial Vault of Heaven are the rated as key sights; we will cover these and more.
In the afternoon, we avoid crowd and move to Mutianyu, this less-crowded section of the Great Wall is about 2.5 hours' drive from downtown Beijing. A cable-car takes you to a good section (avoiding a very steep climb), where you can walk along the wall, through the watch towers and enjoy superb views as it snakes across the hills and mountains. You can return by cable car, walk down or walk along the wall for about an hour to descend by chairlift or toboggan. Wear good walking shoes and protection from the weather.
Good to Know:
If hiking is your thing, or three hours of hiking is your choice, you are also able to enjoy a hiking from Jinshanling to Simatai west, just tell your travel advisor which one you prefer.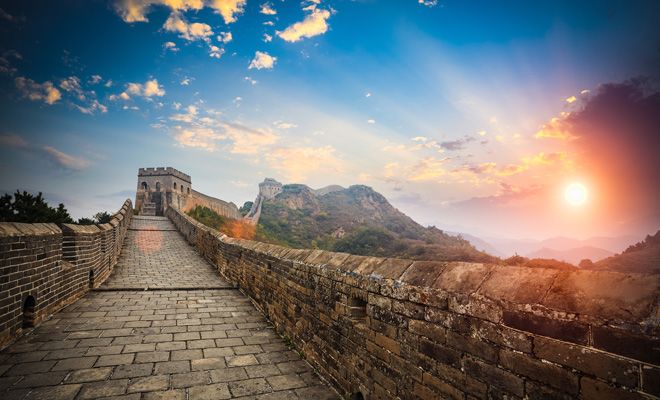 The Mutianyu Section of the Great Wall
Day 4
Authentic Roast Duck and Take Flight to Xi'an
Hotel: Wyndham Grand Xian South (Deluxe Room) (TripAdvisor Certificate of Excellence 2015)
Breakfast & Lunch
Continue exploring highlights of Beijing. The Summer Palace is an enormous park with pavilions, vividly painted corridors, temples, among lakes and surrounded by hills. It was originally the imperial courts summer retreat, and still makes a nice place to escape the heat of the summer. Climb the hill or take a scroll in the gardens, this is a charming place to explore before taking a dragon styled boat tour on Kunming lake.
Enjoy a Beijing fair well lunch with the guide at the most famous brand, Quanjude roast duck restaurant. To see to believe, watch the exquisite skill of cutting of chief, taste crisp duck skin and learn how to eat it in a proper way. Yummy!
In the afternoon, take a look at traditional hutongs where present local culture. It is an opportunity to look into ordinary people's life. We will stop at a private Chinese baijiu museum that is hidden in hutong. Thousands of bottles strong liquid tell you story in different decades of China.
Catch flight to Xi'an in the late afternoon or at evening, to explore another ancient capital of China .
Good to Know:
Boat Tour – Most tour companies don't include these things as standard, we do.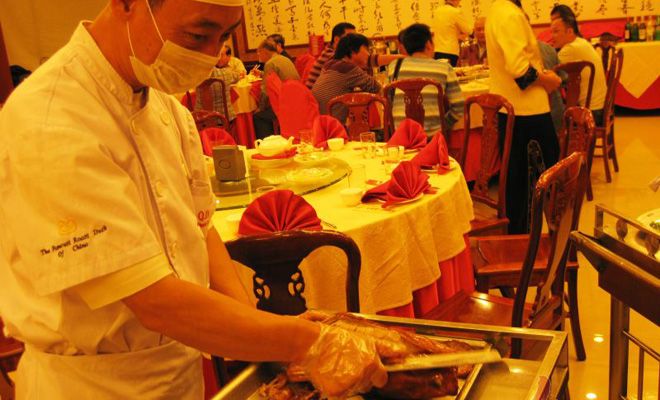 Beijing Roast Duck
Day 5
Meet Terracotta Warriors
Hotel: Wyndham Grand Xian South (Deluxe Room)
Breakfast & Lunch
As one of the most important archaeological discoveries of the 20th century, the Terracotta Warriors get respect from people over the world. People are surprised by the magnificent man-made work piece. Stand there and have a silent conversation with these soldiers.
In the afternoon, we get close to the Big Wild Goose Pagoda that was built in AD652. Chinese-style architecture combined with Buddhist historic statues, murals and scriptures topped off by the best panoramic view over Xi'an.
Good to Know:
No Tricks (Big/Little) Pagoda – Look closely at other companies and large group tour operators and you'll see they take you to the free Little Goose Pagoda, - experience + profits.
Free-time Ideas: Tang Dynasty Music and Dance Show is rated in many Top 10's. Your guide can help you buy tickets.A short walk to see the Bell Tower/Drum Tower. This area has many high end restaurants, but if you're ready for something western, there is a Starbucks, Dairy Queen and Dunkin Donuts.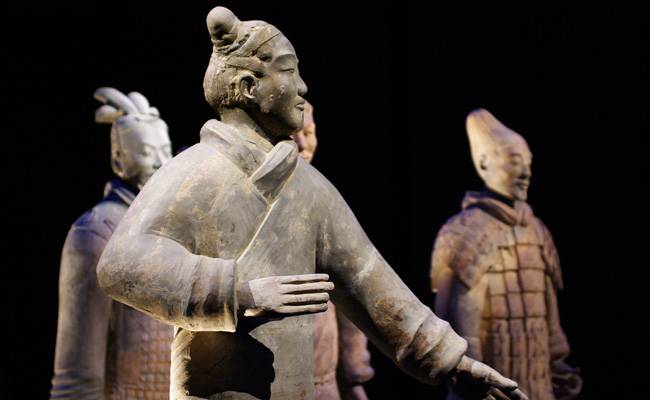 The Terracotta Warriors and Horses
Day 6
Taste Ancient Flavor of Xi'an and Take Flight to Shanghai
Hotel: Les Suites Orient Bund Shanghai (Bund Studio River View) (TripAdvisor Certificate of Excellence 2017)
Breakfast & Lunch

As one of the best museum in China, Shaanxi History Museum is a perfect overview of Chinese history and not to be missed. It houses over 370,000 items, including murals, paintings, pottery, coins, as well as bronze, gold, and silver objects.
Cycling around the City Wall is another highlight. The wall encircles the city and is perfect for seeing an overview of the city.
Learning how to make dumplings from a local family is customized for westerners. To touch Chinese culture and real life, you will love it. Today ends with a flight to Shanghai. Your private car, drive and guide handle all the transfer for you at each end. Sit back and relax.
Good to Know:
Xi'an City Wall & Bike Ride – The city wall and ride are ranked no. 2 and 3 attractions on most websites after the Terracotta army. Rickshaw, ride, or walk, you call the shots.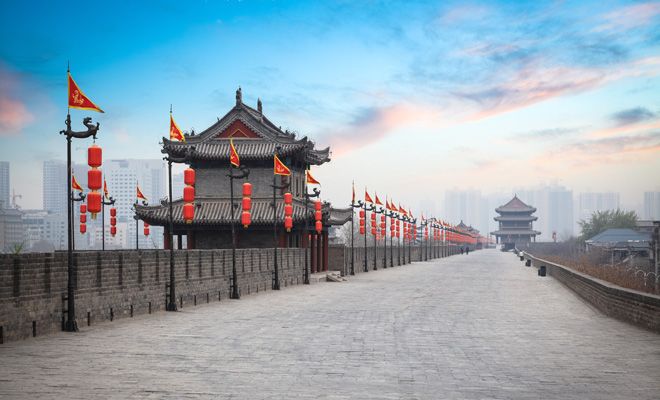 Ancient City Wall
Day 7
Combine Traditional and Modern Flavor in Shanghai
Hotel: Les Suites Orient Bund Shanghai (Bund Studio River View)
Breakfast & Lunch
To taste modern flavor of the city, we arrange the Oriental Pearl Tower and the Bund. To explore traditional part, Charming Yuyuan Garden and Old Shanghai Street are recommended. This is the day for your Shanghai Impression.
Good to Know:
We revolve around you! – Customize the trip to suit you. e.g. A history and art fan might like to visit Shanghai Museum, it's rated by many as the best Museum in China.
Free-time Ideas: The Bund Evening Walk & Drink – Great for an evening walk. When the skyline lights go out at 10pm head over to Glamour for a Shanghai Cocktail.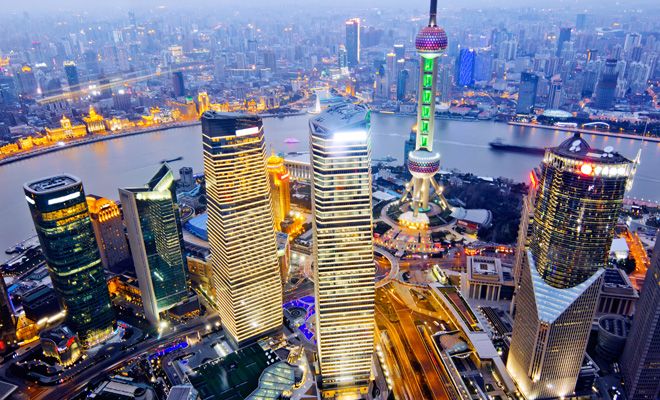 The Bund
Breakfast
Your private car, driver and guide will be ready and waiting at your hotel lobby to get you to the airport on time. Sit back and relax as they help you check-in and escort you to the correct security gate. We take the stress and hassle out of your travel.
What's Included
Entrance to attractions listed in the itinerary
Meals mentioned in the itinerary
Private transfers between the airport or railway station, attractions, ports, and hotels
Private local English-speaking tour guide and driver service (except tips based on your willingness)
Hotel accommodation with breakfast and service fee
Specified flights, trains, and Cruise
What Our Customers Say
My mother put this together on-line at 74. She is a world traveler, visitor of China a few times, who recently had two knee surgeries and heads our family, the youngest being my nephew of 8 who has been to China before with his parents who lived in China for a few years. All of us in-between never visited China before and are inter-racially married with kids. We can be a headstrong all American group, not always the easiest to please. Yet, Rachel did a wonderful job choosing a well balanced variety of foods, introducing us to regional foods we hadn't tried, observing and making sure we had everything we needed at our hotel and providing for our diverse culinary as well as cultural interests.
read more
- Lim's family form the USA
Arrived in Xian by'bullet' train from Beijing on the 2nd leg of our tour with China Highlights. The'bullet' train was a little disappointing as it is so smooth you do not feel you are travelling at 320km/hr!!
read more
- Breeda and Alan from the UK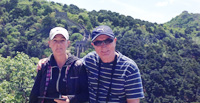 Trip Notes
Extension based on the tour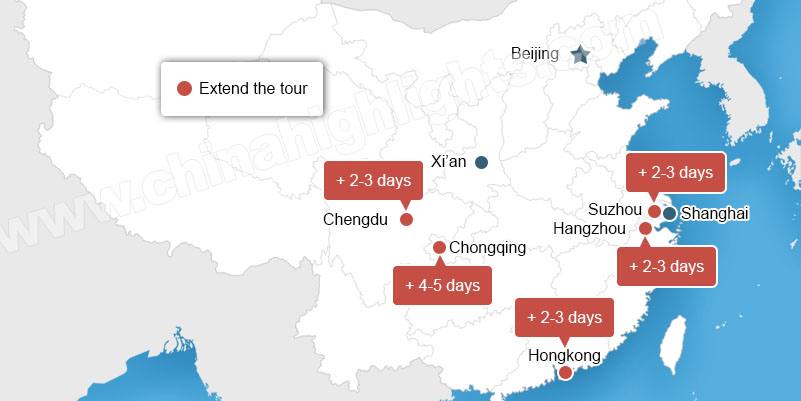 Extend the tour:
Yangtze River Cruise: add 4–5 days (Chongqing to Yichang or vice versa)
Chengdu: add 2–3 days — visit a Panda research center, the Giant Buddha, and Mt. Emei
Suzhou and Hangzhou: add 2–3 days — visit scenic gardens, West Lake, and water towns
Hong Kong: add 2–3 days — visit Victoria Peak, Disneyland, and day tour Macau
Optional Activities
It must be clearly understood that enjoying these extras is your own decision. They are not included in the itinerary or tour price, so you will need to pay separately. The ticket price depends on seating. Ask your guide to book tickets if you want to see any of the following.
Beijing — Legend of Kungfu Show
Xi'an — Tang Dynasty Cultural Show plus Dumpling Banquet
Shanghai — Chinese Acrobats Show
More Trip Information
Want to learn more about this trip? Please click here to see details about traveling in China, booking, payment and responsible travel.