Tailor Make Your Tour:
Your Schedule
Your Interests
Your Hotel Tastes
From
US$2,699 p/p
Based on 2 persons & 4-star hotels
This 15-day tour covers China's six cities from east to west. Discover imperial Beijing in Ming (1368-1644) and Qing (1644-1912) Dynasty, amazed by the Terracotta warriors and historical treasures in Xi'an, reach the holy Potala Palace, enjoy relaxing pace on the Yangtze River cruise from Chongqing to Yichang. Finish this comprehensive China experience in modern Shanghai, where past and future combined.
You can have the same destinations in three different travel styles. Which one fits your needs?
Comfort Trip
Discovery Trip
Essential Trip
Highlights for Comfort Style
Go off the beaten path to the less-visited and best-preserved Mutianyu section of the Great Wall of China
View the incredible Terracotta Warriors and discover the cradle of Chinese ancient culture
Stand on the roof of the world and admire the pilgrim's holy palace, Potala
Embark on a three-night cruise on the Yangtze River aboard and enjoy changing majestic view outside
Experience modern and traditional of the most dynamic city, Shanghai
Suggested Itinerary
Hotel:Crowne Plaza Hotel Beijing Chaoyang U-Town (Superior Room)(TripAdvisor Certificate of Excellence 2016)
Landing in Beijing, you will be met by your private guide and driver, head to your hotel. The rest of the day is free for you to relax and recover from the jet-lag. If you would like to go for a walk or check out places nearby, please feel free to ask your guide for recommendations for dinning or places to see.
Day 2
City Highlights: the Forbidden City and Hutongs
Hotel: Crowne Plaza Hotel Beijing Chaoyang U-Town (Superior Room)
Meals Provided: Breakfast & Lunch
On this day we will discover the mysterious Forbidden City, the world's largest imperial palace. It's said to have 9,999½ forbidden imperial chambers, and was home to 24 emperors in the Ming and Qing dynasties (from 1420 to 1911 AD). Skip the long queues at the entrance. Your guide will lead you to the most popular and the less-crowded parts of the palace, explaining the history
Then move to Tian'anmen Square, where has great cultural significance, having been the site of several key events in Chinese history.
Later, hop on a rickshaw and ride through a maze of hutongs to discover old Beijing neighborhoods. Visit a hutong family and explore a hidden courtyard house. Meet local residents and have a nice chat with them.

The Forbidden City
Day 3
The Less-Crowded Mutianyu Section of the Great Wall
Hotel: Crowne Plaza Hotel Beijing Chaoyang U-Town (Superior Room)
Meals Provided: Breakfast & Lunch
Morning Exercises at the Temple of Heaven
As an Imperial Sacrificial Altar, the Temple of Heaven was founded in the first half of the 15th century. Visit the place in the morning to avoid crowds and enjoy local people's morning exercises, such as Tai Chi, ballroom dance, and calligraphy on the ground.
Mutianyu
Then drive about 2.5 hours to the Mutianyu section of the Great Wall. You can walk along this part and go through the watch towers, enjoy breath-taking views as it snakes across the hills and mountains. It is very flexible in choosing the way to go up and down: walking, cable car, toboggan.
Good to Know
If you prefer three hours hiking, just tell your travel advisor to change the arrangement according to your needs.

The Mutianyu Section of the Great Wall
Day 4
Visit the Summer Palace and Olympic Stadiums – Flight to Xi'an
Hotel: Wyndham Grand Xian South (Deluxe Room) (TripAdvisor Certificate of Excellence 2016)
Meals Provided: Breakfast & Lunch
When people mention a masterpiece of Chinese landscape garden design in Beijing, it must be the Summer Palace. Different from gardens in Suzhou, it has larger scale and more imperial flavor. After visiting the royal garden, you will get close to ordinary people's life at their living quarter: hutongs. Then head to Beijing Olympic Stadiums, stop at the most famous sites: Bird's Nest and Water Cube where athletes created miracles. Next visit 798 Art District to enjoy Chinese modern art.
Evening Flight to Xi'an
On the day you will catch a flight in late afternoon or at night to Xi'an, an ancient capital city.

The Summer Palace
Day 5
Xi'an – the Must-see Terracotta Warriors
Hotel: Wyndham Grand Xian South (Deluxe Room)
Meals Provided: Breakfast & Lunch
Get ready for the most important place: the Terracotta Army, the soul of the city. You will be amazed by its' large scale, high-techniques, delicate crafts in Qin Dynasty. Viewing the place just like having a conservation with people in more than 2000 years ago.
Drive back to the city to the next attraction: Wild Giant Goose Pagoda, built in 652 during the Tang dynasty. One of the pagoda's many functions was to hold sutras and figurines of the Buddha that were brought to China from India by the Buddhist translator and traveler Xuanzang.

The The Terracotta Army
Day 6
Other Highlights of Xi'an
Hotel: Wyndham Grand Xian South (Deluxe Room)
Meals Provided: Breakfast & Lunch
As the capital city of 13 dynasties in China, Xi'an has more than the Terracotta Army. Visit to the Shaanxi History Museum to see over 370,000 historical items that spanning more than one million years.
Biking or walking on the ancient City Wall is a pleasant experience. Stand on the wall and watch the cars and buses go through the ancient brick gates, which is a epitome of the city. Then move to the Muslin Quarter nearby, try some famous local snacks, such as Pita Bread Soaked in Lamb Soup, or Jiasan Steamed Soup Dumplings.
In the afternoon, move to Forest of Stele Museum that was originally built in Northern Song Dynasty (1090 A.D.) when a large Confucian collection of steles cut in A.D. 837 - the oldest existing texts of the Confucian classics - was moved to it for safekeeping. All kinds of calligraphy and scripts tell stories, poems and reports from around the Empire. Other exhibits include early sculptures and objects from Imperial tombs.

The Ancient City Wall and Forest of Stele Museum
Hotel: Shangri-La Hotel Lhasa (Deluxe Room) (TripAdvisor Certificate of Excellence 2016)
Meals Provided: Breakfast
Guide and driver see you off at Xi'an. Catch the flight to Lhasa which takes about 4½ hours. You will arrive in Tibet in the afternoon. Lhasa is at an altitude of 3,650 meters (12,000 ft). You may experience further altitude sickness in the Potala Palace and Drepung Monastery in the coming day, which have higher altitudes. The rest of the day is for you to take a rest at hotel. The first two days arriving in Tibet, we suggest visitors keep warm, not take a bath, smokers smoke as little as possible, and do not drink alcohol.
Holy Tibet
Day 8
Lhasa: Drepung Monastery, Norbulingka and Sera Monastery
Hotel: Shangri-La Hotel Lhasa (Deluxe Room)
Meals Provided: Breakfast & Lunch
Start your Lhasa tour with the Sera Monastery, comprising a great sutra chanting hall, a college and 32 sections. After lunch, you will visit Norbulingka, the living quarters of the Dalai Lamas before the reconstruction of the Potala. It is also called Tibet's Summer Palace, and it means "Jeweled Park" in Tibetan language. With lovely plants in the garden, you may breathe more comfortable due to more oxygen. The last Lhasa tour attraction for today is the famous Drepung Monastery, surrounded by the dark faces of mountains, its grand white buildings stand out shining in the sunlight.

Debating at Drepung Monastery and Norbulingka
Day 9
Lhasa: Potala Palace, and Barkhor Street
Hotel: Shangri-La Hotel Lhasa (Deluxe Room)
Meals Provided: Breakfast & Lunch
Enjoy a classic Lhasa tour visiting the Potala Palace, which is a symbol of peace and a great masterpiece of Tibetan architecture. Ascend to this majestic palace; see exquisite murals, decorated statues, and antiques. The red and white palace buildings combined with pure blue sky are the most iconic picture of Tibet.
Later, step into the Jokhang Temple, the spiritual center of Tibet and the holiest destination for all Tibetan Buddhist pilgrims. Barkhor Street offers you a glance at daily life of the locals.

The Potala Palace
Day 10
Flight from Lhasa to Chongqing and Get on Board at Night
Hotel: Century Legend on Board (Deluxe Room)
Meals Provided: Breakfast
This day you will take flight to Chonqing in the morning and have some free time to explore the charming city on your own. If you like spicy food, try hot pot, the famous food in Chongqing. Board the ship from 18:30 to 21:00 and departs Chongqing at 21:30.

The Boat of Century Legend
Day 11
Shore Excursion to Shibaozhai
Hotel: Century Legend on Board (Deluxe Room)
Meals Provided: Breakfast & Lunch & Dinner
Wake up in the morning and learn how to practice Tai Chi with staff. After breakfast, start shore excursion to Shibaozhai that was first built in Qing Dynasty in 1750. It is one historic site that will look much different in 2009 because of rise of water level. The wooden architecture stands on the riverside. It is built by catch upon a rectangular rock with sheer cliffs with a height of 56 meters and 12 stories. And every floor of the wooden structure contains interesting artifacts. Each of the 12 floors of Shibaozhai is dedicated to a famous general of the Three Kingdoms period (220-265AD), a local scholar or a renowned Chinese poet.
At night you are welcome to join the Captain's welcome dinner party and crew cabaret.

Shibaozhai
Day 12
Shore Excursion to Shennong Stream
Hotel: Century Legend on Board (Deluxe Room)
Meals Provided: Breakfast & Lunch & Dinner
Your boat will pass two gorges on this day: Qutang Gorge, Wu Gorge and sails through the ship-locks. Highlight of this day is shore excursion to Shennong Stream that is another tributary of the Yangtze River, and its fast-flowing, crystal clear water runs southwards through deep gorges. The stream races past large and small karst caves, flocks of swallows, sheer cliffs, deep gorges, waterfalls, three-colored springs, rapids, the ancient plank path, a suspended coffin in the cliff, groups of ancient tombs and marvelous karst formations.
At night there is a captain's farewell banquet.
Good to know
There is an Optional tour to White Emperor City that clings to the hills and cliffs of a peninsular jutting out into the river. At an extra pay of RMB290 per person.

The Shennong Stream
Day 13
Shore Excursion to the Three Gorges Dam and Flight to Shanghai
Hotel: Radisson Blu Hotel Shanghai New World (Superior Room)
Meals Provided: Breakfast
08:00 in the morning start shore excursion to the Three Gorges Dam which is the largest water conservancy project ever undertaken by man and it has been a dream for several generations of Chinese people. The construction of the dam formally began in 1994. The body of the dam was completed in 2003, and the whole construction has been completed in 2009. It will be 2,335 meters long, 185 meters high, 18 meters wide on the top and 130 meters wide at the bottom. At about 11:00, the boat will cross Xiling Gorge. If you would like to see more, an optional excursion to the hometown of Quyuan is available on the day. Your boat will arrive in Yichang at 12:30pm.

The Three Gorges Dam
Day 14
Shanghai – Metropolis of East and West
Hotel:Les Suites Orient Bund Shanghai (Bund Studio River View)
Meals Provided: Breakfast & Lunch
During the day, your guide will show you different aspects of the prosperous city. To learn about history of Shanghai, the Bund witnesses the changes from concession period in Qing Dynasty to modern time. To enjoy gardening art, Yuyuan is a place that you should not miss. To get close to Shanghainese life, Shikumen presents their daily life. To feel the city beat, stand at the top of the Shanghai Tower, look around, you may not believe this is China.
Good to Know
There are many evening shows in Shanghai, and the most recommended ones involve acrobatics, some of the best in China. Ask your tour guide to help you obtain tickets. This is optional.
Day 15
Shanghai Departure
Meal: Breakfast
How time flies, your 15 days China trip comes to the end. Review what you see, what you feel, keep it as a sweet memory. Your private guide and driver will see you off at the airport, assist you with flight check-in and luggage.
Our Service Includes:
Our 1-to-1 expert China consultancy with unlimited itinerary changes
Booking of China internal flights, trains, and cruises, per your preferences
Your own China-Highlights-trained, versatile and knowledgeable tour guide (per city)
Your own chauffeured and comfortable vehicle, chosen for ample space
Hand-picking of hotels for your requirements
Hotel breakfasts arranged, and local restaurant lunches ordered, to suit you
Entry to all attractions on your itinerary, with queues avoided wherever possible
Our 24-7 helpline for while you are travelling
Trip Notes
Extension based on the tour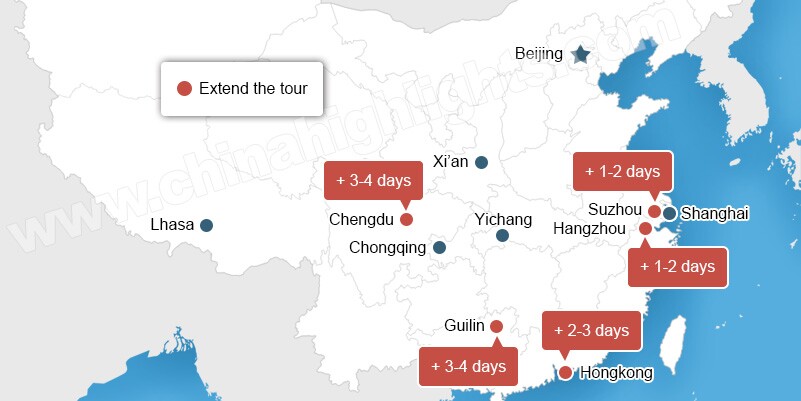 Extend the tour:
Guilin: add 3-4 days - Li River cruise, Yangshuo and Longji Terrace Feilds
Chengdu: add 2–3 days — visit a Panda Research Center, the Giant Buddha, and Mt. Emei
Suzhou and Hangzhou: add 2–4 days — visit scenic gardens, West Lake, and water towns
Hong Kong: add 2–3 days — visit Victoria Peak, Disneyland, and day-tour Macau
Tibet Entry Permit
You need a Tibet Entry Permit and it is included in the tour price. Send your passport and China visa copies to us 20 days in advance, and we will deal with your permit once you book a Tibetan tour with us. In our experience, we can virtually guarantee to get your permit when Tibet is open to foreign travelers.
Altitude Sickness
Nearly all tourists entering Tibet experience altitude sickness. For some the effects are strong, but for most it is just an inconvenience. Before your trip, ask your doctor for suggestions, and bring some medicine in case.
Extensions
Please feel free to ask your trip advisor to make itinerary changes and even extend your tour while you're planning it. We also offer tours to other parts of Tibet and China. If you want to visit Yamdrok Lake and Shigatse, Tsetang, or the Nyingchi area, you need to extend your tour by 2–3 days for each destination.
Wifi on Board and Upgrade
Wifi is available on boat with extra RMB200 per person per voyage (The signal at lobby is the strongest.) If you would like to Upgrade to VIP restaurant: RMB300 per person per voyage (VIP restaurant is more quiet, private and not crowded.
Optional Activities
It must be clearly understood that enjoying these extras is your own decision. They are not included in the itinerary or tour price, so you will need to pay separately. The ticket price depends on seating. Ask your guide to book tickets if you want to see any of the following.
Beijing — Legend of Kungfu Show
Xi'an — Tang Dynasty Cultural Show plus Dumpling Banquet
Shanghai — Chinese Acrobats Show
More Trip Information
Want to learn more about this trip? Please click here to see details about traveling in China, booking, payment and responsible travel.