China's new trains make it easy and comfortable to experience the Great Wall, Forbidden City, the Terracotta Warriors and Yuyuan Garden.
Highlights
Race with speed by riding the fast and comfortable bullet train
Hop on a rickshaw and ride through Beijing's old neighborhood
Climb the Great Wall for a breathtaking view
Magnificent underground Terracotta Army
Classic landscape garden nestled among city hustle
Tour Summary
What's Included
Entrance to attractions listed in the itinerary
Private transfers between the airport, train station, hotels and attractions
Hotel accommodation with breakfast
Meals mentioned in the itinerary
Private local tour guide and driver service throughout the tour
Specified flight and bullet train
Price Per Person in US Dollars
| Nov.1 - Mar. 31 | 5-star | 4-star |
| --- | --- | --- |
| 2-5 People | $1,819 | $1,499 |
| 6-9 People | $1,489 | $1,169 |
| Apr.1 - Oct.31 | 5-star | 4-star |
| 2-5 People | $1,979 | $1,629 |
| 6-9 People | $1,649 | $1,299 |
Suggested Itinerary
Meet your guide and driver at the airport and get transferred to your hotel for a rest after your journey.
Day 2
Beijing: Forbidden City, Tian'anmen Square and Hutong Tour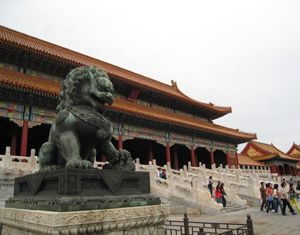 The Forbidden City
Today you get the feeling of what life of an ancient Chinese emperor was like, heading to the heart of Beijing.
Our first stop is Tian'anmen Square, followed by the impressive Forbidden City.
After Chinese lunch in a local restaurant, your afternoon will be spent at Hutongs, Beijing's traditional neighborhood. First you will get some overall knowledge about Hutong's history at Shi Family Hutong Museum, then hop on a rickshaw and ride through the maze of alleyways to get a nice touch of local life and culture.
Day 3
Beijing: Mutianyu Great Wall and Temple of Heaven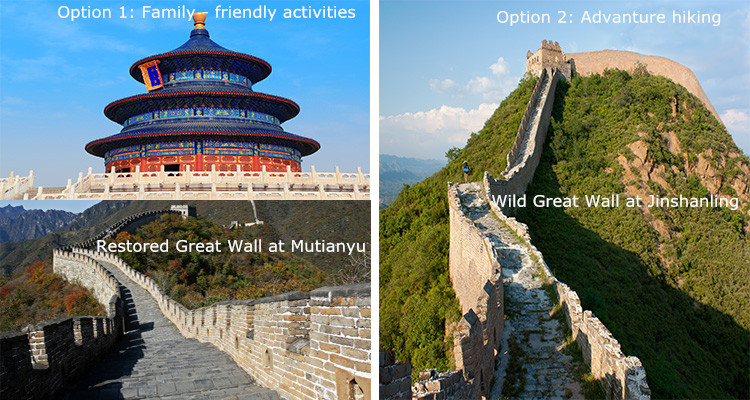 Temple of Heaven
The less-crowded section of the Great Wall allows for leisurely walks passing through watch towers while you enjoy a superb view. Cable cars up and down the mountain save you from climbing long and steep steps.
Refresh yourself and have lunch at a garden style Chinese restaurant with farm house dishes, and in the afternoon get back to the city to see the Temple of Heaven. This is a place with an impressive display of architecture, and intricate carvings, where ancient emperors held annual ceremonies to pray for a good harvest.
Day 4
Summer Palace; High-Speed Train from Beijing to Xi'an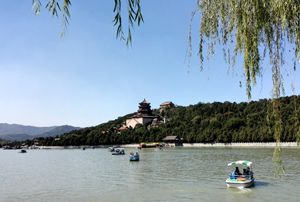 Summer Palace
In the morning, visit China's largest imperial garden – Summer Palace. The lovely landscaped gardens, halls, pavilions and corridors are set around the lake in natural harmony.
After lunch, transfer to train station for high-speed train to Xi'an. It takes only four and a half hours to complete the 1200-kilometer distance on China's fastest and comfortable bullet train. Upon arrival, meet your Xi'an guide and transfer to hotel.
Day 5
Xi'an: Terracotta Army Museum and Big Wild Goose Pagoda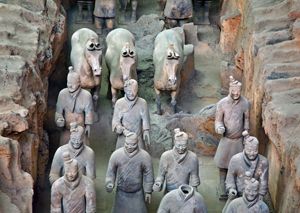 The Terracotta Army
The highlight of a China visit for many is the Terracotta Army. The life-sized warriors have been guarding the underground tomb for thousands of years. Each figure is unique, and the painstaking repair and excavation continues in 3 pits which are protected inside huge hangars.
After lunch, get back to the city and visit the ancient city's symbol – Big Wild Goose Pagoda. The stone pagoda was built in 652 to house precious Buddhist scriptures brought back from India. Climbing up the steep stairs you will enjoy a bird's eye view over the city.
Day 6
Ancient City Wall and Muslim Quarters; Flight from Xi'an to Shanghai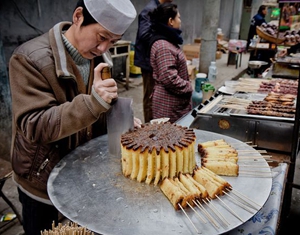 Food stand at Muslim Quarters
The walls, ramparts, gates and watchtowers form one of the oldest and most complete city defenses that still stand firm, and separate the city into inner and outer parts. If you like, ride a bike on the wall will be a relaxing experience while you take in some good view. Not far is the Muslim Quarters, a lively area where you can find lots of shops, stands and restaurants which will stir your senses.
After lunch, transfer to airport for flight to Shanghai. Upon arrival, your Shanghai guide will greet you at the arrival hall, and transfer to hotel.
Good to Know
We arrange flight from Xi'an to Shanghai (2½hrs) due to long distance between. Overnight bullet trains are also available, costing 11-16 hours depending on different trains. Ticket price is almost the same as flight ticket at discount, but one-night's hotel accommodation is saved if you take overnight train. If you'd like to take the train, feel free to let us know your idea when making an inquiry.
Day 7
Modern and Old Shanghai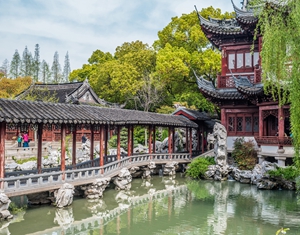 Yuyuan Garden
Get a nice touch of Shanghai with modern and traditional mixture. Shikumen is a style of old housing where most Shanghai people were born and raised. There you will see a small exhibition of old Shanghai furniture, but also it has been turned into a chic place with bars, shops and restaurants.
Nestled in the center of Shanghai old quarters, Yuyuan Garden offers tranquility amongst city bustle. This old private Garden has typical Chinese classic architecture and style with rockeries, pavilions, ponds and corridors. Feel the city vibe as you stand atop one of the tallest TV towers in the world – Oriental Pearl TV Tower. Shanghai History Museum at the bottom of the tower reveals Shanghai's history and development.
Your guide and driver will take you all the way to the airport, so you can rest assured that you will arrive in time for your flight, and will get to the correct gate.
Trip Notes
1. Tailoring your tour
This tour is very flexible. You can alter the itinerary, extend or shorten it to suit your price, interest and schedule. Feel free to tell us your requirements, and we are happy to help you arrange with our professional knowledge and experience.
2. Riding Bullet Train in China
Make sure you get to the correct train station at least 30 minutes before departure time. Your luggage might be X-ray checked several times. You should carry your valuables on you. Remember to take all your luggage after the security check. Keep your train ticket in place. It might be checked again during the ride and at the exit of train station.
Luggage allowance: The maximum weight of carry-on baggage is 20 kg/adult and 10 kg/children, and the sum of three sides of each item of luggage should be less than 130 cm for bullet trains. Bring some food and drinks for the ride, which come less in varieties and higher in prices on the train.
Your guide will wait for you at the exit of the train station. After you get off the train, follow the crowd to the exit.