The 10-day overland private tour offers an adventure from Chengdu in Sichuan Province to Shangri-La in Yunnan Province. You will see giant pandas in Chengdu, enjoy breathtaking scenery and experience local Tibetan culture in the western part of Sichuan Province, and explore the lost horizon in Shangri-La.
Highlights
Meet the lovely pandas in the Panda Breeding and Research Center
Cross the Daduhe Valley via the famous Luding Bridge
Visit Kangding, the gateway to Eastern Tibet-Kham
Explore the Yading Nature Reserve
Look for the lost paradise in Shangri-La
Be accompanied by local guides who have lots of knowledge to share
What's Included
Entrance to attractions listed in the itinerary
Private Guiding by experienced English-speaking tour guide
Hotel accommodation with breakfast
Spacious air-conditioned van or coach with experienced driver all the way
Suggested Itinerary
Your private driver and guide will be ready for you when you arrive in Chengdu. Sit back in a comfortable, non-smoking car, leave the hassles to your guide, and enjoy a trouble-free transfer to your hotel.
Accommodation
Holiday Inn Express Chengdu Wuhou.
Day 2
The Panda Breeding and Research Center and Kuan-Zhai Alley Tour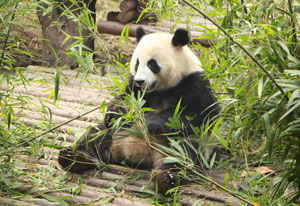 Panda Breeding and Research Center
In the morning you will first visit the Panda Breeding and Research Center, about 10 kilometers (six miles) north from central Chengdu. You will visit the nursery to see the highly successful breeding program, stroll among the bamboo groves and shady walkways, and view the pandas at rest or play. It is best to go early in the morning to see the pandas feeding at around 9:30am, when they are most active during the day.
Lunch is at a Chinese restaurant where you can learn about the Sichuan-style dishes.
After lunch you will go to Chengdu People's Park to have a deep breath of fresh air. Verdant trees and various flowers make the traditional pavilions and buildings much more graceful. You can join the local people to experience the bustle and chatter of a local teahouse in this area.
Kuan-Zhai Lane (or Wide and Narrow Alley) is the day's last destination; an ancient street with hundreds of years' history combined with modern elements. There you can imagine the old Chengdu by walking past the Qing Dynasty (1636–1912) style buildings.
Good to know:
March to May is the "falling in love period" for pandas. If you visit the Panda Breeding and Research Center between late August and December, you will have a greater chance of seeing tiny newborns in the Sunshine Nursery House.
Accommodation
Holiday Inn Express Chengdu Wuhou.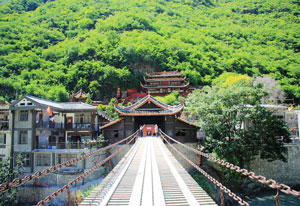 Luding Bridge
Distance: 325 kilometers/202 miles
Tour Duration: 6–7 hours
Commencing the tour in Chengdu, you will travel to Ya'an. From there you will climb up to the tunnel of Mount Er'Lang, and then drive down to the Daduhe Valley to see the famous Luding Bridge. Afterward, you will head up to Kangding, the gateway to Eastern Tibet-Kham.
Accommodation
Love Song Hotel in Kangding.
Day 4
Kangding to Litang via Xinduqiao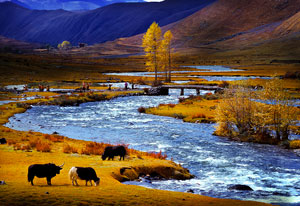 Xinduqiao
Distance: 294 kilometers/183 miles
Tour Duration: 7–8 hours
After a simple breakfast at the hotel, you will travel across several high mountain passes which are over 4,500 meters high. During the summer, Tibetan nomads will take their yaks herding on the highland pastures and live in black yak-hair tents. Don't miss the chance to capture the beauty of Xinduqiao Town, which is called the Corridor of Photographers. Then you will arrive in Litang during the late afternoon, the birthplace of the 7th and 10th Dalai Lamas.
Accommodation
Litang Gaocheng Hotel.
Day 5
Litang to Riwa via Daocheng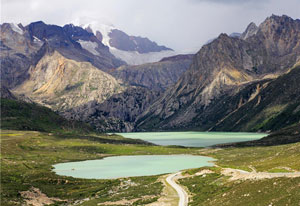 Hazi Mountain
Distance: 225 kilometers/140 miles
Tour Duration: 7–8 hours
Start the tour with a visit to the old district of Litang County and experience the most original Tibetan culture. Then continue to drive to Riwa and admire the magnificent scenery at Hazi Mountain. Afterward, you will visit Benpo Monastery which was built in a mountain cave and from there you will travel through to Chitu River Valley to Riwa where you will stay for the night.
Accommodation
Suntime Hotel in Riwa.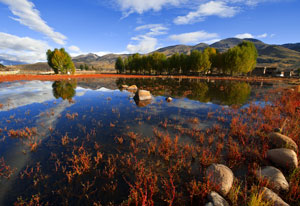 Yading Nature Reserve
Distance: 7 kilometers/4 miles
Tour Duration: 7–8 hours
Drive to Yading in the morning and enjoy a colorful day there. Located in southern Daocheng County, the Yading Nature Reserve covers an area of 1,344 square kilometers (520 square miles) and has an average elevation of well over 4,000 meters. Inside the Yading Nature Reserve are the three holy mountains of Chenresig, rising to 6,032 meters, Chana Dorje and Jampelyang, which both rise to 5,958 meters. These three snowcapped peaks sit in a triangle formation with forested valleys, clear rivers, glacier-fed lakes, and abundant wildlife between them.
The Tibetan name for Yading is "Nyiden", which means "facing the sun". In Tibetan, the names of the mountains mean "Wisdom" (Jampelyang), "Power" (Chana Dorje), and "Compassion" (Chenresig). This region was designated as a nature reserve in the late 1990s. You will enjoy trekking inside the park.
Accommodation
Shengda Villa in Yading.
Day 7
Yading to Xiangcheng via Daocheng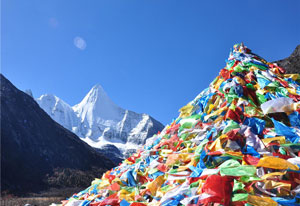 Daocheng
Distance: 191 kilometers/118 miles
Tour Duration: 6–7 hours
In the morning, you will visit Gongalongjiling Monastery which houses the Golden Maitreya statue bestowed by the 5th Dalai Lama. From there, you will cross over a 4,500-meter-high mountain pass and arrive in Xiangcheng (Chaktsen) in the afternoon.
Accommodation
Bamushan Hotel in Xiangcheng.
Day 8
Xiangcheng to Shangri-La
Shangri-la
Distance: 218 kilometers/135 miles
Tour Duration: 6–7 hours
Following the Suoqu River you will head southwards and cross over the 4,100-meter-high Big Snow Mountain pass and 3,900-meter-high Small Snow Mountain pass to reach Shangri-La.
Accommodation
Holy Palace in Shangri-La.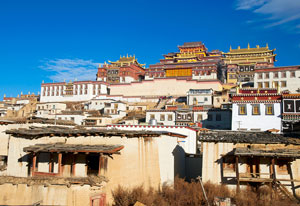 Songzanlin Lamasery
Tour Duration: 6–7 hours
Wake up in the sunshine and start the tour by visiting the Songzanlin Lamasery, the largest Tibetan Buddhist lamasery in Yunnan Province. It represents the Tibetan culture, housing Buddhist statues and many precious cultural treasures. Later, you will visit Pudacuo National Park which has an average altitude of 3,500 meters and retains a well-preserved ecosystem within the virgin forests. The must-see scenery in this park includes Lake Bita and Lake Shudu. "Bita" means 'a place with a dense oak forest' in Tibetan and "Shudu" means 'Cheese Stone'.
Accommodation
Holy Palace in Shangri-La.
Day 10
Shangri-La Departure
Enjoy breakfast at the hotel and then head for the airport or train station to get to your next destination.
Trip Notes
1. Tour Map (click to enlarge)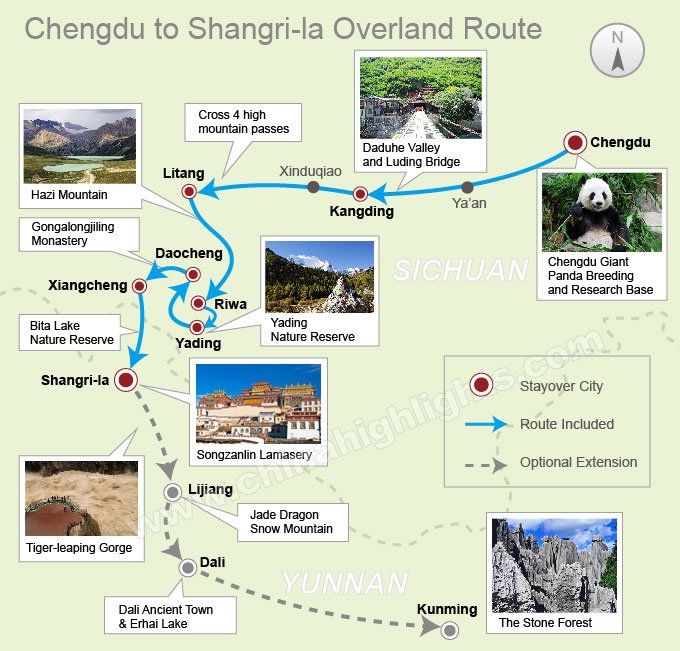 2. Extension
To enrich your itinerary with the minorities' folk culture and natural landscape, we can arrange a private tour for you to further explore Lijiang, Dali, and Kunming. About 6–7 extra days are required and the extra cost ranges from US$1,699 to US$2,499 per person, depending on the hotel class and number of people in the group. From Kunming, you will have more flight options to connect Guilin, Guangzhou, Shanghai, and other popular destinations. Please inform your trip advisor of your preference and we will be happy to tailor-make the tour for you.
3. Hotels
The facilities and service standards at the hotels in remote areas, such as Riwa and Xiangcheng, are not as good as in larger cities, but we have carefully chosen the hotels for you to enjoy the best possible accommodation throughout the tour.
4. Meals
Breakfasts are arranged for you in the hotels you will stay in. Lunches are only included on day two in Chengdu and day nine in Shangri-La. Due to the limited choice of restaurants during the tour, it is recommended that you order and pay for the meals on your own to make the arrangements flexible.
5. High Altitude Sickness
During the tour, you will travel across several high mountain passes which are over 4,500 meters high, so it is possible that you will experience high altitude sickness. The altitude sickness varies from person to person, so it is suggested that you consult with your doctor. Visitors with heart disease and high blood pressure should be careful and take precautions. If you like, we can prepare a small bottle of oxygen for you, just in case.
6. More Trip Information
Want to learn more about this trip? Please click here to see details about traveling in China, booking, payment and responsible travel.