The Hometown of Pandas
Cute pandas and certain historic sites are unique resources in China. This tour features Chengdu, the homeland of giant pandas, but also includes the famous Golden Triangle — Beijing, Shanghai, and Xi'an. The Great Wall, the Forbidden City, the Terracotta Warriors, the Bund and picturesque karst landscape in Guilin and Yangshuo are all yours to see.
Highlights
Explore a less-crowded part of the Great Wall
See how the thousand-year-old Terracotta Warriors come alive
Be a panda keeper for a day and feed a panda up close
Enjoy a relaxing Li River cruise to Yangshuo
Admire the charming mix of ancient and modern in Shanghai
What's Included
Entrance to scenic spots listed in the itinerary
Private local English-speaking tour guides and driver service (except for discretionary tips)
Meals mentioned in the itinerary
Hotel accommodation with breakfast, free Wi-Fi and service fees
Public shuttle buses in the mountains and a specified cable car
Cruise to see the Leshan Giant Buddha
Internal flights mentioned in the itinerary
Price Per Person in US Dollars
| Nov.1 - Mar. 31 | 5-star | 4-star |
| --- | --- | --- |
| 2-5 People | $3,489 | $3,249 |
| 6-9 People | $2,849 | $2,529 |
| Apr.1 - Oct.31 | 5-star | 4-star |
| 2-5 People | $3,639 | $3,389 |
| 6-9 People | $2,999 | $2,699 |
Suggested Itinerary
Hotels in Beijing: Beijing Marriott Hotel City Wall (5-star)/ Sunworld Hotel Beijing (4-star)
Your private guide will be ready to meet and greet you at arrivals. A comfortable private car (non-smoking) with an experienced driver will transfer you directly to your hotel. Your guide will help you checkin.
Meals: breakfast & lunch
Today's experiences include the classic, epic sights of Beijing: the Forbidden City, home to 24 emperors and its newly exhibited Qing Dynasty royalty treasures; the enormous Tiananmen Square; and a rickshaw ride through the narrow alleys plus a visit to a local family make for a truly special experience. Enjoy authentic Chinese dishes for lunch at a popular local restaurant.
Optional Activities:
Night shows, such as the Kung Fu Show at the Red Theater or the Acrobatics Show at Chaoyang Theater, are recommended to enrich your night. You're recommended to book with your guide a day before, or on the day, to allow flexibility.

Day 3
A Day on the Great Wall
Meals: breakfast & lunch
Arrangements for today day make for the experience of a lifetime, the chance to walk the Great Wall of China! Your guide and driver will take you out of Beijing and onto some beautiful country roads before you reach a section of the Great Wall called Mutianyu. We select this section with the highest density of watchtowers (great for photography) and a cable car, giving you maximum time to walk, and for some insights into this area's unique battlement outcrops. After a visit on the wall we'll arrange a well-deserved lunch to follow your visit to the wall.
Tips for visiting:
1. Most customers find that two hours on the wall is plenty, but you are welcome to spend longer. Just let your guide know on day 2, so we can plan around traffic and offer our best advice.
2. There is an optional toboggan ride down, popular with past customers of all ages.

Day 4
Summer Palace and Flight to Xian
Meals: breakfast & lunch
Hotels in Xi'an: Wyndham Grand Xian South (5-star)/Grand Noble Hotel (4-star)
The garden and lakes of the Summer Palace are a beautiful part of Beijing. We'll take a boat ride over to the palace, and explore the Garden of Virtue and Harmony. After lunch your drive and guide will escort you to Beijing Airport, ensuring you're at the right terminal and gate for your onward flight to Xi'an.
Your local Xi'an guide and driver will be ready and waiting at Xi'an airport arrivals.

Day 5
Terracotta Warriors and the Ancient City Wall
Meals: breakfast & lunch
One of the best ways to see Xi'an is from the ancient city wall. The wall is massive. It's tall and so wide we can enjoy a rickshaw, cycle or walk around this marvel of ancient engineering.
After lunch we'll drive you out to the Terracotta Warriors, where your guide will unlock some fascinating insights that few visitors notice.

Day 6
Silk Road History & Flight to Chengdu
Meals: breakfast & lunch
Hotel in Chengdu: Sofitel Chengdu Taihe (5-star)/Tibet Hotel Chengdu (4-star)
The Muslim Quarter in Xi'an is an area you may not have heard of, but is has often been a highlight for our past clients. This unique area is a melting pot of Silk Road history, offering you a chance to explore a unique local mosque and try some ethnic food.
There is still time to see for one of China's most unique pagodas, the brick pagoda know as Big Wild Goose Pagoda, including its charming surrounding gardens. Then it's on to the airport for your flight to Chengdu, home of the pandas.
Our local guide and driver will transfer you from the airport to your hotel, helping with luggage and the check-in process.

Day 7
Panda Hometown: One-Day Panda Keeper Program
Meals: breakfast & lunch
Dujiangyan Panda Base is now the most popular panda base in China offering the Panda Keeper Program and the opportunity to cuddle a panda for photos (though this comes at an extra charge). It takes about 1½ hours by car to get to Dujiangyan from the hotel. This unique one-day tour will enable you to have a close encounter with the lovely giant pandas.
Under the guidance of English-speaking staff, you will clean the panda enclosures, feed the pandas close-up, watch panda movies, and make cakes for the treasured creatures. Have a Chinese lunch with staff in the canteen.
This one-day close encounter with pandas makes for the more wonderful memories.
Good to Know:
China Highlights will help you obtain the health certificate that the base requires and, after the volunteer program, you will receive a certificate from the CCRCGP (China Conservation and Research Center for Giant Pandas). To guarantee the safety of volunteers, pandas are kept in their 'superior room' with air-conditioning rather than in the wild.

Day 8
Half-Day Panda Tour in Chengdu and Flight to Guilin
Meals: breakfast & lunch
Hotels in Guilin: Shangri La Hotel Guilin (5-star)/Guilin Lijiang Waterfall Hotel (4-star)
Chengdu is a paradise of pandas; you will find lots of things related to the panda-theme. During the day, Today you will continue to enjoy the cute panda world.
Created by the internationally renowned artist Lawrence Argent, a gigantic panda sculpture weighs 13 tons and is 15 meters tall. This massive panda has become a trendy landmark in Chengdu, climbing on the wall of the Chengdu International Finance Square (Chengdu IFS) on Chunxi Road.
After lunch you will go to Chengdu People's Park to have a deep breath of fresh air. Verdant trees and various flowers make the traditional pavilions and buildings much more graceful. You can join the local people to experience the bustle and chatter of a local teahouse in this area.
Kuan-Zhai Lane (or Wide and Narrow Alley) is an ancient street with hundreds of years' history combined with modern elements. There you can imagine the old Chengdu by walking past the Qing Dynasty (1636–1912) style buildings.
This evening we will transfer you to the airport for your onward flight to Guilin, land of rivers and dramatic mountains.

Day 9
Guilin: Relaxing Li River Cruise from Guilin to Yangshuo and Countryside Tour
Meals: breakfast & lunch
Hotels in Yangshuo: Green Lotus Hotel (5-star, central location) / Yangshuo Mountain Retreat (4-star, by the riverside and with great views)
A tranquil four-hour cruise on the Li River offers great views of the bamboo forests and limestone peaks, the scenery immortalized by Chinese artists down through the centuries. Exploring the countryside continues with a bike ride along small roads and lanes surrounded by paddy fields and orchards, away from traffic and crowds. A visit to a local farmer's home lets you see how people really live in these rural areas.
Enjoy staying a night in this beautiful countryside town, explore west street and try some street food on offer.
About Cruise:
1. Your luggage will be transferred directly by private van and driver from Guilin to your hotel in Yangshuo. Your personal guide will accompany you on the cruise and take care of you.
2. Currently, either 3-star or 4-star riverboats are available for the Li River cruise. The 3-star boats are cheaper, but have less-modern facilities. Their seat-spacing is narrower and the lunch on board is simpler. The 4-star boats are better. We will only use the relatively new 4-star boats, which serve a buffet lunch.

Day 10
Yangshuo: Chinese Cooking Class and Flight to Shanghai
Meals: breakfast & lunch
Hotel in Shanghai: Radisson Blu Hotel Shanghai New World (5-star)/ Bund Hotel (4-star)
In the morning, your guide can show you around the local food market — the hub around which life revolves in Yangshuo. All the food is fresh, even the chickens are still flapping in their cages. A cookery class helps you discover how those delicious dishes develop their flavor, as you see which vegetables and meat are used, cook with the teacher, and then taste the results. You even get the recipes to take home.
This afternoon we'll transfer you to the airport directly from Yangshuo, ensuring you are at the right terminal and gate for your Shanghai flight.

Day 11
Shanghai: Panoramic View Over the City and Bustling Market Street
Meals: breakfast & lunch
Shanghai is a fusion of old and new. Shanghai World Financial Center which has the tallest glass observation deck in China. Lunch is a meal of Cantonese food in beautiful surroundings with a nice view over the Bund.
In the afternoon, travel back in time to the old part of Shanghai: the famous Yuyuan Garden created during the Ming Dynasty (1368–1644 AD). A market street near Yuyuan Garden provides an exciting experience where crowds of people buy local snacks, handicrafts, antiques, and souvenirs.

Day 12
Shanghai Departure
Meal: breakfast
Today is your final day and we allow you time to explore or relax by yourself. If you have a late evening flight and want a guide today just ask your travel advisor. As at every city, your private guide, driver and car will escort you to the airport and ensure you are at the correct gate.
Trip Notes
1. Tailoring Your Tour
This tour is very flexible. You can alter the itinerary, extend or shorten it to suit your budget, interests and schedule. Feel free to tell us your requirements, and we'll be happy to help you arrange accordingly.
2. Panda Keeper Program
As the first tour company in China to operate the program, China Highlights has developed a stable relationship with the Dujiangyan Panda Base. Sometimes the program is subject to change due to force majeure. Usually we are able to get the first-hand information necessary to arrange your tour. Your early booking (at least two weeks before departure) is useful in facilitating the availability of the program. Sometimes activities listed in the tour description will be adjusted according to the health of the pandas. Thanks for your understanding.
If your time is limited, and you can only join in with morning activities, the price will still be the same.
3. Children as Panda Keepers
Panda volunteers should be between 12 and 65 years of age. Though the pandas look harmless, they are actually carnivores. Parents must prevent their children from coming into direct contact with the pandas. The cost for children 12 years old and above is the same as the cost for adults.
If your children are between 2 and 11 years, you can still take them with you during the program. The children should not enter the room where the panda cage is, but they can stand at the gate of the room to watch you feeding a panda and cleaning the cage, which takes around 30 minutes. Your guide will help you take care of children.
If your children are under 2 years old and you yourself take care of them throughout the day, no additional fee is charged.
4. Taking Photos with Pandas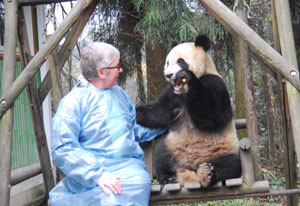 Photo with Panda
The cost of a donation program, that allows you to take pictures for about 20 seconds with a panda next to you, is not included in the Panda Keeper Program. It is only available at Dujiangyan Panda Base and the donation amount is CNY1,800 per person.
Only 30 tourists are allowed to take close-up photos with pandas each day. If you would like to take part in this donation program, please tell your travel advisor in advance because we have to book it at least a week in advance. This program is subject to the availability of pandas on the day. Please take enough CNY cash, as payment by a non-Chinese credit card is not accepted there.
Please note that the photo program is totally dependent on the availability of pandas on the day. We will double check on the booking one day in advance and inform you as soon as we know of any change.