Cute pandas and certain historic sites are unique resources in China. This tour features Chengdu, the homeland of giant pandas, but also includes the famous Golden Triangle — Beijing, Shanghai, and Xi'an. The Great Wall, the Forbidden City, the Terracotta Warriors, the Bund and picturesque karst landscape in Guilin and Yangshuo are all yours to see.
Highlights
Explore a less-crowded part of the Great Wall
See how the thousand-year-old Terracotta Warriors come alive
Be a panda keeper for a day and feed a panda up close
Enjoy a relaxing Li River cruise to Yangshuo
Admire the charming mix of ancient and modern in Shanghai
Suggested Itinerary
Expand All
Day 3
A Day on the Great Wall
Day 4
Summer Palace and Flight to Xian
Day 5
Terracotta Warriors and the Ancient City Wall
Day 6
Silk Road History & Flight to Chengdu
Day 7
Panda Hometown: One-Day Panda Keeper Program
Day 8
Half-Day Panda Tour in Chengdu and Flight to Guilin
Day 9
Guilin: Relaxing Li River Cruise from Guilin to Yangshuo and Countryside Tour
Day 10
Yangshuo: Chinese Cooking Class and Flight to Shanghai
Day 11
Shanghai: Panoramic View Over the City and Bustling Market Street
What's Included
Entrance to scenic spots listed in the itinerary
Private local English-speaking tour guides and driver service (except for discretionary tips)
Meals mentioned in the itinerary
Hotel accommodation with breakfast, free Wi-Fi and service fees
Public shuttle buses in the mountains and a specified cable car
Cruise to see the Leshan Giant Buddha
Internal flights mentioned in the itinerary
Trip Notes
1. Tailoring Your Tour
This tour is very flexible. You can alter the itinerary, extend or shorten it to suit your budget, interests and schedule. Feel free to tell us your requirements, and we'll be happy to help you arrange accordingly.
2. Panda Keeper Program
As the first tour company in China to operate the program, China Highlights has developed a stable relationship with the Dujiangyan Panda Base. Sometimes the program is subject to change due to force majeure. Usually we are able to get the first-hand information necessary to arrange your tour. Your early booking (at least two weeks before departure) is useful in facilitating the availability of the program. Sometimes activities listed in the tour description will be adjusted according to the health of the pandas. Thanks for your understanding.
If your time is limited, and you can only join in with morning activities, the price will still be the same.
3. Children as Panda Keepers
Panda volunteers should be between 12 and 65 years of age. Though the pandas look harmless, they are actually carnivores. Parents must prevent their children from coming into direct contact with the pandas. The cost for children 12 years old and above is the same as the cost for adults.
If your children are between 2 and 11 years, you can still take them with you during the program. The children should not enter the room where the panda cage is, but they can stand at the gate of the room to watch you feeding a panda and cleaning the cage, which takes around 30 minutes. Your guide will help you take care of children.
If your children are under 2 years old and you yourself take care of them throughout the day, no additional fee is charged.
4. Taking Photos with Pandas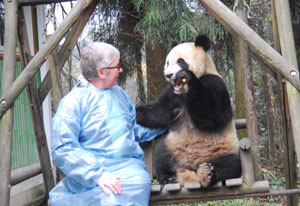 Photo with Panda
The cost of a donation program, that allows you to take pictures for about 20 seconds with a panda next to you, is not included in the Panda Keeper Program. It is only available at Dujiangyan Panda Base and the donation amount is CNY1,800 per person.
Only 30 tourists are allowed to take close-up photos with pandas each day. If you would like to take part in this donation program, please tell your travel advisor in advance because we have to book it at least a week in advance. This program is subject to the availability of pandas on the day. Please take enough CNY cash, as payment by a non-Chinese credit card is not accepted there.
Please note that the photo program is totally dependent on the availability of pandas on the day. We will double check on the booking one day in advance and inform you as soon as we know of any change.