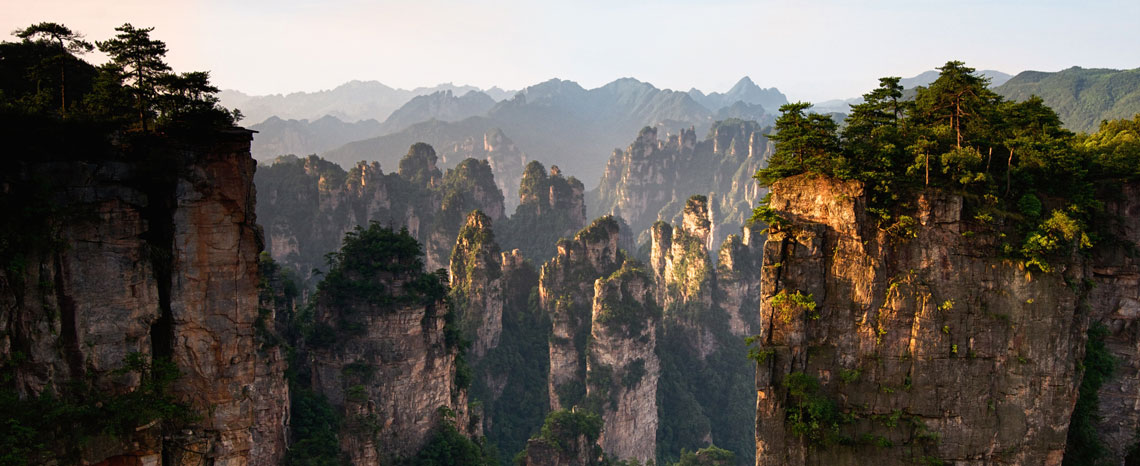 Fixed Time Once A Year Tour Guided by Top Photographers
Price US$2230
Sunrise
Sunset
Nature
People
We arrange once a year an exclusive journey to the most beautiful places in China where to shot pictures.
We fix the time so we can create a group in order to save money and share unique experiences and knowledge with other photography mates.
Experienced top local photographers will guide you to the impressive Guilin landscapes and the famous Li River. Take photos of Avatar's floating rocks and "paddy fields in the sky" among Zhangjiajie's hills.
Join the group and get your camera ready for the best sunsets and sunrises of China.
Highlights
Guide by top local photographers in Guilin and Zhangjiajie
Exclusive places where to shot at its best time
Get the best price thanks to our once a year fixed time group
Take a time-smart itinerary between spots avoiding the crowds
Departure Dates & Price Per Person in US Dollars
This fixed-dates, once-a-year, photography tour in Guilin and Zhangjiajie, with top photography guides, will start on September 21th and end on September 29th, in 2017.
If you only want to take the Guilin or the Zhangjiajie part of the tour, this will still be possible. Please check below for more detailed information.
Options
Tour dates (2017)
Price (p/p)
Single room supplement
Remarks
A: 9-day Guilin and Zhangjiajie
Sept. 21–29
US$ 2230
US$ 230
3 places left

10% of total payment is required as deposit to request space. You will be refund if the trip is unavailable.
If 5 or more people sigh up, we can book this tour.
Max group size: 8 people
Other dates for this photography tour are also possible for groups of between 3 and 8 people; please ask

B: 5-day
Guilin only
Sept. 21–25
US$ 1222
US$ 120
3 places left
C: 4-day
Zhangjiajie only
Sept. 25–29
US$ 1136
US$ 110
4 places left
What's Included
Service fee for the tour guides and top photographers
Airport transfers and transport to attractions listed in the itinerary
Bus charter fees in Zhangjiajie out of the public shuttle bus operation hours
Flight between Guilin and Zhangjiajie
All meals specified in the itinerary
Hotel accommodation mentioned in the itinerary
Itinerary
Sept.21
Arrival at Guilin
Today, we will arrange 2 comfortable transfers for you from the airport to your hotel. (11:00 in the morning, and 17:00 in the afternoon. The free transfer is only available on the day before your photography tour starts. Stay at Guilin Zhongshui International Hotel. If you need your pick up & transfer on some other day, from Guilin airport to your hotel is 200 CNY (≈ $35).
Sept.22
Focus on Longji Terraced Fields Shooting
Have a good rest this morning and enjoy a no-hurry breakfast. Later you will be driven to Dazhai Village of Longji Terraced Fields, one of the most fantastic scenery in Guilin. Dazhai Village, also known as Jinkeng Village is the best-preserved area with Zhuang and Yao minorities. Prepare for hiking for 2-3 hours for all angles of marvelous rice terraced fields with local minority houses. During this period, the rice plants are turning yellow. You can get dozens photos of the fields with green and yellow rice plants.
The Yao and Zhuang minority villages composed of wooden houses are also highlights. Don't miss the unique Zhuang minority dwellings in the village, especially during this period when the locals hang lots of red peppers and golden corncobs under the roofs.
Visit a local minority family and take photos of the locals. Learn how to make oil tea (youcha /yoh-chaa/), which is a snack of minority origin, particularly the Yao. It can quench thirst and cure rheumatism in humid mountain areas. Interact with local people who have lived there for generations. Of course, you can take photos of the Chinese minority family.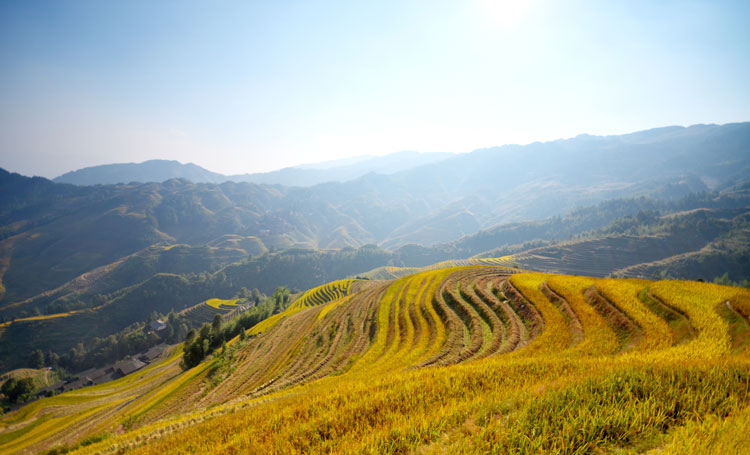 Longji Terraced Fields
Sept.23
Photograph Sunrise in Dazhai Village
If the weather condition allows you to shoot the amazing sunrise, you will get up early to shoot this incredible sunrise scenery. You will get some photos of magnificence with mist-shrouded mountains. The large-scale rice terraced fields with the sunrise is stunning. Yao and Zhuang minority villages are also highlights. Walk down along the fields after the breakfast; you can continue to shoot the terraced fields from different angles.
In the afternoon, head to Yangshuo and take photos at Fuli Bridge, a bridge with an over 600-year history. At the upper reach of the Yulong River (Meeting Dragon River), photographers can get some photos of Fuli Bridge across the river surrounded by Guilin's karst landscape. You can shoot some water buffalos and goats eating grass near the river. Standing on the bridge, you will have a grand view of Yangshuo's countryside.
Aishan Bridge section of Meeting Dragon River is one of best places for watching and photographing the sunset in Guilin's karst hills. Nearly nobody touched visits this place, so you can enjoy a quiet and no-hurry sunset shooting session.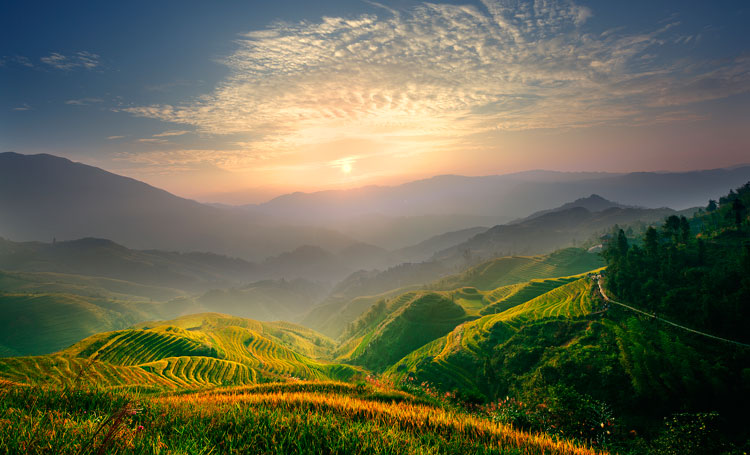 Sunrise in Longji Terraced Fields
Sept.24
The Li River Bend's Morning and the Fishing Man Photography Tour
The early bird catches the worm – be up before dawn to capture the sunrise! It will be a 20 minute climb up Xianggong Mountain to photograph the breathtaking sunrise at the place where Li River runs as a right-angled bend.
Next photography place is Xingping Ancient Town, a time-honored town developed from a small fishing village. There you can feel the simple fishing life and appreciate the ancient dwellings built with the Ming and Qing dynasties' style.
In the afternoon, you will be driven to Xingping Ancient Town to get another photography highlight: the rose sunset (pray for a cooperative weather) and the evening a fishing scene on Li River, with a bamboo fishing boat, a cozy gas lamp, an experienced fishing man, and several ospreys.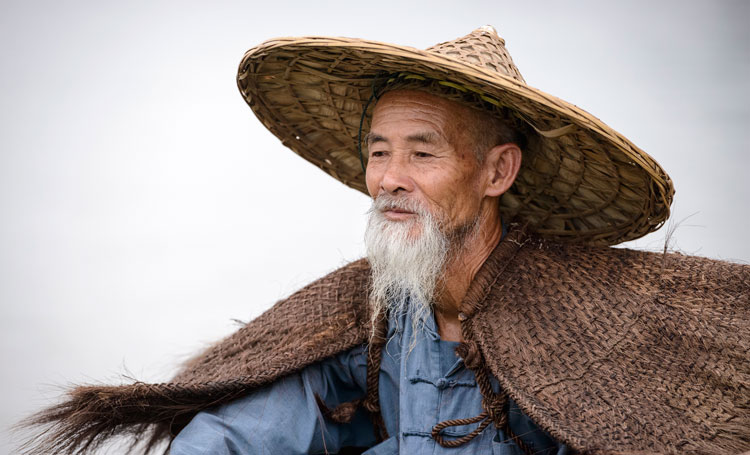 Fisherman on the Li River
Sept.25
The Early Morning at the Most Picturesque Section of Li River
Another early-began day for sunrise or misty morning on the Li River. Accompanied with your private guide, you will be transferred by a bamboo raft from Xingping Town to Xialong Bay (下龙湾), the essence section of Li River, including the location of the 20 yuan banknote. The boatman will also pose as your model if you want to photograph morning fishing scenes.
After breakfast, your guide and driver will transfer you to Guilin North Railway Station to take the bullet train to Chansha. Your local tour guide and driver in Changsha will meet you in the railway station and then transfer you to Zhangjiajie by car .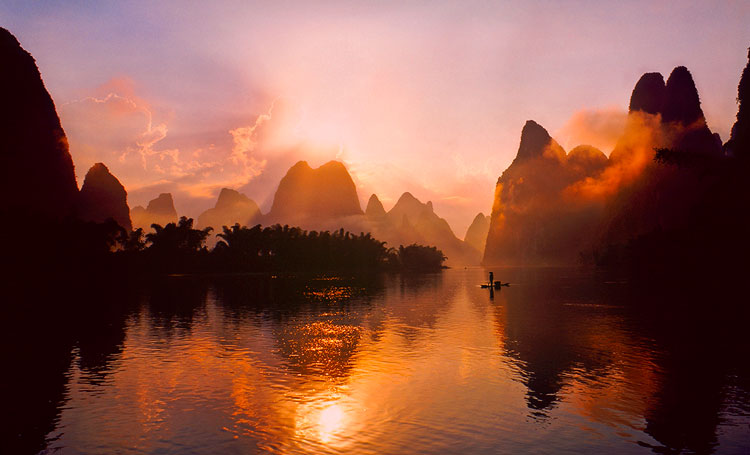 Li River Sunrise
Sept.26
Sunset Shooting in Yangjiajie
In the morning, take a cable car up to the Zhangjiajie, and arrive at the Yangjiejie area, which is right area for sunsets. Becoming popular, this new area's top sunset viewpoints include Tianbo House and the Natural Great Wall. Narrow and towering natural walls of rock, different from typical Zhangjiajie pillars, are its distinguishing feature. From the bottom you can only see a thin strip of sky there.
You will take some photos at the Natural Great Wall when you arrive and take sunset photos at Tianbofu or the Natural Great Wall. The sunset in Tianbofu is around 19:00 to 19:30 in summer. Your photography guide will take you to snap the Tianbo House sunset at the best place (not the top of Tianbofu where crowds gather).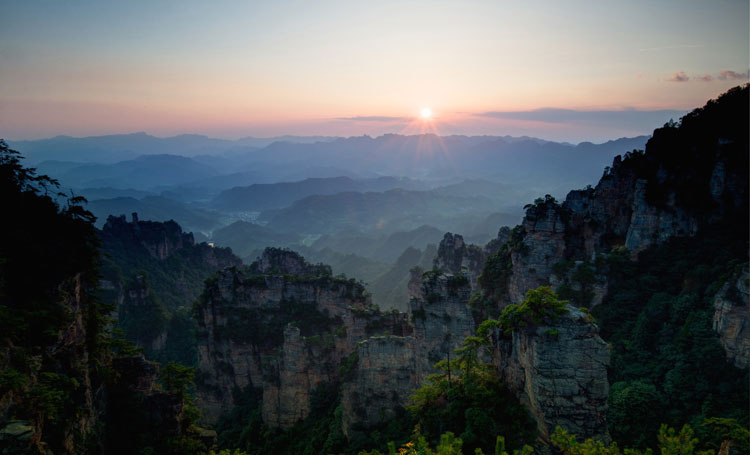 Sunset Shooting in Yangjiajie
Sept.27
Sunrise in Laowuchang and Avatar Mountains(Yuanjiajie) in the Afternoon
Laowuchang ('Old House Area'), the best place to photograph sunrises in Zhangjiajie, became popular recently. Kongzhong Tianyuan ('Sky Field Garden') is a rice paddy area, farmed by local people and hanging on an outcrop, surrounded by Zhangjiajie's classic towers. It is also a good place for still life shots of the farmers.
Get up early to shoot the sunrise in Laowuchang. Later you will see Kongzhong Tianyuan. Have a short walk to photo a group of craggy pillars called 'Spirit Soldiers Meeting'. Then back to your hotel to have breakfast and a rest after the morning shoot.
The Yuanjiajie Area (Afternoon Recommended)
Famous and popular for its Hallelujah Mountain, named after Avatar's floating rocks, pictures of 'First Bridge in the World' from 'Viewing Bridge Platform' (Wangqiaotai) are a bonus. Afternoon is the best time to photograph the Yuanjiajie area. To avoid crowds, your guide will take you there around 17:00.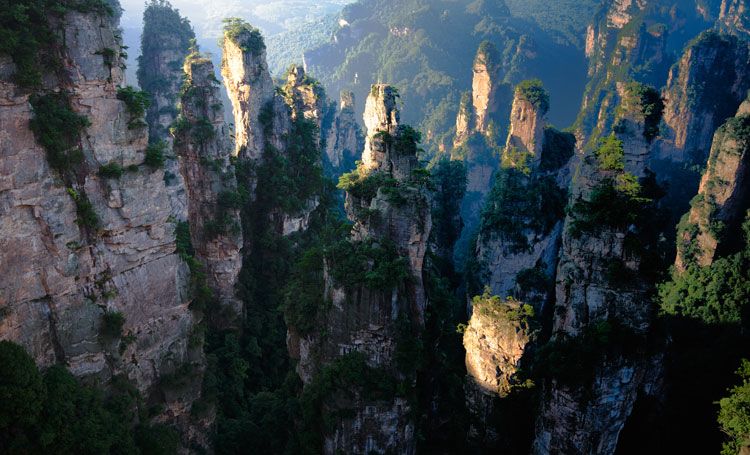 Zhangjiajie Landscape
SEPT.28
Take Photos of Tianzi Mountain Area
Tianzi Shan ('Heaven Son Mountain') is a fabulous location for seeing Zhangjiajie pillars among the sea of clouds. A lot of Zhangjiajie photography blockbusters are created there. Get inspired!
Start early in the morning to avoid crowds, and you will get some photos of mesas in striking sunlight and shadow. Closer than standing on Tianzi Platform, it's one of the best places to shoot peaks in the sea of clouds. Take photos of Nod-to-the-General Platform (Dianjiang Tai) for the best angle of 'West Sea Stone Forest' of Tianzi Mountain.
All the photographic locations are within a short distance. You can stay in McDonald's ("the best restaurant on the mountains"!) to enjoy some coffee when you are free. Enjoy a familiar Western breakfast.
The Emperor's Pens: At Tianzi Mountain area you can find another unique view, heading towards a modern, pagoda-style building. Yubi Feng ('Imperial Pen Peaks') is what some Western photographers have called "The Emperor's Pens". They feature on some of China's stamps, and they resemble calligraphy pens.
Come back to the city center of Zhangjiajie in the afternoon.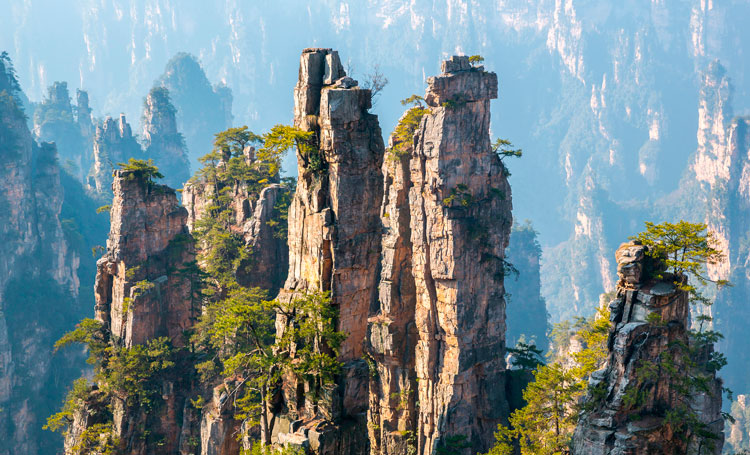 Tianzi Mountain Area
sept.29
Zhangjiajie Departure
Two transfers are arranged from your hotel to the airport to meet your needs. The morning transfer is 11:00, the other one is 17:00. Zhangjiajie city is a very small city, taxi to the airport/train station is not too expensive. You can take a taxi if you can't take the free transfer we arranged.
Good to know:
October 1st-7th is China's Nation Day holiday, so you should arrange the transport out of Zhangjiajie city in advance to avoid the crowds.
Trip Notes
1. About the accomodation on Sep 26 and Sep 27 in Zhangjiajie
We have been informed by the Zhangjiajie local government that in the interests of environmental protection all hotels inside the National Park have been closed. We'd like to offer you a free upgrade from Panduola Guest House in the National Park to Santa Daminga International Hotel, a 4-star hotel outside the National Park.
As the National Park will only be open to tourists from 8 am to 5 pm, we are sorry you will not have a chance to see the sunrise and sunset in the park. Your local guide, however, will arrange for your tour to start as early as possible to avoid the crowds, and he/she will show you the best location for shooting nice pictures.
2. About transportation between Guilin and Zhangjiajie
We have been informed by the airline that the only direct flight from Guilin to Zhangjiajie has been cancelled. For the next half-year there will be no direct flights between Guilin and Zhangjiajie.
To maximize your comfort as well as value for money, we shall arrange instead for you to take a bullet train from Guilin to Changsha (3.5 hours) and then a private bus to Zhangjiajie (about 4.5 hours). Though it is slower, we hope this alternative route will also be a good experience for you.
3. Why We Recommend September Photography
Good weather is a crucial factor when taking pictures.
Late spring and summer are also good times to do a photography tour in Guilin and Zhangjiajie, with the seas of clouds and warm/hot weather, but we recommend September because it has the most comfortable weather, warm/cool and drier. (There are many rainy days in spring and summer in both Guilin and Zhangjiajie.)
A bonus is that you could take beautiful pictures of the rice terraces, as the paddies are yellow and ready for harvest at the end of September in Guilin, and you won't have the crowds of National Day Week (October 1–7).
Please check below for detailed information about the average climate by month in Guilin and Zhangjiajie.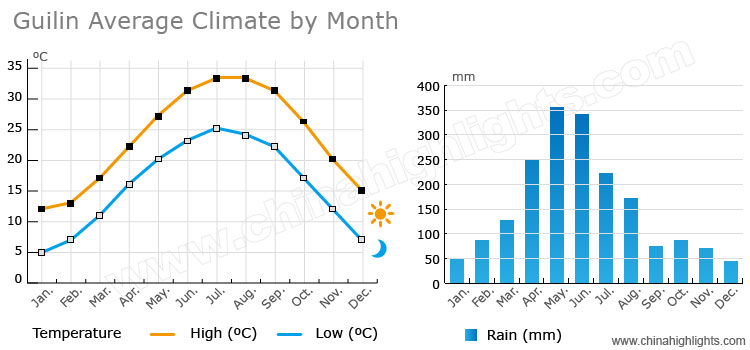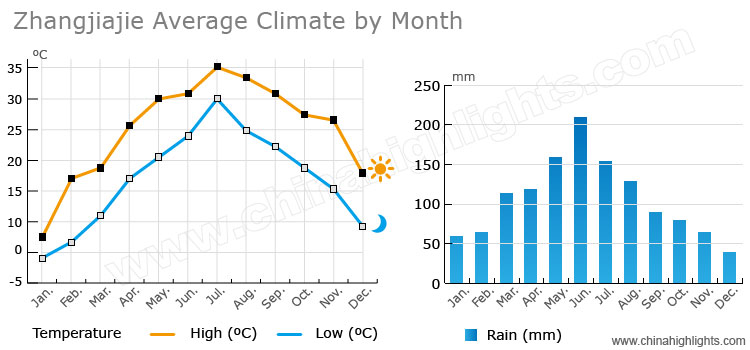 4. About the Guides
Two guides including top photography guide who can't speak English and one English-speaking guide are arranged in each destination. Your photography guide will take you to right places to photography at the best time. English guide will assist the photography guide and deal with other things such as hotel check-in and meals.
5. Hotels
We have selected the best hotels in the destinations, but the hotels in these areas are quite basic compared with other hotels in the city center.
6. Luggage
Our guide will deal with your luggage transfer during the trip even in Zhangjiajie. Your luggage will be transferred from hotel to hotel. Just leave your hassle to our guide and enjoy a free photo journey.
7. Rest at Noon
During this tour, you will get up early to take photos of sunrise, then go back to hotel to have a rest, and later leave for sunset at the right time.
Top Photography Guides

Qin Jie- Guilin Photography Guide
Being a member of China Photographer Association, he is a photographer with over 40 years photography experience, and also a traditional Chinese painter. He is good at Guilin's landscapes, history and culture photography. He will take you to record the impression ancient China into the real.

Mingfa Zhou- Zhangjiajie Photography Guide
Sorely tempted by Zhangjiajie's amazing hills, Mingfa Zhou insists on photographing its every spots for 18 years. He will take you to some must-see and some special spots to enjoy and shoot the unique Zhangjiajie.