The thriving city of Shanghai is surrounded by some beautifully contrasting scenery. A few hours by fast bullet train will get to the classical charm of Suzhou, Hangzhou and Nanjing.
Highlights
Race with speed by riding on fast and comfortable bullet train between cities
In-depth Chinese tea culture experience
Boat ride on the beautiful West Lake
Classic landscape gardens in Suzhou
Immerse in ancient Chinese culture at Confucius Temple
What's Included
Entrance to attractions listed in the itinerary
Private transfers between the airport, train station, hotels and attractions
Hotel accommodation with breakfast
Meals mentioned in the itinerary
Private local tour guide and driver service throughout the tour
Inter-city bullet trains
Price Per Person in US Dollars
| Nov.1 - Mar. 31 | 5-star | 4-star |
| --- | --- | --- |
| 2-5 People | $989 | $799 |
| 6-9 People | $809 | $609 |
| Apr.1 - Oct.31 | 5-star | 4-star |
| 2-5 People | $999 | $809 |
| 6-9 People | $829 | $619 |
Suggested Itinerary
Day 1
Bullet Train from Shanghai to Hangzhou; In-Depth Tea Culture Tour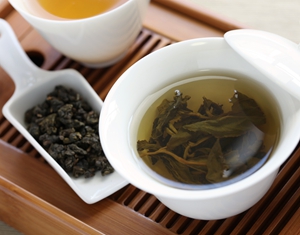 Chinese Tea Culture
We will have your train tickets booked and delivered to your hotel or appointed place in Shanghai at least one day prior to departure. Today you will arrange transport to the train station by yourself to take bullet train to Hangzhou (G7305: 0900-0945). Upon arrival in Hangzhou, your guide and driver meet you at the train station and start today's tea culture tour.
On this in-depth Longjing Tea cultural tour, you will get to know about the tea's history, process, brewing and taste the tea at Meijiawu Tea Plantation. Later visit China National Tea Museum and see exhibitions showing some ancient tea making tools and exquisite teapots.
Watch a short tea ceremony in Chenghuang Pavilion located on top of the hill. The walk up is easy, and the pavilion is an optimum spot for a bird's eye view of Hangzhou. The view of 'Heavenly Wind over Wu Hill' is one of 'the Ten Scenes of West Lake'.
Accommodation in Hangzhou: Haihua Hotel Hangzhou (4-star)/Grand Metropark Hotel Hangzhou (5-star)
Day 2
West Lake and Lingyin Temple; Bullet Train to Suzhou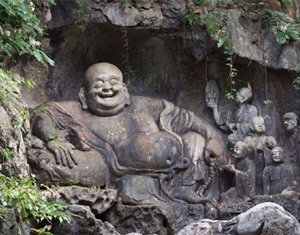 Buddhist Statues at Lingyin Temple
Hangzhou is often called "The Venice of China". This lakeside city is not only a beautiful place to unwind and relax but offers some interesting historic attractions.
Enjoy exploring West Lake, the symbol of Hangzhou. While boating on the West Lake, the occasional pagoda and Chinese-style arched bridges add atmosphere to the tree-lined walkways, lush islands and hills make it a very special part of any China experience. As one of the most famous and popular Buddhist temples in China, Lingyin Temple boasts plenty of Buddhist grottoes and pagodas.
In the afternoon, transfer to the train station for bullet train (D3136: 1631-1836) to Suzhou. Upon arrival, transfer to hotel in Suzhou.
Accommodation in Suzhou: Holiday Inn Jasmine Suzhou (4-star)/Pan Pacific Suzhou (5-star)
Day 3
Suzhou Tour: Ancient Canal, Lingering Garden and Humble Administrator's Garden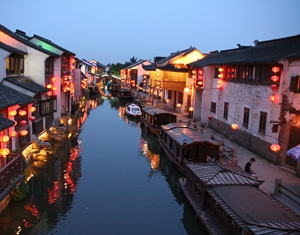 Boating on the Grand Canal
Suzhou's famous gardens are the highlight of the day, and we have selected the two most representative gardens - Lingering Garden and the Humble Administrator's Garden. You will find out how people created a poetic residence with pools, artificial hills, pavilions, trees, and flowers.
The ancient Grand Canal ranks alongside the Great Wall of China as the country's greatest engineering achievement and it is the longest man-made waterway in the world. Cruising on the Grand Canal (about 30-40 minutes) and the view will remind you of Suzhou being the original source of the marine Silk Road.
Accommodation in Suzhou: Holiday Inn Jasmine Suzhou (4-star)/Pan Pacific Suzhou (5-star)
Day 4
Bullet Train to Nanjing; Nanjing City Highlights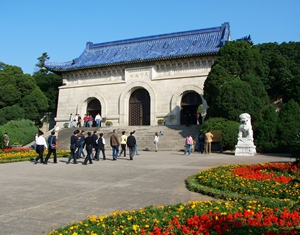 Dr. Sun Yat-sen Mausoleum
In the morning, transfer to train station for bullet train (D3022: 0938-1115) to Nanjing. Upon arrival, your guide and driver will meet you at train station and start today's Nanjing Tour.
Visit the Sun Yat-Sen Mausoleum to unfold the history of this honorable man in the Republic of China era. As a representative of Chinese history in terms of modern architecture, it will let you see the development of Chinese architecture if you compare it with traditional Chinese buildings. Zhonghua Gate is China's largest castle-style gate was built in 1366, the construction of the gate lasted 21 years and it can accommodate 3,000 people.
The Confucius Temple was built in 1034 and dedicated to worshiping the great philosopher Confucius. There you will explore the educational system and the etiquette of ancient China. Take a short cruise on Qinhuai River, the mother river of the city who witnessed its history and life.
Accommodation in Nanjing: Nanjing Central Hotel (4-star)/Jinling Hotel Nanjing (5-star)
Day 5
Bullet Train to Shanghai
Transfer to train station for morning bullet train (G7009: 1000-1125) back to Shanghai.
Trip Notes
1. Tailoring your tour
This tour is very flexible. You can alter the itinerary, extend or shorten it to suit your price, interest and schedule. Feel free to tell us your requirements, and we are happy to help you arrange with our professional knowledge and experience.
2. Tips for riding a bullet train in China
Arrive at the correct train station at least 30 minutes before departure time. You are required to do a security check before entering the train station, and there's a 5-8 minute walk from ticket gate to the platform. There may be long stairs and slopes without escalator, so it is suggested that you pack light.
Bring some food and drinks for the ride, which come less in varieties and higher in prices on the train.
Keep your train ticket in place. It might be checked again during the ride and at the exit of train station.