Essence of Guilin
Guilin's scenery is regarded as "the most beautiful scenery in the world". This tour encapsulates the best combination of scenery and culture in Guilin and Yangshuo.
Once you step into Guilin, unlike China's big cities, you will really feel that you have traveled to a completely different country, one that more closely reflects the rural China you may have seen on television or the Internet.
Highlights
Take a Li River cruise with fantastic views on the best riverboat
Enjoy the local sights and relax by biking or walking through the countryside
Marvel at magnificent rock formations in Reed Flute Cave.
What's Included
Li River boat cruise with Chinese buffet lunch on board
Accommodation with breakfast, free Wi-Fi and service fee
Private transfers between the airport, attractions, and hotels
Private local English-speaking tour guide and driver service
Entrance to attractions listed in the itinerary
Meals mentioned in the itinerary
Price Per Person in US Dollars
| Dec.1 - Mar.31 | 5-star | 4-star |
| --- | --- | --- |
| 2-5 People | $439 | $379 |
| 6-9 People | $349 | $289 |
| Apr.1 - Nov.31 |   |   |
| 2-5 People | $479 | $419 |
| 6-9 People | $379 | $329 |
Note:
The above prices are not applicable to the Chinese National Day Holiday and Chinese Spring Festival.
Suggested Itinerary
Accommodation in Guilin: Guilin Shangri-la Hotel (the best 5-star hotel in Guilin, beside the Li River)/ Lijiang Waterfall Hotel (4-star, central location and by the lakeside)
Upon arrival your local tour guide will meet you at the arrival hall of the airport with a name plate. If you arrive by train, your local tour guide will meet you with a name plate at the exit of the train station. After meeting your tour guide, he/she will escort you by private vehicle to your hotel. Have a good rest and be ready for the next day's adventure!
Evening Ideas:
The night scenery in Guilin is beautiful and it makes a great way to unwind after a flight. The 'Two Rivers and Four Lakes' in the downtown area offer pleasant lakeside walks and night cruises.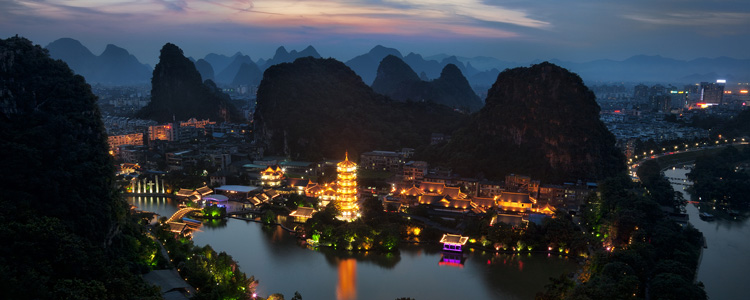 Day 2
Li River Cruise from Guilin to Yangshuo and Yangshuo countyside tour
Meal: breakfast & lunch
In the morning you are going to visit one of China's most treasured natural wonders. After breakfast your guide and driver will transfer you to the pier to take the Li River cruise.
A cruise along the Li River from Guilin to Yangshuo is an unforgettable experience. As you take in the stunning scenery, there's something interesting to see at almost every bend in the river. Among the spectacular limestone peaks you'll see graceful bamboo groves, farmers tending rice paddies, and lumbering water buffaloes pulling carts or cooling off in the river. You may see fishermen gliding along on their narrow bamboo rafts, and if you're very lucky you might see one of the famous fishing cormorants.
A Chinese buffet lunch is served on board. You will take the most comfortable 4-star Li River cruise boat. It quite spaciously accommodates 72–80 passengers, so you can enjoy the amazing scenery along the Li River peacefully.
Upon your arrival in Yangshuo, we will take you by private vehicle from the busy and difficult streets to the countryside road to start your biking experience. The scenery along the Yulong River is breathtakingly beautiful, karst peaks, rice fields, clear waters, green bamboos… While you enjoy your time with nature, you will also have an opportunity to learn about local life by visiting a local farmer's old house on the way. The friendly host is happy to show you around the house and introduce you to life in the countryside.
After your Yangshuo tour, your private car and tour guide will transfer you back to your hotel in Guilin.
Good to Know:
If you are not able to do cycling, we could arrange the countryside tour by private vehicle for you, or a short hike (about 1–2 hours) along the riverside and through the local villages.
Day 3
Classic Guilin; Guilin Departure
Meal: breakfast & lunch
For the classic sights, first see the symbol of Guilin, Elephant Trunk Hill. It's so named because its shape resembles an elephant drinking from the Li River. The hill is pierced with many caves and topped with a charming pagoda. It has attracted visitors for over a millennia. After a visit to Elephant Trunk Hill, we will go a short distance up the Li River to visit a partially submerged hill, Fubo Hill. It's named after a revered Han Dynasty general (Ma Yuan, 14 BC – 49 AD), who shared a title with the marquis who constructed its hill temple in the Tang Dynasty (618–907). The site gives a unique insight into the history of Guilin, and the 350 steps give you a great bird's eye view of the city.
Lunch is arranged at a popular local restaurant. Your tour guide will help you order dishes.
Your final stop is Reed Flute Cave , the largest and most impressive cave in Guilin. Named after reeds growing around the cave entrance, the cave has attracted visitors for a thousand years. Inside, you will see the magnificent rock formations.
As your journey concludes, we will transport you to Guilin Liangjiang International Airport for your flight to your next destination. Your tour guide will help you check in and accompany you as far as the security check.
Good to know:
1. If you prefer ancient sites instead of classic Guilin, an ancient waterway Ling Canal is recommended. You can ask your travel advisor to arrange a tour of Ling Canal instead of the Guilin City tour on day 3. Driving from Guilin to Xing'an county takes about 1 hour. Enjoy a boat ride, passing under ancient bridges, and discovering the ancient canal transport system. Enjoy music from the guzheng (/goo-jnng/ Chinese harp), played while you float through this beautiful town. Joining two rivers that flow in different directions, this ancient link once provided the transport backbone to ancient China, joining the Yangtze and Pearl rivers in 214 BC.
2. We recommend you book a flight in late afternoon or early evening as the day tour will end around 2pm.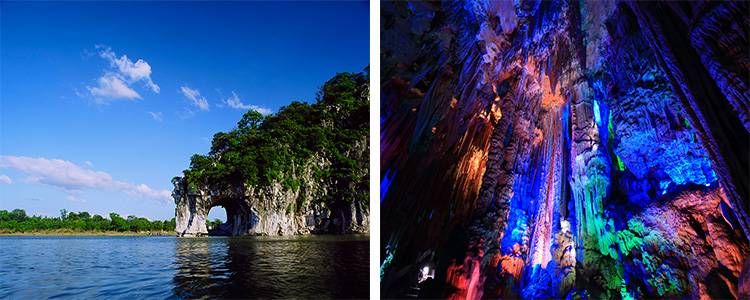 Trip Notes
1. Customizing the Tour — According to Your Needs
This tour is very flexible. You can alter the itinerary, extending or shortening it to suit your price, interests, and schedule.
You can extend it with an extra day in Yangshuo, do more activities such as bamboo rafting, Moon Hill climbing, farming activities, etc. If your time is limited, shortening the tour by one day, e.g. without the Yangshuo countryside tour, can also be arranged.
2. 72-Hour (3-Day) Visa-Free Transit Policy for Guilin
Since 12 July, 2014, Guilin has offered a 72-hour visa-free transit policy for foreign visitors. With confirmed airline tickets to a third country or region, passport holders from any of 51 qualifying countries can stay around Guilin for 72 hours without a visa to China, assuming direct transit via the Guilin Liangjiang International Airport. For more information, see here.
3. About the Li River Cruise Boats
Currently, either 3-star or 4-star riverboats are available for the Li River cruise. The 3-star boats are lower-priced, but have less-modern facilities. Their seat- spacing is narrower and the lunch on board is simpler.
The 4-star boats are the best. We will only use the relatively new 4-star boats, which serve a buffet lunch.