One Day Li River Cruise private tour will offers you a chance to capture the tranquil beauty of Guilin, so different from other places in China. Take the Li River cruise to Yangshuo and observe the spectacular beauty of limestone formations. Escape the hustle and bustle of city life to enjoy the tranquility of the countryside in Yangshuo.
Highlights
Take the relaxing Li River Cruise on the best available boat
View the spectacular beauty of karst mountain peaks
Bike or walk through a local village
Communicate with local people during your Yangshuo tour
Enjoy the tranquility of the countryside
Suggested Itinerary
Schedule for Reference
8:10–09:00:
Your private guide will pick you up in the morning from your hotel in Guilin and transfer you to the wharf. The evening before your tour, your guide will call you between 7 and 8 pm to confirm your departure time, leaving a message at the hotel lobby if you don't reply. If you've received neither a call nor a message by 8 pm, contact your travel advisor or Customer-care Hotline: (+ 86)15607730682. We will endeavor to sort this out on the spot.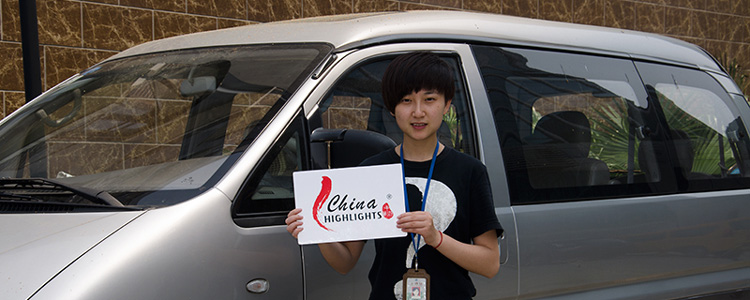 09:00–09:30
Your guide will board the Li River cruise together with you. We will only use the recently-introduced 4-star boat, serving buffet lunch, while other travel agencies typically use a 3-star boat, serving a simpler Chinese box lunch. The 4-star river boat is a medium- size boat, it quite spaciously accommodates 72–80 passengers, so you can enjoy the amazing scenery along the Li River peacefully.
At the time of booking, you may choose between a standard cabin on the lower deck and a first- or business-class cabin on the upper deck. (A surcharge of US$10 per person will be charged for the first-class or US$20 p/p for business-class cabin.) By contrast, seats on the 3-star boat are allocated automatically.
Besides, the 4-star boat is more spacious than the 3-star one; please see pictures as below.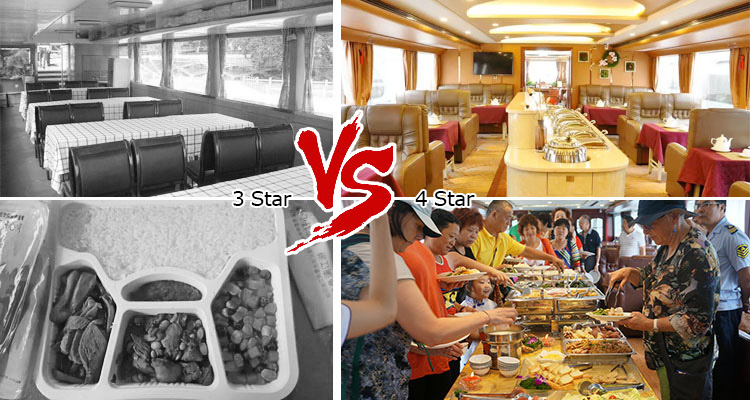 09:30–11:30
Enjoy the picturesque scenery. A cruise from Guilin to Yangshuo is an unforgettable experience. As you observe the stunning scenery, there's something interesting to see at almost every turn.
You'll see graceful bamboo groves among the spectacular limestone peaks, and perhaps water buffaloes cooling off in the river. You may see fishermen gliding along on their narrow bamboo rafts, and if you're lucky you might see one of the famous fishing cormorants.
11:30–12:00
Buffet lunch on board will usually be served at this time. Your guide will let you know when lunch is ready, and then you can line up and help yourself to the food.
13:00–14:00
Disembark in Yangshuo. You may arrive in Yangshuo a little before or after 13:00 hrs, since the water flows at different speeds in different seasons. If you wish, you can have some time on arrival to walk around West Street, the main street in the downtown Yangshuo area.
14:00–15:30
Join in the Yangshuo countryside tour. You can choose either to cycle or go by private car – there is no price difference – and you can confirm with your guide on the day which you prefer.
Yangshuo's countryside is known for its idyllic scenery, oddly-shaped hills thrusting to the sky and leisurely local farming life. Visiting Yangshuo's countryside provides a great opportunity to get close to nature.
While enjoying your time with nature, you will also have an opportunity to learn about local life by visiting a village and communicating with local people along the way. Your guide will show you around the village and introduce you to life in the countryside.
During the trip, you will see local villages, different crops growing in the fields in different seasons, farmers tending rice paddies, and orchards with different fruit, such as pomelos, oranges and kumquat.
15:30–17:00
Your private car and guide will transfer you back to your hotel in Guilin or to the hotel in Yangshuo after the countryside tour.
Good to Know:
If you plan to stay in Yangshuo after the day-tour, please check out from your Guilin hotel before departure. You may leave your luggage in our vehicle, and you will be transferred to the hotel in Yangshuo after the tour.
If you plan to leave Guilin after the day-tour, please check out from your hotel before departure. You may leave your luggage in our vehicle, and you will be transferred to the airport or train station straight after the tour. It usually takes 2 hours to transfer from Yangshuo to Guilin airport. Tell us your departure time when booking, and remind your guide on the day. We will make arrangements accordingly.
Our Service Included:
Our 1-to-1 expert China consultancy with unlimited itinerary changes
Booking of China internal flights, trains, and cruises, per your preferences
Your own China-Highlights-trained, versatile and knowledgeable tour guide
Your own chauffeured and comfortable vehicle, chosen for ample space
Entry to all attractions on your itinerary, with queues avoided wherever possible
Our 24-7 helpline for while you are travelling