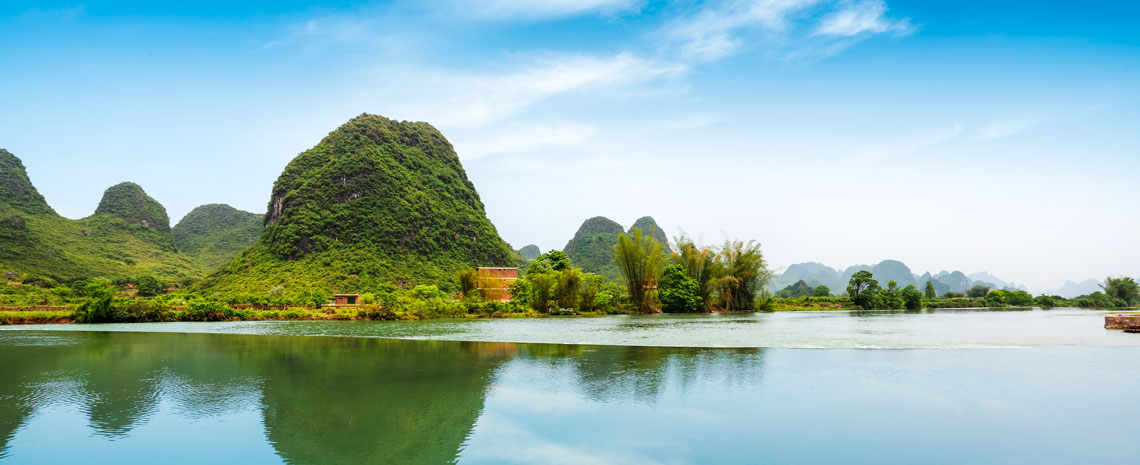 5-Day Picturesque Guilin Biking Tour
This tour offer a chance to biking form Guilin's city center to Xingping ancient town, later you will arrive at popular Yangshuo. A slow enjoyable experience among Guilin's amazing karst hills. You will see the most beautiful part of Guilin and go hiking in the Longji Terraced Fields.
Highlights
Continued cycling from Guilin Downtown to Yangshuo
Walk into Daxu Ancient Town
Biking along the Meeting Dragon River
Hiking in Longji Terraced Fields and experience minority culture
Immerse yourself at the Guilin's countryside life
What's Included
Entrance to scenic spots listed in the itinerary
Private English-speaking guide and driver service throughout the tour
Lunches mentioned in the itinerary
Hotel accommodation with breakfast
Bike renting fees
Suggested Itinerary
Warm welcome in the airport, then your private guide and driver will take you to your hotel with a good location. Have a good rest or walk along the Two Rivers and Four Lakes if you are energetic. The Two Rivers and Four Lakes have the best night scenery of Guilin, a wonderful place for exploration.
Day 2
Guilin City Biking to Daxu Ancient Town (4-5 hours biking)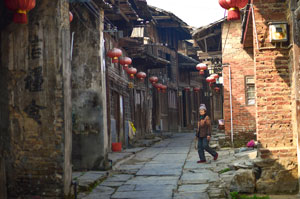 Daxu Ancient Town
After a hotel breakfast, you are going to cycle to Mountain Yao, a short cycling in the morning ((2-3 hours biking) You will climb up the Mount Yao to have a panorama view of its mountains.
In the afternoon, bike 21km to Guilin's Daxu ancient town. This old town has an over 2000 history date back to the Qin Dynasty. Stroll in the southern China ancient town with old and historic Guilin streets and houses. Go back to China's history, walk along the old street, the Longevity Bridge and its dock, and visit local people who living in the town. Stay in Shenlong Water World at night. Before you arrive at hotel, you need to ride the bicycle for another 18km to Caoping Hui Village. It's a quiet Muslim village along the Li River. A wonderful place to feel the nature and local Muslim people's life. The road you will bike is the latest built paved countryside cycling road.
Good to know: This biking tour in Guilin City is a complementary activity for biking fans. Some parts of the route pass main street where you may experience busy traffic.
Biking distance: 50 KM Biking difficulty: Easy to moderate
Day 3
Caoping Village to Yangshuo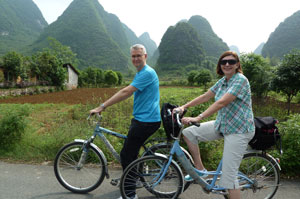 Yangshuo Cycling
Start from hotel after your breakfast, you will bike uphill on the unpaved country road. It's the most difficult section to ride with good and bad road conditions and you have to cycle slowly. However, there are outstanding karst hills and quiet countryside life with very little traffic. This section is one of the most beautiful areas in Guilin so you shouldn't miss the sights.
After 34km with a 3-4 hours cycling, you will reach Xingping Ancient Town. This small town has a history of more than 800 years. It's famous because of the karst hill of Chinese 20 Yuan Bank Note and fabulous places to photographers. You will have a rest and lunch in Xingping Town. Have a walk along the old town, take some photos of standing in front of the bank note. Later you will continue to cycle for another 29km to Yangshuo. The traffic is busier but still good for biking. Stay a hotel in West Street at Yangshuo, have fun for its vivid night life.
Biking distance: 60 KM
Biking hour: 4-5 hours
Biking difficulty: moderate with uphill
Day 4
Yangshuo Countryside Cycling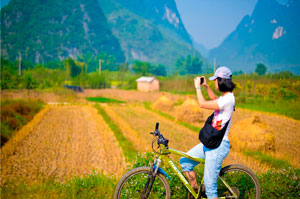 Yangshuo-biking
Enjoy a leisure morning and have a breakfast without a hurry. Have some free time for you to relax. You will have a leisure biking lasts 2 to 2.5 hours along the Meeting Dragon River in Yanghshuo. The Dragon Meeting River is another beautiful river with a lot of karst hills compared with the Li River. Have a local family visiting on the biking tour to know more about Guilin's culture. Driven back to Guilin after your biking tour, with a 1.5h hour journey.
Day 5
Longji Terraced Fields Hiking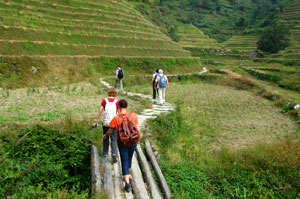 Longji Terraced Fields Hiking
Driven for 2 to 2.5h, you will arrive at Ping'an village at Longji Terraced Fields. Go uphill to the sight-Seven Stars Surrounding the Moon to see the magnificent terraced fields. Have local Zhuang people's food including bamboo rice at noon. After the meal, you will hike along the terraced fields to Nine Dragons and Five Tigers. The hiking lasts 1-2 hour to see a panoramic view of the minority village decorated by the large scale terraced fields. Start to move back to Guilin after the tour.
Day 6
Departure
Have a leisure morning without a hurry. Later your driver and guide will take you to the airport in enough time depending on your flights. Your guide will take you to the right secure checking gate at the airport.
Trip Notes
1.Check bicycles:
Your guide will always check your bikes before you start your biking journey. Biking in Guilin: Some parts of the route are city streets which has a busy traffic. Not every section has the good view during the city biking tours.
2. Guilin to Xingping:
This route is mixed with good and bad road conditions and you have to bike slowly but with good view and little traffic.
3. Best time to cycle
The most popular traveling time in Guilin is from April until October. You should avoid July and August because of hot summer.
4. What to pack
Good outdoor shoes, sunglasses, sun block and hat are necessary.
5. Booking Procedure:
Step 1: Submit your name, email address and traveling dates for the tour. The price may vary according to the location of your hotel.
Step 2: Choose to make payment via PayPal and your request will be listed as our top priority. We guarantee a 100% refund if you are not satisfied.
Step 3: Receive a reply within 24 hours. The tour will be tailor-made to meet your requirements and the booking confirmed.
Step 4: Enjoy the tour!

6. Payment Methods:
We now offer three payment methods: PayPal, credit card authorization via fax, and wire transfer. PayPal is recommended for its safety and efficiency. You can pay with USA dollars, Australian dollars, European dollars, and British pounds directly with your credit card or debit card if you do not have a PayPal account.
7. Cancellation Policy:
In the event of cancellation, we will refund any payment made to China Highlights (unless any cancellation fee is applicable) within 14 days of our receipt of your written cancellation request. Visit here for more details.
8. Travel Insurance:
Travel insurance is not included. We carefully selected some insurance providers from your region that give you the best value for money. Click here to go to the travel insurance page.