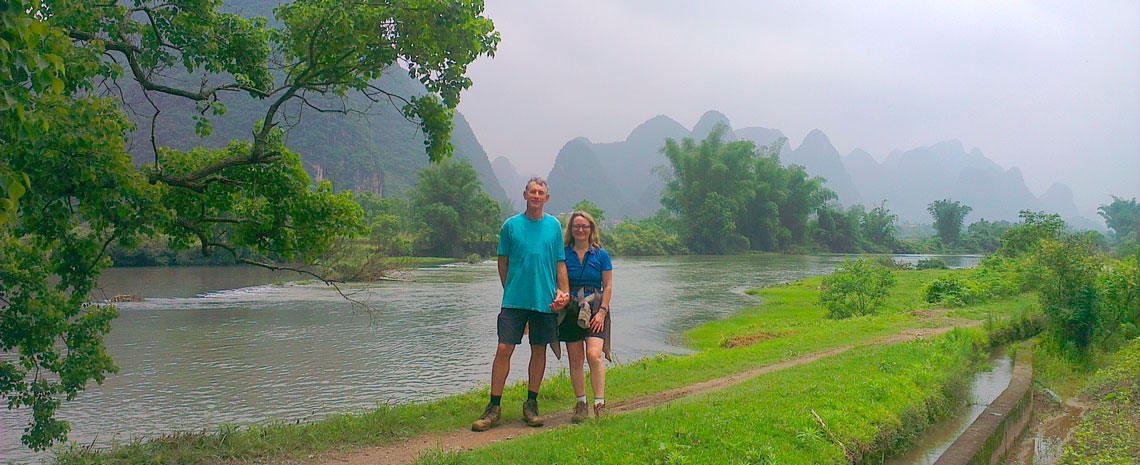 Classic Guilin and Longji Hiking Tour
You will hike along the most popular hiking routes including Longji terraced fields and Meet Dragon River during this trip. Relax and get close touch with the beautiful karst hills and countryside life in Guilin. Take a Li River cruise to see the highlight of Guilin, discover the unique beauty of the Meeting Dragon River.
Note: The Li River hiking is closed now. We arrange the Meeting Dragon River hiking instead of the Li River hike. The Meeting Dragon River also has continued karst hills on the riverside.
Highlights
Stroll among the karst hills along the Meeting Dragon River
Take a hiking to Longji Terraced Fields
Have a Li River cruise down to Yangshuo
Learn to cook Chinese cuisine
What's Included
Entrance to scenic spots listed in the itinerary
Private English-speaking guide and driver service throughout the tour
Lunches mentioned in the itinerary
Hotel accommodation with breakfast
Private transfers between the airport/train/bus station, attractions, and hotels
Suggested Itinerary
A warm welcome at Guilin airport. Your private guide and driver will take you to Guilin's downtown. Check-in with a help of your guide.
When you are ready, your guide will take out to have a warming up of hiking. Have a walk along the Two Rivers and Four Lakes, which is the most beautiful area of Guilin city. It's much prettier in the evening. You can decide how long to walk depend on yourself when you arrive.
Day 2
Take a Li River Cruise Down to Yangshuo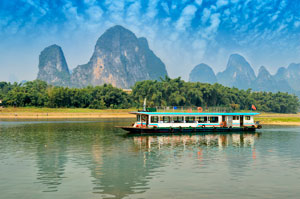 The Li River Cruise
The Li River cruise is one of Guilin's highlights you should not miss. As you take in the stunning scenery, there's something interesting to see at almost every bend in the river. Between spectacular limestone peaks you'll see graceful bamboo groves, farmers tending rice paddies, and lumbering water buffaloes pulling carts or cooling off in the river. Boats depart from various wharves, according to the height of the river at different times of the year. Chinese lunch buffet on the boat is included.
Get Yangshuo in the afternoon, have a walk along the West Street. You can explore by yourself and enjoy its vivid night life in the evening.
Day 3
Meeting Dragon River Hiking and Chinese Cooking Class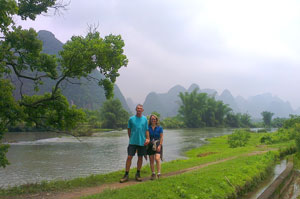 Meeting Dragon River Hiking
The Li River hiking is closed to travelers to rebuild recently. So you will hike along the Meeting Dragon River instead of the Li River. The Meeting Dragon River is the other beautiful river with a lot of karst hills in Guilin. A bamboo rafting on the river is a must-do thing for travelers. Walk along the river, immerse yourself at the karst paradise.
Later, you will take a Chinese cooking class to learn how to cook Chinese cuisine. Have a chance to learn 3 dishes and enjoy the fruits of your labor.
Day 4
Longji Terraced Fields Hiking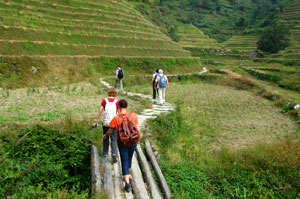 Longji Terraced Fields Hiking
Driven about 3 hours from Guilin, you will arrive at Longji Terraced Fields. The magnificent terraced fields are like a mirror in April and a golden paradise in autumn. You will visit the Ping'an village and go hiking from the Seven Stars with the Moon to Nine Dragons and Five Tigers, about one hour hiking. Enjoy local bamboo rice and take photos of minorities houses with the terraced fields.
When you reach the hiking destination at Nine Dragons and Five Tigers, you will see a panorama picture of the Ping'an Zhuang village with a large-scale of terraced fields. Later, you will be driven back to Guilin city center.
Day 5
Departure
You will head to the airport 2 hours earlier depending on your flight time. Enjoy a hassle free transfer to the airport. Your guide will accompany you to the security checking gate in the airport.
Trip Notes
1. About the Li River hiking
It's not open to travelers now, so we arrange the Meeting Dragon River hiking instead of the Li River hiking. Meeting Dragon River is one of the best areas to enjoy Guilin's Karst hills.
2. Best time to hike
Best time to hiking in Guilin is from middle of April to October especially the autumn.
3. What to see in Longji Terraced Fields
Watering the fields in Longji Terraced Fields starts every April, planting in June and harvest comes during late September. Golden terraced fields are fabulous during China's National Day holiday. Although we don't recommend visiting China during the period, yet it's the best time to see and photograph the countless yellow rice terraces. The rice stalks don't turn golden before National Day and is quickly cut after the holiday.
4. What to pack
Good walking shoes, sunglasses, sun block and hat are necessary.
5. Booking Procedure:
Step 1: Submit your name, email address and traveling dates for the tour. The price may vary according to the location of your hotel.
Step 2: Choose to make payment via PayPal and your request will be listed as our top priority. We guarantee a 100% refund if you are not satisfied.
Step 3: Receive a reply within 24 hours. The tour will be tailor-made to meet your requirements and the booking confirmed.
Step 4: Enjoy the tour!

6. Payment Methods:
We now offer three payment methods: PayPal, credit card authorization via fax, and wire transfer. PayPal is recommended for its safety and efficiency. You can pay with USA dollars, Australian dollars, European dollars, and British pounds directly with your credit card or debit card if you do not have a PayPal account.
7. Cancellation Policy:
In the event of cancellation, we will refund any payment made to China Highlights (unless any cancellation fee is applicable) within 14 days of our receipt of your written cancellation request. Visit here for more details.
8. Travel Insurance:
Travel insurance is not included. We carefully selected some insurance providers from your region that give you the best value for money. Click here to go to the travel insurance page.