During this trip, you will have a chance to discover in depth about the Miao people's culture and life, and to learn more about Dong, Zhuang and Yao people's unique cultures. Explore and come into close contact with local people. Visit some highlights such as Huangguoshu Waterfall in Guizhou, and the karst landscapes and Longji terraced fields near Guilin.
Highlights
Observe the Miao people's traditional way of making paper from tree bark
Become experts in minority culture by visiting several Miao villages, such as Datang Short Skirt Miao Village
Observe the Dong people's unique life and culture in Zhaoxing Dong Village
Head to Longsheng Zhuang Village and terraced fields
Appreciate Guilin's beautiful karst landscape on the Li River cruise
Cycle through Yangzhou's peaceful countryside
What's Included
Entrance to the attractions listed in the itinerary
Private English-speaking guide and driver service throughout the tour
Meals mentioned in the itinerary
Private transfers between the airport, attractions, and hotels
Private local English-speaking tour guide and driver service (except for voluntary tips)
Hotel accommodation with breakfast, free Wi-Fi and service fee
Price Per Person in US Dollars
| | |
| --- | --- |
| 2-5 People | $2,279 |
| 6-9 People | $1,369 |
Note:
The above prices are not applicable to the Chinese National Day Holiday and Chinese Spring Festival.
Suggested Itinerary
Hotel in Guiyang: Hotel Novotel Guiyang Downtown(4-star)
Your private guide and driver will be ready and waiting for you when you arrive in Guiyang, the capital city of Guizhou Province. Check-in at your hotel, with the help of your guide.
Day 2
View the Magnificent Huangguoshu Waterfall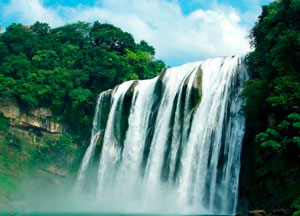 Huangguoshu Waterfall
Meal: breakfast & lunch
Enjoy a relaxed breakfast in the hotel. After breakfast, you will set off on the 2.5-hour journey to Huangguoshu Waterfall. The waterfall is the largest in Asia. Your guide will take you to walk around and see the best angles of the waterfall.
In the afternoon, you will experience local opera – Ground Opera – in Tianlong Village. Local people dress up and wear masks to display their unique traditional culture. You will learn more about some battles that happened in Guizhou, such as the wars between the Chu and Han, and some history from the Sui and Tang dynasties.
Day 3
Explore the Miao People's Unique Culture in Kaili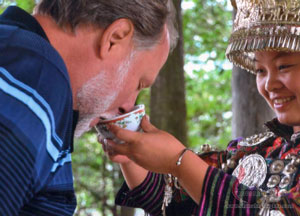 Welcome Ceremony
Meal: breakfast & lunch & dinner
Hotel in Kaili: Kaili Teng Long Hotel (4-star)
Travel to Shiqiao Miao Village to view a rare and traditional way of making paper from the bark of mulberry trees. This paper-making process has been handed down over more than a thousand years. Local people even extended it to make colored paper. It's rarely seen elsewhere in the whole of China.
You'll be warmly welcomed in the traditional Miao way as you enter the village. You will have to drink three cups of local rice wine when toasts are made by a Miao girl. This is the local way of welcoming friends from afar. Explore more Miao culture with the help of your guide.
Day 4
Visit Datang Short Skirt Miao Village and Jidao Long Skirt Miao Village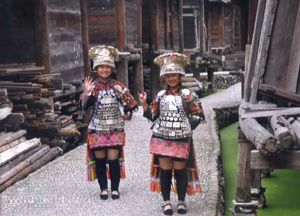 Miao Village
Meal: breakfast & lunch & dinner
Hotel in Rongjiang: Dongxiangmi Hotel (3-star)
In Kaili Ethnic Minority Museum, you will see more ethnic handicrafts, paintings and folk arts, etc. Learn more about local Miao and Dong culture in Qiandongnan (the southeast of Guizhou Province.)
See more different Miao villages, such as Datang Short Miao Village and Jidao Long Skirt Miao Village. Compare the two villages and discover differences in clothing and other things. Appreciate traditional Dong drum towers in Chejiang.
Day 5
Explore Dong Ethnic Culture
Zhaoxing Dong Village
Meal: breakfast & lunch & dinner
Hotel in Zhaoxing: Zhaoxing Hotel VIP Wing (3-star)
Today you will visit Basha Miao Village and Zhaoxing Dong Village. Basha Miao Village has been well-preserved for more than one thousand years. Local people still live by their own traditions, not so affected by the outside world. They still live in wooden houses and maintain their own unique religious beliefs.
You will arrive at your first Dong village Zhaoxing, one of the largest Dong villages in China. See some drum towers and their corresponding wind-and-rain bridges. Stay at a hotel in the village.
Day 6
Visit Tang'an Dong Village and Sanjiang Chengyang Dong Village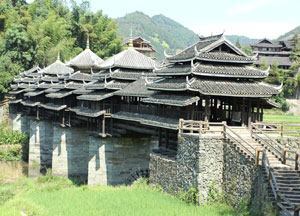 Chengyang Wind-and-rain Bridge
Meal: breakfast & lunch & dinner
Hotel in Sanjiang: Sanjiang Dongxiang Guest House (4-star)
In the morning, you will continue to explore the culture of the Dong people in Tang'an Dong Village. Have a grand view of the terraced paddy fields decorating the village. Later, you will be taken on a 3.5h journey to Sanjiang County.
Enjoy the Chengyang wind-and-rain bridge in Sanjiang and Dong villages. The bridge is currently the largest Dong wind-and-rain bridge, with more than a hundred years of history. There are 8 Dong villages scattered in the Chengyang area. Local Dong people typically get married between 1st and 15th days of the Chinese New Year. Stay at a hotel in Sanjiang county town.
Day 7
Transfer to Longsheng Zhuang Village and Terraced Fields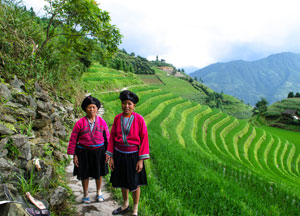 Longji Terraced Fields
Meal: breakfast & lunch
Hotel in Guilin: Guilin Park Hotel (3-star, central location and by the lakeside)
You will be driven to the Longsheng terraced fields and enjoy a magnificent view of the rice fields. The terraces are built into the hillsides, and look like great chains or ribbons as they wind round according to the contours of the land. Zhuang and Yao minority villages are dotted through the area, and feature traditional architecture, where no nails are used in construction.
Arrive in Guilin and stay at a hotel in the city center.
Day 8
Enjoy Karst Landscape and the Li River Cruise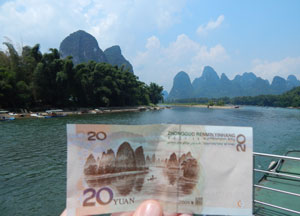 Li River Cruise
Meal: breakfast & lunch
Hotel in Yangshuo: Yangshuo Aiyuan Hotel (3-star)
Take a 4-hour Li River cruise down to Yangshuo. This trip is a must-do thing in Guilin. You will see the beautiful Li River surrounded by unusual karst hills. Observe some local farmers working in the fields and water buffaloes eating grass at the side of the river. You will see the picturesque traditional Chinese countryside life. Lunch is served on the cruise and you'll arrive in Yangshuo in the early afternoon.
Feel free to explore Yangshuo yourself, after hotel check-in. West Street is famous as a street for foreigners and has an interesting night life.
Day 9
Yangshuo Countryside Tour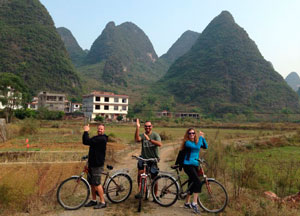 Yangshuo Cycling
Meal: breakfast & lunch
In the morning we'll take you by private vehicle from the busy town streets to the countryside roads to start your biking experiences. The scenery along the Yulong River is breathtakingly beautiful, with karst peaks, rice fields, clear waters, and green bamboo.
On the way, you trade your bicycle for a bamboo raft on the river itself. The river's current is quite gentle, meaning even first-time rafters have no trouble navigating. After a while, all signs of the modern world gradually melt away. Every bend in the river reveals different wonders, and it's easy to focus solely on the scenery. The rafting takes an hour.
Leaving the raft behind, you once again mount a bike. This time you ride to Moon Hill, a magnificent sight, its name referring to the rock formation's wide arch. At the top of the mountain, you will have a panoramic view of villages around Yangshuo and of many karst peaks at the top of the mountain. Usually it takes about an hour to go up and down the mountain.
In the afternoon, you return to your hotel. After a shower, you could relax lying on a beach chair, or with a cup of coffee.
Meal: breakfast
You will be taken directly to Guilin airport from Yangshuo. The journey will be around 2.5 hours. Your private guide will help you and see you off at the security gate. Have a good journey back home.
Trip Notes
1. About Huangguoshu Water Wall
The rainy season at the waterfall is June and July. The dry season is March to May, with smaller waterfalls.
2. Best time to visit
August to October is the best time to visit Guizhou.
3. Road Conditions
Some areas you'll visit are very remote, so be prepared for twisty mountain roads, some of which are rough. Most car journeys on this tour take around 2 hours between spots.
4. Hote l& Restaurant
Hotels: The facilities and service standards at hotels in Guizhou may not be as good as those in larger cities. Air conditioning is available in some better hotels. Hotels in some towns may only serve Chinese, not western, breakfasts. Usually only basic Chinese toilets are available during the tours.
Restaurants: Local restaurants offer Chinese food, in a basic environment.
5. What to pack
Temperatures can differ greatly between day and night, so some warm clothes are required even in summer.
Bring shoes suitable for walking. Mosquito-repellent may also necessary when touring village areas in summer.
6. More Trip Information
Want to learn more about this trip? Please click here to see details about traveling in China, booking, payment and responsible travel.