The Jinghang (Beijing- Hangzhou) Grand Canal is the longest ancient canal in the world. As the start/end-point of the canal, Hangzhou plays an important part in Chinese canal history. In this tour you will have a chance to learn about local history along the canal, visit the Dragon Well tea plantation, and enjoy a relaxing cruise on West Lake.
Highlights
Explore the historic Grand Canal by cruise and paint your own oiled-paper umbrella
Step into one of the best tea plantations in China and see how tea farmers pick tea leaves
Sample a local tea-snacks banquet, while enjoying a traditional stringed and woodwind instrumental performance
Take a boat on West Lake and experience the beauty of "heaven on earth"
Visit the most prosperous temple in Hangzhou – Lingyin Temple
Suggested Itinerary
Expand All
Day 1
Hangzhou Arrival, City Highlights
Lunch
Sofitel Westlake Hangzhou (5-star)/ Zhejiang International Hotel (4-star)
Activities
Your private guide will be waiting for you at airport/train-station arrivals. Please make sure that your flight/train arrives in Hangzhou no later than 11:00 am.
Take a bird's-eye view over Hangzhou and West Lake at the Chenghuang Pavilion, and enjoy the Southern Song Dynasty Snacks Banquet. During the banquet, enjoy a traditional stringed and woodwind instrumental performance and a tea ceremony.
In the afternoon, visit Lingyin Temple, one of the most important and wealthiest Buddhist temples in China, boasting plenty of pagodas and Buddhist grottoes. Then have a relaxing visit to West Lake, one of the major landmarks of Hangzhou. Stroll alongside the lake, and take a cruise to Fairy Island.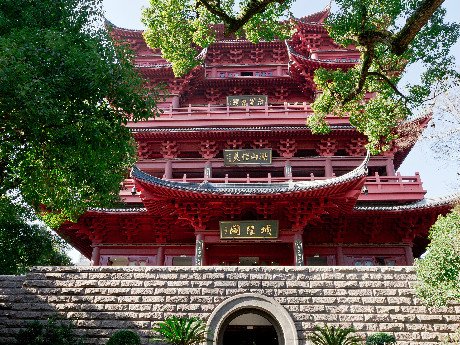 Chenghuang Pavilion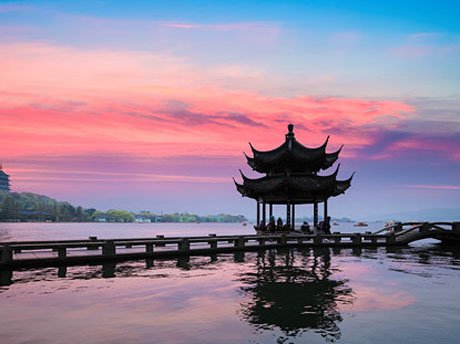 West Lake

Popular Ways to See West Lake
Bike or walk. West Lake is considered one of the best biking routes in China. The most popular biking/walking avenues are Su Causeway and Bai Causeway. These two causeways allow you to see most of the lake's scenery. No motor vehicles are allowed, so they are quite safe for biking or walking. Biking in summer, however, is not recommended, because of the very hot weather and large crowds.
Cruise. Take a boat cruise to visit some of West Lake's islands. If you take a boat, Three Pools Mirroring the Moon is the must-see scene. Most docks have boats to this site. The delight of boating is to enjoy a leisurely time on the peaceful lake and to view the beautiful mountains, bridges, and pagodas from different vantage points on the water.
Day 2
Grand Canal History Experience, Departure
Our service includes
Our 1-to-1 expert China consultancy with unlimited itinerary changes
Booking of China internal flights, trains, and cruises, per your preferences
Your own China-Highlights-trained, versatile and knowledgeable tour guide
Your own chauffeured and comfortable vehicle, chosen for ample space
Hand-picking of hotels for your requirements
Hotel breakfasts arranged, and local restaurant lunches ordered, to suit you
Entry to all attractions on your itinerary, with queues avoided wherever possible
Our 24-7 helpline for while you are travelling
Trip Notes
Customizing the Tour — According to Your Needs
This tour is very flexible. You can alter the itinerary, and extend or shorten it to suit your schedule.
144-Hour Visa-Free Transit Policy
A short stay (up to 6 days) in Shanghai and the surrounding cities is more convenient now as there is no need for a visa.
It's permissible to stay within the administrative areas of Shanghai Municipality, Jiangsu Province, and Zhejiang Province for up to 144 hours. Contact us to know more.