Harbin, the ice capital of China - presents "Harbin Ice and Snow World" festival every year. The city becomes an ice wonderland, from modern architecture to traditional palaces, all carved by incredibly talented artists and made even more stunning by the use of lasers and lighting techniques.
Highlights
Explore the main sites of the Ice and Snow Festival in one day
Appreciate the ice& snow sculptures of masters from all over the world
Wander in the colorful lighted Ice& snow fairyland in the evening
Private vehicle with a driver and an English speaking tour guide service
Our service includes
Our 1-to-1 expert China consultancy with unlimited itinerary changes
Booking of China internal flights, trains, and cruises, per your preferences
Your own China-Highlights-trained, versatile and knowledgeable tour guide
Your own chauffeured and comfortable vehicle, chosen for ample space
Entry to all attractions on your itinerary, with queues avoided wherever possible
Our 24-7 helpline for while you are travelling
Why it is necessary to have a private tour?
1. It's not easy to find an empty taxi in Harbin especially in winter time. Taxies don't go meter, and drivers charge directly. Most taxies will pick up other people on the way (carpooling), and it's difficult to find a taxi at a remote attraction back to the downtown.
2. The average outdoor temperature in Harbin is -21℃/-5.8℉ during the winter time, and waiting for a bus in the open air can be very cold.
3. Public transportations can't reach some attractions. For example, there is no bus to the Sun Island, and people have to change 2 buses to get to the Siberian Tiger Park.
A private tour will provide a private vehicle, and personal English speaking tour guide. We will pick you up from your hotel and drive to the attractions directly, save your time and avoid unnecessary tubules. All you need to do is sit back and enjoy the trip!
Suggested Itinerary
10:00 meet with your personal private tour guide at your hotel lobby, ready for today's ice& snow adventure! The main sites of the Ice& Snow Festival including the Sun Island, the Ice and Snow World and the Central Street. We will start the trip from the largest natural park for wild Siberian tigers in the world-- the Siberian Tiger Park.
Siberian Tigers are one of the most endangered species in the world, and the Siberian Tiger Park is the largest breeding center in the world for Siberian tigers. Take a bus with wire-mesh protection through Siberian Tiger Park to see at close quarters about 100 purebred Siberian tigers, who roam freely inside the park. There is also a cage area housing lions, pumas, leopards and ligers (result of a lion and a tiger breeding). Tourists can purchase meat or live poultry to feed the tigers.
Stroll leisurely along the 'architectural art gallery' –the Central Street. Buildings of the most influential western architectural style can be found here, and it also provides a good opportunity for shopping and dining. As one of the main sites of the Ice and Snow Festival, you can also see snow and ice sculptures there. You can also try the famous local snack-- Modern Popsicle. The Modern Popsicle is selling in the open air, it won't melt as the temperature is low. Having a Modern Popsicle in winter is popular among local people!
Dumpling is one of the most representative food in the Northern China, you will have lunch at the most popular brand dumpling restaurant-Dongfang Jiaozi Wang (King of Eastern Dumplings). The dumplings are made from local wheat, and you can order different tastes, pork, beef, shrimp, vegetable…

After the lunch you will visit the Sun Island-- birthplace of China's snow sculpture art. Every year it attracts snow sculpture masters from all over the world, and it is considered as the World's biggest Ice& Snow Carnival. Huge snow sculptures are given different meaning, and people can enjoy the snow in many different ways, such as snowmobile and snow golf.

When the time comes to around 16:00, the darkness comes, and it's time to explore the colorful lighted Ice and Snow World. Have fun in the ice labyrinth, ice slide and ice castle… you will find everything that you can imagine in a fairyland.

At the end of the tour, you will be driven back to your hotel in Harbin.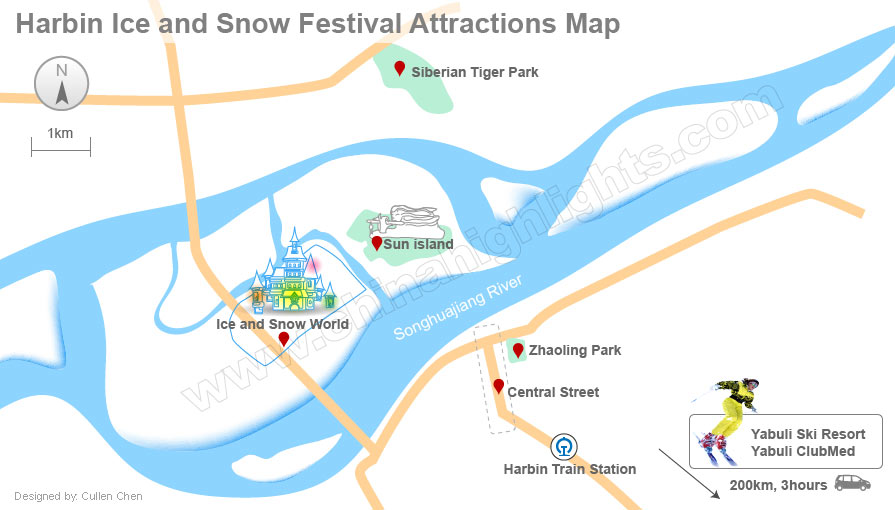 Trip Notes
1. Main attractions of the Ice and Snow Festival and opening time
Ice and Snow World: 24th December, 2018
Sun Island (snow sculptures): 23rd December, 2018
Zhaolin Park (Ice lanterns): 25th December, 2018
Central Street (small snow and ice sculptures): Open all the time, small snow and ice sculptures start to appear in the middle of December, if lucky enough, you will have a chance to see how people make the snow sculptures.
2. What I can do during the middle of December?
Before the official opening time of the Ice and Snow Festival, huge snow and ice sculptures are under building in the middle of December. As the parks are closed, people are unable to see the making process. However there are still other places to see. At the Central Street, you can see how people make snow sculptures if lucky enough. Take the warm shuttle bus in Siberian Tigers Park, you can see Siberian tigers in the outdoor. Enjoy the white whale and sea lion show at the Harbin Polarland, have a skiing day… although the Ice and Snow Festival didn't start yet, you can still have fun in Harbin!
3. Protect your digital products
Batteries are affected easily by low temperature, when playing outside, please put your cell phone and camera in the bag. If you plan to take a lot of pictures, do bring a spare battery as batteries run out quickly in low temperature.
4. Easy planning& special care
We are happy to help you booking your hotels, flights and trains. Our 1 to 1 private travel advisors will give you professional suggestions, you can alter the itinerary, extend or shorten it to suit your price, interest and schedule. If you have any special requirements (Muslim food, vegetarian diet, allergic to...) feel free to tell us, and we are happy to help you arrange with our professional knowledge and experience.
5. Service Guarantee
If our guides vary from our instructions regarding tipping or shopping we will refund the land service cost (excluding hotels, air and train fares, attraction entrance fees and meal costs) for that city immediately.
6. Payment Methods
We now offer 3 payment methods: PayPal, credit card authorization via fax and wire transfer. PayPal is recommended for its safety and efficiency. You can pay USA dollars, Australian dollars, European dollars and Great Britain Pound directly with your credit card or debit card, even if you don't have PayPal account.
7. Train information between Beijing, Harbin and Yabuli
Beijing (Beijing Railway Station) – Harbin (Harbin Railway Station)
Beijing Nan (Beijing South Railway Station) – Harbin Xi (Harbin West Railway Station)
Beijing (Beijing Railway Station) – Harbin Xi (Harbin West Railway Station)
| | | |
| --- | --- | --- |
| Train Number | Departure City to Arrival City | Duration |
| D29 | 06:58 Beijing – 15:20 Harbin | 8h 22m |
| G381 | 07:53 Beijing Nan – 15:01 Harbin Xi | 7h 08m |
| D25 | 10:02 Beijing – 18:04 Harbin Xi | 8h 02m |
| D101 | 13:51 Beijing – 21:37 Harbin Xi | 7h 46m |
| G393 | 15:05 Beijing Nan – 22:12 Harbin Xi | 7h 07m |
| D27 | 15:15 Beijing – 22:58 Harbin Xi | 7h 43m |
Harbin (Harbin Railway Station) – Beijing (Beijing Railway Station)
Harbin Xi (Harbin West Railway Station) – Beijing Nan (Beijing South Railway Station)
Harbin Xi (Harbin West Railway Station) – Beijing (Beijing Railway Station)
| | | |
| --- | --- | --- |
| Train Number | Departure City to Arrival City | Duration |
| D28 | 06:58 Harbin Xi – 14:51 Beijing | 7h 53m |
| G394 | 07:07 Harbin Xi – 14:43 Beijing Nan | 7h 36m |
| D26 | 09:50 Harbin Xi – 17:28 Beijing | 7h 38m |
| D102 | 10:39 Harbin Xi – 18:31 Beijing | 7h 52m |
| D30 | 14:09 Harbin – 22:22 Beijing | 8h 13m |
| G382 | 16:25 Harbin Xi – 23:31 Beijing Nan | 7h 06m |