This tour includes the essential attractions in the three main tourist cities of Yunnan — Kunming, Dali, and Lijiang. You will enjoy the elegant scenery, discover Yunnan's history, and experience the minorities' unique customs. Our no shopping policy ensures you will have a memorable trip in China.
Highlights
Lose your way in the less-visited karst landscape of the Stone Forest
Learn to make famous Yunnan flower cakes in a village of Bai nationality
Hop in a horse-drawn carriage to explore well-preserved Xizhou Ancient town
Take a cable car up to the holy Jade Dragon Snow Mountain
Visit a shaman of Naxi nationalily to discover the mysterious culture
Our Service Included:
Our 1-to-1 expert China consultancy with unlimited itinerary changes
Booking of China internal flights, trains, and cruises, per your preferences
Your own China-Highlights-trained, versatile and knowledgeable tour guide
Your own chauffeured and comfortable vehicle, chosen for ample space
Hand-picking of hotels for your requirements
Hotel breakfasts arranged, and local restaurant lunches ordered, to suit you
Entry to all attractions on your itinerary, with queues avoided wherever possible
Our 24-7 helpline for while you are travelling
Suggested Itinerary
When you walk out of the luggage claim area, you will find your private guide waiting for you outside the gate, holding a welcome sign on which your name is clearly written. A professionally-chauffeured vehicle will transfer you directly to your hotel. Your guide will help you check-in and make sure everything at the hotel is satisfactory. Relax for the rest of the day.
Good to know:
If you arrive early in the morning and have some time to kill, you may consider enriching your day by visiting Yunnan Minority Village, which gives a very quick view of the various minorities in Yunnan and their cultures, costumes, and customs. If you are interested in the history of the American Flying Tigers during World War II, Kunming Museum is recommended.
Accommodation
Kunming New Era Hotel (4-star)/Green Lake Hotel (5-star).
Day 2
Stone Forest and Bullet Train to Dali
After a 1½-hour drive, visit a fantastic natural phenomenon located 90 kilometers southeast of Kunming — the Stone Forest. The various shapes of limestone were formed due to millions of years' movement of the Earth. The Stone Forest area is the home of the Naxi people, and their folk customs have become a spectacular scene. The colorful embroidery and minority dances combined with the natural scenery will surely leave you with a lasting impression. Enjoy a local lunch in a quaint courtyard with the Stone Forest Park in the background.
In the afternoon, transfer back to Kunming to catch the bullet train to Dali
Your guide and driver in Dali will meet you at the exit of the train station and will escort you back to your hotel.
Good to know:
For Chinese tourists, the Stone Forest Park is a must-see attraction; therefore, the countless tourist groups there during the peak season rank among travelers' pet peeves. Due to the gigantic size of the park, your guide will help you find quieter, more remote areas to avoid the crowds, especially in the winter months.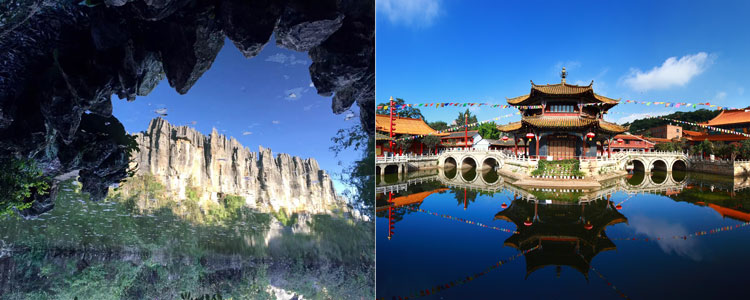 Day 3
Three Pagodas, Xizhou Bai Family Visit, Erhai Lake and Dali Ancient Town Tour
First, Have a stop at the Three Pagodas Park for a landmark photography. Towering aloft in a triangle shape, the Three Pagodas were built more than 1,000 years ago. They show the Bai people's respeciton to the nature.
Continue to a rose garden where you will learn how to make the famous Yunnan flower cake, which is representative of the snacks in Yunnan. Enjoy the cake you have made with a cup of flower tea and see the clouds floating above Cang Mountain.
Have lunch at a popular local restaurant. And then visit the houses of the Bai minority people in Xizhou Village. You will see typical Bai traditions and dresses. Some buildings are old and have typical ancient architectures, and are the 'real local' houses. Then hop in a horse-drawn carriage to enjoy a relaxing tour along the lakeshore of Erhai, which is blessed with a mild climate and stunning scenery.
Drive back to Dali Ancient Town. Your guide will show you around the town and give you some information about some famous buildings. In a quiet corner of the town, you will also find a Chinese-style Catholic church that was built in 1927. Stay overnight in the ancient town and relax.
Accommodation
Gurong Hotel (4-star)/The One Hotels & Resorts(5-star).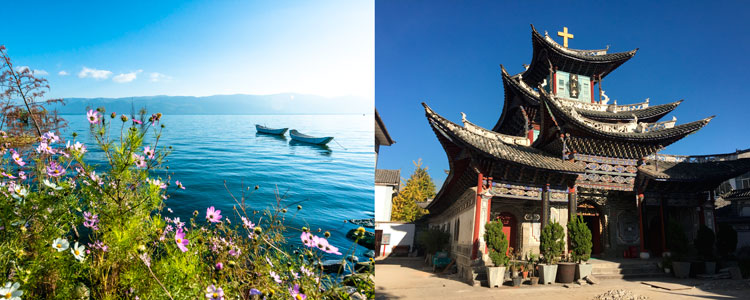 Day 4
Dali to Lijiang Transfer and Lijiang Ancient Town Tour
Your personal guide and driver will transfer you directly from Dali to Lijiang. Enjoy lunch and start the tour in Lijiang. Lijiang Ancient Town is the best-preserved minority ancient city. Most of the people living there belong to the Naxi minority, some of whom still make a living by making handicrafts of silver, leather, textiles, and some local snacks. Enjoy the quaint city scenery and see plenty of handicrafts in a distinctive style only found in this area of China. You can climb up to Lion Hill to have a bird's-eye view of the whole town.
Then pay a visit to the Black Dragon Pool Park, where the view of the Jade Dragon Snow Mountain is one of the most famous postcard-perfect sceneries in southwest China. Stay overnight in Lijiang Ancient Town.
Good to know:
Lijiang Ancient Town attracts more tourists than the Forbidden City in Beijing during peak season. Here are some tips to escape the hordes of tourists:
1. Stay overnight in Lijiang Ancient Town and start early: 80% of the tourists will be in 20% of the places. Get up early and find the best spots with the help of your guide.
2. Stay overnight in Shuhe Ancient Town: 20-minutes away from Lijiang by car, Shuhe ancient town is less touristic and quieter.
Accommodation
Ivy Garden Resort Hotel (4-star)/InterContinental Lijiang Ancient Town Resort (5-star).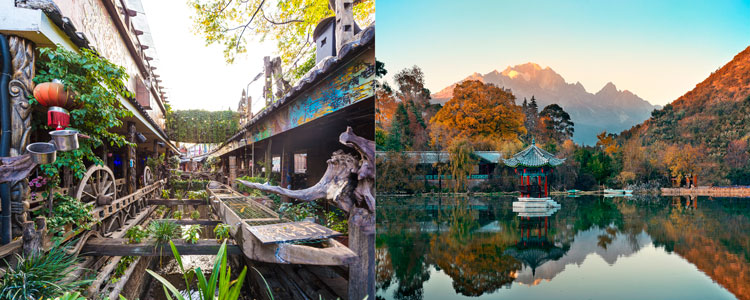 Day 5
Baisha Murals, Naxi Shaman's Family Visit and Jade Dragon Snow Mountain Tour
The Baisha Murals in Baisha Village were painted hundreds of years ago, and the paintings took about 300 years to complete. By appreciating these unique murals, you will learn about the cultures of central China, the Naxi Minority, and Tibet, as well as the stories of Tibetan Buddhism, Confucianism, and Taoism.
You will understand more about the mysterious Naxi culture by visiting a shaman's house in the village. Learn some Naxi characters and enjoy a piece of old Naxi music. You will be impressed by the local people's passion for their culture and homeland.
Enjoy lunch in a local restaurant run by a local Naxi family. You will also have a chance to learn making Naxi pancakes (Naxi baba) for the main dish of your lunch.
The Spruce Meadow is a vast meadow at the foot of the Jade Dragon Snow Mountain, with an altitude of 3,240 meters. Besides appreciating the elegant natural landscapes and view of the Jade Dragon Snow Mountain, you will unlock the romantic legends with the help of your guide. If you are interested in photography, you will find it a perfect destination. After the tour, transfer back to Lijiang for another peaceful night.
Your guide and driver will escort you back to Lijiang Airport to catch your flight and end this colorful tour.
Trip Notes
1. Tour Map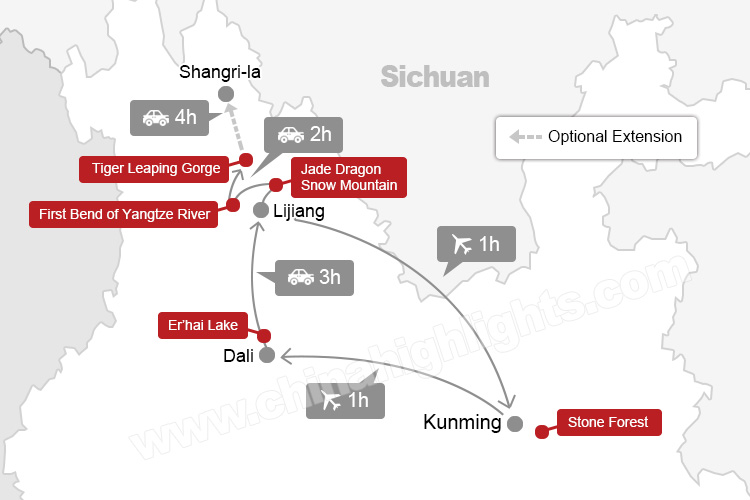 2. Tailoring Your Tour
This tour is very flexible. You can alter the itinerary, and extend or shorten it to suit your price, interest, and schedule. Feel free to tell us your requirements, and we will be happy to help you arrange a tour using our professional knowledge and experience. We promise a "No Shopping Policy".
3. Getting There and Traveling Away
Kunming is a convenient transportation hub. There are domestic flights to most of China's major cities, such as Beijing, Xi'an, Guilin, Chengdu and Shanghai. International routes include flights between Kunming and Hong Kong, Bangkok, Kuala Lumpur, Rangoon and Singapore.
4. Hotel
Hotels with a convenient location, regional features and good reviews are recommended in the itinerary. If you prefer other hotel options (luxury hotels, boutique hotels or economical choices) or would like to book the hotels on your own, please feel free to inform us and we will be happy to adjust the details. Here are some alternatives for your reference:
City
Luxury & Special
Boutique
Economical
Kunming
Silver Chest Hotel
Kunming Quanji Hotel
Dali
The One Resort
Linden Centre in Xizhou
Fairyland Hotel
Lijiang
Indigo® Lijiang Ancient Town
Banyan Tree Lijiang
Manxin Hotels & Resorts
Note: The boutique hostels in Yunnan offer good value for money: a decent environment, local-style decoration, and a convenient location, but most of them only have 10–20 rooms and there may not be any English-speaking staff. Early booking is highly recommended.
5. More Trip Information
Want to learn more about this trip? Please click here to see details about traveling in China, booking, payment and responsible travel.