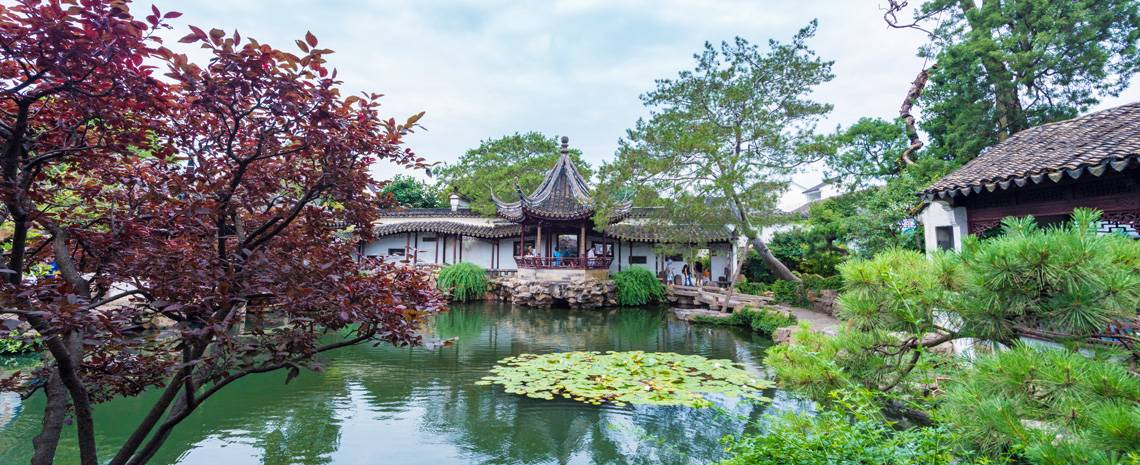 2-Day Essential Suzhou and Tongli Water Town Tour
The world heritage gardens and the nearby water towns are two highlights of Suzhou that should not be missed. This tour offers a great chance to appreciate Suzhou's classical gardens and Tongli water town. Explore the biggest classical garden and the smallest stone bridge. Take a small boat in Tongli for a leisurely trip.
Highlights
Visit one of China's top four gardens—the Humble Administrator's Garden
Appreciate one of the smallest but also one of the most ingenious gardens—the Garden of the Master of Nets
Take a rickshaw ride in Suzhou's alleys and catch a glimpse of local people's lives
Stroll around in Tongli water town and relax on the boat trip there
Our service includes
Our 1-to-1 expert China consultancy with unlimited itinerary changes
Booking of China internal flights, trains, and cruises, per your preferences
Your own China-Highlights-trained, versatile and knowledgeable tour guide
Your own chauffeured and comfortable vehicle, chosen for ample space
Hand-picking of hotels for your requirements
Hotel breakfasts arranged, and local restaurant lunches ordered, to suit you
Entry to all attractions on your itinerary, with queues avoided wherever possible
Our 24-7 helpline for while you are travelling
Price Per Person in US Dollars
| Price in 2018 | 5-star | 4-star |
| --- | --- | --- |
| 2-5 Persons | $419 | $389 |
| 6-9 Persons | $289 | $269 |
Suggested Itinerary
Day 1
Private Transfer from Shanghai to Suzhou, Appreciate Suzhou's Gardens
Meal: lunch
Accommodation in:Pan Pacific Suzhou (5-star)/ Jasmine Holiday Inn (4-star)
Your private guide will be waiting for you at your hotel. Starting from the hotel in Shanghai, you should arrive in Suzhou in about 1.5 hours, via a comfortable non-smoking vehicle.
Note: If you prefer to take a bullet train, we can arrange train tickets.
Enjoy a hassle-free transfer to Suzhou, and start your exploration at the biggest classical garden there, Humble Administrator's Garden. Your guide will help you understand more about the garden, especially its history. See picturesque pools, pavilions, and rocks.
Have lunch at a local Suzhou restaurant. The most famous Suzhou food is Squirrel-Shaped Mandarin Fish. The fish is sweet and sour, cooked in the shape of a squirrel.
The Garden of the Master of Nets is only 1/6 of the size of the Humble Administrator's Garden, but it is the most ingenious classical garden in Suzhou. It also has the smallest stone bridge in Suzhou—only 2 meters long.
Take a rickshaw ride to explore the alleys of Suzhou, where local people live. You will find a hammam (a communal bathhouse), food markets, ancient wells, and stone pagodas, and you'll probably see people washing clothes by the river.
After the trip, we'll take you back to your hotel in Suzhou.
Evening Ideas:
The "Night Garden" in the Garden of the Master of Nets is a good place to enjoy a live traditional Chinese music performance. Ping tan (storytelling and ballad singing in the Suzhou dialect), Kunqu Opera, flute, and Chinese zither are all performed in different halls.
Opening times: mid-March to mid-November, 19:30–22:00

Day 2
Tongli Water Town Leisure Tour
Meals: breakfast & lunch
After a western-style breakfast in the hotel, you will visit Tiger Hill, also known as Surging Sea Hill. It is a large hillock, standing 36 meters high and covering an area of some 14,100 square meters. Going up the hill, you will find a number of historical sites, including some from 2,500 years ago, as old as Suzhou city itself. For bonsai lovers, there is a little bonsai garden on the hill.
We'll then drive 30 minutes to Tongli water town, often praised as the Venice of China. Take a small boat along the canal to see the old town. It's a great place for ancient architecture and traditional culture. Have lunch in a local Tongli restaurant.
After the visit in Tongli, we'll drive you back to your hotel in Shanghai and wave goodbye.
Good to know:
If you are a fan of architecture, you might be interested in the Suzhou Museum, designed by Ieoh Ming Pei, the Chinese American architect who also designed the Louvre Pyramid. The museum is a perfect combination of ancient buildings, modern halls, and classical gardens.

Trip Notes
What's the Best Time to Visit Suzhou?
You can visit Suzhou at any time. Every season has its own peculiar beauty. Beautiful flowers in spring and colorful leaves in autumn make spring and autumn most popular. Avoid Chinese national holidays like May 1st, or the China National Day holiday (Oct. 1st-7th).
Suzhou & Neighbors
Suzhou, Hangzhou and Shanghai are the most famous cities of the Yangtz Delta. The other two places are convenient to reach from Suzhou at a short distance.
Destination
Train Schedule
Duration
What to do
Shanghai
5:00–23:00
146 trains per day
26m–1hour
Add Shanghai before or after the Suzhou tour, and see the essence of Shanghai: Yuyuan Garden, Oriental Pearl TV Tower, Shanghai World Financial Center, and the Bund.
Hangzhou
8:00–19:00
13 trains per day
1hour 26m– 2hours 6m
Extend to Hangzhou to see the beautiful West Lake, experience Grand Canyon culture, and taste Dragon Well (Longjing) tea.
Guiding Service
Your personal tour guide will accompany you throughout the tour, providing guidance and local knowledge. He/she will be ready and willing to help you solve any problems that may arise while on the tour.
More Trip Information
Want to learn more about this trip? Please click here to see details about traveling in China, booking, payment and responsible travel.