This three-day relaxing tour provides an opportunity to see the best sights in and near Xiamen in the shortest amount of time from major cities. Go to Hongkeng tulou clusters to see the earthen buildings and lifestyle of local residents and learn about the tulou culture. Walk around Gulangyu Island to see some nice beaches, European architectural heritages, such as old consulates and churches, and lots of quaint shops. This tour is good for busy people to enjoy a relaxed weekend. See the map guide of transport from China major cities to Xiamen in the Trip Notes below.
Highlights
Visit the World Cultural Heritage earthen building site.
Explore the Garden City of Xiamen.
Wander on Gulangyu to see European architecture, such as various old consulates and churches.
Have a seafood lunch.
What's Included
A round trip ferry ticket of Gulangyu Island
Electromobile's ticket on Gulangyu
Entrance to scenic spots listed in the itinerary
Guiding by experienced English-speaking tour guide
Private transfers between the airport, attractions, and hotel
Lunches
Hotel accommodation with breakfast
Suggested Itinerary
Your knowledgeable guide and driver will meet you outside of the airport or railway station. They will transfer you directly to the hotel in Xiamen. You can have a rest in the hotel or explore on your own. Ask your private guide for tips.
Acommadation
Stay overnight in Xiamen: Days Hotel & Suites Mingfa Xiamen (4-star) / Pan Pacific Xiamen (5-star)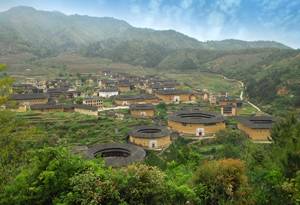 Hongkeng Tulou Clusters
At about 8am, you will be transferred to the Hongkeng Tulou Cluster in Yongding County, escorted by your guide and driver. It takes about three hours. Lunch in Hongkeng.
The Hongkeng Tulou is the most concentrated of all tulou clusters. There you can see about 100 buildings that are round or square. Your guide will explain the reasons why the Hakka people built their apartment buildings like a large fortress. You will also discover the history of the immigration of the Hakka people. It is interesting to know that due to their unique shape like an emerging mushroom, or of a flying saucer, these buildings were even believed by western countries to be China's nuclear reactors in the Cold War (1947–1991).
Hakka people were from the central plain area of China, where is the cradle of Chinese civilization. They value family unity, so Hakka people build their big tulou houses for the whole family living together. They also value Ba Gua which is the most holy culture symbol in ancient China, so Hakka people build tulou based on the complex Ba Gua which guides them in choosing where to build tulou and many other aspects. Ba Gua also affects all Chinese people today on policy, culture, architecture, phylosophy and so on.
After the tulou tour, you will be transferred back to Xiamen.
Acommadation
Stay overnight in Xiamen: Days Hotel & Suites Mingfa Xiamen (4-star) / Pan Pacific Xiamen (5-star)
Day 3
Relax on Gulangyu Island and in Xiamen, and Xiamen Departure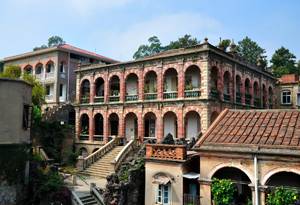 Gulangyu
Your Xiamen discovery will start with a visit to the South Putuo Temple, a temple first built in the Tang Dynasty (618–907). It is famous for its collection of Buddhist cultural relics, such as a Burmese jade carving of Buddha and some important Buddhist texts. Climbing up to the Wulao Peak, you can enjoy the bird's-eye view of Xiamen University and Xiamen Port.
Then, you will head to Gulangyu Island. On your way there, you will stop off to visit the Hulishan Fortress and admire the architecture that mainly integrated the styles of the Ming and Qing dynasties when it was built in 1891. The Hulishan Fortress is famous for having both the biggest and smallest cannons in the world. There are many ancient military facilities and weapons, such as the emplacements, the barracks, the castle, the trenches, double-edged swords, and firelocks.
Have a sea food lunch. Gulangyu Island is filled with colonial architecture. You will take a 10 minutes ferry to the island. It is the trump card of Xiamen and renowned for its beaches, charming colonial buildings, such as various old consulates and churches, and narrow alleys with great snack foods to savor while looking over the sea. All the local deliveries are transported by hand-pulled carts which is a unique sight in China because cars are not allowed on the island. You will visit two attractions on the island: Sunlight Rock Park and Shuzhuang Garden and take electromobiles.
Then, your guide will confirm your return trip and escort you to the airport on time. You will be accompanied to find the correct check-in desk and your guide will make sure that everything goes smoothly before saying goodbye.
Good to know:
1. If you want to spend the night on Gulangyu, you can notice your travel advisor.
2. During the high season, you may have to wait 10 to 20 minutes to board a ferry.
Trip Notes
1. A Map Guide (click to enlarge)
2. Customize Your Tour
This tour is very flexible. You can make any changes to the itinerary according to your requirements and interests.
We are happy to arrange your hotels on Gulangyu Island or in the tulou if you want to stay overnight in those places. The condition of original tulou acommodation is limited. You can also choose to spend nights in star-rated hotel about 20 minutes' drive from tulou.
We can also just arrange hotels and flights for you if you have your own plan.
If you want to see a sunrise or sunset, just inform your trip advisor.
3. Recommended Extension Tour
4-Day Essence of Guangzhou and Shenzhen Tour
You can remove the tour of Shenzhen, and go to Xiamen from Guangzhou, which takes about 90 minutes by air. Alternatively, you can take this four-day tour and go to Xiamen from Shenzhen. The journey takes about four hours by high-speed train and approximately 70 minutes by air.
4. Options to Enrich the Tour
Chengqilou
Located in Gaobei Village, about five kilometers from the Hongkeng Tulou, Chengqilou is the largest earthen building. It is almost 300 years old and is comprised of four concentric circular buildings. This Tulou has 400 rooms altogether and used to house 80 families, totaling more than 600 people in its prosperous days. The locals call Chengqilou the "Tulou King".
Tianluokeng Tulou
Located in Shangban Village, Shuyang Town, the castle - which is composed primarily of four round and one rectangular earthen houses - is one of the most magnificent and well-preserved Hakka castles in the area. The village is also listed as a "Famous Historic Cultural Village of China" for its special culture and architecture.
Taxia Village
Taxia Village is a distinctive Hakka village, located in a valley, in Nanjing County. Built in 1426 in the Ming Dynasty by the Zhang Family, many famous overseas Chinese trace their history to this village. It is listed as one of the 15 most beautiful villages. It consists of more than 40 tulou in different shapes, as well as some diaojiaolou (/dyaoww-jyaoww-loh/ 'hanging corner building(s)', another type of Hakka buildings built on wooden pillars) built along the banks of a clear brook which flows through the village.
From April to November, you can pick tea in local tea plantation. After picking up the leaves, cook the tea leaves under the instruction of the farmer and then take in with you. Also taste the red tea which has already been prepared by the local farmers.
Yunshuiyao Ancient Village
The old name was Changhai and it is a beautiful village with old houses and 1,000-year-old banyan trees. See the most relaxed lifestyle of the local people and the beautiful scenery. Yunshuiyao Ancient Village was used as the location for a famous Chinese movie called "Yunshuiyao". There are two beautiful earthen buildings in the village. One is called Hegui, which is the tallest earthen building in the Nanjing area; the other one is called Huaiyuan, a round earthen building.
Chuxi Tulou Cluster
Chuxi Tulou consists of five traditional round fortified houses as well as several square ones. The mountains create a great backdrop for these intriguing structures. Ask your guide about the building process - ingredients as varied as egg whites and brown sugar were used in the process. A visit to the local primary school during the week is also possible, if you are interested.
Good to know: Chuxi Tulou is less commercialized compared to the other two popular tulou clusters which are more easily accessible from Xiamen. Interestingly, during the Cold War, the CIA in the U.S. mistook the structures for missile silos. There is a viewing platform on a mountain, offering amazing sunrise and sunset shots over the cluster.
5. Payment Methods:
We now offer 3 payment methods: PayPal, credit card authorization via fax and wire transfer. PayPal is recommended for its safety and efficiency. You can pay USA dollars, Australian dollars, European dollars and Great Britain Pound directly with your credit card or debit card, even if you don't have PayPal account.