Xian Discovery with High-Speed Train Experience
3 Days Xi'an Tour from Beijing
Tailor Make Your Tour:
Your Schedule
Your Interests
Your Hotel Tastes
From
US$659 p/p
Based on 2 persons & 4-star hotel
China's high-speed railway network links major cities with fast and comfortable transport. Take this 3-day Xi'an tour with a round-trip high-speed train ride from Beijing, explore China's most famous historical site – the Terracotta Army – and don't miss the other essential attractions in Xi'an. Besides departing from Beijing, this tour can also be arranged with a bullet train from Shanghai or Wuhan.
Tour Highlights
Suggested Itinerary
Day 1
Take a High-Speed Train from Beijing to Xi'an
Your Beijing guide, driver, and private car will pick you up at noon and escort you to the railway station in time to board the train (G87, 14:00–18:25, for reference) heading to Xi'an. It takes no more than 5 hours to complete the distance of 1,200 kilometers on the comfortable train with a speed of over 200 kilometers per hour.
Upon arrival, you will meet your Xi'an guide and be transferred to your hotel.
Accommodation in Xi'an: 4-star: Grand Noble Hotel Xi'an / 5-star: Wyndham Grand Xi'an South
Day 2
Xi'an: The Terracotta Warriors and Big Wild Goose Pagoda
In the morning, you will be picked up from your hotel and taken to see the notable Terracotta Army. They have guarded the tomb of China's first emperor for nearly two millennia, and do not fail to impress even a seasoned traveler.
On returning to the city, you will visit Big Wild Goose Pagoda, which has been a Buddhist pilgrimage site for centuries. It is also the symbol of Xi'an. Climbing up the narrow and steep stairs will unfold the panoramic view of the city before your eyes.
Accommodation in Xi'an: 4-star: Grand Noble Hotel Xi'an / 5-star: Wyndham Grand Xi'an South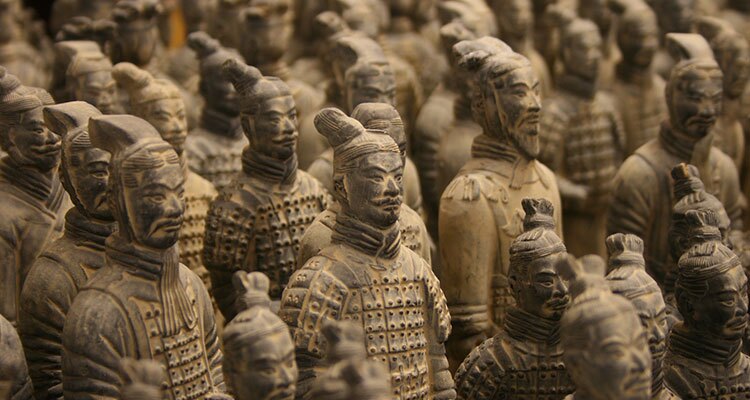 Terra Cotta Warriors
Day 3
Ancient City Wall, the Great Mosque, and the Muslim Quarter; Return to Beijing
The Ancient City Wall separates the city into inner and outer parts, and still stands firm after witnessing thousands of years of history. Riding a bicycle allows you to stretch your legs on a very comfortable ride along a fortification that is as wide as a road. A rickshaw ride is also an option if cycling is not your style.
Not far from there is the Muslim Quarter, a bustling area full of restaurants, stands, and shops. It is a good place to go for food and souvenir hunting. The Great Mosque is nestled deep in the lanes and offers a moment of tranquility. It is a unique blend of Chinese design and Islamic faith.
In the afternoon, you will be escorted to the train station for a high-speed train journey back to Beijing (G666, 16:00–21:31, for reference), where you will be picked up upon arrival and transferred to your hotel.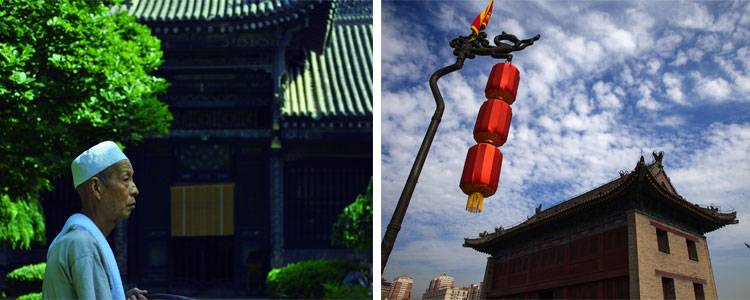 The Great Mosque and the Ancient City Wall
HSR connected with Xi'an
There are frequent bullet trains connecting Xi'an with Shanghai and Wuhan. Shanghai–Xi'an takes about 11 hours for a single trip, and Wuhan–Xi'an takes about 5 hours for a single trip. This tour can also be arranged to depart from Shanghai or Wuhan by bullet train, or any city with transportation to Xi'an.Feel free to tell us your preferences.
Trip Notes
Tips for Riding a Bullet Train in China
Arrive at the correct railway station at least 30 minutes before the departure time. You are required to do a security check before entering the train station, and there's a 5–8 minute walk from the ticket gate to the platform. There may be long stairs and slopes without an escalator, so it is recommended that you pack lightly.
Take some food and drinks for the journey, as they are not very varied and have high prices on the train. A meal box is available on the train.
Keep your train ticket to hand as it might be checked again during the journey and at the train station's exit.
Different Seats on a Train
There are two seats on each side of the aisle in the first class seat car, and three seats on one side and two seats on the other in the second class car. Business class seats are the most luxurious ones on G trains. Read more on China's bullet trains>>
Optional Activities
Option 1: The Tang Dynasty Show, either with or without the inclusion of the Dumpling Banquet, is the most popular show in Xi'an at night.
The ticket price depends on the seating arrangement. Ask your guide to book tickets if you want to see the show
Option 2: Two-Hour Night Excursion, the ancient city has a different appearance at night with colorful lights turned-on. Guide and driver will escort you to the Fountain Square of Wild Goose Pagoda, the South Square with some statue of famous historical characters in Tang Dynasty and then have a stroll around the South Lake.
Option 3: a secret place to have a close experience with a Terracotta Warrior, this is a supplement for visiting to the Terracotta Army Museum where you see warriors in distance. Here only one centimeter's distance. You can't imagine.
Option 4: Exhibition Hall for Mural Paintings of Tang Dynasty, called the Uffizi Gallery of China, is the first exhibition hall in the Shaanxi History Museum dedicated to showing murals of the Tang Dynasty. The museum houses almost 600 murals in 20 tombs such as the tombs of Lishou and Princess Yongtai. It has 97 pieces on show to the public and the contents cover various aspects of daily life in royal families.
Option 5: Xi'an Hui Ling Service Station for Intellectual Disabilities (NGO), if you would like to know about NGO in China, we are happy to arrange a visit there to see their handicraft workshop and have some interaction with them.
It must be clearly understood that enjoying these extras is your own decision. They are not included in the itinerary or tour price, so you will need to pay for them separately. If you need these optional, please ask your guide or travel advisor to add them to your itinerary.
Snacks in Xi'an
Xi'an is a paradise of wheaten food. It is a fun to forage snacks at local food street. Usually we recommend Muslim Quarters that serve more Muslim food and Yongxingfang Food Street where gathers traditional food of Shaanxi Province and it is nearby East Gate of the City Wall.
These snacks are recommended: Shaanxi Sandwich (La Zhi Rou Jia Mo), Cold Noodles (Liang Pi) Dumpling Stuffed with Hot Gravy at Jia Brothers' Restaurant (Jia San Guan Tang Bao) Bread Soaked in Mutton Soup (Yang Rou Pao Mo) Various Noodles.
Our Service Includes:
Our 1-to-1 expert China consultancy with unlimited itinerary changes
Booking of China internal flights, trains, and cruises, per your preferences
Your own China-Highlights-trained, versatile and knowledgeable tour guide 
Your own chauffeured and comfortable vehicle, chosen for ample space
Hand-picking of hotels for your requirements
Hotel breakfasts arranged, and local restaurant lunches ordered, to suit you
Entry to all attractions on your itinerary, with queues avoided wherever possible
Our 24-7 helpline for while you are travelling