This tour combines Xi'an's famous Terracotta Warriors and other essential attractions with a one-day visit to Mt Hua, one of China's most notable and thrilling mountains.
Highlights
Test your courage at narrow plank of Mt Hua, Taoism's sacred mountain
Admire the world wonder of the Terracotta Army
Cycle on the Ancient City Wall to hear history's echo
Explore Chinese Buddhism and ancient architecture at Big Wild Goose Pagoda
Our Service Includes:
Our 1-to-1 expert China consultancy with unlimited itinerary changes
Booking of China internal flights, trains, and cruises, per your preferences
Your own China-Highlights-trained, versatile and knowledgeable tour guide 
Your own chauffeured and comfortable vehicle, chosen for ample space
Hand-picking of hotels for your requirements
Hotel breakfasts arranged, and local restaurant lunches ordered, to suit you
Entry to all attractions on your itinerary, with queues avoided wherever possible
Our 24-7 helpline for while you are travelling
Suggested Itinerary
You will be met by your tour guide at the airport and transferred to your hotel by a private car and driver. Your guide will be happy to give you a general introduction to the ancient city.
Accommodation in Xi'an:
4-star: Grand Noble Hotel Xi'an/ 5-star: Wyndham Grand Xi'an South
Day 2
See Terracotta Warriors
After one hour's drive from the city center, you will arrive at the Terracotta Warriors Museum. Discovered accidentally in 1974, the repairs and excavations still continue in the three pits, where over 7,000 soldiers, horses, chariots, and archers stand in full battle array. There is also a circular-screen short film that describes its historical background and how it was discovered.
Then visit Big Wild Goose Pagoda, the symbol of Xi'an and houses precious Buddhist materials brought back from India after an arduous journey in the 7th century.
Accommodation in Xi'an: 4-star: Grand Noble Hotel Xi'an/ 5-star: Wyndham Grand Xi'an South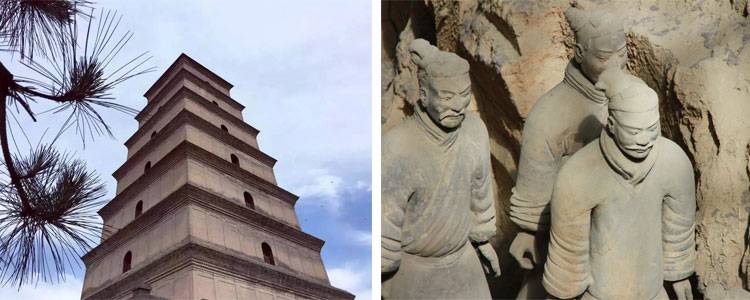 Day 3
Full Day Mt Hua Adventure Tour
After about 2½ hours' drive from the city, you will arrive at Mt Hua, which is one of the Five Great Mountains in China, and was once called the West Mountain in ancient times. It is known for being one of the most precipitous mountains in China, and a variety of temples and other religious structures nestle on its ridges and peaks.
The mountain has five summits: South Peak, which is 2,160.5 meters above sea level, East Peak, which is the best place for watching a sunrise, West Peak or Lotus Flower Peak, North Peak, and Middle Peak. We will arrange a round-trip cable car for you to get up and down the mountain, and enjoy the scenery along the way. Walking on the cliffside narrow plank at South Peak is a challenge for thrill seekers.
Accommodation in Xi'an: 4-star: Grand Noble Hotel Xi'an / 5-star: Wyndham Grand Xi'an South
About the Cable Car on Mount Hua
The cable car on North Peak is 1,550 meters long while the one on West Peak is 4,211 meters in length. We recommend that people suffering from acrophobia do not take the cable car.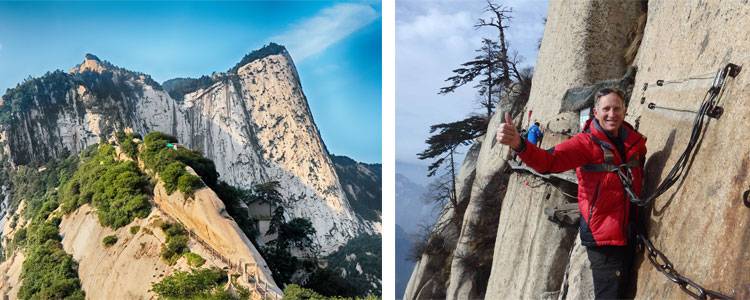 Day 4
Shaanxi History Museum, City Wall Tour, and Xi'an Departure
The history of Shaanxi is said to be the history of China, and this museum is quite simply one of China's biggest and best. Four major galleries in large, Tang-style buildings house a vast and impressive collection of 370,000 items unearthed in the province, including clay figurines, bronze wares, jade articles, currencies, murals, and more.
Stroll along the massive city wall that has been guarding the inner city since the 13th century. The walls, ramparts, gates, and watchtowers form one of the oldest and most complete city defenses in China. If the weather is good, cycling will be incorporated into the visit, and you will enjoy some good views of the city.
As this tour of Xi'an comes to an end, you will be transferred to the airport for your departure flight. Your tour guide will accompany you from the check-in desk to the security gate before waving goodbye.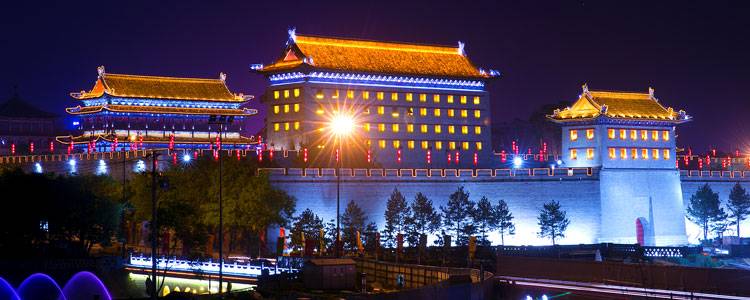 Trip Notes
Trekking Route Map of Mt. Hua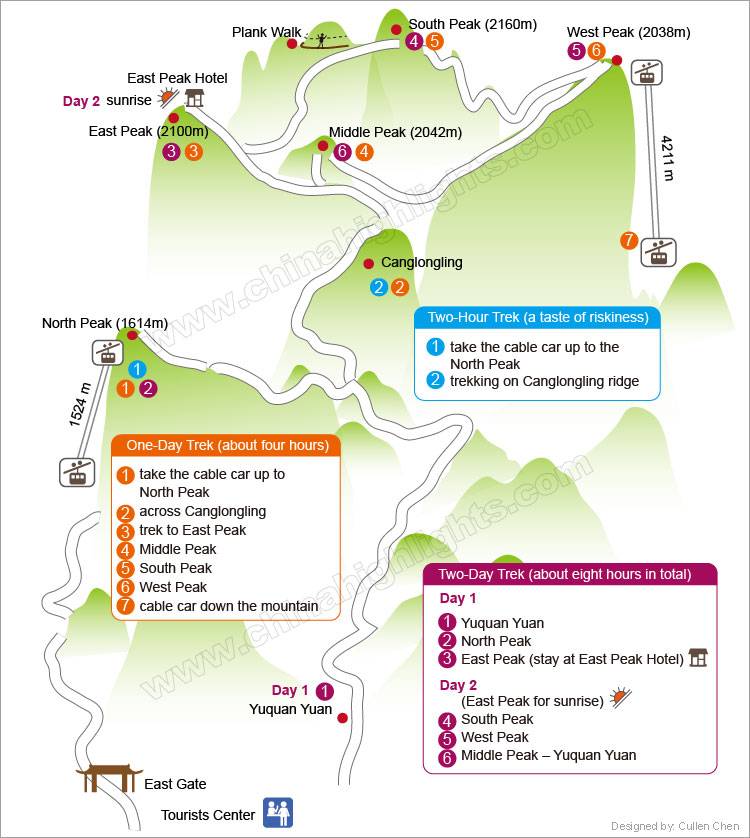 1. Two-Hour Trek
If you prefer to have a taste of riskiness on the mountain, trekking to Canglongling ridge on North Peak is a good choice. Then you can choose to take a cable car down the mountain from either North or West Peak.
2. One-Day Trek
We recommend that customers take the cable car up to North Peak and trek across the ridge. Then trek to East, Middle, and South peaks before descending the mountain by cable car from West Peak. It takes about four hours in total to trek across all the peaks.
3. Two-Day Trek
Day 1: Yuquan Yuan – North Peak – East Peak (stay at East Peak Hotel)
Day 2: East Peak for sunrise – South Peak – West Peak – Middle Peak – Yuquan Yuan
Food and Accommodation on Mt Hua
As with other mountain scenic areas, food and accommodation on Mt Hua are very limited. If you are only on the mountain during the daytime, a basic Chinese lunch is included. If you prefer to have an overnight stay, a hotel with hot water and clean beds can be booked.
Tang Dynasty Cultural Show with or without Dumpling Banquet is the most popular show in Xi'an.
It must be clearly understood that enjoying these extra is your own decision. They are not included in the itinerary or tour price, so you will need to pay separately. The ticket price depends on seating. Ask your guide to book tickets if you want to see any of the following.
More Trip Information
Want to learn more about this trip? Please click here to see details about traveling in China, booking, payment and responsible travel.