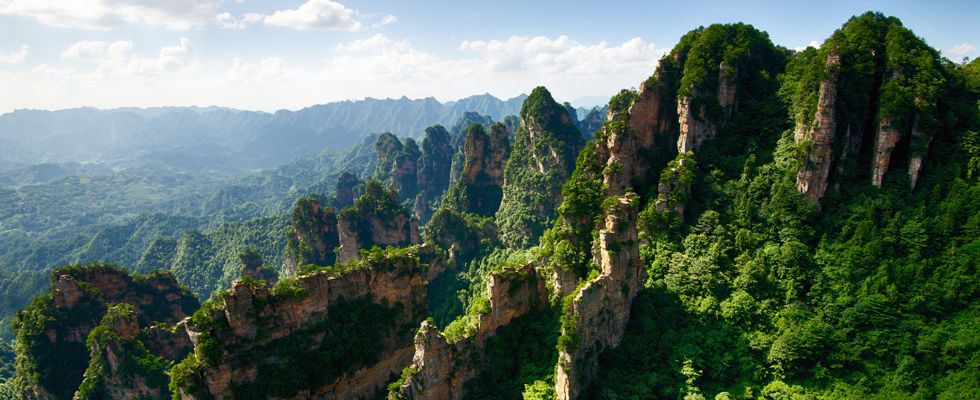 Essence of Zhangjiajie Tour
The Natural Great Wall, Andy Beales
See the most beautiful attractions of Zhangjiajie, featuring pristine natural scenery of grotesque peaks, clear water, and dense forests. Grasp the chance to visit the world's longest and highest glass-bottomed bridge- the Grand Canyon Glass Bridge. We will help you make the best use of your time and energy to see the essence of this World Heritage Site, and see in person why it inspired Avatar's Hallelujah Mountain.
Highlights
Peculiar sandstone peaks - the closest thing on earth to the Hallelujah Mountains
Newly discovered Yangjiajie Scenic Area with a mountain fort
The world's longest cable car to Tianmen mountain top
Glass walkway suspended at 1,430 meters high
Enjoy a relaxing boat ride at crystal-clear Baofeng Lake
Visit the world-record-holding Zhangjiajie Grand Canyon Glass Bridge!
What's Included
Entrance to scenic spots listed in itinerary
Meals mentioned in itinerary
Private transfers between the airport, attractions, and hotels
Private tour guide and driver service throughout the tour
Public shuttle buses in the national park and specified cable cars
Hotel accommodation with breakfast
Price Per Person in US Dollars
| Nov.1 - Mar.31 | 5-star | 4-star |
| --- | --- | --- |
| 2-5 People | $829 | $759 |
| 6-9 People | $639 | $559 |
| Apr.1 - Oct.31 | 5-star | 4-star |
| 2-5 People | $859 | $769 |
| 6-9 People | $669 | $569 |
Note:
1. The above prices are not applicable to weekends and Golden Weeks.
2. The price above is based on the number of adults (age≥12). Cost for Children (age≤11) is the same as adults. Babies and toddlers (under 2 years of age) are free.
Suggested Itinerary
Expand All
Best Western Grand Hotel Zhangjiajie (4-star)/Sunshine Hotel & Resort Zhangjiajie (5-star)
Most flights land in Zhangjiajie in the evening. Upon arrival your local tour guide will meet you at the arrival hall of the airport with a name plate. If you arrive by train, your local tour guide will meet you with a name plate at the exit of the train station.
After meeting your tour guide, he/she will take you by private van and driver to your hotel. Have a good rest and be ready for the next day's adventure!
Good to know
To avoid waiting in long queues, our tour guide will suggest the best time to start the day, and might suggest you get up early or alter your attraction schedule. Please kindly understand and cooperate.

Mountains in Zhangjiajie
Day 2
Zhangjiajie National Forest Park: Yuanjiajie and Tianzi Mountain
Day 3
Grand Canyon with Glass Bridge; Back to the city to visit Baofeng Lake
Day 4
Tianmen Mountain; Zhangjiajie Departure
Our Staff's Feedback after Taking This Tour
I love Yangjiajie Scenic Area the most. It took us one hour climbing to get to the most spot, but it was worth it once we saw the magnificent mountain views. We waited for the sunset on the mountain top, where I took some of the best photo of my life. After 7 pm shuttle buses were not available any more, and our photographer guide was very flexible and contacted some local villagers and chartered a van for us. I got some of my best photo shots there.
- China Highlights Photographer & Webmaster Mercier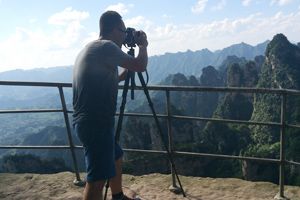 Trip Notes
Expand All
1. Customizing the Tour - according to your needs
This tour is very flexible. You can alter the itinerary, extend or shorten it to suit your price, interest, and schedule.
You can extend it with an extra day to Fenghuang Ancient Town, where the daytime is picturesque and charming, and the night is lively; or with an extra day to the city of Changsha; or add one more day to discover more at the National Park (the entrance ticket is valid three days). If your time is limited, shortening by one day can also be arranged.
For a multi-city tour, we would recommend combining Zhangjiajie with Guilin (mountain and water scenery), Yangtze River cruise (relaxing cruise on the Yangtze River) or Guizhou (ethnic minority villages). Feel free to tell us your interest and idea.
Weekend Travel Idea for EXPATS, business people, etc.
If you live in China and have very limited time, but still want to explore Zhangjiajie, here is a suggested concentrated itinerary:
Friday night: Most flights land in Zhangjiajie in the evening, so you can take an evening flight after work. Cities with direct evening flights to Zhangjiajie: Beijing, Shanghai, Guangzhou, Shenzhen, Guilin, and Kunming.
Saturday: See the highlights of Zhangjiajie: Yuanjiajie and Tianzi Mountain.
Sunday: Tianmen Mountain and Zhangjiajie departure
5. How the Weather Affects the Scenery and What to Bring