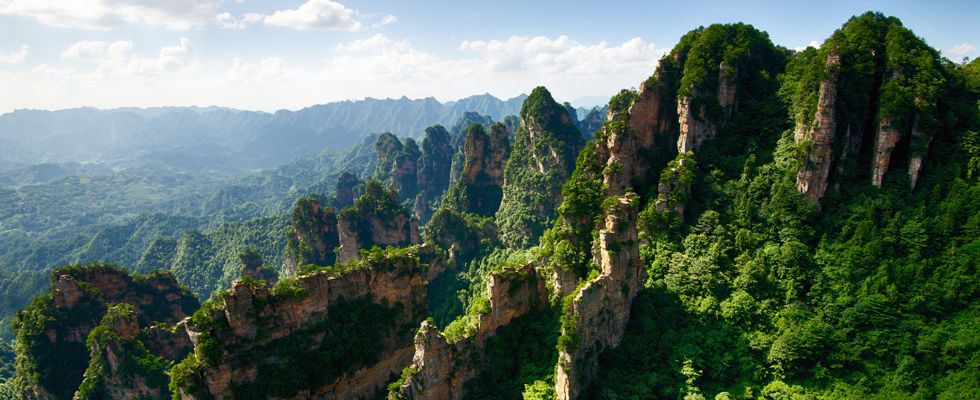 Essence of Zhangjiajie Tour
The Natural Great Wall, Andy Beales
See the most beautiful attractions of Zhangjiajie, featuring pristine natural scenery of grotesque peaks, clear water, and dense forests. Grasp the chance to visit the world's longest and highest glass-bottomed bridge- the Grand Canyon Glass Bridge. We will help you make the best use of your time and energy to see the essence of this World Heritage Site, and see in person why it inspired Avatar's Hallelujah Mountain.
Highlights
Peculiar sandstone peaks - the closest thing on earth to the Hallelujah Mountains
Newly discovered Yangjiajie Scenic Area with a mountain fort
The world's longest cable car to Tianmen mountain top
Glass walkway suspended at 1,430 meters high
Enjoy a relaxing boat ride at crystal-clear Baofeng Lake
Visit the world-record-holding Zhangjiajie Grand Canyon Glass Bridge!
What's Included
Entrance to scenic spots listed in itinerary
Meals mentioned in itinerary
Private transfers between the airport, attractions, and hotels
Private tour guide and driver service throughout the tour
Public shuttle buses in the national park and specified cable cars
Hotel accommodation with breakfast
Price Per Person in US Dollars
| Nov.1 - Mar.31 | 5-star | 4-star |
| --- | --- | --- |
| 2-5 People | $739 | $669 |
| 6-9 People | $569 | $509 |
| Apr.1 - Oct.31 | 5-star | 4-star |
| 2-5 People | $789 | $699 |
| 6-9 People | $619 | $539 |
Note:
1. The above prices are not applicable to weekends and Golden Weeks.
2. The price above is based on the number of adults (age≥12). Cost for Children (age≤11) is the same as adults. Babies and toddlers (under 2 years of age) are free.
Suggested Itinerary
Day 1
Zhangjiajie Arrival
Most flights land in Zhangjiajie in the evening. Upon arrival your local tour guide will meet you at the arrival hall of the airport with a name plate. If you arrive by train, your local tour guide will meet you with a name plate at the exit of the train station.
After meeting your tour guide, he/she will take you by private van and driver to your hotel. Have a good rest and be ready for the next day's adventure!

Best Western Grand Hotel Zhangjiajie (4-star)
Sunshine Hotel & Resort Zhangjiajie (5-star)
Good to know
To avoid waiting in long queues, our tour guide will suggest the best time to start the day, and might suggest you get up early or alter your attraction schedule. Please kindly understand and cooperate.

Day 2
Zhangjiajie National Forest Park: Yuanjiajie and Tianzi Mountain
The tour starts after breakfast at your hotel. Your guide, driver and van will pick you up at your hotel and take you to Wulingyuan Scenic Area, where Zhangjiajie National Forest Park is located, to visit its two most classic and popular attractions.
Take a cable car up Tianzi Mountain, and you will see large areas of grotesque peaks thrusting up below. Walking along the steps spectacular views unfold in front of you from different angles.
Lunch is very simple and Chinese-styled, arranged at a local restaurant on the mountain. There is a McDonald's on the mountain, and if you prefer we can have lunch there, for a good rest indoors with air-conditioning.
In the afternoon, ride a public shuttle bus to Yuanjiajie Scenic Area, whose mountains are said to be the inspiration for Avatar's Hallelujah Mountain. This area is the most visited area due to its fame. It takes about 1 hour to walk the tourist trails, before you take the shuttle bus for the cable car down the mountain.
There is another option for getting down the mountain - Bailong Elevator. This glass elevator was built on the side of a cliff, and it claims to be the world's highest of its kind. It takes only 2 minutes, but at peak times you might need to queue one or two hours to take it. If you are interested in taking the elevator, tell your guide in advance, so that he/she can arrange beforehand to avoid the long queues.
Retire to a hotel near Zhangjiajie National Forest Park, to save time on transportation and avoid morning crowds on day 3.

breakfast, simple lunch on the mountain

Santo Domingo International Hotel Zhangjiajie (4-star)
Pullman Zhangjiajie (5-star)
Good to know
Evening free time recommendation: The Xibu Ancient Streets are a Tujia minority culture and tourist area. They contain a local snack street, a folk culture souvenir street, and a bar street. About 2 km from the hotels area of Zhangjiajie National Forest Park, it is a convenient place to explore in your evening free time. Besides, street barbecues are very popular in Zhangjiajie. Try sitting down and enjoying the barbecue and local beer like a local!
To save your time and energy, we arrange the cable car (or elevator) up and down.

Day 3
Grand Canyon with Glass Bridge; Back to the city to visit Baofeng Lake
Breakfasts offered at the hotels are usually Chinese-style, with not much choice. If you prefer, your guide can pack you some bread, instant coffee, and fruit for an alternative breakfast.
Zhangjiajie Grand Canyon is a recently developed natural wonderland. It incorporates mountains, streams, caves, cliffs and forest. The world's longest & highest glass-bottomed bridge is located in this area. Walking along this glass bridge 300 meters above ground-level will be one of the coolest experiences of your tour!
NB. If you prefer not to walk on the bridge, we'll take another route to visit the area.
Baofeng Lake is in a basin in the middle of this mountainous area. You need to walk about 20 minutes to reach the lake; then you'll enjoy a 30-minute ride in a wooden boat. It is a leisurely experience as you cruise on the clear water, view hills of various shapes, and enjoy the entertainment of local minority people singing their traditional songs.

breakfast, simple lunch on the mountain

Santo Domingo International Hotel Zhangjiajie (4-star)
Pullman Zhangjiajie (5-star)
Good to know
The world's longest and highest glass-bottomed bridge, Zhangjiajie Grand Canyon Glass Bridge, started trial operation on Aug. 20th, 2016. During the trial operation, entrance tickets can only be obtained by reservation, and travel agencies have first priority for ticket purchase. Tickets are limited to 8,000 per day. Book with us as soon as possible and seize the opportunity!

Day 4
Tianmen Mountain; Zhangjiajie Departure
Your heart will beat fast at Tianmen Mountain on the world's longest cable car, the suspended glass walkway almost a mile (1,430 meters) above the ground, and the '99 Bends' mountain road.
Tianmen Mountain is regarded as the 'soul' of Zhangjiajie, its highest mountain. The views include graceful ancient trees, karst hillocks and long roads that are carved from the sides of the cliff. The cable car takes 30 minutes from the city center to the mountain top and is the longest cable in the world.
Tianmen Cave (literally 'Heaven's Gate Hole') is a 30-meter-high hole formed naturally in the mountain like a doorway, well-known for being glided through by a world-class stuntman in a wing suit. To reach the hole, you can climb for about half an hour up the 'Stairway to Heaven'.
After the trip we will send you to the airport and wave goodbye.

Good to know
Tianmen Mountain is adjacent to Zhangjiajie city, so we put it in the last day of the tour, when its convenience for the airport / train station is most useful.

Our Staff's Feedback after Taking This Tour
I love Yangjiajie Scenic Area the most. It took us one hour climbing to get to the most spot, but it was worth it once we saw the magnificent mountain views. We waited for the sunset on the mountain top, where I took some of the best photo of my life. After 7 pm shuttle buses were not available any more, and our photographer guide was very flexible and contacted some local villagers and chartered a van for us. I got some of my best photo shots there.
- China Highlights Photographer & Webmaster Mercier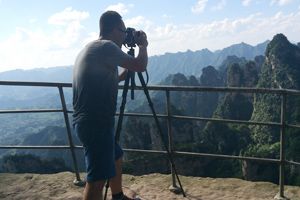 Trip Notes
Expand All
1. Customizing the Tour - according to your needs
This tour is very flexible. You can alter the itinerary, extend or shorten it to suit your price, interest, and schedule.
You can extend it with an extra day to Fenghuang Ancient Town, where the daytime is picturesque and charming, and the night is lively; or with an extra day to the city of Changsha; or add one more day to discover more at the National Park (the entrance ticket is valid three days). If your time is limited, shortening by one day can also be arranged.
For a multi-city tour, we would recommend combining Zhangjiajie with Guilin (mountain and water scenery), Yangtze River cruise (relaxing cruise on the Yangtze River) or Guizhou (ethnic minority villages). Feel free to tell us your interest and idea.
Weekend Travel Idea for EXPATS, business people, etc.
If you live in China and have very limited time, but still want to explore Zhangjiajie, here is a suggested concentrated itinerary:
Friday night: Most flights land in Zhangjiajie in the evening, so you can take an evening flight after work. Cities with direct evening flights to Zhangjiajie: Beijing, Shanghai, Guangzhou, Shenzhen, Guilin, and Kunming.
Saturday: See the highlights of Zhangjiajie: Yuanjiajie and Tianzi Mountain.
Sunday: Tianmen Mountain and Zhangjiajie departure
5. How the Weather Affects the Scenery and What to Bring