The long-awaited glass bridge in Zhangjiajie Grand Canyon was finally opened on Aug. 20th 2016! This one day Glass Bridge day tour gives you a chance to walk on the glass bridge, and it will be one of the coolest experiences of your China tour!
Highlights
Skip the troublesome ticket booking process, we will take care of it!
Enjoy stunning views and endure sweaty palms on the Glass Bridge.
Take a cruise on Baofeng Lake, and enjoy the calm after the terrifying glass bridge.
Schedule for Reference

Note: Cost for Children is the same as adults. Infant (age< 2) free.
Our service includes
Our 1-to-1 expert China consultancy with unlimited itinerary changes
Booking of China internal flights, trains, and cruises, per your preferences
Your own China-Highlights-trained, versatile and knowledgeable tour guide
Your own chauffeured and comfortable vehicle, chosen for ample space
Entry to all attractions on your itinerary, with queues avoided wherever possible
Our 24-7 helpline for while you are travelling
Suggested Itinerary
We'll pick you up in the morning from your hotel, and drive to the Zhangjiajie Grand Canyon Scenic Area. If your hotel is in Zhangjiajie city, it will take 1½ hours to the grand canyon. If your hotel is near the national park, it will take only 30 minutes.
Zhangjiajie Grand Canyon is famous for the Glass Bridge. The bridge stretches between two dramatic cliffs - 380 meters long and 300 meters above the canyon floor. When walking on the bridge you can see all the way down to the bottom of the canyon through the glass bridge.
Your personal tour guide will take photos and video for you, with which you can show off your courage to the whole world!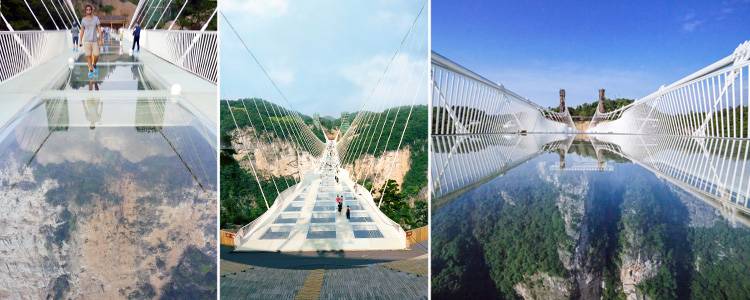 After lunch at a local restaurant, we will drive to Baofeng Lake.
Baofeng Lake is in a basin in the middle of this mountainous area. A shuttle bus will take you from the entrance to the pier.
At the lake we'll take you on a wooden boat for a 30-minute boat ride. It is a leisurely experience as you boat on the clear water, see the hills of various shapes, and enjoy entertainment by the local minority people as they sing their traditional songs.
After the tour we will escort you back to your hotel.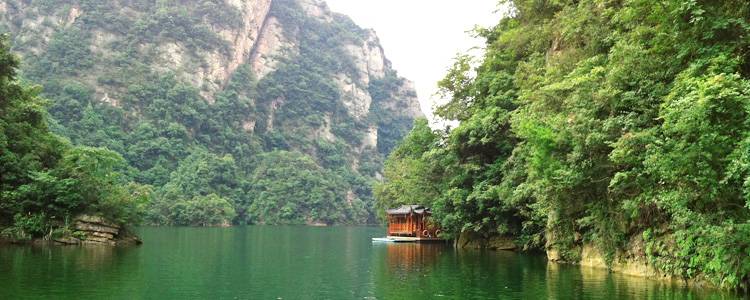 Trip Notes
We Will Take Care of the Tickets Booking!
The glass bridge started a trial operation on August 20, 2016. During its trial operation, no more than 8,000 visitors each day have the opportunity to walk on the bridge. Entrance tickets can only be obtained by reservation.
As tickets are limited, individual booking is extremely unlikely to be successful. We, as a travel agency, have first priority for ticket purchase. We suggest you book this tour at least 10 days in advance.
What to Bear in Mind:
The glass bridge is likely to close in severe weather.
Only a maximum of 600 people are allowed on the bridge at one time.
Visitors can only bring wallets and mobiles with suitable cases on the bridge.
Do not attempt it if you have heart problems, high blood pressure, or a fear of heights.
Don't behave dangerously. Don't run on the bridge, lean over the rail, etc.
Booking Procedure:
Step 1:Select your travel date, number of people, and class of hotel for a quote. Submit your name, email address and phone number.
Step 2:Choose to make payment immediately via PayPal and your request will be listed as our top priority. We guarantee a 100% refund if you are not satisfied.
Step 3:Receive a reply within 24 hours. The tour will be tailor-made to meet your requirements and the booking confirmed.
Step 4: Enjoy the tour!
Payment Methods:
We now offer three payment methods: PayPal, credit card authorization via fax, and wire transfer. PayPal is recommended for its safety and efficiency. You can pay with USA dollars, Australian dollars, European dollars, and British pounds directly with your credit card or debit card if you do not have a PayPal account.
Cancellation Policy:
In the event of cancellation, we will refund any payment made to China Highlights (unless any cancellation fee is applicable) within 14 days of our receipt of your written cancellation request. Visit here for more details.
Customizing the Tour - according to your needs
This tour is very flexible. You can alter the itinerary, extend or shorten it to suit your price, interest, and schedule.
You can extend it with an extra day to Fenghuang Ancient Town, where the daytime is picturesque and charming, and the night is lively; or with an extra day to the city of Changsha; or add one more day to discover more at the National Park (the entrance ticket is valid three days). If your time is limited, shortening by one day can also be arranged.
For a multi-city tour, we would recommend combining Zhangjiajie with Guilin (mountain and water scenery), Yangtze River cruise (relaxing cruise on the Yangtze River) or Guizhou (ethnic minority villages). Feel free to tell us your interest and idea.
Guiding Service
Your personal tour guide will accompany you throughout the tour, providing guidance and local knowledge. He/she will be ready and willing to help you solve any problems that may arise while on the tour.