Quick story of this tour
A newly popular place among photographers around the world, Zhangjiajie's fame has increased with its Hallelujah Mountain, reminiscent of the movie Avatar. Our staff made an inspection trip to Zhangjiajie to discover unique photography tour.
Accompanied by an English-speaking guide and a professional photography guide in Zhangjiajie, you can concentrate on photography and do it in an efficiently way. You will not miss wonderful shoot opportunity.
Highlights
Get the best angles on sights like 'First Bridge in the World'
Photograph wide-angle panoramas at the 'Natural Great Wall'
Visit the famous Hallelujah Mountain
Shoot 'Sky Field Garden' surrounded by precipitous peaks
Professional Photographer Shoot with You
For Top Professional Photographers:

Mingfa Zhou
Mr. Zhou Mingfa has lived in and photographed Zhangjiajie for 18 years. As the top photographer in Zhangjiajie, he was invited to Hong Kong by Hong Kong Tourist Administration to show his photos. His works are published on China National Tourism Administration promotional materials, and his personal photography book "Walk into Zhangjiajie" is published by China Photography Press. He will be happy to communicate with you. Mr. Zhou charges 5,000 RMB per tour (3–5 days).
For Amateurs or Photography Lovers:
We will arrange a photographer of Zhangjiajie Photographer Association. Richly experienced, they take photos in Zhangjiajie frequently. Guides of different levels of experience and expertise are selected based on your requirements. The photography guide service is 200–800 RMB per day: amateur 200 RMB, experienced guide around 400 RMB, and professional photographer 800 RMB.
Our service includes
Our 1-to-1 expert China consultancy with unlimited itinerary changes
Booking of China internal flights, trains, and cruises, per your preferences
Your own China-Highlights-trained, versatile and knowledgeable tour guide and photographer
Your own chauffeured and comfortable vehicle, chosen for ample space
Hand-picking of hotels for your requirements
Hotel breakfasts arranged, and local restaurant lunches ordered, to suit you
Entry to all attractions on your itinerary, with queues avoided wherever possible
Our 24-7 helpline for while you are travelling
Suggested Photography Tours
2-3 days: The Yangjiajie area, the Old House area, the Tianzi Mountain area, and the Yuanjiajie area
4-7 days: The Yangjiajie area, the Old House area, the Tianzi Mountain area, and the Yuanjiajie area, the Gold Whip Steam and Tianmen Mountain
8-10 days: The Yangjiajie area, the Old House area, the Tianzi Mountain area, and the Yuanjiajie area, the Gold Whip Steam, Tianmen Mountain and Fenghuang
What you do will depend on what photos you want to take, and then on the weather conditions when you go, so there is no fixed day-by-day itinerary advertised. Instead we list the attractions according to their different zones within Zhangjiajie National Forest Park for you to select from. Let our travel advisor know what you want to do and we will tailor make your Zhangjiajie photography tour in conjunction with your local guide.
The Yangjiajie Area
Becoming popular, this new area's top viewpoints include Tianbofu and the Natural Great Wall. Narrow and towering natural walls of rock, different from typical Zhangjiajie pillars, are its distinguishing feature.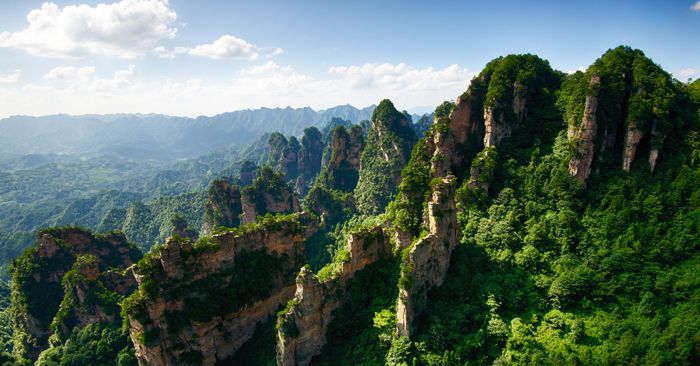 Tianbofu 6:30 pm © Andy Beales
'Old House Area'
Have a short walk to photo 'Spirit Soldiers Meeting' and 'Sky Field Garden'. 'Sky Field Garden' is a rice paddy area, farmed by local people and hanging on an outcrop, surrounded by Zhangjiajie's classic towers.
The Yuanjiajie Area (Afternoon Recommended)
Famous and popular for its Hallelujah Mountain, named after Avatar's floating rocks, pictures of 'First Bridge in the World' from 'Viewing Bridge Platform' (Wangqiaotai) are a bonus. Afternoon is the best time to photograph the Yuanjiajie area. To avoid crowds and a better light, your guide will take you there around 5:00 pm.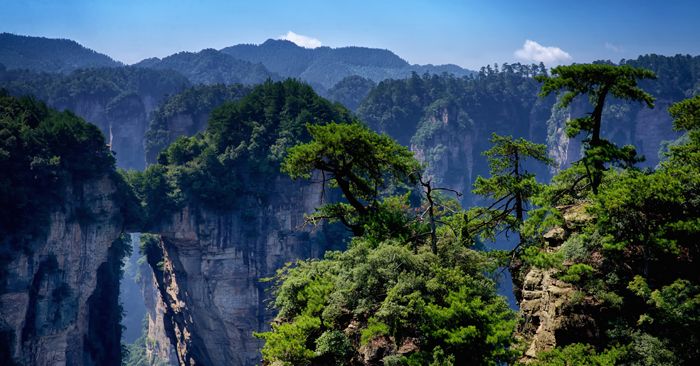 First Bridge in the World 5:38 pm © Andy Beales
The Tianzi Mountain Area for Morning Mists
Tianzi Shan ('Heaven Son Mountain') is a fabulous location for seeing Zhangjiajie pillars among the sea of clouds. A lot of Zhangjiajie photography blockbusters are created there. Get inspired!
Start early to avoid crowds and to catch the morning mists. All the photographic locations are within a short distance. You can stay in McDonald's ("the best restaurant on the mountains"!) to enjoy some coffee or upload your photos when you are free. Enjoy a familiar Western breakfast.
The Emperor's Pens 9:17 am © Andy Beales
Add-On Programs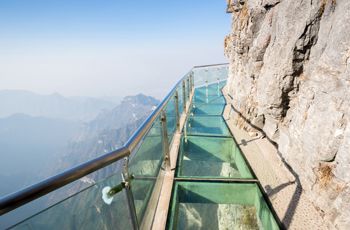 Tianmen Mountain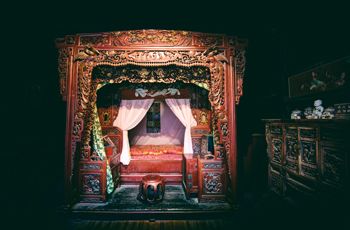 Zhangjiajie Old Courtyard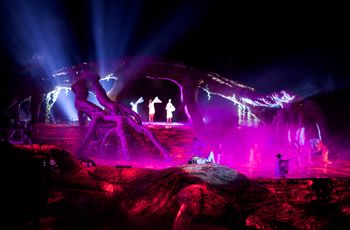 Tianmen Fox Fairy Night Show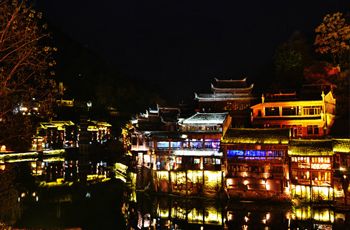 Fenghuang Ancient Town
Trip Notes
The Best Time to Go
Zhangjiajie's classic scenery is pillars in the sea of clouds. The best times for foggy peaks are a day or two after rain in April to June or September to November. July and August have much fewer chances to see the clouds. The phenomen can last 30 to 60 minutes, depending on wind, temperature, etc. May Day and Chinese National Day holidays (the first weeks of May and October) are strongly NOT recommended.
The Weather
The weather plays a very important role in a photography tour. Your guide is flexible, and can make appropriate changes based on the weather, after discussion with you. If you meet some bad weather for photography, your guide will try his best to take you to the place best suited to the weather conditions.
Hotel Conditions
In the mountains of Zhangjiajie are very basic. Usually there is only a simple Chinese breakfast including rice porridge, pickles, and steamed buns. Your guide will prepare instant coffee and some bread. Hotels adjacent to the park in Wulingyuan offer better conditions.
Luggage Transfer
From downtown Zhangjiajie to the national park is 20 RMB per piece of luggage. Transfer to Wulingyuan Town is 30 RMB per piece. If you stay in the city on the first and last days, you can leave your excess luggage in your downtown hotel.
National Park Transport
Free shuttle buses run 8am–5:30pm, and the last paid bus is 7pm. You will need to rent a low-comfort local van for sunrise or sunset trips. We will do our best to arrange the best transport for you.
Meet Top Photographer in Zhangjiajie
Mr. Zhou Mingfa, One of top photographers in Zhangjiajie, lives at Tianzi Mountain area and his family run a shop that sell his photography book and post card. If you are lucky, you may meet him at the shop. It is good to have a chat with him.