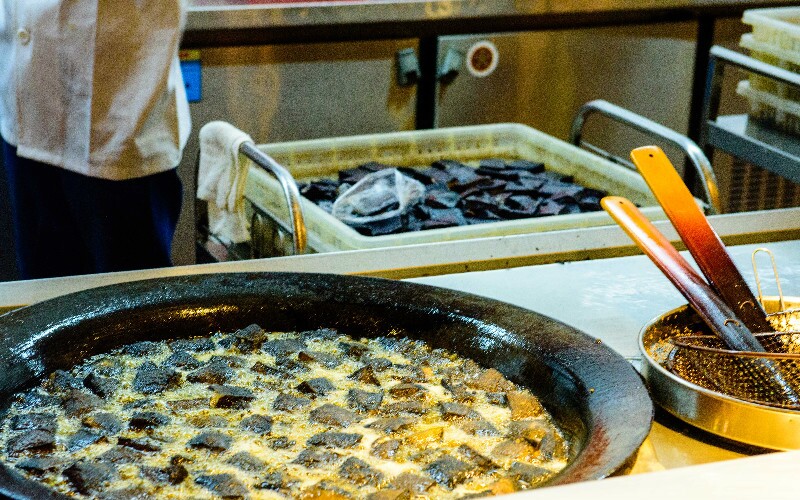 changsha
Changsha Food
Bean Curd with Odor
The best bean curd with odor is at Huogongdian Restaurant, which has been around for one hundred years. In 1958, Chairman Mao had bean curd with odor in Honggongdian Restaurant when he visited Changsha City.
The bean curd with odor in Huogongdian Restaurant contains Liuyang fermented soybeans and bittern, which is made from winter bamboo shoot, dried mushroom, and koji wine. The fried bean curd of odor is crispy on the outside and tender on the inside. It is very delicious with capsicum oil, castor oil, and sauce.
Changsha Maren Crispy Duck
Changsha Maren Crispy Duck is the masterpiece of Shi Yinxiang, the famous chef in Changsha. It is made by frying a fat duck and pouring oil onto the skin until it turns golden in color. Pepper powder and sesame oil are added, and then the duck is cut into pieces, put on a plate, and decorated with head, wings, duck webs, and caraway.
Deyuan Steamed Bun
Deyuan Steamed Bun has thin skin and lots of sweet stuffing made of candy, rose candy, or sweet-scented osmanthus candy. Meat stuffing is made from pork, dried mushrooms, and jelly oil.
Deyuan was built during the Guangxu Period of the Qing Dynasty. It got its name from a passage in the ancient book, The Spring and Autumn with Commentary, "where there is morality; where there is happiness, there is endurance". Originally, Deyuan was a small shop run by a couple; it subsequently changed owners after no great success.
In the beginning of the Republic of China, several unemployed official chefs bough Deyuan and moved it to the crossing of Fangxi Lane, Huangxinglu, and offered customers dishes of the feudal official. There were always some leftovers of seafood and fresh food, so they chopped them up to make stuffing for the buns. To their surprise, the buns with this stuffing were quite popular, and from then on the Deyuan steamed bun became famous.
After the "Wenxi Fire" accident, some of the original chefs rebuilt the restaurant and named it Deyuan Teahouse. It has gradually become well known in Changsha for its "Eight Baozi", which are Rose and Sugar, Dried Mushroom and Pork, Sugar and Salt Vegetable, Crystal Sugar, Sesame, Shrimp and Pork, Seashell and Pork, and Barbecued Pork Baozi.
Liu Defang Tangyuan (Dumpling in Soup)
Liu Defang Tangyuan is a famous snack of Changsha City. It is only sold in Liu Defang Tangyuan Restaurant, which was established during the Daoguang Period (1812-1850) of the Qing Dynasty.
Liu Defang, nicknamed Liu San, was born into a poor family and sold tangyuan to make a living. Given the good materials and a nice taste, his tangyuan became famous. In 1852, Liu Defang went to buy flour and found a sycee in the flour. So he went to buy six bags of flours and got another six sycees. With the silver, he bought a restaurant to sell tangyuan and the restaurant has become very popular.
Kouwei Shrimp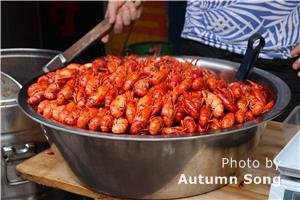 Lobster grows plentifully in the lakes. With pepper, aniseed, fennel, garlic, ginger, and other seasonings, it can be stir-fried with wine until it is done. It looks red and quite delicious, and is very hot. One cannot help eating it again and again.
There are other nice dishes, such as Beef Tripe and Bamboo Shoot Slices, Mushroom in Egg without Yolk, Spicy Little Chicken, Chicken, Dove and Sparrow, Spicy Saizi (deep-fried dough twist), Yang Yuxing Noodle, and Sisters' Tuanzi (Dumpling).
Shop and Snack on Huangxing Road
Shop on one of the inland region's most popular pedestrian streets and eat hot food while you shop. The little Chinese shops give economical prices. The atmosphere is lively, and friendly local people frequent the area.
Snacking: You can snack on Huangxing Jie street. It is the most popular snack street in this city of 6 million. Some of the best include stinky tofu, octopus legs, and peanut snacks. The local food is spicy and hot. Since the city attracts a lot of Chinese tourists, but few foreign tourists as yet, the shopping street/snack street has a economical, tasty, and authentic snacks. It is good Chinese food even in the opinion of Chinese.
Transport: Huangxing Road Pedestrian Street (黄兴路步行街).