Chinese Festivals and Events
The Mid-Autumn Festival in Singapore
As a country composing of mostly Chinese inhabitants, Singapore has long been a place where much importance is attached to the Mid-Autumn Festival. It is a time for people to greet each other and express their gratitude. As friends, relatives, or business partners, they send moon cakes to each other to express their gracious greetings and good wishes.
Traditional Activities
As most of the people in Singapore are of Chinese descent, many customs of the Mid-Autumn Festival are similar to those in China, especially the southeast coastal cities, such as those of Guangdong and Fujian.
1. Hanging Lanterns — a Visual Feast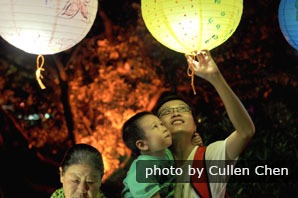 Hanging lanterns
It's a tradition for Singaporean children to hang lanterns during the festival.
Colorful lanterns are put up in many places around Singapore one or two weeks before the Mid-Autumn Festival. The most celebrated lantern fair is held by the Singapore River during the festival.
The themes are often related to mid-autumn traditions. The highlights are a life-size Chang'e and Wu Gang (see Mid-Autumn Legends). As night falls, with all the colorful lights on, Singapore takes on a new look, which is rare in other parts of the world.
2. Sending Colorful Mooncakes — to Say Thank You
The Mid-Autumn Festival is an ideal opportunity to express gratitude by sending mooncakes, especially for office workers, and a piece of well-decorated mooncake is often enough to express one's feelings. Those who are fond of baking at home often bake mooncakes themselves, and send some to their friends, relatives, and colleagues. They are usually much more delicious than the ones sold in stores due to containing more oil and fresher ingredients.
The mooncakes that Singaporeans prefer are different from those consumed in China, though both have many similarities in tradition. Singaporeans like eating durian-filled mooncakes, which are considered the most native mooncakes to Singapore. Most Singaporeans love durians. Durian cakes are another delicious Mid-Autumn Festival snack.
3. Wandering Bazaars — Festive Stalls and Performances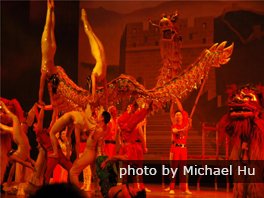 A dragon dance
Every Mid-Autumn Festival's bazaar and carnival are attractive occasions. At night, most of the main streets, especially in Chinatown, will come alive with a plethora of stalls lining the streets and selling a wide variety of items including traditional and modern mooncakes, decorative ornaments, preserved fruits, potted plants, clothing and more.
After dinner, people will take a leisurely stroll under the dazzling lantern displays or participate in the annual Mass Lantern Walk with various lanterns. Along the way are live performances, such as a local dragon dance, and festive songs and dancinge.
New Celebrations
The Chinese have lived in Singapore for over five generations, but the Mid-Autumn Festival customs are different from those in China due to separate development and evolution. To rediscover the origin and history of the Mid-Autumn Festival, the new celebrations are held today to attract more people's interest.
Making Chinese lanterns
1. Lantern Painting Competitions
Lanterns were hand-made in the early days, but are now mass-produced and purchased by parents for their children to save time. Some lanterns are in the shape of animals, and rabbit-shaped ones are the most popular in Singapore. The lanterns on sale in stores are high-quality and of various colors, types, and patterns, including round, square, tall, and short ones.
In recent years, the Lantern Painting Competition has become a new emerging trend in Chinatown, communities, and colleges. The annual Lantern Painting Competition sees participants of different ages gather from all over Singapore to compete for the most creative lantern.
The winning lanterns will be displayed along Pagoda Street until the Mid-Autumn Festival night.
2. Cartoon Theme Show
As the Mid-Autumn Festival draws near, thousands of lanterns are displayed with dozens of themes.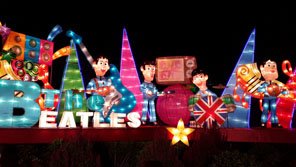 Themes for the Mid-Autumn Festival are becoming more and more rich and colorful to attract more young people. Various kinds of cartoons are shown, including dinosaurs, pandas, sharks, dolphins, and tigers.
Wish-making lanterns are also launched during the festival, attracting more young couples to participate. Lantern riddle-solving is another highlight of the festival, and those who figure out the answers to the riddles are highly rewarded, adding another layer of interest to the festival.
3. Seashore Party
Because of the proximity to the sea, some people will hold a moon-appreciating party on the beach. There are also colorful and dazzling LED lantern displays and mooncakes.
A full moon seemingly pops out from the sea and shines brightly on the water—it's an amazing sight. The bright moon lies behind the people while their families and friends are in front of them.
Related Articles

Chinese Festivals and Events
Tibetan Butter Lamp Festival

Chinese Festivals and Events
Ganden Thangka Festival in 2020

chinese-medicine
Traditional Chinese Medicine