This 3-day tour is a combo of natural scenery and ancient villages. It offers a chance to see the highlights of the Yellow Mountains, featuring imaginatively-named pines, oddly-shaped rocks, and a sea of clouds. A visit to Hongcun and Tunxi Ancient Street will take you back to the Ming and Qing dynasties (1368-1911) as you admire the traditional Hui style houses and ponds. We will make the best use of your time and energy during this magical holiday.
Highlights
Watch the sunset and sunrise from the best positions on the mountains
Explore the magnificent Xihai Grand Canyon
Enjoy an in-depth visit to Hongcun, a dreamy little village with the mountains as its backdrop
Stroll on Tunxi Ancient Street to search and bargain for trinkets
Suggested Itinerary
Expand All
Day 1
Huangshan Arrival, the Hongcun and Tunxi Ancient Street Tour
Lunch
Huangshan International Hotel (4-star)/Huangshan Libre Resorts (5-star)
Via bus, flight or train, no matter how you will travel to Huangshan, your private guide and driver will be ready and waiting for you with a sign of your name, ensuring a comfortable and efficient transfer.
Enjoy an authentic Hui style lunch in a local restaurant, you will continue on to one of China's most beautiful ancient villages -Hongcun Village, a charming ancient village with a history of over 800 years. The village will show you the original Hui style architecture (a type of traditional Chinese architecture).
After that you will be transferred to Tunxi Ancient Street (about one hour's drive). There you can enjoy a leisurely walk among the ancient buildings and look around to search for a bargain.
Good to know
Transportations between Shanghai/Hangzhou and Huangshan are not included:
Shanghai-Huangshan: There is usually only one flight between Shanghai and Huangshan every day. High-speed trains taking about 5 hours are recommended.
Hangzhou-Huangshan: High-speed trains between Hangzhou and Huangshan takes about 3½ hours, and express buses takes about 3 hours. Please inform which one you prefer.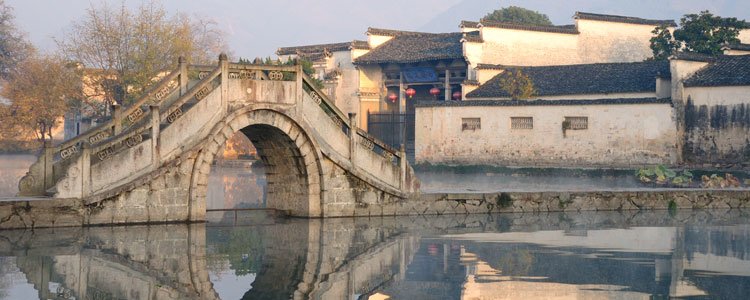 Hongcun Ancient Village
Day 2
The Yellow Mountains Tour
Trip Notes
1. Trekking Map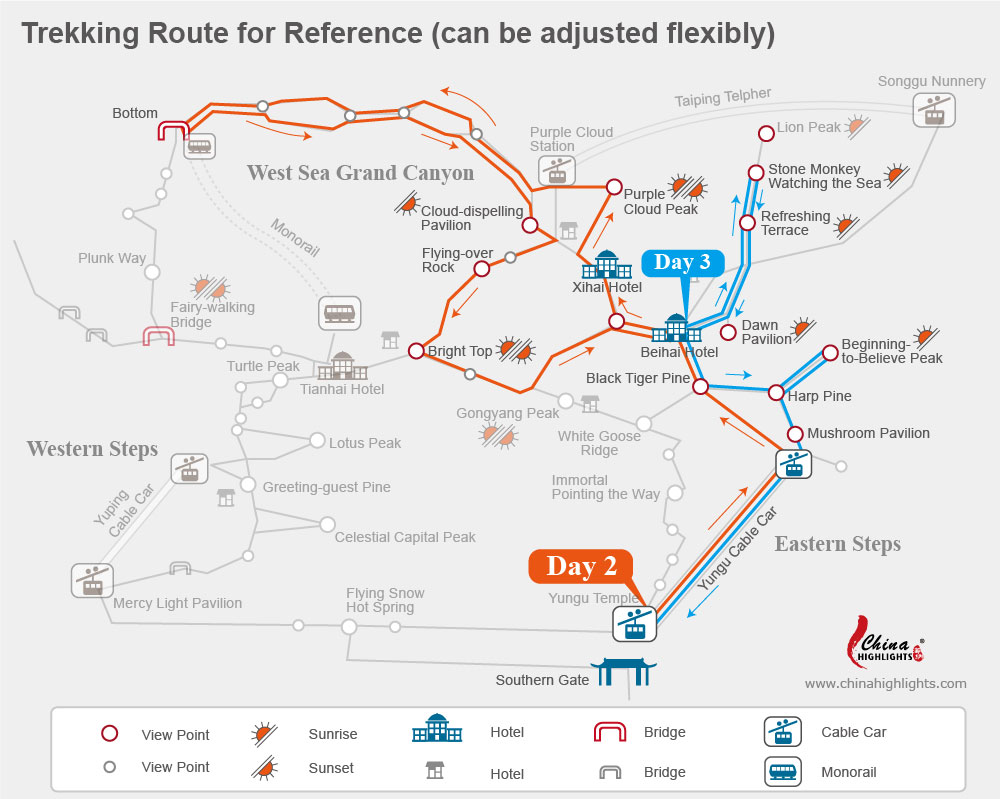 Our service includes
Our 1-to-1 expert China consultancy with unlimited itinerary changes
Booking of China internal flights, trains, and cruises, per your preferences
Your own China-Highlights-trained, versatile and knowledgeable tour guide
Your own chauffeured and comfortable vehicle, chosen for ample space
Hand-picking of hotels for your requirements
Hotel breakfasts arranged, and local restaurant lunches ordered, to suit you
Entry to all attractions on your itinerary, with queues avoided wherever possible
Our 24-7 helpline for while you are travelling
Note:
The above prices are not applicable to weekends and National Holidays.