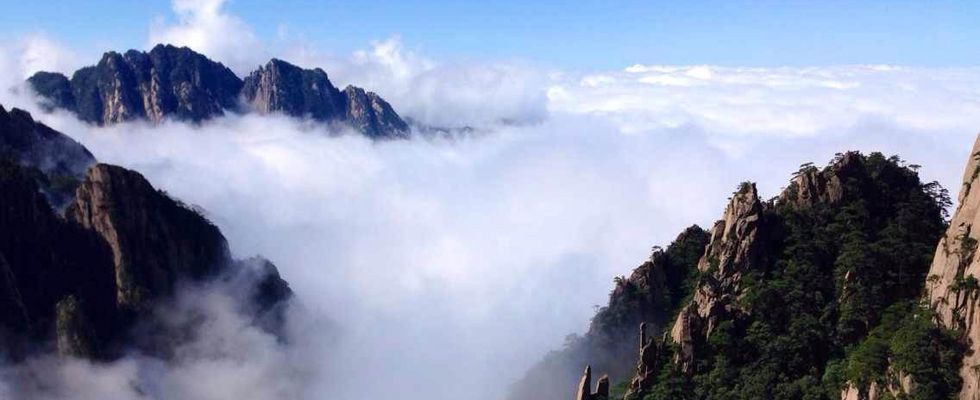 Escape to Huangshan from Shanghai or Hangzhou 
From: $739
Photography
Nature
Hiking
Culture
The Villages around the Yellow Mountains were considered to be the Arcadia in ancient China. This 4-day natural and relaxing tour allows you to walk or bike relaxingly among ancient villages, stay one night on the mountain, see the much-sought-after scenery and indulge yourself in the hot springs to finish off your tour with some relaxation.
Highlights
One quiet night in an ancient village to find the spirit of old China
Walk along the Xidi-Hongcun Ancient Pathway to listen to the sound of nature
Stay overnight on the mountains and enjoy a room with a mountain view
Watch the sunset and sunrise from the best locations on the mountains
Relax and feel refreshed in the Huangshan Hot Spring
What's Included
Entrance to scenic spots listed in the itinerary
Private English-speaking guide and driver service throughout the tour
Private transfers between the airport/train/bus station, attractions, and hotels
Public shuttle buses in the mountains and a specified cable car
Hotel accommodation with breakfast
Lunches mentioned in itinerary
Price Per Person in US Dollars
| Nov.1 - Mar.31 | 5-star | 4-star |
| --- | --- | --- |
| 2-5 People | $799 | $739 |
| 6-9 People | $619 | $569 |
| Apr.1 - Oct.31 | | |
| 2-5 People | $839 | $779 |
| 6-9 People | $639 | $589 |
Suggested Itinerary
Day 1
Arrival in Huangshan
Via bus, flight or train, no matter how you will travel to Huangshan, your private guide and driver will be ready and waiting for you with a sign of your name, ensuring a comfortable and efficient transfer to your hotel.
Good to know:
1. Transportations between Shanghai/Hangzhou and Huangshan are not included:
Shanghai-Huangshan: There is usually only one flight between Shanghai and Huangshan every day. High-speed trains taking about 5 hours are recommended.
Hangzhou-Huangshan: High-speed trains between Hangzhou and Huangshan takes over 3½ hours, so express buses taking 3 hours are recommended. If you like, we can check the best-possible price and book the flights, trains or bus for you. Please inform which one you prefer.
2. A transfer to Shanghai Hongqiao Airport is not included in Shanghai. We are happy to add a private transfer service to make your trip easier. The additional cost is as below (based on your hotel/address locating in downtown Shanghai):
2–5 people: $28 per person per transfer
6–9 people: $15 per person per transfer
Accommodation
One night in Tunxi: Huangshan International Hotel (4-star)/Crowne Plaza Huangshan Yucheng (5-star)
Day 2
Discover Hongcun Ancient Village and Explore along the Xidi-Hongcun Ancient Pathway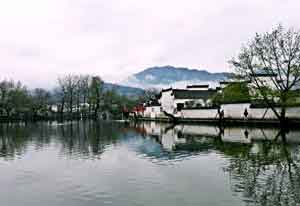 Hongcun Village
After finishing your breakfast at the hotel, you will commence your tour to Hongcun Ancient Village, a charming ancient village with a history of over 800 years. The village will show you the original Hui style architecture (a type of traditional Chinese architecture).
Lunch will be at a local restaurant to give you a chance to taste authentic Anhui dishes. Then you will be ready to hike along the Xidi-Hongcun Ancient Pathway. This newly developed hiking route has not discovered by tour groups, so it's the best place to avoid the touristy crowds and breathe fresh air. With a length of 8 kilometers (5 miles), this 3-hour route allows you to hike through the most rural areas to see quiet villages, paddy fields, mulberry fields, tea plantations, and bamboo forests.
After the hiking, your guide and driver will escort you to the unique Pig's Inn in Bishan Village. With farming fields surrounding, nicely decorated rooms, small but historical garden, friendly staff and relaxing atmosphere, Pig's Inn is a home away from home. You can rent the bicycle at the inn to explore the rural village around, which will be a chance to see the local flora and fauna. The village has a fantastic bookshop with coffee shop where local youth comes to chat and drink coffee. It's a peaceful place to forget about the outside world.
Accommodation
One night: Pig's Inn in Bishan Village
Day 3
The Yellow Mountains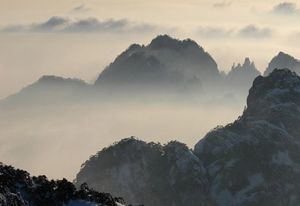 The Sea of Clouds
You will spend a day and a night on the Yellow Mountains. It takes about one hour from central Huangshan City to reach the foot of the Yellow Mountains. Your appreciation of the graceful Yellow Mountains begins with the Yungu cable car (a round-trip cable car is included). Don't miss the magnificent scenery along your 10-minute journey.
Your guide, who spends over 200 days on the mountains every year, will customize the route for you.
For an energetic hiker in good shape: Descend the cable car, walk for about 30 minutes via mostly down stairs to arrive at the hotel, and see Umbrella Pine and Black Tiger Pine along the way. After buffet lunch at the hotel, explore the West Sea Grand Canyon. The whole hiking trip lasts for over three hours, covering the 1st ring, 2nd ring, and bottom of the canyon. If time and strength permit, you can further explore the Flying-over Rock and watch the sunset at Bright Top. It takes about 40 minutes to get from Bright Top back to the hotel.
For beginners, children, and senior citizens: Get off the cable car, walk for about 30 minutes to the hotel, and see Black Tiger Pine and Dream Flower Pine on the way. After buffet lunch at the hotel, walk to West Sea Grand Canyon. You can decide how long you would like to walk for: reaching the 1st ring and returning takes about two hours; reaching the 2nd ring and returning takes about 2½ hours. Then enjoy the sunset at Cloud-dispelling Pavilion. It takes about 30 minutes to get back to the hotel.
Good to know:
Travel light! Please take a small bag or backpack for your overnight stay on the mountain. Your guide will assist you to store big suitcase in your hotel in Tunxi for free. You can collect it on your way back. You can also store the luggage at the foot of the mountains. The cost is about CNY20 (US$4) for each piece.
Short Cut. From the Cloud-dispelling Pavilion to the button of West Sea Crand Canyon, it's down stairs all the way and some sections are very narrow and steep. Therefore, trekking in the West Sea Grand Canyon can be a big challenge, especially to your knees. A monorail is available to help you save time and strength. It runs between the bottom of the Canyon and the main peak area, which is about 300 meters (0.2 miles) from the Baiyun Hotel. The 893 meters (0.6 miles) takes less than five minutes and the cost is CNY80 (US$13) per person.
Accommodation
One night on the mountain: Beihai Hotel (4-star)/Xihai Hotel — South Wing/New Wing (5-star).
Day 4
Huangshan Hot Spring and Huangshan Departure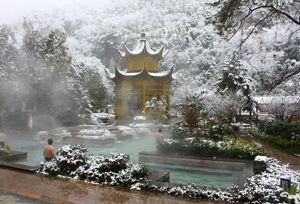 Huangshan Hot Spring
You will need to be an early bird to see the sunrise. Refreshing Terrace is a recommended spot. Your guide will tell you when and where to go, and offer local insider tips. After enjoying the sunrise, you will go back to your hotel and have breakfast. Then you will continue to take in more Yellow Mountain wonders, Lion Peak, Dawn Pavilion, Stone Monkey Watching the Sea, and all shapes of pines along the route. You can also climb up to Beginning-to-Believe Peak and explore Mushroom Pavilion. After a buffet lunch on the mountain, you will walk to Yungu cable car station and descend.
Huangshan Hot Spring is at the foot of the Yellow Mountains. There are various pools with different scents and healing properties: rose, lavender, jasmine and coffee, among others. It's a perfect way to refresh and recover after hiking on the mountains.
Then you will be transferred to Tunxi Ancient Street (about one hour's drive). There you can enjoy a leisurely walk among the ancient buildings and look around to grab a bargain.
Two hours before your boarding time, sit back and relax as your private driver and guide get you to the airport. They will take you right to check-in and say goodbye at the security gate.
GOOD TO KNOW
At the Hot Spring, you will be supplied with towels, shower gel, shampoo, hair dryers, brushes, flip flops, and lockers at the hot spring. All you need to bring is your swimsuit.
Trip Notes
1. Trekking Map (click to enlarge)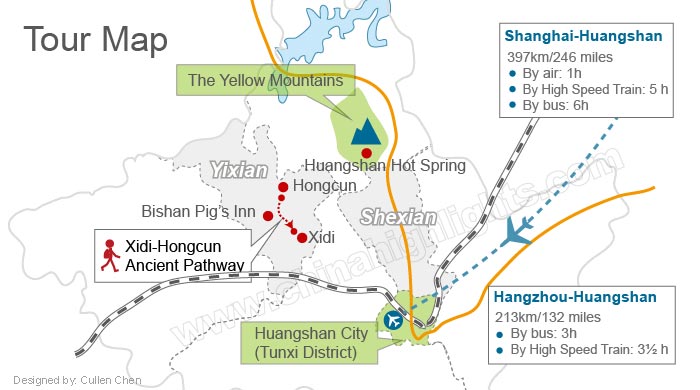 2. Tailoring Your Tour
This tour is very flexible. You can alter the itinerary, extend or shorten it to suit your price, interest, and schedule. If you would like to book the hotels on your own, we can remove the hotel cost from quotation. Please inform your travel advisor about your preference.
Extend to Shanghai (1-2 days)
Add Shanghai before or after the Huangshan tour, you can enrich your itinerary with the following must-see highlights: Yuyuan Garden, Oriental Pearl TV Tower, Shanghai World Financial Center, the Bund and Zhujiajiao Water Town.
Extend to Hangzhou (1-3 days)
Hangzhou is easily reached from Huangshan by bus in three hours. Extend the trip in Hangzhou to add a romantic touch to your tour: enjoy biking along the bank of West Lake, strolling in Lingyin Temple, tea tasting in the tea plantation, and boat riding in Xitang Ancient Water Town.
Extend to Wuyishan (1-3 days)
The Wuyishan (Wuyi Mountain) in Fujian Province is famous for its Danxia landform, towering mountains and winding water. It takes only about 80 minutes from Huangshan to Wuyishan by high speed train. From Wuyishan, you can further explore Xiamen and unique Tulou (Hakka Earthen Building).
Extend to Wuyuan (1 day)
Wuyuan is considered to be the most picturesque village of China. There you could capture the well-protected ancient villages of the Ming (1368–1644) and Qing (1636–1911) Dynasties and the pastoral landscape. Spring is the most pleasant time, especially in March and April.
Extend to Jingdezhen (1 day)
Jingdezhen is the world renowned Porcelain Capital. You can explore China's porcelain culture and make an artwork of your own.
Feel free to tell us your requirements and interests, and we will be happy to help you arrange your trip using our professional knowledge and experience.
3. Reminder:
West Grand Sea Canyon, Celestial Capital Peak and Lotus Peak usually close from December to March of the following year due to the snowy weather. Guide will adjust the itinerary to cover other highlights to make most of your time.
4. More Trip Information
Want to learn more about this trip? Please click here to see details about traveling in China, booking, payment and responsible travel.