Kunming is highly praised as "the spring city", due to its comfortable weather all year round. This tour will allow you to discover the most popular attractions in Kunming, including historical sites and unique natural scenery at the Naigu Stone Forest. Our "no shopping" policy ensures you will have a memorable trip in China.
Highlights
Be amazed at the magical landscape of the Stone Forest
Visit the largest Buddhist complex in Kunming — the Yuantong Temple
Discover the secrets in the Taoist Grottoes at the Dragon Gate
Experience the local people's lifestyle in the Zhuanxin Market
Our Service Included:
Our 1-to-1 expert China consultancy with unlimited itinerary changes
Booking of China internal flights, trains, and cruises, per your preferences
Your own China-Highlights-trained, versatile and knowledgeable tour guide
Your own chauffeured and comfortable vehicle, chosen for ample space
Hand-picking of hotels for your requirements
Hotel breakfasts arranged, and local restaurant lunches ordered, to suit you
Entry to all attractions on your itinerary, with queues avoided wherever possible
Our 24-7 helpline for while you are travelling
Suggested Itinerary
Your private guide will pick you up outside the luggage claim area and transfer you to your hotel in a professionally-chauffeured vehicle. The rest of the day is for you to acclimatize and explore the city, or relax and recoup ready for the tour tomorrow.
Good to know:
If you arrive early in the morning and have some time to kill, you may consider enriching your day by visiting Yunnan Minority Village, which gives a very quick view of the various minorities in Yunnan and their cultures, costumes, and customs. If you are interested in the history of the American Flying Tigers during World War II, Kunming Museum is recommended.
Accommodation
Kunming New Era Hotel (4-star)/Green Lake Hotel (5-star).
Day 2
Stone Forest and Yuantong Temple Tour
After a 1½-hour drive, visit a fantastic natural phenomenon located 90 kilometers southeast of Kunming — the Stone Forest. The various shapes of limestone were formed due to millions of years' movement of the Earth. The Stone Forest area is the home of the Naxi people, and their folk customs have become a spectacular scene. The colorful embroidery and minority dances combined with the natural scenery will surely leave you with a lasting impression. Enjoy a local lunch in a quaint courtyard with the Stone Forest Park in the background.
In the afternoon, transfer back to Kunming and visit the Yuantong Temple, the largest and most ancient Buddhist temple in Kunming, to learn about the differences between the halls of the three denominations of Buddhism.
And then visit the Green Lake Park. The most interesting thing in the park is some local people dance together, wearing their traditional dress and some gentlemen play traditional instruments. You are welcome to join them.
After the tour, your guide and driver will escort you back to your hotel for a good rest.
Good to know:
For Chinese tourists, the Stone Forest Park is a must-see attraction; therefore, the countless tourist groups there during the peak season rank among travelers' pet peeves. Due to the gigantic size of the park, your guide will help you find quieter, more remote areas to avoid the crowds, especially in the winter months.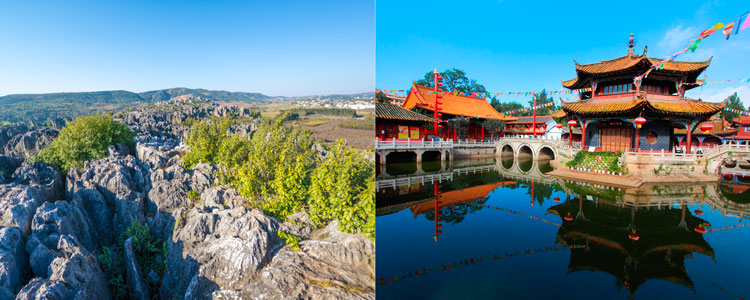 Day 3
The Dragon Gate on Xishan and Kunming Departure
Follow the saying and walk pass the Dragon Gate on Xishan (Western Hills) to get prosperity in the future. You will have a bird's-eye view of the Dianchi Lake and appreciate the groups of Taoist sculptures in the grottoes on the cliff in this scenic area.
Have a lunch in a Cross-bridge rice noodle restaurant to try the famous troditional local food in Yunnan province.
Visit the Zhuanxin Wet Market, which is the most traditional and famous wet market in Kunming. Local people can buy everything they need for their daily lives there. It is also a great place to try local snacks and discover the minority culture. Your guide will show you around and explain some special ingredients that are only produced in Yunnan, such as the mushrooms you'll find there. You might find some vendors in their traditional dress.
Sit back and relax as your guide will already have called to confirm your next journey. You will be transferred to your station or the airport in advance.
Good to know:
Round-trip shuttle buses between Xianshan Entrance and Dragon Gate Entrance are included (20 minutes each way). If you would like to save time and energy, you can choose to take chairlift up to the mountain top (20-30 minutes) and walk down the Dragon Gate Plank way (1-2 hours).
Trip Notes
1. Tailoring Your Tour
This tour is very flexible. You can alter the itinerary, and extend or shorten it to suit your price, interest, and schedule. Feel free to tell us your requirements, and we will be happy to help you arrange a tour using our professional knowledge and experience. We promise a "No Shopping Policy".
2. Optional Extension
Jiuxiang Cave
If you are interested in seeing the karst caves, Jiuxiang Cave is recommended after your visit to the Stone Forest and it takes approximately one hour to get there. There are more than 100 karst caves in Jiuxiang scenic area and it is the largest cave group system in China. Climbing up the 336 steps that lead to the Bat Cave could be a challenge for seniors. Please inform your trip advisor about your preferences.
Show and Entertainment
Dynamic Yunnan in Kunming is a large-scale song and dance performance featuring the remarkable and diverse local ethnic culture. It is another masterpiece from the famous Chinese dancer Yangliping who directs and heads the cast.
It is recommended to book with your guide a day before, or on the day, to allow flexibility.
3. Getting There and Traveling Away
Kunming is a convenient transportation hub. There are domestic flights to most of China's major cities, such as Beijing, Xi'an, Guilin, Chengdu and Shanghai. International routes include flights between Kunming and Hong Kong, Bangkok, Kuala Lumpur, Rangoon and Singapore.
4. Hotel
Standard hotels with a convenient location and good reviews are recommended in the itinerary. If you prefer other hotel options (luxury hotels, boutique hotels, economical choices) or would like to book the hotels on your own, please feel free to inform us and we will be happy to adjust the details.
5. More Trip Information
Want to learn more about this trip? Please click here to see details about traveling in China, booking, payment and responsible travel.