Tour experiences are diverse through this 3-day tour, from ancient towns to minority cultures, from snowcapped mountains to mysterious murals. Discover the best of Lijiang in our time-smart Essence Tour.
Highlights
Capture a postcard-perfect photo at the Black Dragon Pool Park
Look into the former residence of a Naxi chieftain — Mufu Mansion
Stroll through the Lijiang ancient town and bargain for trinkets
Discover the mysterious Naxi culture by visiting a shaman's house
Take a cable car up to the holy Jade Dragon Snow Mountain
Learn to make Naxi pancakes from a Naxi lady in Baisha village
What's Included
Entrance to the attractions listed in the itinerary
Meals mentioned in the itinerary
Private transfers between the airport, attractions, and hotels
Private local English-speaking tour guide and driver service (except for voluntary tips)
Hotel accommodation with breakfast and service fee
Specified round-trip cable car at the Jade Dragon Snow Mountain
Suggested Itinerary
Day 1
Lijiang Arrival and Ancient Town Sightseeing
Your private tour guide, driver, and car will be waiting at the arrival hall. Transfer to your hotel in the ancient town and start the tour.
As a UNESCO World Heritage Site, Lijiang Ancient Town's history dates back to over 800 years ago. Besides its unique architecture and local ethnic culture, it is also known for its orderly arrangement of bridges and waterways. Walk along the winding cobbled paths — it is said that you won't get lost as long as you follow the water.
Appreciate the Naxi people's brilliant skills in architecture and fine arts at Mufu Mansion, the 'Forbidden City' of Lijiang. You can also climb up to Lion Hill to have a bird's-eye view of the whole town.
Then pay a visit to Black Dragon Pool Park, where the view of the Jade Dragon Snow Mountain is one the most famous postcard-perfect sceneries in southwest China. Stay overnight in Lijiang Ancient Town.
Accommodation
Ivy Garden Resort Hotel (4-star)/Intercontinental Lijiang Ancient Town Resort (5-star).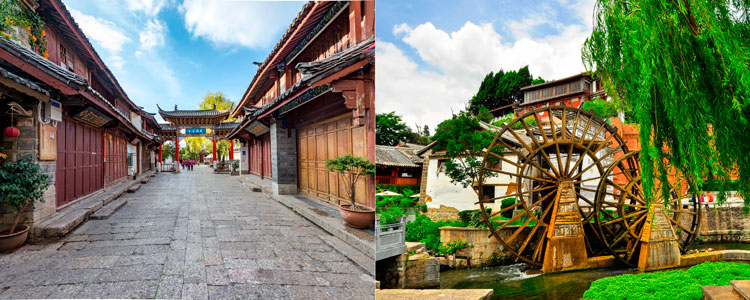 Day 2
J Baisha Murals, Naxi Shaman's Family Visti and Jade Dragon Snow Mountain Tour
Find yourself in a real paradise far away from the hustle and bustle of cities, as you take a cable car up to the Spruce Meadow at over 3,000 meters altitude on the Jade Dragon Snow Mountain, the holy mountain for the Naxi people.
Enjoy lunch at a popular local restaurant in Baisha Village. You will have a chance to learn to make Naxi pancakes for the main dish of your lunch.
Baisha village is the original settlement and earliest political center of the Naxi people. Painted over 1,000 years ago, the murals combine the cultures of the Han, Tibetan, and Naxi people, and display stories of Tibetan Buddhism, Confucianism, and Taoism. Have a relaxing walking int he Baisha Village and get to know about the local life and culture.
Understand more about the mysterious Naxi culture by visiting a shaman's house in the village. Learn some Naxi characters and enjoy a piece of old Naxi music. You will be impressed by the local people's passion for their culture and homeland.
After the tour, transfer back to Lijiang for another peaceful night.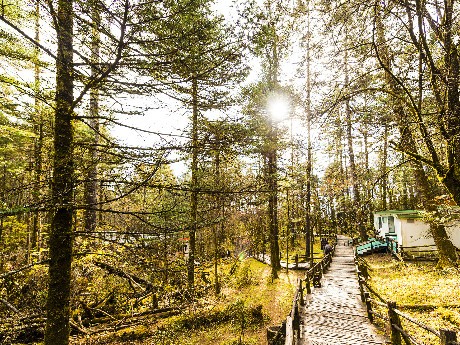 Jade Dragon Snow Mountain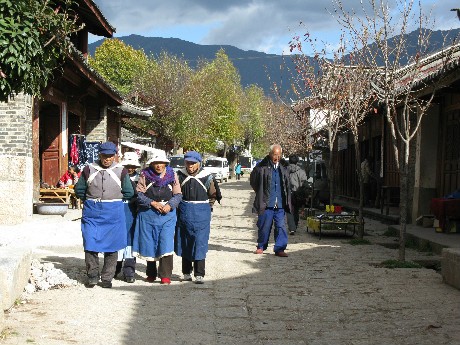 Baisha Village
Enjoy breakfast in the hotel. Your private tour guide, car, and driver will pick you up from your hotel and transfer you to the airport for your departure flight.
Trip Notes
1. Tailoring Your Tour
This tour is very flexible. You can alter the itinerary, and extend or shorten it to suit your price, interest, and schedule. Feel free to tell us your requirements, and we will be happy to help you arrange a tour using our professional knowledge and experience. We promise a "No Shopping Policy".
Lijiang Ancient Town attracts more tourists than the Forbidden City in Beijing during peak season. Here are some tips to escape the hordes of tourists:
1. Stay overnight in Lijiang Ancient Town and start early: 80% of the tourists will be in 20% of the places. Get up early and find the best spots with the help of your guide.
2. Stay overnight in Shuhe Ancient Town: 20-minutes away from Lijiang by car, Shuhe ancient town is less touristic and quieter.
2. Optional Extension:
Tiger Leaping Gorge
As one of the deepest and most marvelous gorges, Tiger Leaping Gorge is about two hours away from Lijiang by car. It is a paradise for hiking enthusiasts. You can extend the tour by one day to visit the upper gorge, or extend it by 2–3 days to hike through the whole gorge.
Lugu Lake
The lake area is best known as home to the unique Mosuo culture. The Mosuo, a subgroup of the Naxi, is a matrilineal society whose members engage in traditional "walking marriages", in which the husband and wife remain in their respective maternal homes and often have more than one partner. The picturesque scenery there is also impressive. The drive from Lijiang takes over six hours and 3–5 days are required to extend the tour.
3. Getting There and Traveling Away
There are over 20 flights between Lijiang and Kunming every day. There are also flights connecting Lijiang with Beijing, Shanghai, Xi'an, Chengdu, Chongqing, Shenzhen, Guangzhou,and Hong Kong, with a stopover in Kunming.
4. Hotel
Hotel with a convenient location, regional features and good reviews are recommended in the itinerary. If you prefer other hotel options (luxuty hotels, boutique hotels, or economical choices) or would like to book the hotels on your own, please feel free to inform us and we will be happy to adjust the details. Here are some alternatives for your reference:
City
Luxury & Special
Boutique
Economical
Lijiang
Indigo® Lijiang Ancient Town
Blossom Hill Inn Lijiang
Manxin Hotels & Resorts
Shuhe
Banyan Tree Lijiang
The Bivou Hotel
Note: The boutique hostels in Yunnan offer good value for money: a decent environment, local-style decoration, and a convenient location, but most of them only have 10–20 rooms and there may not be any English-speaking staff. Early booking is highly recommended.
6. More Trip Information
Want to learn more about this trip? Please click here to see details about traveling in China, booking, payment and responsible travel.