Experience one of the great gorges of China on this 25-kilometer hike for two full days. Walking about 5 hours per day to finish the hike over steep terrain, ending in the valley at lower part of Tiger Leaping Gorge. The spectacular Jade Dragon Snow Mountain scenery is the backdrop. Enjoy Lijiang's must-see scenery and night life.
Highlights
Explore the upper,middle,the lower sections of Tiger Leaping Gorge
View the First Bend of Yangtze River
Hike to the steep 28-bends and view remarkable scenery
Visit Lijiang' highlights like Lijiang Ancient Town and Jade Dragon Snow Mountain
What's Included
Entrance to scenic spots listed in the itinerary
Private English-speaking guide and driver service throughout the tour
Lunches mentioned in the itinerary
Recommended hotels accommodation with breakfast
Private transfers between the airport/train/bus station, attractions, and hotels
Suggested Itinerary
Day 1
Flight to Lijiang, Lijiang Ancient Town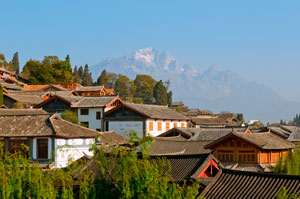 The Lijiang Ancient Town
Meal: Lunch
Your tour guide will be waiting for you at the airport on time and get ready to pick you up to the hotel. Located on the top of Lion Hill, Wangu is the landmark building of Lijiang Ancient Town. This pure wood building is 33 meters (108 ft) tall, overlooking the scenery of Lijiang at its foot, and looking out to Jade Dragon Snow Mountain in the distance.
Enjoys beautiful scenes of Lijiang Ancient Town, an indeed famous city with long history and splendid culture. It is very rare in China that such well-preserved minority ancient city still exists. The old town is quite busy in the afternoon and evening with an active atmosphere of the lights and crowd.
Accommodation:
Ivy Garden Resort Hotel (4-star)/Intercontinental Lijiang Ancient Town Resort (5-star)
Day 2
Visit Baisha Murals at Baisha Village, Jade Dragon Snow Mountain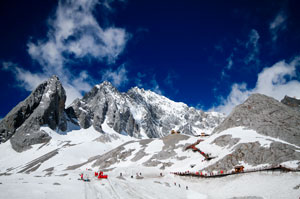 Jade Dragon Snow Mountain
Meal: breakfast & lunch
On the second day, you will visit Baisha Village and one of Yunan's outstanding snow mountains-Jade Dragon Snow Mountain. Painted over a thousand years ago, the murals at Baisha Village combine the cultures of Han, Tibetan and Naxi people displaying the life stories of the Tibet Buddhism, Confucian and Taoism.
Seen from a far distance, Jade Dragon Snow Mountain looks like a quiet beautiful girl wearing a pure white wedding gown. Find yourself in a real paradise far away from the hustle and bustle of cities, as you take a cable car up to the Spruce Meadow at over 3,000 meters altitude on the Jade Dragon Snow Mountain, the holy mountain for the Naxi people.
Day 3
Tiger Leaping Gorge Hiking(7 hours hiking)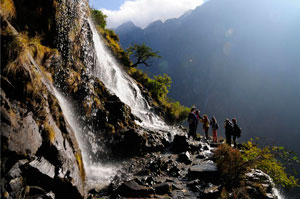 Tiger Leaping Gorge Hiking
Meal: breakfast & lunch
In the morning, drive 2.5 hours from Lijiang to Changsheng village of Qiaotou town where the tiger leaping gorge hiking starts, view the First Bend of Yangtze en route. Today we will hike 17 KM for approximately seven hours to the Halfway Guest house. Firstly, hike two hours to Naxi Family Guest house, have a lunch there. Then continue to hike another 2 hours further up the steep 28-bends and the views were remarkable.
Another 2-3 hours on the way we will arrive at half-way guest house, with a great view of Yulong Snow Mountain and overlooking the Jinsha River Valley. Stay overnight in the Halfway Guesthouse.
Accommodation:
Halfway Guesthouse
Day 4
Continued Tiger Leaping Gorge Hiking (4-5 hours hiking)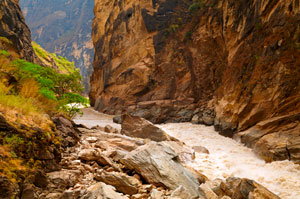 Tiger Leaping Gorge Hiking
Meal: breakfast & lunch
Today, we will get up in the early morning, hiking down to Tina's Guest house (about 2 Hours) passed through Guanyin waterfall and canyons on the way. After have lunch at Tina's, 1 hour walking down the steep cliff to the bank of Jinsha River and middle tiger leaping gorge, worship the dangerous shoal of "Starriness", it is the most narrow part of the gorge, where a tiger can easily jump over the Jinsha River.
Walk 1 hour back to Tina's. Then go to Xincun village pier after half hour's drive and go down to Xincun village pier, the lower section of the Gorge where you will take ferry across the River to Daju pier. It usually takes about 1.5-2 hours from Xincun pier to Daju pier. After that, it takes about 2.5 hours' drive to Lijiang.
Accommodation:
Ivy Garden Resort Hotel (4-star)/Intercontinental Lijiang Ancient Town Resort (5-star)
Meal: breakfast
Get ready for your departure today. Enjoy a trouble-free transfer and your private guide will escort you to the airport or train/bus stations.
Trip Notes
1. About hiking in Tiger Leaping Gorge
Tiger Leaping Gorge hiking is a rather difficult and serious hiking route in China. Get ready for a 7-hour hiking on the first day and 4-5 hours hiking on the second day.
2. Best time to hike
Spring and autumn are the best times, when the temperatures and humidity are lower.
3. What to pack
Wear walking shoes and clothes suitable for outdoor activities. Don't forget to bring water, sunscreen, sun-glasses, and cap etc. Take only necessary luggage for the hike and Leave the rest in Lijiang. There is a one night stay in the gorge area. This route is really tough, bring less luggage as you can.
4. CNN TRAVEL recommended us
You could click here and see how the famous officical media CNN TRAVEL recommended us on its sites to make more people to read us.
5. More Trip Information
Want to learn more about this trip? Please click here to see details about traveling in China, booking, payment and responsible travel.