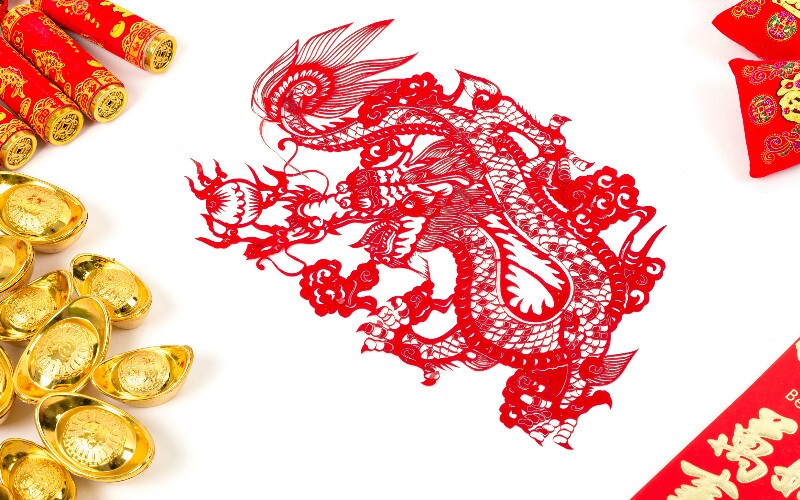 Chinese Zodiac
2021 Monthly Horoscope for Dragons
2021 is a mixed year for Dragons — those born in a Chinese zodiac year of the Dragon. Although there are certain opportunities in their careers, just a little carelessness is likely to cause adversity. In 2021, Dragons should be more careful in their words and deeds, and in interpersonal situations, they should pay attention to avoid oral disputes.
In terms of health, Dragons' overall performance in 2021 will be good, but they should still be careful of the adverse effects of bad living habits. Emotionally, 2021 will be a year without much luck in love, but married people will have the support of their spouses.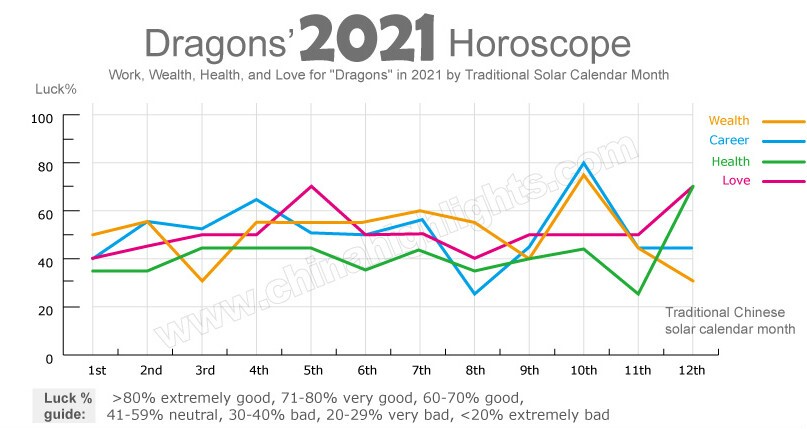 Career — Dragons' 2021 Horoscope
In 2021, Dragons' workplace life is not very smooth. Therefore, this year Dragon people must not hold too high expectations. Being down-to-earth and doing a good job with what's at hand is the right choice.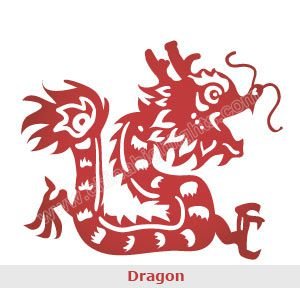 Relationships — Dragons' 2021 Forecast
Dragons' 2021 emotional luck is still relatively stable. Although this year, Dragons' romantic potential is very ordinary, there will be support from their families and loved ones, and so their life is full of hope.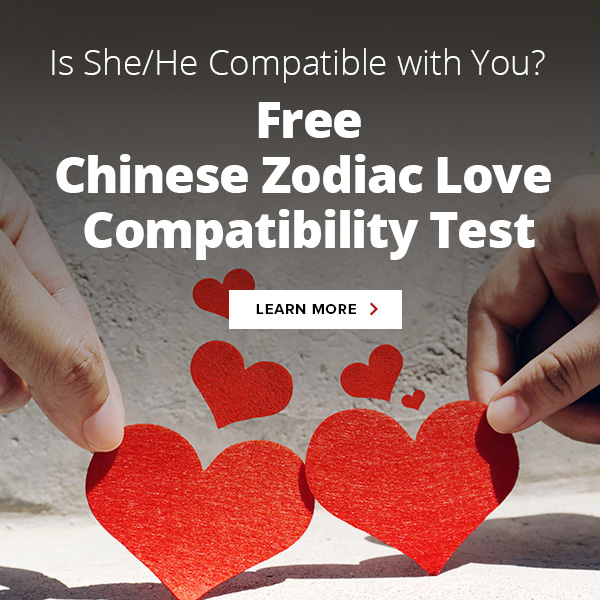 Wealth — Dragons' 2021 Projection
In 2021, Dragons' financial projection is more stable, and especially workplace workers will obtain a stable income. At least Dragons' household expenses will be covered.
Health — Dragons' 2021 Prognosis
2021 may bring poor health to Dragon people if their diet is not well regulated.
Otherwise, with wellness trending neither up nor down, it is recommended that Dragon people adjust to a good state of mind, do not always think of overnight wealth.First of all, they should be down-to-earth, and do a good job with what's within their power. This is the best way to resolve any bad luck.
Months in Pure Chinese Astrology
In purist Chinese astrology, the traditional Chinese solar calendar is used to determine months, in which the first month of the zodiac year begins within 2 days of February 5th (the solar calendar shifts dates as the Spring Equinox etc. does).
To complicate it further Chinese solar calendar months don't begin at midnight (a solar year has about 365.2425 days, and so solar months are about 30.4369 days long). So, the end of one solar month and the start of the next are at some time on the same day.
This is different to the lunar calendar, which is used for "popular astrology". For more explanation, see The Chinese Calendar.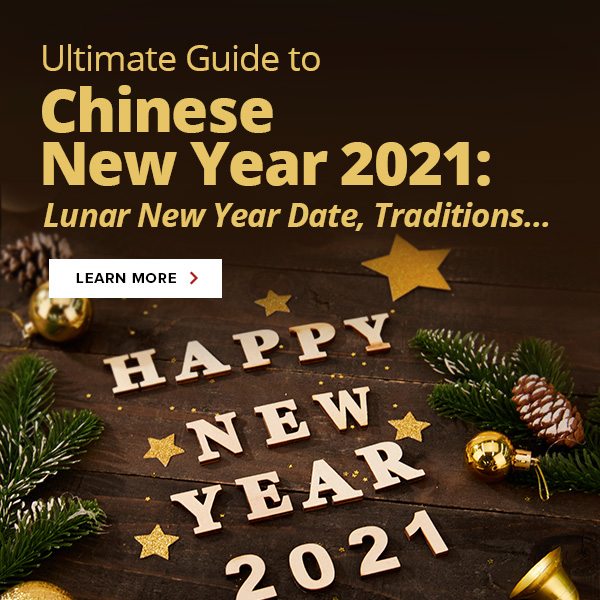 Dragons' Month 1 Horoscope (Feb. 12 – Mar. 12, 2021)
This first month of the 2021 traditional Chinese solar calendar is set to be stressful for Dragons, both in their careers and in their lives.
A Dragon is likely to have a conflict with his/her family this month. As the personality of the Dragon is more stubborn, at this time he/she should be slightly gentler, and listen to the views of others.
Dragons' Month 2 Horoscope (Mar. 13 – Apr. 11, 2021)
This second solar month, Dragons will have some opportunities in their careers, but at the same time circumstances will test their suffering and endurance. If this month they can master both, then there will be good development.
Dragons, if you give up at the stage when you have just got to know the problem, you're doomed to spend 2021 in the middle of it.
Dragons' Month 3 Horoscope (Apr. 12 – May 11, 2021)
In solar month 3, Dragons will encounter some financial crises. Their need to use money will be in more places than is comfortable. It is recommended that this month Dragon people listen to the views of family and friends, and do not go it alone.
Dragons' Month 4 Horoscope (May 12 – Jun. 9, 2021)
This fourth month is a busy month for Dragons. There will be new progress in their careers, and this month's workload will increase a lot. Dragons should especially pay attention to the critical points in their work, and must not because of a momentary whim give into the desire to quarrel with people.
Dragons' Month 5 Horoscope (Jun. 10 – Jul. 9, 2021)
In month 5, Dragons'luck will be a little better, and there will be some new opportunities romantically. For those who are pursuing the opposite sex, this month they will get a favorable answer.
As for Dragons who are already in love, this month partners should accompany each other more, and the two people should pay attention to communication.
Dragons' Month 6 Horoscope (Jul. 10 – Aug. 7, 2021)
After month 6, people who belong to the Dragonzodiac sign should pay more attention to health problems.
This month, Dragon people are prone to be impetuous, and this month emotional tension can easily cause gastrointestinal and skin diseases, seriously affecting their quality of life. It is recommended that Dragons relax, rest more, and avoid smoking and drinking.
Dragons' Month 7 Horoscope (Aug. 8 – Sep. 6, 2021)
This seventh month, Dragons' financial luck will present a certain opportunity, but it also involves needing to take risks, so if it is missed do not feel sorry.
Dragons, your horoscope's advice is to focus on your work, and through honest gains add to your wealth.
Dragons' Month 8 Horoscope (Sep. 7 – Oct. 5, 2021)
This eighth month, in the workplace Dragons will again encounter some crises.
Because the personality of Dragons is relatively strong, they always hope that others will listen to their own opinions. But this month, Dragons need to decide things by listening to the proposals or views of others, and then jointly negotiate to make a decision.
Dragons' Month 9 Horoscope (Oct. 6 – Nov. 4, 2021)
In month 9, Dragons' overall luck is relatively stable.
The intensity of work will gradually become less, and Dragons will begin to become very idle. But at this time their financial situation is also facing a crisis. Fortunately for Dragons, this month you have help, and even if you encounter financial difficulties, there will be someone to help you solve them.
Dragons' Month 10 Horoscope (Nov. 5 – Dec. 3, 2021)
This tenth month, Dragon people's fortunes will warm up.
Particularly for Dragons who have always insisted on working quietly, this month they will finally win recognition. Monetarily, they will also be rewarded accordingly.
Dragons' Month 11 Horoscope (Dec. 4, 2021 – Jan. 2, 2021)
This month 11, Dragons need to be alert to health problems due to seasonal changes, resulting in poor resistance to infection. They will be prone to colds and other problems.
For manual workers, or those who often work outdoors, this month will be a challenge.
Dragons' Month 12 Horoscope (Jan. 3 – Jan. 31, 2022)
After entering month 12, Dragons' work at hand basically tends towards its conclusion. This month they will finally have time to accompany their loved ones.
Although some will be facing economic pressure, huge expenditure will test the financial ability of Dragon people.
Monthly Fortune Prospects for Chinese Zodiac Signs in 2021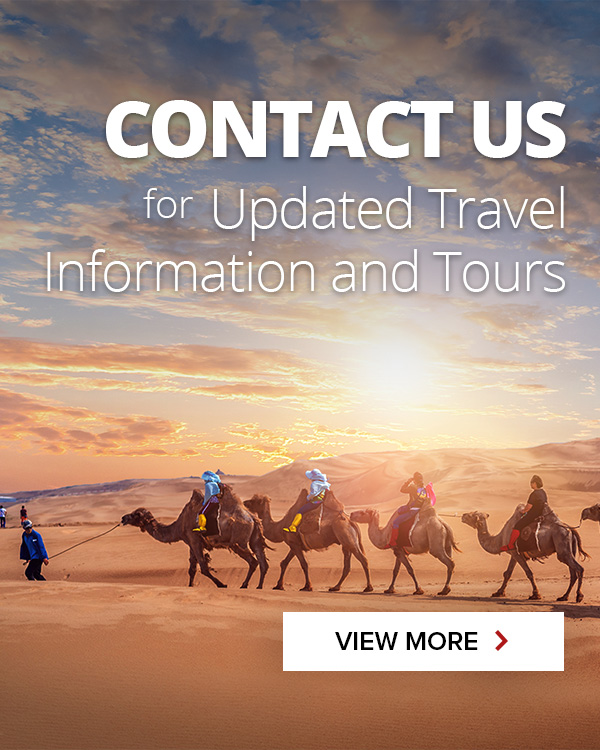 You Might Like
Related Articles

Chinese Zodiac
Year of the Tiger

Chinese Zodiac
Year of the Monkey

Cultural diversity
10 Movies to Watch Before Going to China

Culture
Chinese Arts and Crafts