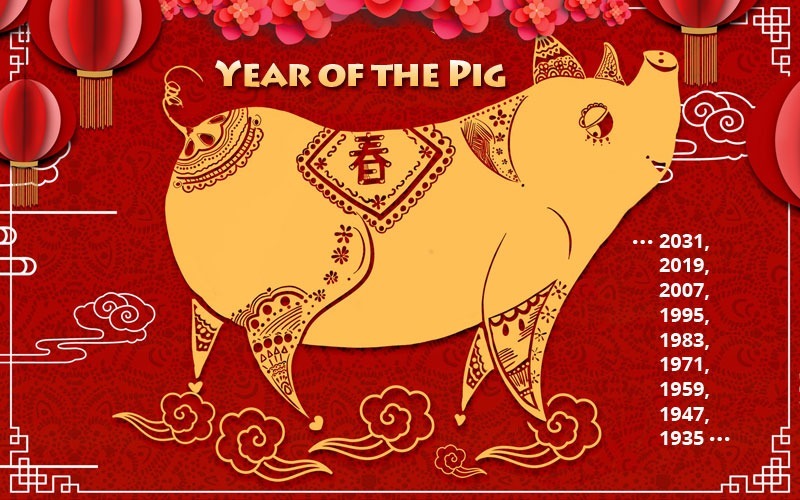 Year of the Pig
In Chinese astrology, each year belongs to a Chinese zodiac animal according to the 12-year cycle. A Pig year occurs every 12 years. The next Pig year is 2031, it will be a Metal Pig year.

Recent years of the Pig include 1935, 1947, 1959, 1971, 1983, 1995, 2007, 2019, and 2031.
Chinese Zodiac Pig Years
The Pig occupies the twelfth position in the Chinese zodiac after the Dog, and before the Rat. If you were born in a Pig year, you are known as a Pig (or 'belonging to the Pig') in China. Zodiac years are by the Chinese calendar.
See the dates and what type of Pig you are below.
| Pig Year | When | Type of Pig |
| --- | --- | --- |
| 1935 | February 4, 1935 – January 23, 1936 | Wood Pig |
| 1947 | January 22, 1947 – February 9, 1948 | Fire Pig |
| 1959 | February 8, 1959 – January 27, 1960 | Earth Pig |
| 1971 | January 27, 1971 – February 14, 1972 | Metal (Gold) Pig |
| 1983 | February 13, 1983 – February 1, 1984 | Water Pig |
| 1995 | January 30, 1995 – February 18, 1996 | Wood Pig |
| 2007 | February 17, 2007 – February 6, 2008 | Fire Pig |
| 2019 | February 4, 2019 – January 24, 2020 | Earth Pig |
| 2031 | January 22, 2031 – February 10, 2032 | Metal (Gold) Pig |
Choose your date of birth and find out about your Chinese zodiac sign.
Pig's Personality: Pigs are diligent, compassionate, and realistic.
Pigs are diligent, compassionate, and generous. They have great concentration: once they set a goal, they will devote all their energy to achieving it. Though Pigs rarely seek help from others, they will not refuse to give others a hand. Pigs never suspect trickery, so they are easily fooled.
Generally speaking, Pigs are relatively calm when facing trouble. No matter how difficult the problems are Pigs encounter, they can handle things properly and carefully. They have a great sense of responsibility to finish what they are engaged in.
Welcome to join our Facebook group of Chinese Culture Lab. We will answer all your questions directly and keep sharing all the interesting things about Chinese culture.

Pig's Love Compatibility
Love compatibility between the Chinese zodiac animals takes the unique characteristics of each animal into account. Those whose characteristics match well can be good partners. See below the compatibility of the Pig with other animals, and find out if the Pig is compatible with your sign or not.
Best match: Goat, Tiger, Rabbit
They are attracted to each other and know how to please one another. They are all both admire each other's merits and are willing to make efforts for the family.
Worst match: Monkey, Snake
These combinations are polite to each other, but lack deep connection. If getting married, their marriage might not end up in a satisfactory state.


Lucky Things for People Born in a Year of the Pig

Lucky numbers: 2, 5, 8, and numbers containing them (like 25 and 58)
Lucky days: the 17th and 24th of every Chinese lunar month
Lucky colors: yellow, gray, brown, gold
Lucky flowers: hydrangea and daisy
Lucky direction: east and southwest
Lucky months: the 2nd, 7th, 10th, and 11th Chinese lunar months
Unlucky Things for Pigs
Unlucky color: red, blue, green
Unlucky numbers: 1, 7, and numbers containing them (like 17 and 71)
Unlucky direction: southeast
Unlucky months: the 4th, 9th, and 12th Chinese lunar months
Wood, Fire, Earth, Gold, and Water Pigs
In Chinese element theory, each zodiac sign is associated with one of the five elements: Gold (Metal), Wood, Water, Fire, and Earth. An Earth Pig comes once in a 60-year cycle. It is theorized that a person's characteristics are decided by their birth year's zodiac animal sign and element.
Each year is also associated with one of five elements, and 2019 is an Earth Pig year.
| Type of Pig | Characteristics |
| --- | --- |
| Wood Pig (1935, 1995) | Good-natured, lovely, easy-going, generous, brave but irritable |
| Fire Pig (1947, 2007) | Ambitious, persevering, but impatient |
| Earth Pig (1959, 2019) | Communicative, popular among their friends, with a strong sense of time keeping |
| Gold Pig (1971, 2031) | Broad-minded, amicable, and willing to help others |
| Water Pig (1923, 1983) | Gentle, modest, earnest, responsible, but subjective in life |
Pig's Fortune in 2021

2021 Pig Horoscope
In 2021, Pigs (people born in a year of the Pig) will have good opportunities for career and wealth gains; in terms of feelings, Pigs can just go with the flow.
However, Pigs, pay attention to the health of your family. This year, you or your family may have serious illnesses, which will cost you a lot of money. Academically, Pigs are generally in good shape in 2021. If you study hard, you can get good returns.
Read more on Monthly Horoscope for Pigs in 2021.
Is Pig Year a Lucky Year?
According to Chinese astrology, in the year of their birth sign (本命年běnmìngnián /bnn-ming-nyen/ 'origin (of) life year') people offend Tai Sui, the god of age in Chinese mythology, and so have bad luck.
Therefore Pigs should be more careful about all aspects of their lives in the year of their birth sign.  Read more on How to Be Lucky in Your Ben Ming Nian.


Famous Pig Year People
Henry Ford (Founder of the Ford Motor Company, born July 30, 1863)
Ronald Reagan (40th U.S. President, born February 6, 1911)
Arnold Schwarzenegger (Former Governor of California, born July 30, 1947)
Hilary Clinton (Former First Lady of the U.S., born October 26, 1947)
You Might Like
Check Other Chinese Zodiac Animals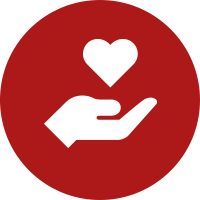 Your Wellbeing is Our Priority.
1-to-1 travel expert
Vaccinated guides
Private Rides
Your Trip is Perfectly Planned.
No crowds
Exclusive Exciting Experiences
Your Booking is Risk-Free.
No cancellation fee
Free changes