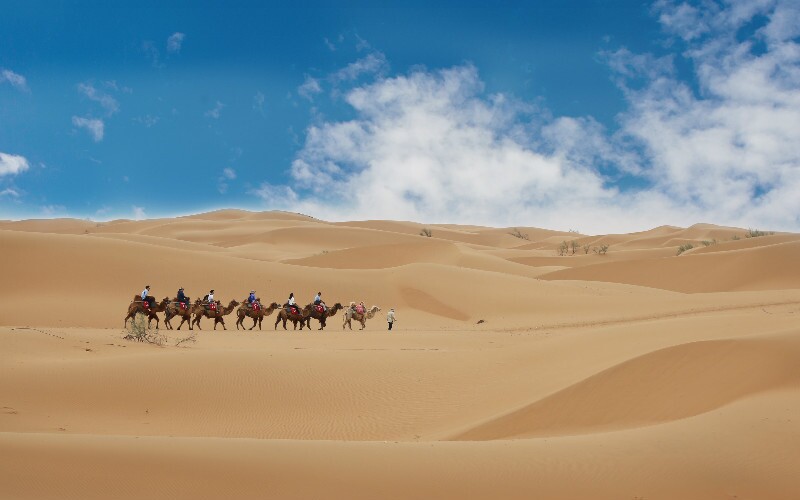 zhongwei
Zhongwei Travel Guide - How to Plan a Trip to Zhongwei
Zhongwei City is located in the west of Ningxia Hui Autonomous Region. It is 160 kilometer (about 99 miles) and only a few hours by bus to the southeast of Yinchuan near the Yellow River. Zhongwei was once said to have had no north gate, simply because there was nothing more to the north.
The advantageous and strategic location has endowed Zhongwei with the features of vast deserts, green hills, the Yellow River and oasis. At the same time, tourists are able to enjoy the various entertaining activities there, such as sand slide and camel ride.
Thanks to the Yellow River, Zhongwei is blessed with rich agricultural significance. The city is also well-known as "Jiangnan (downstream Yangtze River area) in the desert".
Major tourist attractions in Zhongwei are Tengger Desert, Shapotou Scenic Area, Gaomiao Temple.
Weather
Zhongwei is in the middle temperate zone of the arid climate region and close to Tengger Desert to the northwestern. The altitude of Zhongwei is between 2955 to 1100 meters. There is sufficient sunshine with cold and dry spring, arid and hit summer, cool and moderate fall and frigid winter.
Transportation
Train
Zhongwei City is situated in the west of Ningxia Hui Autonomous Region at the confluence of several railway lines. The convenient railway transportation links Zhongwei with cities all over China. It is a very important transportation hub in Northwest China. Trains bound for Beijing, Shanghai, Xining, Hohhot and Xi'an, etc.
Telephone of Inquiry Office of Zhongwei Railway Station:0955-7095222
Bus
Three state highways, GZ25、GZ35、GZ45 going through Zhongwei, link up Xinjiang, Hexi Corridor and the eastern regions, and form an east-west transportation network that connects Zhongwei and its surrounding regions.
Telephone of Zhongwei Bus Station:0955-7012775
Public Bus
The public bus route in Zhongwei is highly developed. You may get anywhere in the city by taking a public bus. There is a special line from Zhongwei to Shapotou. The buses leave every half hour. The ticket is 3 RMB. It takes you about one hour to get there.
Taxi
You may take a taxi in the city. The starting price of taxi in Zhongwei city varies from 3 to 4 RMB. If you go from Zhongwei to Shapotou by taxi, it is 30 RMB one way.
Air
Telephone Numbers of Xiangshan Airport
Ticket office: 0955-7013999; 0955-7073229
Delivery Department: 0955-7073286
Zhongwei is famous for its flour-made food, dairy products and mutton.
Food
Braised Beef in Brown Sauce
As a famous kind of muslin food, Braised Beef in Brown Sauce is loved by people of the minority groups in Zhongwei. The cooking method of dish is easy to learn. Firstly, cut the fresh beef into pieces and parboil it. Then, put the ingredients into the pot, such as ginger, scallion, and bean butter with chili oil, soy sauce, pepper, white spirit, MSG and star anise and so on. Braise them until the flavor is fully absorbed by the beef. It tastes extremely delicious and is some way good for improving the immunity of human beings.
Steamed Northern Bronze Gudgeon
Steamed Northern Bronze Gudgeon is also called Gezi Fish because of its pigeon-looking. This kind of fish lives in the embayment from Zhongwei to Shiju Mountain. This pressure fish in Zhongwei tastes quite soft and fresh. The method of cooking Steamed Northern Bronze Gudgeon is easy. Firstly, kill a Gezi fish and cut some stripes on it. Then put it in pickle with salt, pepper, scallion and ginger for one hour. The last step is steaming. When it is ready, the spicy taste will absolutely stimulate your appetite.
Saozi Noodles
Having a long history, Hand pulled Saozi Noodles is a featured wheaten food in northwest China. Noodles are thin and long, Saozi is made of fresh pork, and the soup was added into many ingredients, such as black funguses, tofu, eggs, garlic sprouts and carrots. Hand pulled Saozi Noodles play an important role in people's daily life in Northwest China. Saozi Noodles can be found in lots of occasions like weddings, funerals, birthday ceremonies and festivals.
Bright Pearl Restaurant
Located along the Chengdong Street, Bright Pearl Restaurant is a famous restaurant in Zhongwei. It offers many kinds of dishes, such as breakfast, fast food and various kinds of snacks. It is recognized by both locals and visitors for its elegant dining atmosphere and high-quality service. You can taste the authentic and delicious food there. What's more, it also provides different kinds of tea. It receives many customers from different places every day.
Location: Donghuan (East Ring) Road
Tel: 7012052
Food Streets
When night comes, Zhongwei Food Streets are busy and crowded. All kinds of famous snacks of northwest China can be seen there, such as mutton noodles, Hand pulled Saozi Noodles, Braised Beef in Brown Sauce, sliced noodles and so on. Many local people and tourists come to these food streets not only because of the low price, but also because of the good service. Moreover, you can taste delicious and authentic dishes with your friends at the beautiful starry nights. When eating in the food street, you may have the feeling of being the happiest person in the world.
Location: Nanhuan (South Ring) Road; South Street (Nan Da Jie)
Related Articles

travel guide
The Top 10 China Travel Destinations in 2021

about us
Company History