luoyang
Luoyang Ancient Tombs Museum (First in the World)
Luoyang Ancient Tombs Museum is a thematic museum, which mainly displays ancient tombs and murals. It is one of the largest museums of ancient tombs in China and the first one in the world.
Here we will tell you what you can do in Luoyang Ancient Tombs Museum.
Chinese : 洛阳古墓博物馆 Luòyáng Gŭmù Bówùguăn /lor-yang goo-moo bor-woo-gwann/ 'Luoyang old tombs museum'
Time needed: 1–2 hours
Popular activity: learn about Chinese tombs and burial customs
Age : opened to the public in 1987
Must-sees: typical tombs, murals
Suited to: history lovers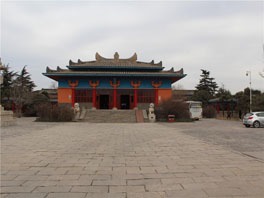 The architectures in luoyang Ancient Tombs Museum are ancient and elegant.
The museum is located at Mangshan (邙山 Măngshān /mung-shan/) in the north suburb of Luoyang, about 8 kilometers (5 miles) from the city center.
It is composed of a few complex buildings displaying Han (206 BC – 220 AD) and Northern Wei (386–534) Dynasty architectural styles. It has two parts: one is underground and the other is above ground.
3 Things to Do in the Ancient Tombs Museum
1. Explore Typical Ancient Tombs Underground
The layout of the underground part is in the shape of a hollow square. Four exhibition halls are located at the four corners and 25 ancient tombs are distributed along the four sides.
The underground architecture shows the characteristics of typical tombs in Luoyang over a period of 3,000 years from the Xia Dynasty (c. 2100–1600 BC) to the Jin (265–420) and Song (960–1279) Dynasties. This was discovered by unearthing and restoring 25 typical tombs.
These tombs have various shapes and colors. The shapes include circles, squares, hexagons, octagons, and more. Some tombs are simple and elegant, some appear magnificent and grand, and others look luxurious and chic.
These different architectural styles reflect ancient architectural art in China.
The exhibition halls display 597 cultural relics, including pottery figures, various utensils used in the Han, Wei, Jin, and Northern Wei Dynasties, and tri-colored glazed pottery from the Tang Dynasty.
All these articles are of great historic significance and you can gain more historical knowledge from them.
Tips:
It will be slightly cold when you explore the underground section. We advise you to take a thin coat.
The tunnel underground is dimly lit. Taking an electric torch will be beneficial.
2. Visit Real Imperial Mausoleums from the Northern Wei Dynasty
This separate building is in the Northern Wei Dynasty architectural style. The exhibition area of the imperial mausoleums from the Northern Wei Dynasty is located in the west of the museum.
The mausoleum of Emperor Xuanwu is the main part. It is 110 meters in diameter and 24 meters high. It is still tall and magnificent even though it has existed for over 1,500 years.
Two stone guardians stand at the entrance. A stone coffin is in the middle of the tomb. The tomb had been robbed many times before it was excavated so only about 10 articles were unearthed, which is a very limited number.
You can gain a systematic understanding of the basic appearance of imperial mausoleums and the burial customs in the Northern Wei Dynasty.
Learn more information about the different dynasties.
3. Appreciate Wonderful Murals
Luoyang is an ancient and cultural city. Over the years, archaeologists have excavated a large number of ancient tombs and discovered many murals carved vividly on them.
These murals date back to the Western Han (206 BC – 9 AD), Eastern Han (25–220), Wei (220–266), Jin, Tang (618–907), Song, and Yuan (1279–1368) Dynasties. The images of these murals are clear, delicate, and broad in their subjects, covering astronomy, geography, human affairs, and gods.
They are like a history book of China written with images and have become an important part of the heritage of ancient Chinese painting art.
The Location of a Tomb in Accordance with Feng Shui
One striking feature when choosing the location of a tomb according to feng shui is putting the emphasis on harmony between humans and the natural environment.
According to the feng shui theory on burial, when a dead person is buried underground, the spirit and the tomb location combine to form energy.
That energy can affect the fortune of the whole family. For a mausoleum, its location can even affect the fate of the whole country.
A location surrounded by mountains and facing a river is believed to be an auspicious place for burial in feng shui theory.
About Mangshan
This mountain is about 300 meters above sea level with fertile and compacted soil. It is believed to be an ideal place for cemeteries.
An interesting old saying states that Suzhou and Hangzhou are good places to live while Mangshan is a good place to rest.
Many of the ancient emperors, princes, generals, scholars, and other ancient aristocrats took this advice and left orders that they were to be buried in Luoyang after their death.
Mangshan, in the north suburbs, is the site of China's largest ancient tomb group that consists mainly of imperial mausoleums, the oldest of which dates back to the Eastern Zhou Dynasty.
Travel Essentials for Planning a Tour
Admission: free
Open: 9am–5pm in summer, 9am–4:30pm in winter, Tuesdays to Sundays
Location : 45 Airport Road, Old Town District, Luoyang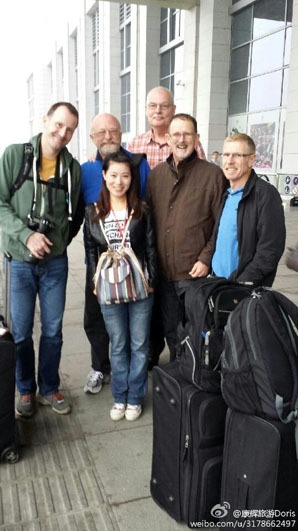 Our customers discovery Luoyang with us.
How to Get There
It is about 3 kilometers (2 miles) from Luoyang Beijiao Airport. It takes 6 minutes to drive from the airport to the museum. Alternatively, you can take a bus there, with just three stops.
If you have a short stopover period in the airport, Luoyang Ancient Tombs Museum is a good choice.
Nearby Attraction
Luoyang National Peony Garden: It is one of the oldest gardens to grow and reproduce peonies in China, and is one of the main venues for the Luoyang Peony Festival. It is about 10 minutes' drive from Luoyang Ancient Tombs Museum.
Discover Luoyang Your Way with Us
If you are searching for travel tips and tour plans, contact us. Our experienced guides and travel consultants can give you suggestions.
All you need to do is tell us your requirementss. We will tailor-make a satisfying holiday tour for you.
Related Articles

Best Top of China
Top 5 Things to Do in Luoyang