You will visit China's fairyland —Jiuzhaigou — a colorful wonderland with clear water, a verdant virgin forest, and authentic Tibetan customs. The Giant Panda Breeding and Research Center and Jinli Ancient Town in Chengdu are included to enhance the tour experience.
Sep. 27 update: Part of the Jiuzhaigou National Park has reopened to visitors on Sep. 27, 2019.
Oct. 18 update: 1. There is a limitation of entrance everyday (5000 people each day). And the tickets for the whole October have already been sold out. The scenic spot is now taken up by domestic tourist group;
2. Thus we recommend you to visit Jiuzhaigou after November, for less tourist pressures, lower cost and winter landscape;
3. To ensure your Jiuzhaigou trip availability, please inquire and book soon. Book Jiuzhaigou tour for 2020 with us now, the order can be fully refunded if the tourist attraction closes again.
If you are planning a tour to Jiuzhaigou, contact our travel consultant to check the availability.
Highlights
Meet the lovely pandas in the Panda Breeding and Research Center
Wander in the old districts of Jinli Street for trinkets and local snacks
Walk alongside the streams, waterfalls, and limestone landscapes in Huanglong Scenic Area
Enjoy the breathtaking views in Jiuzhaigou Scenic Area
What's Included
Entrance to scenic spots listed in the itinerary
Guiding by experienced English-speaking tour guide
Private transfers between the airport, attractions, and hotel
Flight from Chengdu to Jiuzhaigou
Meals mentioned in the itinerary
Public shuttle buses in Jiuzhaigou National Park
Chairlift going up the mountain in Huanglong National Park
Hotel accommodation with breakfast
Suggested Itinerary
Recommended Hotel in Chengdu: Sofitel Chengdu Taihe (5-star)/Tibet Hotel Chengdu (4-star)
Your private driver and guide will be ready for you when you arrive in Chengdu. Sit back in a comfortable, non-smoking car, leave the hassles to your guide, and enjoy a trouble-free transfer to your hotel.
Day 2
The Giant Panda Breeding and Research Center and Jinli Ancient Street Tour
The Panda Breeding and Research Center
Meals: breakfast & lunch
In the morning you will visit the Giant Panda Breeding and Research Center located about 10 kilometers (six miles) north of Chengdu. There you will see giant pandas at rest or play among the bamboo groves. The giant panda museum will allow you to learn more about this cute black-and-white animal.
Lunch is served at a Chinese restaurant with Sichuan-style dishes. You can order less-spicy dishes or ask for no spices at all, according to your preference.
In the afternoon, you will discover attractions in the Chengdu urban area. People's Park is a spiritual haven for the city's citizens amidst the bustle of downtown. Have a cup of tea in tea house is a traditional custom for Chengdu people. Jinli Ancient Street is one of the most ancient streets in Southwest China. You can stroll along and discover stalls selling local arts and crafts, traditional Chinese goods, and local delicacies, all in front of rows of ancient buildings built in the style of the Qing Dynasty (1644–1911 AD).
Tip for getting to meet baby pandas:
For Chinese tourists, the Stone Forest Park is a must-see attraction; therefore, the March to May is the mating season for pandas. If you visit the Panda Breeding and Research Center between late August and December, you will have a greater chance of seeing tiny newborns in the Sunshine Nursery House.
Day 3
The Huanglong Scenic Area Tour (including flight to Jiuzhaigou)
Huanglong Scenic Area
Meals: breakfast, lunch & dinner
Recommended Hotel in Jiuzhaigou: Sheraton Jiuzhaigou Resort (5-star)/Jiuzhaigou Mingren Hotel (4-star)
Your private guide and driver in Chengdu will accompany you to the airport this morning. It takes about one hour to fly from Chengdu to Jiuhuang Airport. You will be picked up and transferred to have lunch. After lunch, start your visit in Huanglong Scenic Area.
Huanglong Scenic Area, the best-preserved plateau wetland in China, is neighbored by Jiuzhaigou. Colorful pools, snowcapped mountains, verdant forests, and peaceful valleys are its four highlights. The chairlift going up is included to save you time and strength. You can walk back down through the scenic area to enjoy the view at a relaxing pace.
After the tour, your guide and driver will escort you to a hotel near Jiuzhaigou (about two hours' drive) and enjoy a local dinner.
GOOD TO KNOW
The options of restaurants in Jiuzhaigou are quite limited, so dinners are recommended and included in the hotel you will stay in.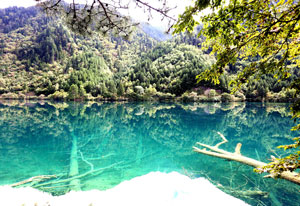 Jiuzhaigou Scenic Area
Meals: breakfast, lunch & dinner
After breakfast in the hotel, you will spend most of your day exploring the Jiuzhaigou Scenic Area, a wonderland named for its nine Tibetan villages. The valley winds its way across some 80 kilometers and covers an area of 720 square kilometers, and you will visit its main three gullies depending on the schedule: Shuzheng Valley, Rize Valley, and Zechawa Valley. Private vehicles are not allowed inside, so your guide will accompany you to take a public bus in the scenic area and tour around.
There you will appreciate the picturesque natural scenery with clear alpine lakes, overlapping waterfalls, colorful forests, snowcapped mountains, Tibetan customs, and blue ice. Get your camera prepared. A buffet lunch is arranged in the Nuorilang Restaurant, the only restaurant in the Jiuzhaigou area. If you like, we can also arrange a picnic lunch for you.
At the end of the tour, your guide and driver will transfer you back to the hotel for dinner.
GOOD TO KNOW
Tips for visiting Jiuzhaigou:
Go early: The scenic area starts selling tickets at 7am. Get into the park as early as possible so that you will not only have more time, but will also avoid the tour group crowds.
Go up first: The most spectacular scenery is at the higher parts of the scenic area. You will see the highlights first if you take the public shuttle bus to the top and walk or ride down. Head first to either Long Lake or Swan Lake, then go down to the Nuorilang junction, then go up the other fork. Later in the day, you can see the lakes between Nuorilang and the entrance.
Day 5
Jiuzhaigou Departure (Flight Not Included)
Meals: breakfast
Your private guide and driver will wait for you in your hotel lobby after breakfast. They will accompany you to the airport and help you check-in for your next destination.
Trip Notes
1. Tailoring Your Tour
This tour is very flexible. You can alter the itinerary, extend or shorten it to suit your price, interest, and schedule. If you would like to book the hotels on your own, we can remove the hotel cost from quotation. Please inform your travel advisor about your preference.
2. Possible altitude sickness
At Jiuzhaigou, the altitude varies a lot. For example, the valley entrance is at about 2,000 meters, while the airport is at about 3,500 meters. Vulnerability to altitude sickness varies from person to person, so it is suggested you consult your doctor before the trip. Visitors with heart disease or high blood pressure should be careful and take appropriate precautions when traveling to Jiuzhaigou.
When in Huanglong and Jiuzhaigou, please do not drink wine, in case of a negative reaction to the altitude. Stay warm and eat plenty of vegetables and fruit. Take some common medicines with you. If you like, your guide can prepare a small oxygen bottle for you, just in case.
3. Hotels in and around Jiuzhaigou
The most popular place for hotels is Zhangzha Town, which is closest to the entrance of Jiuzhaigou Nature Reserve. Zhangzha has a wide range of accommodation, from 5* hotels to budget hostels.
If you prefer to be close to Huanglong National Park or Jiuzhuang Airport, you may choose a hotel in Chuanzhusi County.
If Muni Valley (Munigou) is on your list of places-to-go, you may consider staying in Songpan Town.

The standards of most hotels in the area are not as good as those of equivalent star-levels in the West. China Highlights has carefully selected the best hotel available, based on criteria like hotel environment, location, service, and previous customer feedback. Your guide will accompany you to see your room. If you are dissatisfied and there are other rooms available, your guide will be happy to assist you with changing rooms.
Some hotels may close from late November to February of the next year. Please inquire and we will check availability for you.