Time-Smart Jiuzhaigou Discovery
2 Days Peak Season Tour for Jiuzhaigou and Huanglong
Tailor Make Your Tour:
Your Schedule
Your Interests
Your Hotel Tastes
Jiuzhaigou has always been a love-and-hate place for many people. You love the breathtaking views of the deep blue lakes, yet hate the exorbitant price for a Jiuzhaigou tour. We here at China Highlights utilize all the resources to concentrate on a 2-day tour in the peak season (May to October) for you.
The price is applicable between May and October, but not available during national holidays.
Note: (Sep. 27 update) Part of the Jiuzhaigou National Park has reopened to visitors on Sep. 27, 2019.
(Oct. 19 update): 1. There is a limitation of entrance everyday (8,000 people each day). And the tickets for the whole October have already been sold out. The scenic spot is now taken up by domestic tourist group;
2. Thus we recommend you to visit Jiuzhaigou after November, for less tourist pressures, lower cost and winter landscape;
3. To ensure your Jiuzhaigou trip availability, please inquire and book soon. Book Jiuzhaigou tour for 2020 with us now, the order can be fully refunded if the tourist attraction closes again.
If you are planning a tour to Jiuzhaigou, contact our travel consultant to check the availability.
Highlights
Enjoy the breathtaking views in Jiuzhaigou Scenic Area
Suggested Itinerary
Day 1
Jiuzhaigou Arrival and Huanglong Scenic Area Tour (flight not included)
Breakfast, lunch & dinner
Take an early flight to arrive at Jiuhuang Airport in the morning. Your guide will wait for you at the exit of the luggage claim lobby and will be ready to transfer you to have lunch. After lunch, you will start your trip to Huanglong Scenic Area.
Huanglong Scenic Area, the best-preserved plateau wetland in China, is neighbored with Jiuzhaigou. Colorful pools, snowcapped mountains, verdant forests, and a peaceful valley are its four highlights. A chairlift is not included. The cost is CNY 80 for going up and CNY 40 for going down. It is recommended you take the chairlift up and walk down to save you time and strength.
After the tour, your guide and driver will escort you to a hotel near Jiuzhaigou (about two hours' drive) and you can enjoy a local dinner.
GOOD TO KNOW
The options of restaurants in Jiuzhaigou are quite limited, so dinners are recommended and included in the hotel you will stay in.
Recommended Hotel in Jiuzhaigou
Sheraton Jiuzhaigou Resort (5-star)
Jiuzhaigou Mingren Hotel (4-star)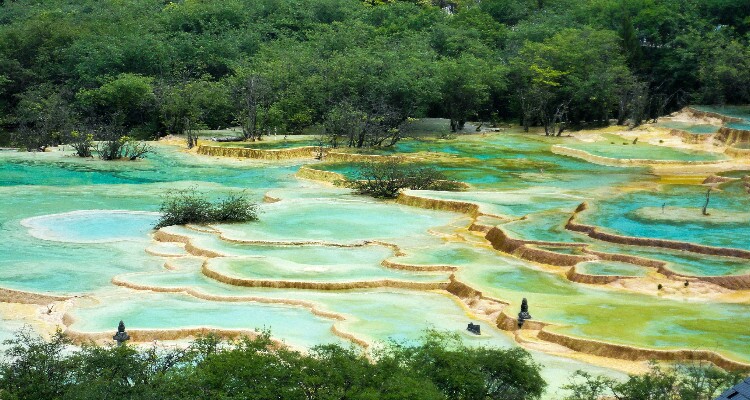 Huanglong Scenic Area
Day 2
The Jiuzhaigou Tour and Departure (flight not included)
Breakfast and lunch
After breakfast at the hotel, you will start early to discover the Jiuzhaigou Scenic Area, a wonderland named for its nine Tibetan villages. The valley winds its way for some 80 kilometers and covers an area of 720 square kilometers, and you will visit its main three gullies according to the schedule: Shuzheng Valley, Rize Valley, and Zechawa Valley. Private vehicles are not allowed inside, so your guide will accompany you to take a public bus in the scenic area and tour around.
There you will appreciate the picturesque natural scenery with clear alpine lakes, overlapping waterfalls, colorful forests, snowcapped mountains, Tibetan customs, and blue ice. Get your camera prepared. A buffet lunch is arranged in the Nuorilang Restaurant which is the only restaurant in the Jiuzhaigou area. If you like, we can also arrange a picnic lunch for you.
At the end of the tour, your guide will escort you to Jiuhuang Airport to catch an evening flight to the next destination. To allow enough time for Jiuzhaigou, a flight departing after 6pm is suggested.
GOOD TO KNOW
Tips for visiting Jiuzhaigou:
Go early: The scenic area starts selling tickets at 7am. Get into the park as early as possible so that you will not only have more time, but will also avoid the tour group crowds.
Go up first: The most spectacular scenery is at the higher parts of the scenic area. You will see the highlights first if you take the public shuttle bus to the top and walk or ride down. Head first to either Long Lake or Swan Lake, then go down to the Nuorilang junction, then go up the other fork. Later in the day, you can see the lakes between Nuorilang and the entrance.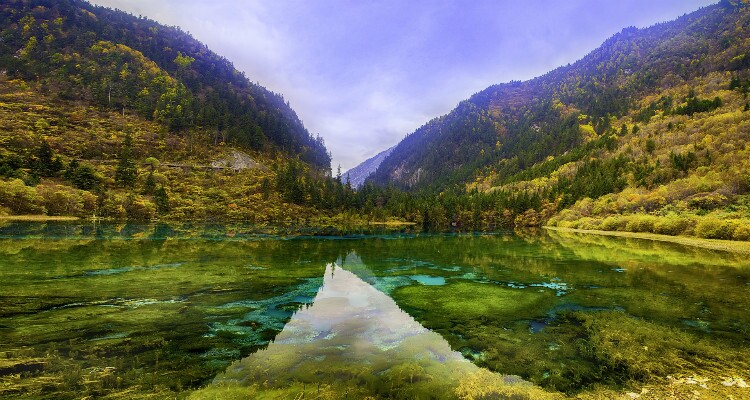 The Fall Colors of the Lake in Jiuzhaigou
Our Service Includes:
One-to-one consultancy with our travel expert
Versatile and knowledgeable local guides
Your own chauffeur and comfortable vehicle
Hand-picked hotels to suit your preferences
Hotel buffet breakfasts and local restaurant lunches
The booking of internal transportation per your preferences
A 24/7 helpline while you are traveling
Trip Notes
1. Tailoring Your Private Tour
This tour is very flexible. Your can alter the itinerary, and extend or shorten it to suit your price, interest, and schedule. Feel free to tell us your requirements, and we will be happy to help you arrange a tour using our professional knowledge and experience. We promise a "No Shopping Policy".
2. Why the price is cheaper
An expensive private transfer takes up a large proportion of the high cost of a Jiuzhaigou tour. In this tour, for a group of one to two people, our guide will accompany you to take a taxi between the airport, hotel, and scenic spots in Jiuzhaigou. For bigger groups, to make sure you have enough comfortable room for both people and luggage, we will arrange a 7-seater van or larger minibus for you.
3. Possible altitude sickness
At Jiuzhaigou, the altitude varies a lot. For example, the valley entrance is at about 2,000 meters, while the airport is at about 3,500 meters. Vulnerability to altitude sickness varies from person to person, so it is suggested you consult your doctor before the trip. Visitors with heart disease or high blood pressure should be careful and take appropriate precautions when traveling to Jiuzhaigou.
When in Huanglong and Jiuzhaigou, please do not drink wine, in case of a negative reaction to the altitude. Stay warm and eat plenty of vegetables and fruit. Take some common medicines with you. If you like, your guide can prepare a small oxygen bottle for you, just in case.
4. Hotels in and around Jiuzhaigou
The most popular place for hotels is Zhangzha Town, which is closest to the entrance of Jiuzhaigou Nature Reserve. Zhangzha has a wide range of accommodation, from 5* hotels to budget hostels.
If you prefer to be close to Huanglong National Park or Jiuzhuang Airport, you may choose a hotel in Chuanzhusi County.
If Muni Valley (Munigou) is on your list of places-to-go, you may consider staying in Songpan Town.
The standards of most hotels in the area are not as good as those of equivalent star-levels in the West. China Highlights has carefully selected the best hotel available, based on criteria like hotel environment, location, service, and previous customer feedback. Your guide will accompany you to see your room. If you are dissatisfied and there are other rooms available, your guide will be happy to assist you with changing rooms.
Some hotels may close from late November to February of the next year. Please inquire and we will check availability for you.
5. Why Would I Need a Guide in Jiuzhaigoiu National Park?
The park is huge! It covers a little over 700 sq km and the routes are almost 100 km (62 miles) long. No matter how many strategies you read, it's a big challenge to visit all the spots in one or two days. Our guides help to make the most of your time in the park — our guides are local and experienced, spending over 200 days in the park every year. They know the valleys and lakes like their own backyards. Just follow them and you will not have to bother about looking at signs and maps.
Based on your strength and the weather, our guide will show you the best route for sightseeing and inform you about the dangerous parts during the tour. They will also assist you to arrange the lunch properly. When you get tired of walking on the endless plank, they can tell you how much longer it is to reach the next lake or bus stop. They know which sections of plank are worth walking, and which ones are crowded, steep, or a waste of time and energy.
The guide will introduce you to all the information about the attractions and can take you to the best spots for photos.