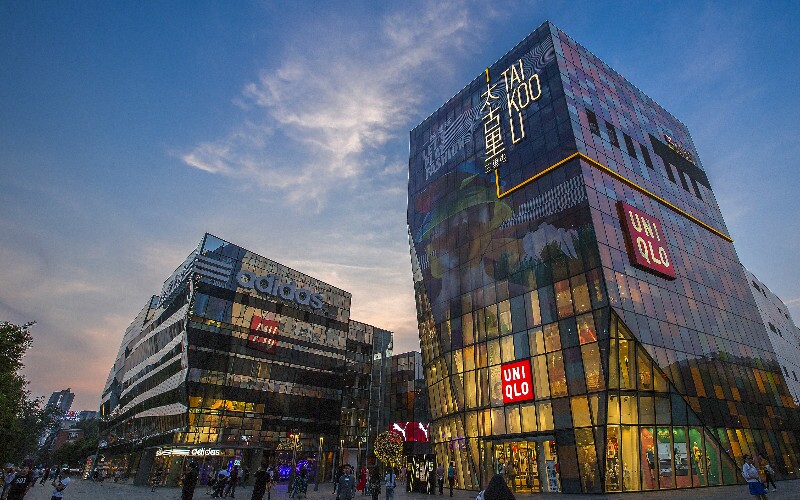 beijing
Sanlitun - Enjoy Colorful Nightlife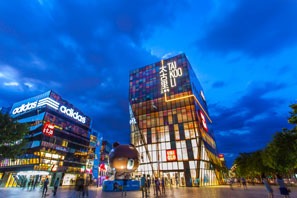 Sanlitun
Sanlitun got its name for being three li away from downtown Beijing (1.5 km or about a mile away). It covers a wide area of Chaoyang District, housing many bars and clubs (popular with both expats and locals) as well as international brand-name stores and other entertainment.
It is one of the most famous entertainment areas in Chaoyang District. You can spend your day exploring the stores and spend the night in its many bars.
Sanlitun Facts
Chinese: 三里屯 Sānlǐtún /san-lee-twnn/ 'three li village' (a li is 500m)
Location: Sanlitun, Chaoyang District
Highlights: nightlife in the bar street, shopping, beautiful night views
Suited to: people who enjoy nightlife/shopping
Average visit time: 2 hours
Subway: Line 10 to Tuanjiehu (团结湖) and take Exit A
Sanlitun Bar Street – Beijing's Most Famous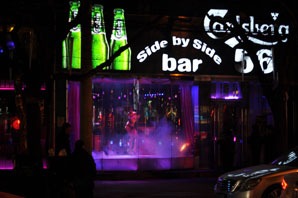 60% of the bars in Beijing are in Sanlitun Bar Street.
Bar Street is located at the east side of Sanlitun North Road with a total length of 260 meters. It is one of the busiest streets in Beijing at night. When night falls, Sanlitun is shrouded in light. People flow there seeking relaxation. It attracts local young people, celebrities and foreigners.
There are more than 80 bars in Bar Street. Statistically, 60% of the bars in Beijing are gathered there. Sanlitun was the earliest bar community in Beijing and is the origin of Beijing bar culture. The first bar appeared there in 1989.
You can find all kinds of bars there. They will set tables on the sidewalk where guests can drink, watch football games on TV and chat. Some bars will have live bands, magic shows, cocktail shows, dance shows and themed events. These bars are open from the afternoon to the early morning of the next day.
Some Popular Bars
Long Jing - Sanlitun: Delicious cocktails mixing with traditional Chinese teas are the feature.
Address: 112, Building 22, 4 Gongti Beilu, Chaoyang District
Chinese address (for taxis): 朝阳区工体北路4号院22楼112
Transport: Line 10 to Tuanjiehu (团结湖站) and Exit D.
The Local - Sanlitun: Draft beers, cider, Western food and TV sport game watching are offered.
Address: Courtyard 4, Gongti Beilu, Chaoyang District
Chinese address (for taxis): 朝阳区工体北路4号院
Transport: Line 10 to Tuanjiehu (团结湖站) and Exit D.
InVino - Sanlitun: It offers a range of imports at all different price ranges including some local Chinese wines.
Address: Xingfuyicun Qixiang, Chaoyang District
Chinese address (for taxis): 朝阳区幸福一村七巷
Transport: Line 2 to Dongsishitiao (东四十条站) and Exit D.
Mojito Man - Sanlitun: Local hotspot to meet some real Beijingers and frequented by expats. Nice drinks.
Address: Ground floor,Shoukai Bojun South Area, Xindong Rd, Chaoyang District
Chinese address (for taxis): 朝阳区新东路首开铂郡南区地下一层广场
Transport: Line 10 to Tuanjiehu (团结湖站) and Exit A.
Knight - Sanlitun: Offers whiskey, cocktails, red wine and a magic show. Popular among the locals.
Address: Room 621, 6th floor, Unit 1, Yongli International, Worker's Stadium North Road, Chaoyang District
Chinese address (for taxis): 朝阳区工人体育场北路永利国际1单元6层621
Transport: Line 2 to Dongsishitiao (东四十条站) and Exit C.
Shopping – Trend and Fashion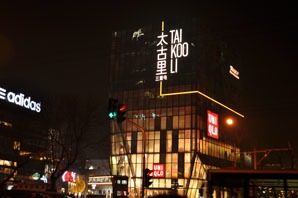 Sanlitun Taikoo Li
Sanlitun is the vane of fashion trends in Beijing. There are a lot of street fashion brands and big international brands.
The most remarkable collection is found at Taikoo Li. Taikoo Li is an open shopping area, composed of 19 modern buildings. You can find many world-famous brands ranging from luxury shops to forefront designer brands, such as Adidas, Uniqlo, Mango, Puma, Balenciaga, Apple and Coach in these 19 buildings.
The Ya Show Market is also in the Sanlitun area and is a popular destination for tourists wishing to buy fake name-brand clothes. You can discover what a market of fake products looks like by visiting there.
Arts
There are also many art shops in Sanlitun. You can find Pop–up, an antique furniture shop with a lot of old things and antique furniture from abroad such as crystal lamps, white porcelain vases and cigar boxes. You can also enjoy your quiet time in Page One bookstore or go to a gallery. Sometimes there are surprising flash mobs shows.
Restaurants
You can easily find a good restaurant in Sanlitun as there are a variety of restaurants offering different flavors from local Beijing cuisine to Western flavors in the streets, in the Taikoo Li and in the Sanlitun SOHO. Salads, steaks, burgers, afternoon tea, vegetarian food and Chinese food are all available to satisfy your taste buds. If you want to try Beijing roast duck, you must go to 1949 The Hidden City located in an independent and quiet courtyard. The crispy duck matched with a special sauce tastes wonderful.
Hotels
As Sanlitun is adjacent to Beijing's largest embassy district and has many hotels ranging from youth hostels to luxury hotels, it's the choice of many foreign tourists when they travel to Beijing and one of the 11 Best Beijing Neighborhoods to Stay in 2019.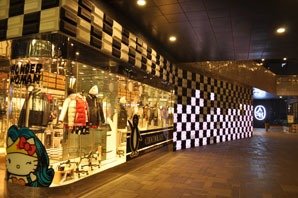 Travel with Us
Try our Create My Trip service to satisfy your interests and requirements. If you want to know about the colorful nightlife in Beijing, go to Sanlitun. If you want to explore the real Beijing, come and travel with us. We are ready to create your Beijing tour. We can take you to explore the history and architecture of Beijing and experience Beijing's local life and nightlife.
Related Articles

beijing
How to Plan a Trip to Beijing

about us
Company History