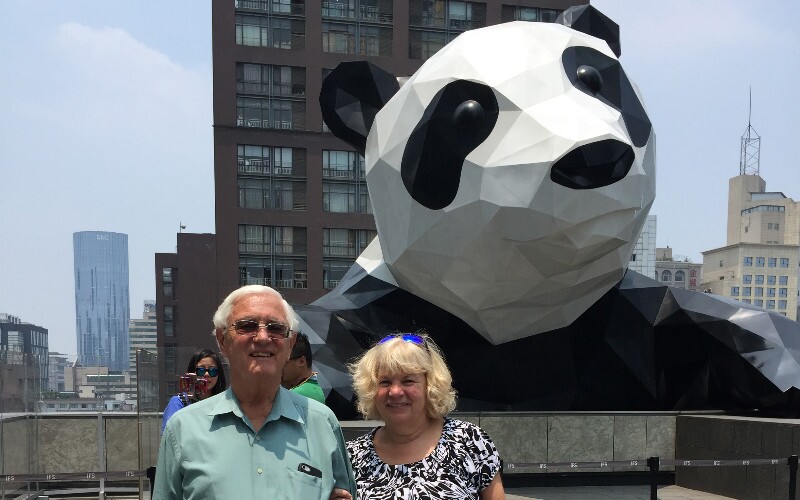 Giant Pandas
The World's 2 Giant-est Pandas - Giant Panda Structures in China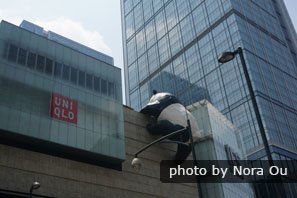 The "I am here" panda structure in Chengdu.
China celebrates the giant panda, one of the symbols of China, with creativity, using a solar power station and a 3D sculpture on a building. As giant pandas are much-loved animals, with billions of fans, their popular image is perfect as a theme for designers.
1. The First "Panda" Power Station in the World
Datong Giant Panda Solar Farm is the first solar farm that is specially designed in a panda shape. This giant panda is the size of about 100 city blocks!
It was signed for by the Chinese government, UNDP (United Nations Development Program), and PGO (Photovoltaic Green-Ecosystem Organization) during the 2017 Belt and Road Forum for infrastructure and other projects.
Chinese: 大同熊猫光伏电站 Dàtóng Xióngmāo Guāngfú Diànzhàn /daa-tong sshyong-maoww gwung-foo dyen-jan)
Location: Datong's suburbs, central north China (For how to get there, see Datong Transport.)
Design: Datong Panda Solar Farm is a 1-km2 (250-acre), panda-shaped arrangement of black and white solar panels.
Purposes of Datong Panda Solar Farm
Datong is famous as China's "coal capital", but now the government is trying to change it to the "new energy capital".
When completed, it will add 100MW to the electricity grid in Datong. In the future 25 years, the Panda Solar Farm is expected to provide 32 billion kWh of green electricity. More panda solar farms are expected to be built in other countries.
The Panda Solar Farm will also be a platform for spreading the message of solar power to teenagers. There will be a summer camp led by the UN in August 2017, aiming at encouraging teenagers to learn more about climate change, green energy, and how to protect the environment.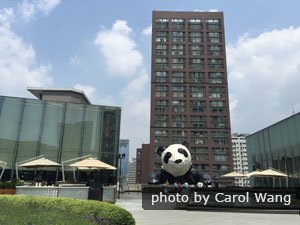 "I Am Here"
2. The "King Kong Panda" - I Am Here
I Am Here is a panda sculpture designed by Lawrence Argent (a famous artist from the USA) for Chengdu IFS (International Finance Square). It is the largest panda sculpture in the world ever - its height is 15 meters and its weight is 15 tons.
Chinese: 我在这里 Wǒ Zài Zhèlǐ /wor dzeye jer-lee/

Location: Chunxi Road, central Chengdu, 1 km east of People's Square, clinging to the top of the IFS outer wall
Purposes of the I Am Here Panda
Different from other public art installations, I Am Here is a giant panda art and charity project, aiming to remind people that many cute creatures are leaving us gradually, and appealing for people to join in the conservation of endangered species.
Since January 2014, I am here has become the one of the landmarks of Chengdu, attracting many tourists to come to IFS and take photos with it.
See Pandas in Other Places in Chengdu
The giant panda is the symbol of Chengdu as well as being a national symbol. You can see pandas everywhere, from alleys to avenues. Here are three top places in Chengdu for all you panda enthusiasts:
1. Chengdu Giant Panda Breeding and Research Center
Chengdu's Giant Panda Base is located in Chengdu's northern suburbs. You can see baby pandas, panda cubs, and adult pandas there. With its easy access and good facilities, and over 50 pandas, it is the first choice for panda lovers who travel with their families.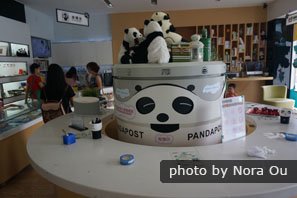 Panda Post Office
2. Panda Post Offices
Panda Post Offices can be found in in Jinli Street, the Wide and Narrow Alleys, Huanglongxi, Sichuan University, and Chengdu Shuangliu International Airport. The Panda Post Office has its own postal code-610088 and appropriative date stamp
In Panda Post Offices, you can buy special panda postcards and panda stamp albums. In the future, more and more Panda Post Offices will be set up at the main highlights of Chengdu.
3. The Panda Metro Line
In July 2016, Chengdu Metro Line Three was opened to traffic. What makes it special is that it serves panda-themed trains. Many pandas can be seen in the trains, including seats with panda pictures on them, handholds in the shape of panda heads, panda posters on the walls and footprints of pandas on the floor.
Line 3 passes through 17 stops. Among them, Chunxi Road and Panda Avenue should be mentioned.
Chunxi Road is the busiest street in Chengdu. You can enjoy local Sichuan cuisine, go to the shopping mall, and visit the I Am Here panda sculpture.
Chengdu Giant Panda Breeding Center is on Panda Avenue. You can take the metro to see real pandas after you visit Chunxi Road.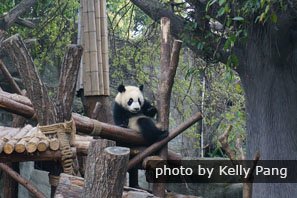 A panda in Chengdu Panda Breeding and Research Center
See Giant Pandas with China Highlights
If you are planning to see the lovely giant pandas in China, check out the following giant panda itineraries:
Related Articles

Giant Pandas
How to Plan a Panda Tour

about us
China Highlights Promise